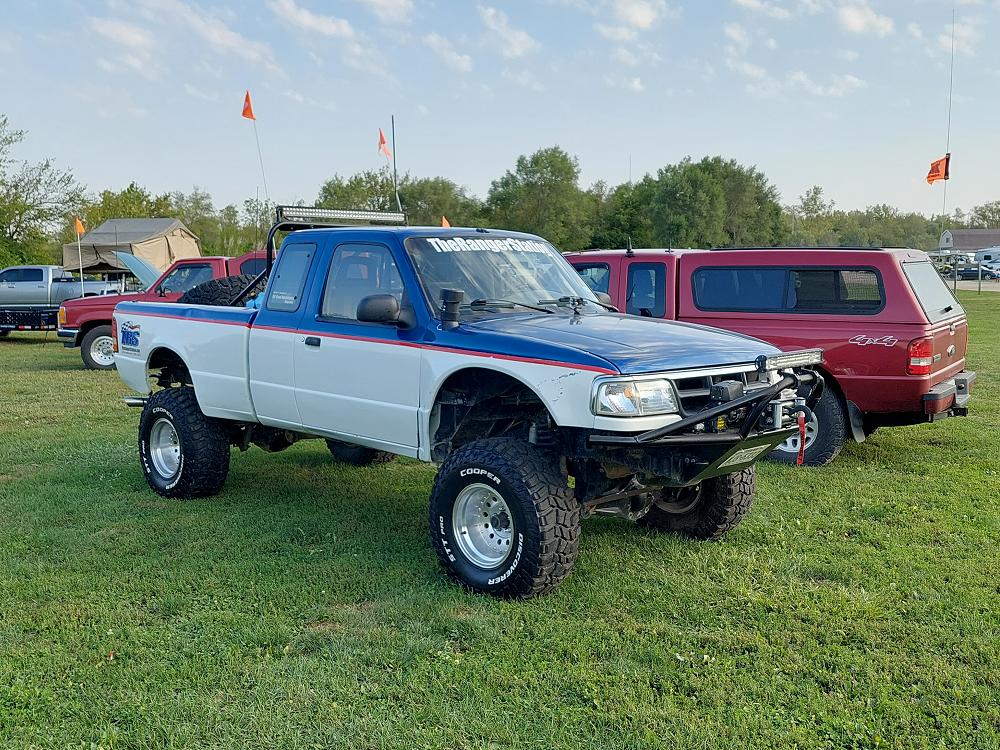 By Jim Oaks
The Ranger seen on this page is my 1996 Ford Ranger extended cab 4×4. The build up of this truck came as a result of a lot of luck, and a great opportunity. During an event that I was hosting I was talking to Jim Allen from Offroad Adventures Magazine telling him that I wanted to get a group together and build another truck to see how cheaply we could build it. The discussion turned to building a capable off-road Ranger and Jim asked that I email him a list of parts that I would use if I was building a truck. It all eventually turned in to a sponsored build for a 6-part build series in Offroad Adventures magazine.
Check out the magazine build below:
Part 1: Taking a 1996 Ford Ranger from Bone Stock to Trail Brawler
Part 4: Manual Hubs and Explorer Rear Axle Swap
Part 5: Taking a '96 Ford Ranger From Bone Stock to Trail Brawler
Now before you start thinking how awesome it would be to have a sponsored build, I need to point out that it took several months to build this truck. It's not as simple as having someone give you a bunch of parts and then taking photos of the finished product.
The magazine wanted a newer body style truck that could be had for a reasonable amount of money and built in to a respectable offroader. The 1996 Ranger was found on eBay for $2,600 and trailered home from North Carolina. Once home, I began stripping the truck down and preparing it for the build.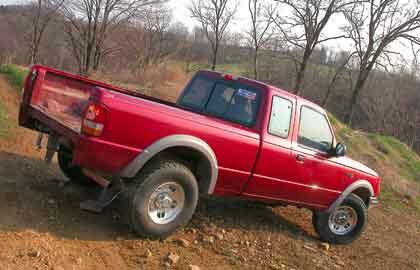 (TRS-2 after being purchased)
The Body:
The body was in great shape with a rust-free body and frame. The front fenders were removed and replaced with Fiberwerx fiberglass fenders. The bed was flared out to match. The truck was then sent to Maaco in Columbus Ohio for paint. The body shop was being overseen by TRS member Randy Miller.
Once the truck was back from the body shop, I made the white vinyl stars, hood logo, and some of the sponsor logos.
Bumpers and Bed Cage:
The bumpers and bed cage were all cut and bent by me. Everything was welded up by my friend Bob 'Ozzy' Osborn.
The front and rear bumpers were made from 1-3/4″ DOM tubing. The front bumper also uses 1/4″ steel plate for a skid plate and winch mount. The bed cage is made out of 1-1/2″ DOM tubing.
The bed cage holds (4) ProComp 100-watt lights and a 55-watt rear facing work light. The bed cage also houses a large plastic bed box, dual battery boxes, and a tire carrier. The plastic bed box houses a fuse block and relays for the lights.
The front bumper holds (2) Pro Comp 100-Watt lights and was originally equipped with a Mile Marker E12000 winch. However, a spotter let the cable spool up too much on end of the drum and it broke the supports. The winch was replaced with a Warn XD900i.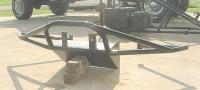 1-3/4″ DOM front bumper with 1/4″ steel plate.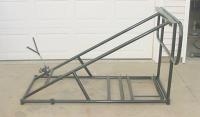 1-1/2″ DOM bed cage with mounts for spare tire, battery boxes and bed box.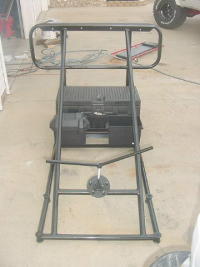 The Interior:
The interior was pretty shot when I got the truck. It use to be a farm truck, and everything inside the cab needed to be thrown away.
A new carpet kit was purchased from Summit Racing. The seats came out of a Escort GT and were purchased from Millrock Auto Wrecking in Rogers Ohio. A Ford Explorer overhead console with compass and temperature gauge along with a Ford Explorer center console was also salvaged from Millrock.
The headliner was removed and recovered with new material.
The dash and plastic interior panels were repainted silver.
A custom fiberglass console was made to mount all the switches and a CB radio.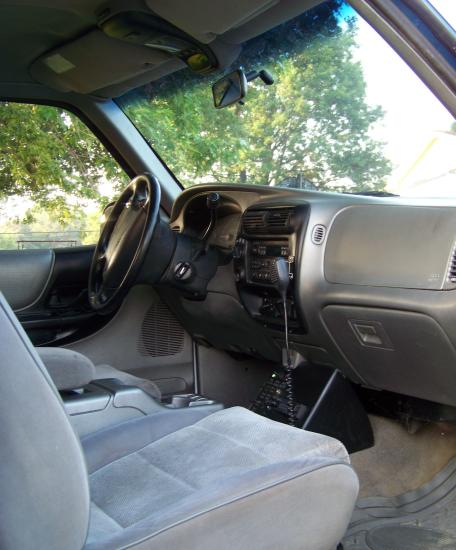 (Note the Explorer overhead console, center console, and custom fiberglass switch/CB console)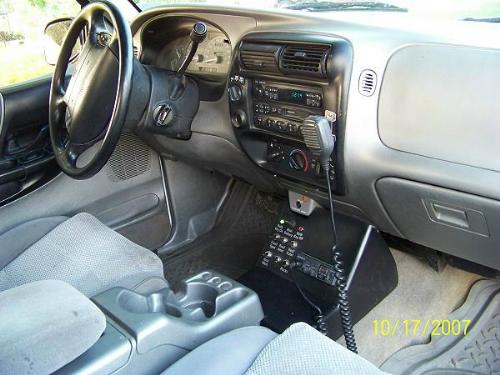 Suspension / Drivetrain / Wheels & Tires:
The suspension consists of a Skyjacker Class II 6-Inch suspension kit with extended radius arms and stainless brake lines. The shocks are Skyjacker Platinum's (discontinued)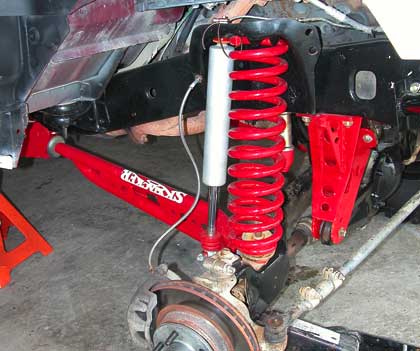 The rear axle is a Ford 8.8 disc brake rear axle with 31-spline shafts. It features a Detroit Locker and Genuine Gear 4.56 gears. The rear end is covered with a TRS Fab & Off-Road heavy duty differential cover.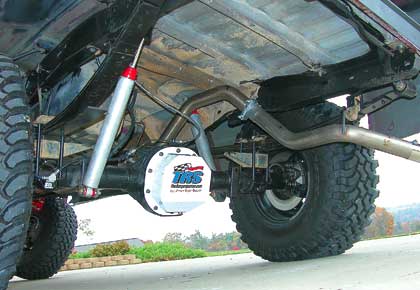 The front axle is a Dana 35 and also features a Detroit Locker, Genuine Gear 4.56 gears, and Warn manual hubs.
The engine is a stock 4.0L with a JET Performance Module and Gibson cat back exhaust system.
The Ranger rolls on 33×12.5×15 BF Goodrich Mud Terrains. The truck was originally built with Black Procomp Streetlock wheels, but they were later replaced with 15×10 American Racing Outlaw II's to brighten the truck up some.
Sold & Re-Purchased:
In 2014 I sold the Ranger, but in 2018 I needed to find a Ranger to build for The Ranger Station 20th Anniversary. As luck would have it this Ranger came up for sale on Facebook Marketplace, so I repurchased it. The Ranger needed a lot of repairs, but I was able to get it ready for the anniversary thanks to the help of Will Wills and Bobby Walter.
When I re-purchased the Ranger the Warn winch was missing, the transmission was out, and the offroad lights had rusted.
When the Ranger was all back together it featured:
Skyjacker Class II 6-Inch Suspension Lift with extended radius arms and new rear springs
Jet Performance computer chip
Genuine Gear 4.56 gears
Detroit lockers
TRS Fab & Offroad HD Rear Diff Cover
Ford Explorer 8.8-inch 31-spline rear axle with axle truss
15×10 American Racing Outlaw II
Cooper Discoverer STT Pro mud terrains
Smittybilt 9.5K Winch
Nilight LED lightbars and lights
ABS Snorkel
Custom tube bumpers
Custom bed cage
Uniden CB radio
Midland MXT115 GMRS Radio
See the discussion about re-purchasing and repairing the Ranger for the 20th anniversary:
My 1996 Ford Ranger 4×4 (TRS-2) Re-Build
2022 Photos: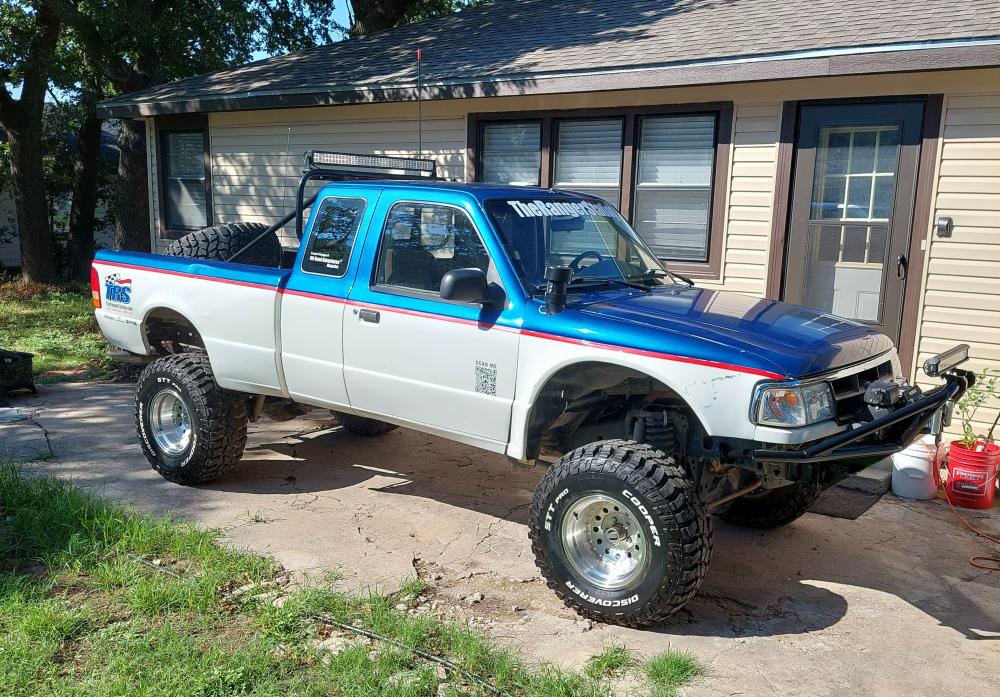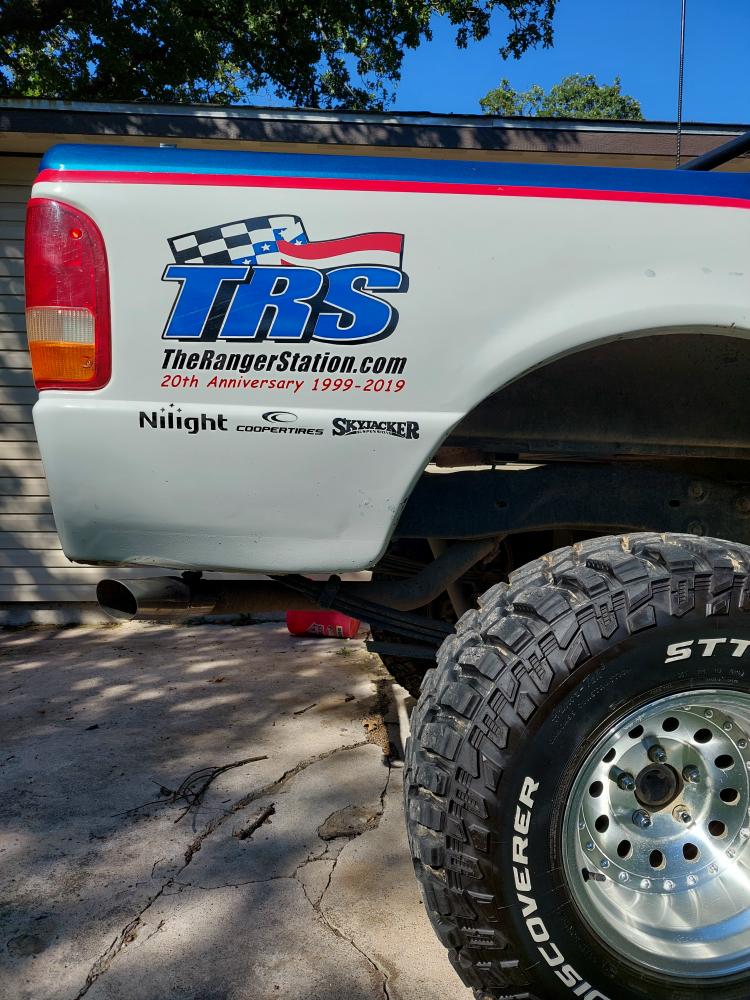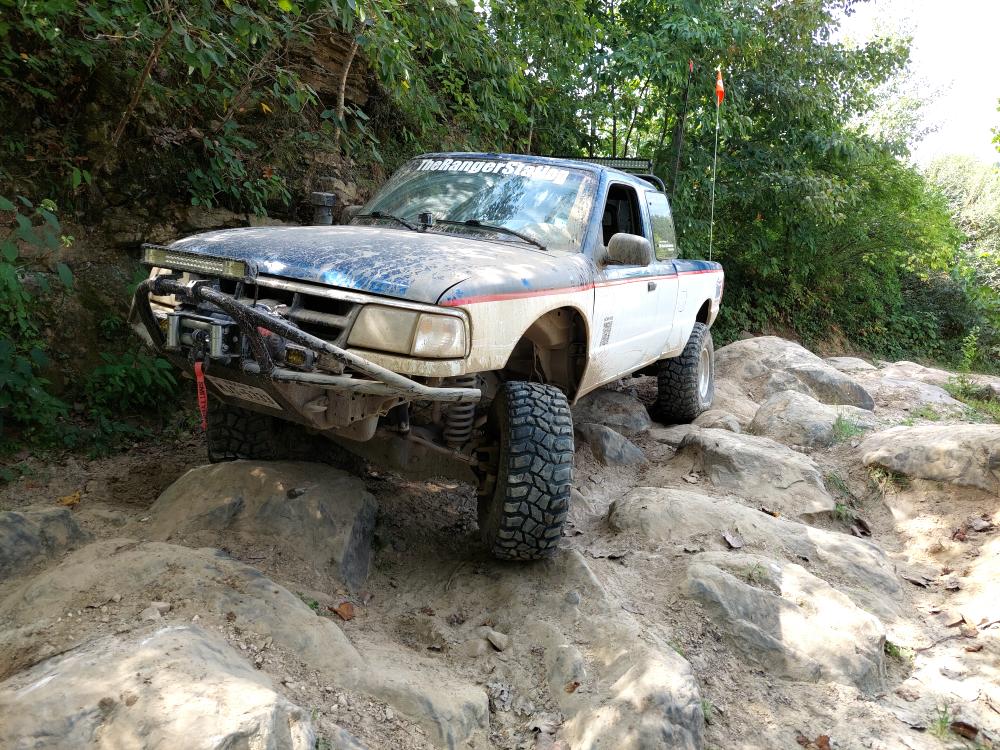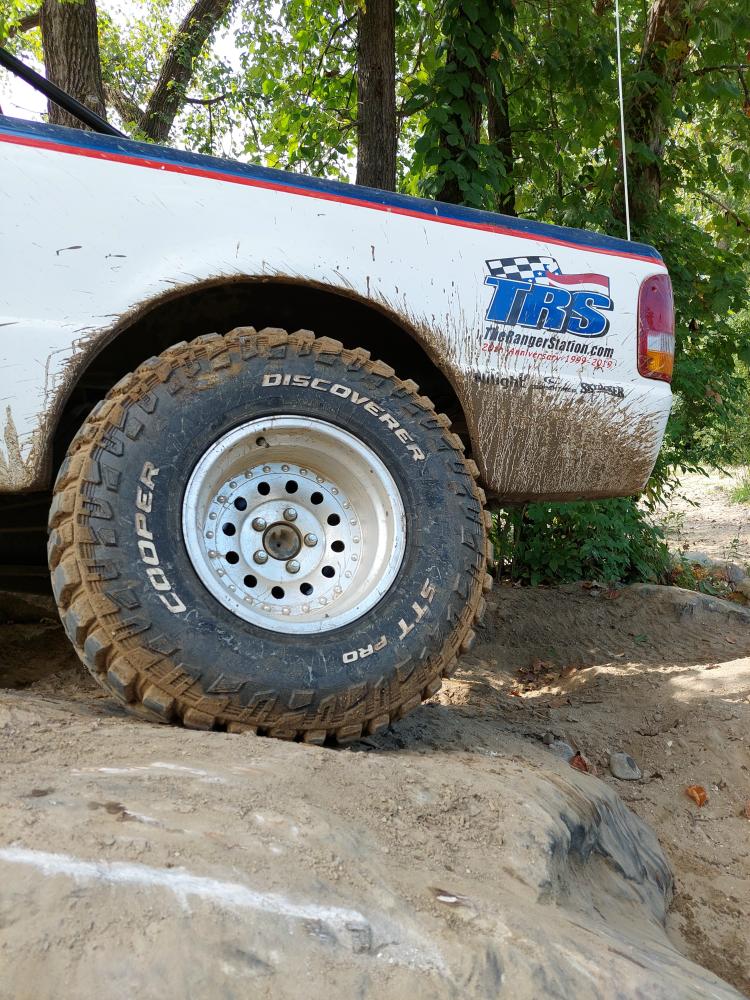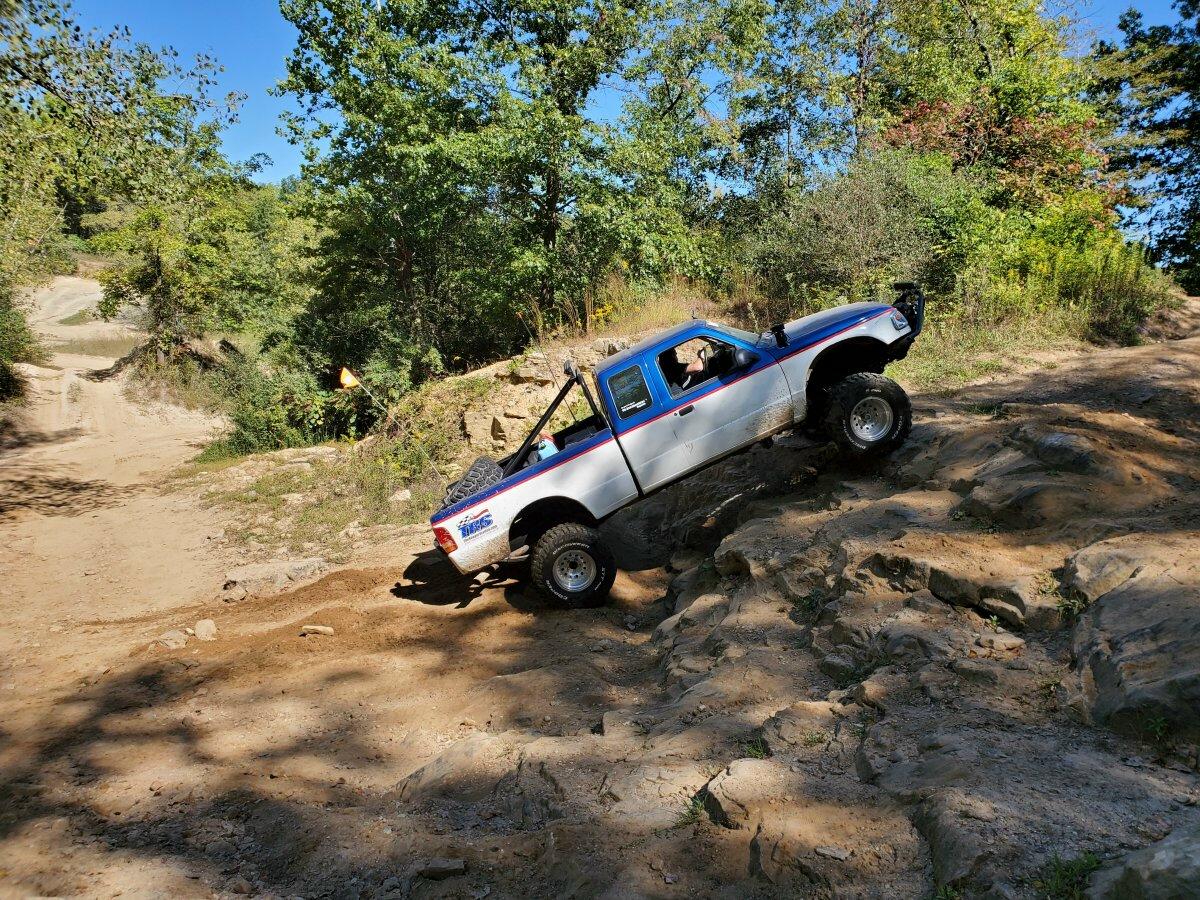 2021 Photos: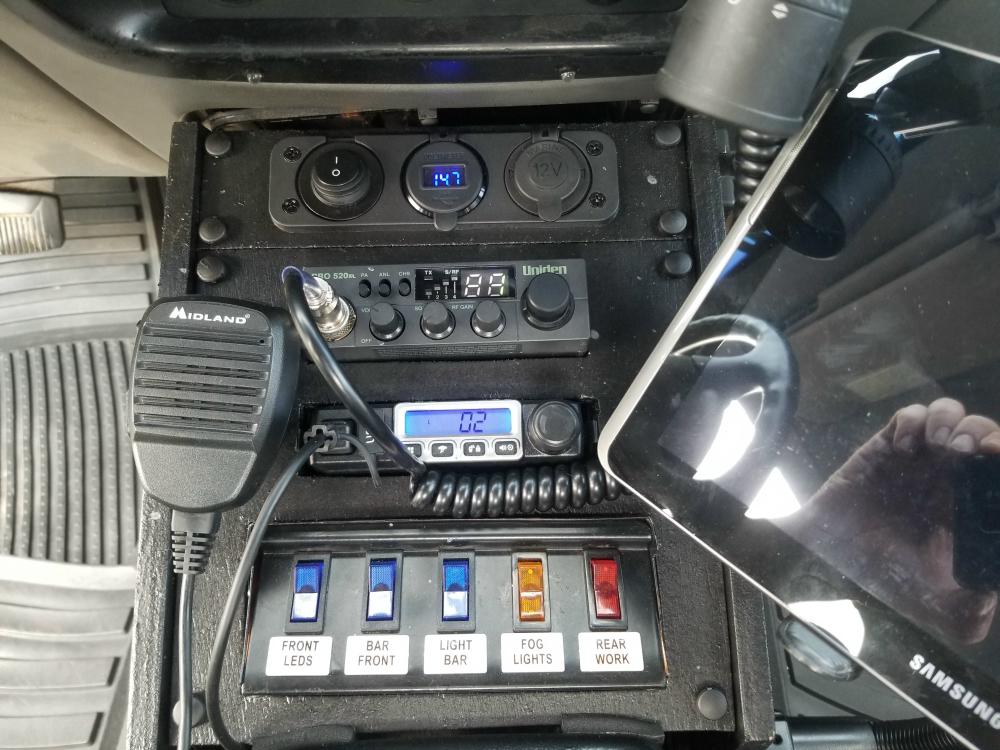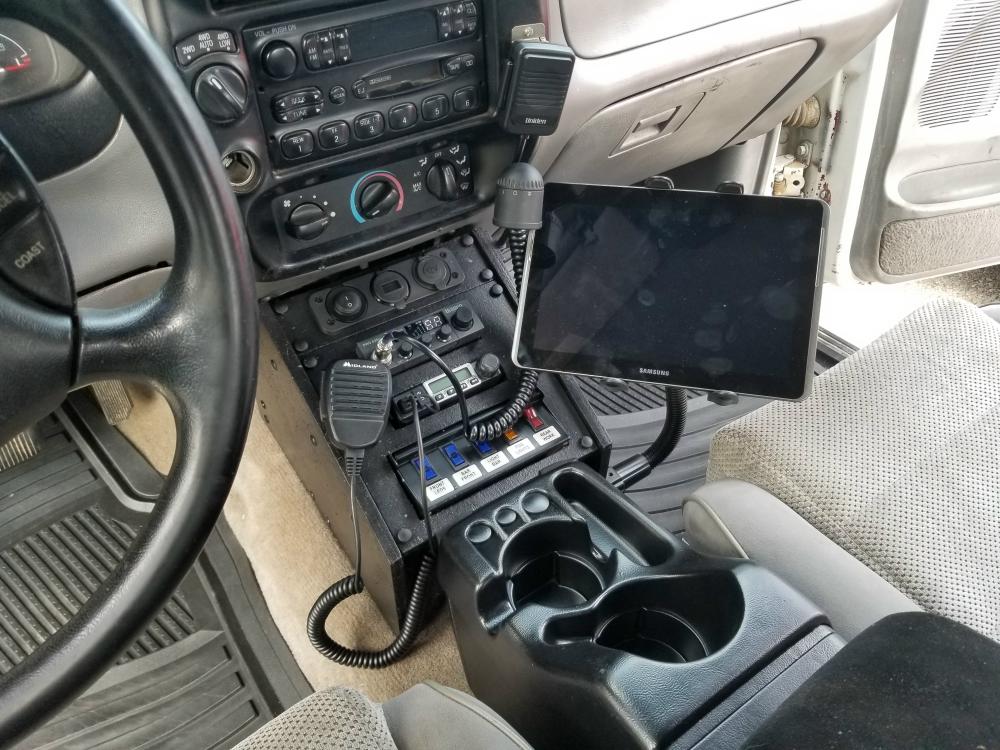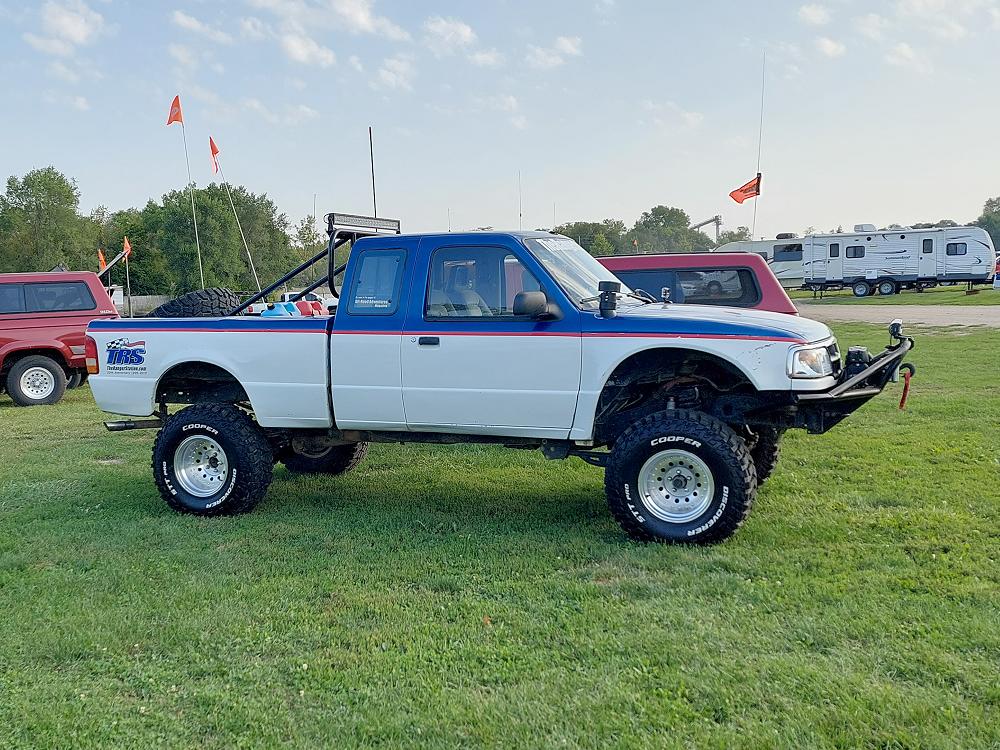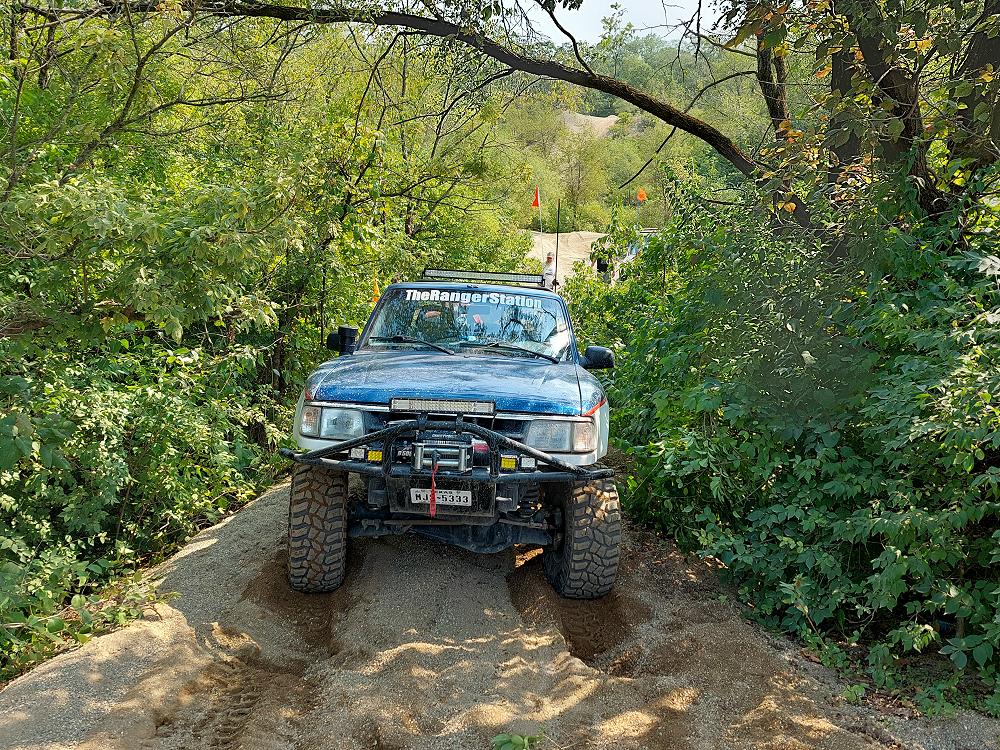 How It Looked When Built In 2005: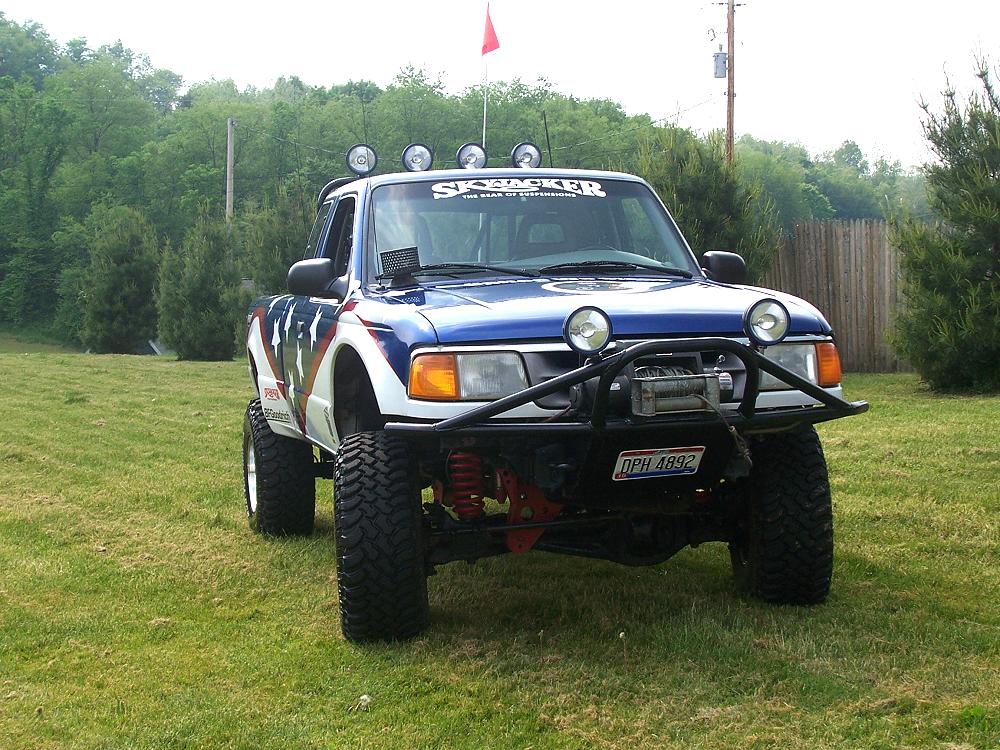 (Flag was for entering the Badlands at Attica, Indiana)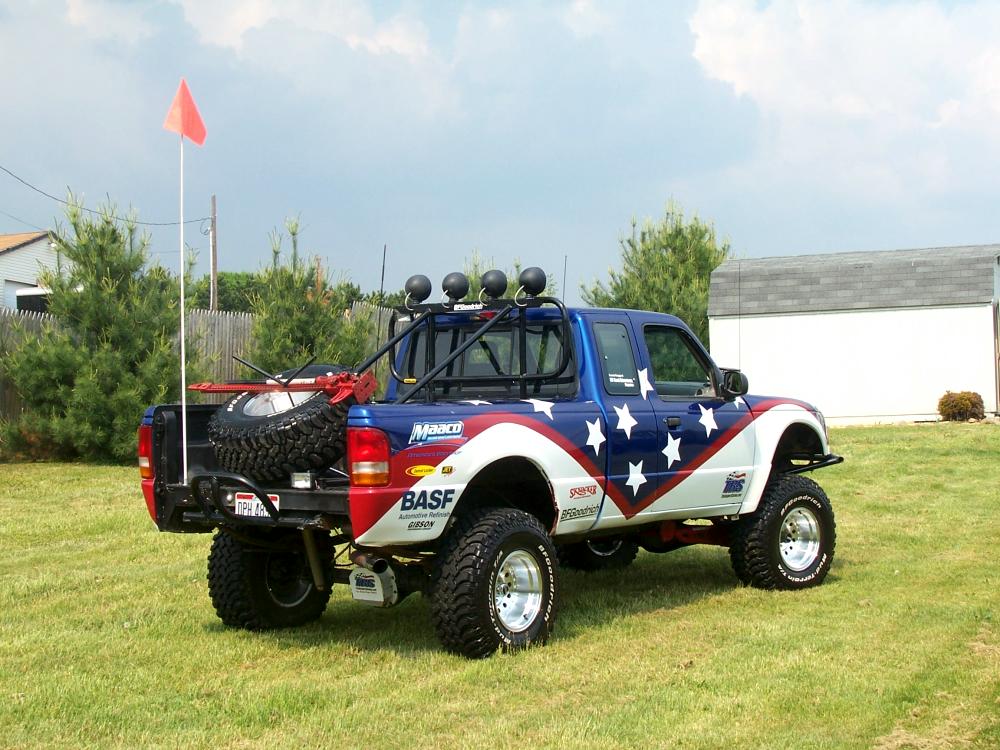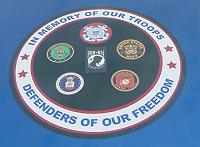 Here's a look at the decal on the hood.
There is a logo for each of the armed services with a POW/MIA decal in the center.
The 2010 Re-Paint:
The Ranger took quite a beating and was beginning to rust. In 2010 the Ranger was repainted more in the tradition TRS color scheme, but the military tribute was retained. Some of the damage on the truck was severe, and although it looks good at a short distance, a close-up inspection will reveal that I didn't bother to remove every small dent and ding in the truck. I couldn't see going through that much work just to dent it up again.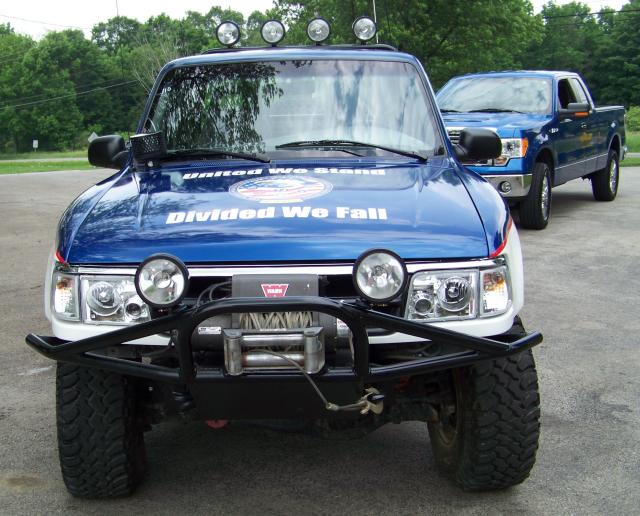 Replaced the headlights with projector headlights and clear corners.
I replaced the chrome trim around the lights and above the grill to give it a new look.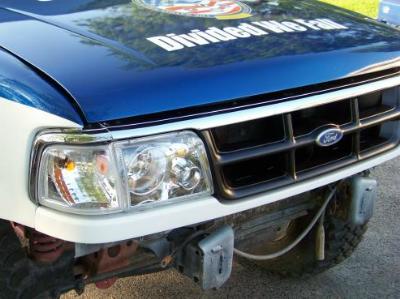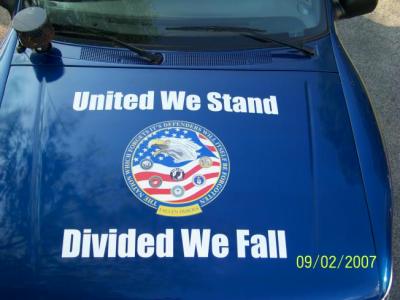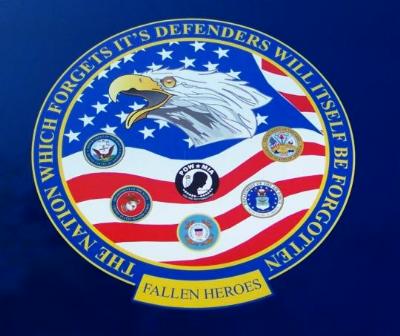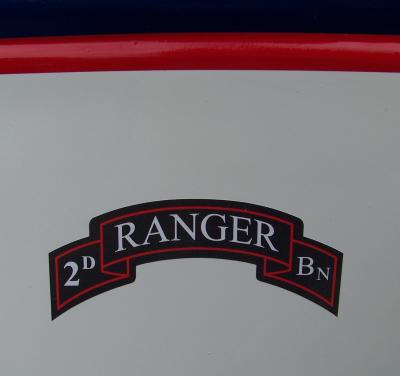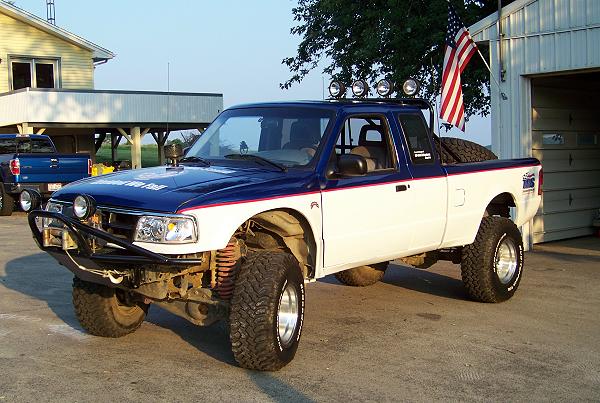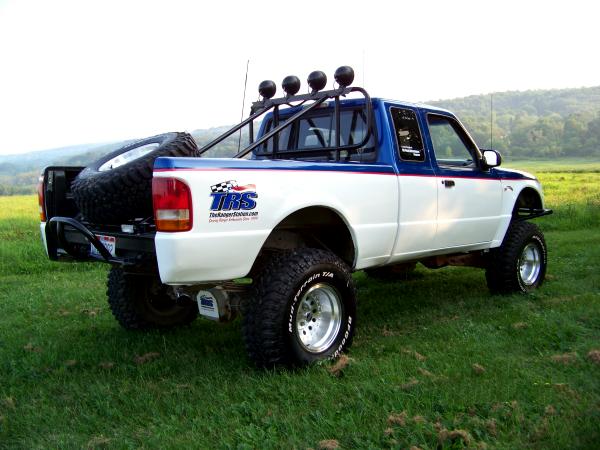 More Photos:
Click the photos to enlarge – click the arrows to load more