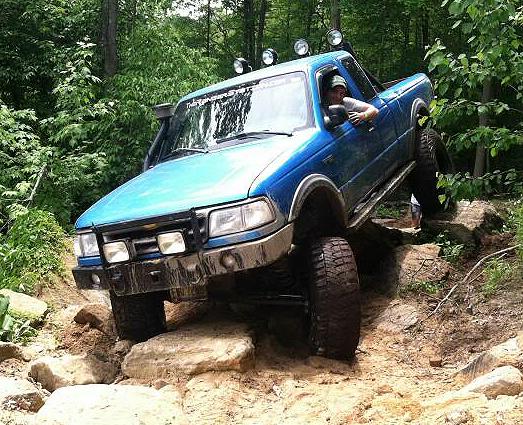 (2014 TRS Off-Road Truck Of The Year)
One of the most capable off-road rigs at The Ranger Station is this 1995 Ford Ranger 4×4 owned by Seth Schacht (aka 'PlumCrazy'). This truck is such an impressive off-road rig, that it was awarded Off-Road Truck Of The Month twice, and Off-Road Truck Of The Year once.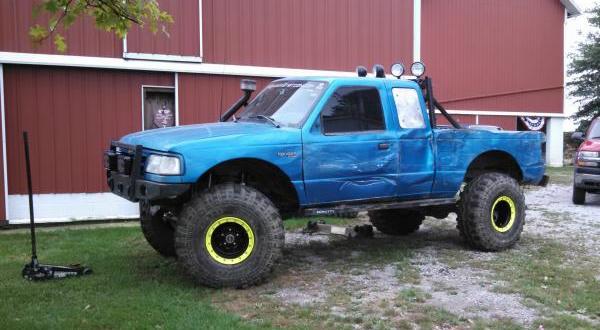 (Current state as Fall 2014)
Seth started this build with a stock 1995 Ford Ranger 4×4.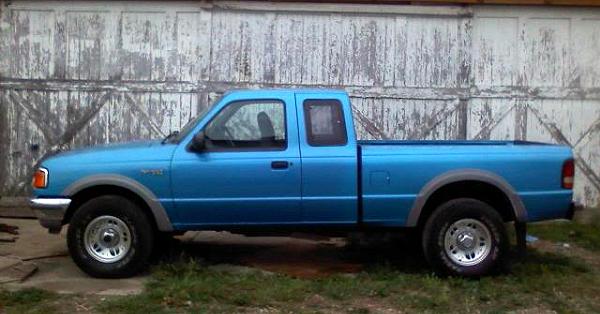 But from the very beginning, it was evident that this truck was going to transform in to something much more than a typical lifted Ranger.
Seth started out by adding a 4-inch Skyjacker suspension lift. But he couldn't just bolt on the aftermarket lift kit.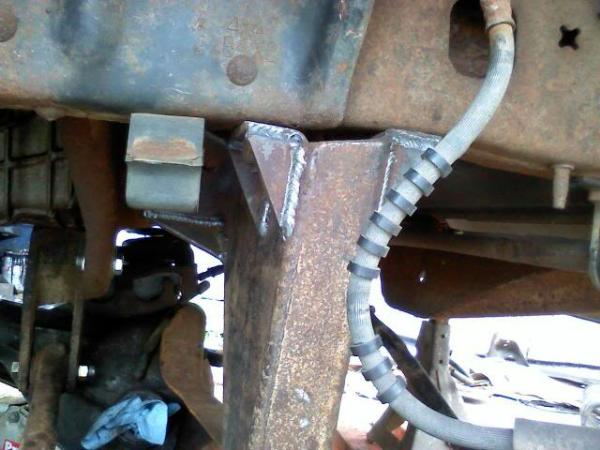 He gusseted the drop brackets and extended a pair of factory radius arms. He also made his own transmission crossmember & radius arm mount.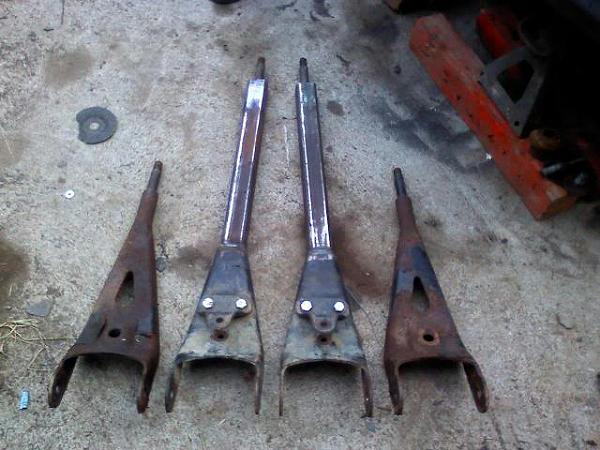 The rear received a 64-inch Chevy leaf spring swap, and a 31-spline Ford Explorer 8.8-inch rear axle. A 2-inch spacer made from 1/4″ wall 2-1/2″ tubing welded to the bottom of the factory coil seat helps level it out for a 6-inch lift.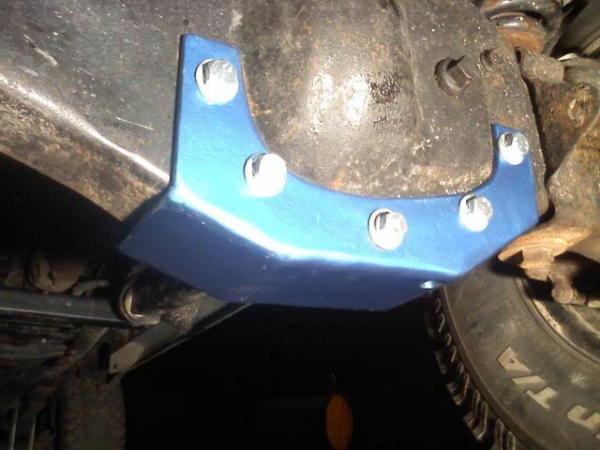 He also built a custom skid plate to protect the front Dana 35 differential.
But that wasn't good enough. The build continued and Seth swapped out the front axle for a Dana 44. He added 5.13 gears and lockers as well.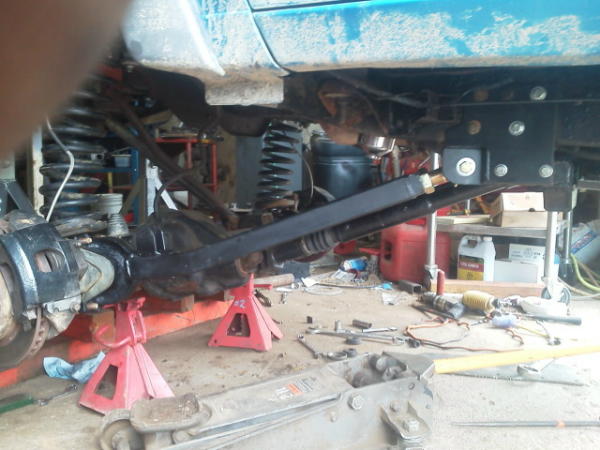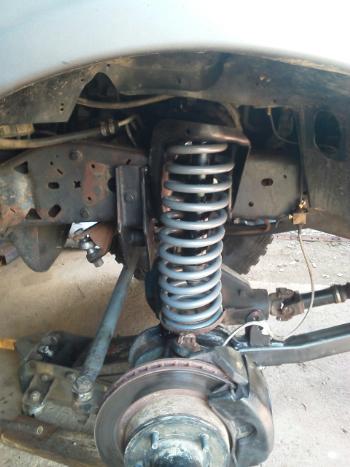 And he put together a dual transfer case doubler for better crawling ability.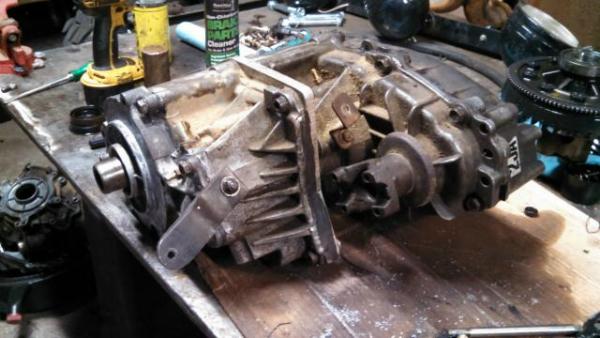 And the truck continued to get beefier and beefier.
There are so many custom fabricated parts on this truck, as well as parts swapped from other vehicles. You really have to look closely, or there will be cool details that you'll miss.
Some examples are: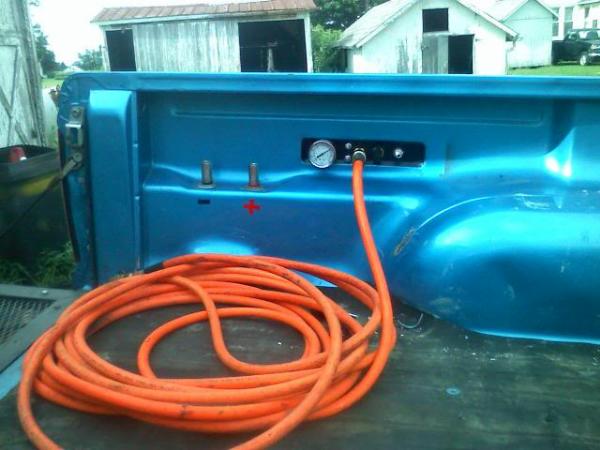 Onboard air connection and remote battery connection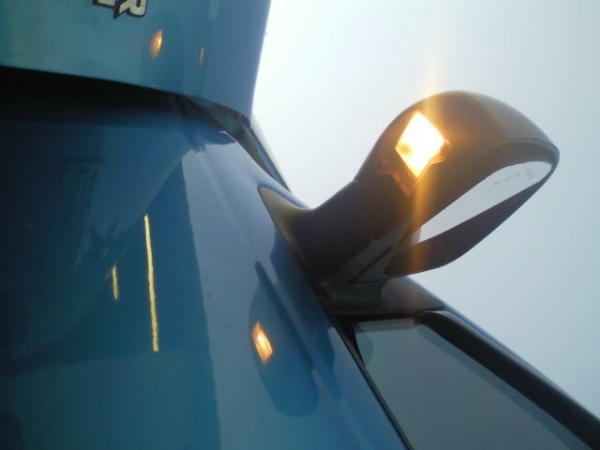 Ford Explorer Thunderbolt mirrors with curb / entry lights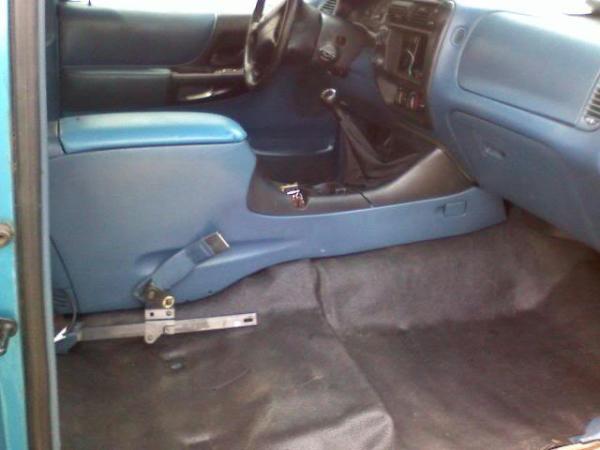 Full length Ford Explorer console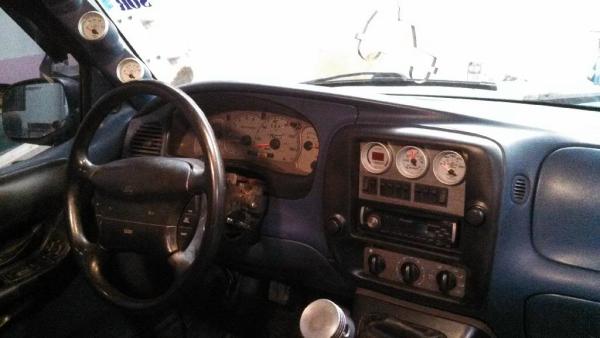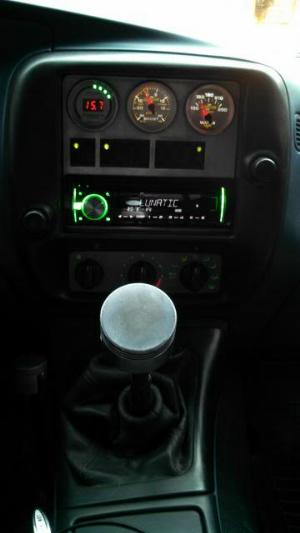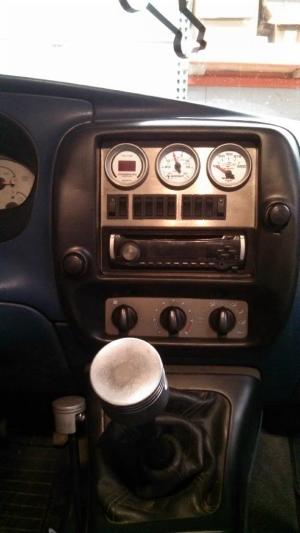 Piston head shifters. Note the small t-case shifter to the left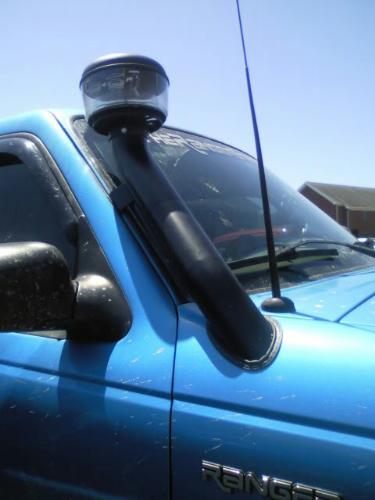 Custom snorkel
Here is a run through of everything Seth has done to it:
Wheels/Tires, Axles, Steering, Steering, and Suspension
38.5×14.50-15 Super Swamper TSLs on beadlocks

SAS with Narrowed HP Dana 44, OX selectable locker, RCV shafts, converted to disc brakes w/ F150 knuckles, Warn lockouts w/ 300M 30 spline upgrade, 5.13s, 6.5″ XJ coils, and 1.5″ DOM steering linkage

Reid Racing knuckles, 4 bolt high steer arms

Hydro Assist w/ removable steering cylinder

Homemade extended shock towers and modified RBV coil buckets w/ internal bumpstop

Homemade radius arms with 1.25″ Johnny Joint ends

Explorer 31 Spline 8.8 w/ lock-rite locker, disc brakes, 5.13's, 1/4″ Steel cover, trussed, welded tubes, and Yukon Chromos w/ C-Clip elim

2″ Chevy lowering shackles

Single traction bar w/ shackle

PS cooler

PS spin on filter

High flow PSC Saginaw pump w/-12 AN can

1qt+ External PS resi

'98+ one piece rear drive shaft (shortened for doubler)
Brakes
'78 Thunderbird Front calipers

'02 F150 Lightning rear calipers

'98 Super Duty Hydroboost

1-Ton brake master

ABS removed (not unplugged, but completely removed and plug depinned)
Transmission, Transfer case(s)
Hybrid M50D Transmission (4.0 trans w/ 2.5 gear ratios)

Homemade billet aluminum short throw (15% shorter throw than a Hurst)

Manual Tcase swap w/ BW1354

1350/1354 Doubler
Engine, Cooling
Comp Cams 422 cam and dual valve springs

Smith Bros Pushrods and hardened Delta rockers

Engine oil cooler

Straight piped w/ cats still

Pacesetter Headers

66mm BBK TB

Homebrewed High-Idle setup

Cartridge style fuel filter housing

Homemade snorkel w/ pre-cleaner
Exterior, Body Armor
Homemade HD front and rear bumpers, tailgate, and backrack w/ LED taillights

Boxed/reinforced frame horns

Aluminum belly skid

Tree/Rock sliders

Cut and rolled fenders

Aluminum pop out windows

Homemade tubed core support

Thunder bolt mirror glass w/ LED turn signals

Explorer mirrors w/ puddle lights

Clear corner lights

'03 Tail lights

'93 4×4 grille w/ Yellow Ford emblem

Removable mirrors

20% Window Tint
Interior
Pillar pod w/ Autometer UltraliteII Oil pressure and Voltage gauges

Custom aluminum switch panel w/ Autometer UltraLiteII wideband, boost, and temp gauge

Modified radio bezel with HVAC vents deleted

Explorer full length center console, dual lighted sun visors, and overhead console

FX4 LvlII Seats

FX4 LvlII silver gauge cluster & HVAC panel

Rubber Floor
Electrical, Lighting
130w KC Daylighters

(2) 130w KC 69 Series

Dual Optima batteries

Aux fuse box for lights, horn, etc.

(2) Memphis 10″ Subs

Memphis 1100w amp

Pioneer Head unit w/ Bluetooth

Pioneer speakers

CB
Misc.
On-Board-Air

150A 12V disconnects

receiver mounted Warn M8000 winch

Remote Battery terminals

High mount breather manifold for Transfer case, Doubler, and rear axle.
Wheeling Photos: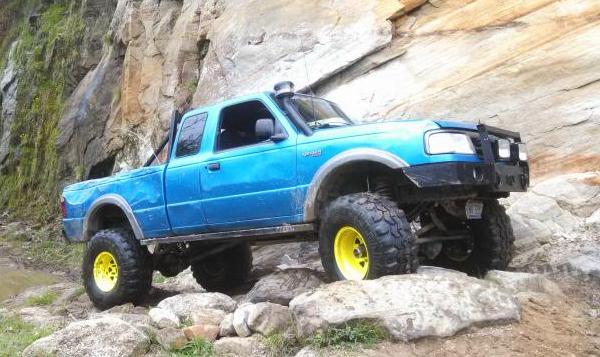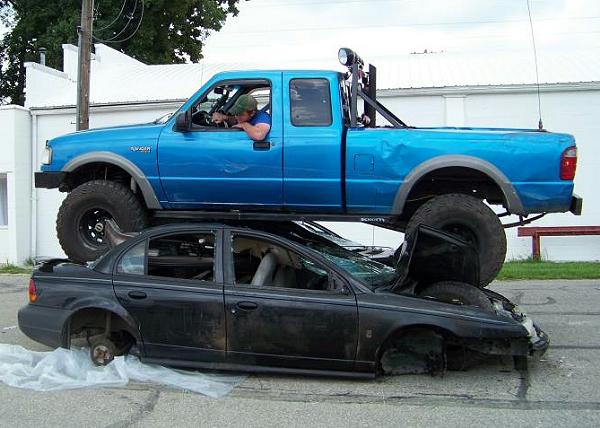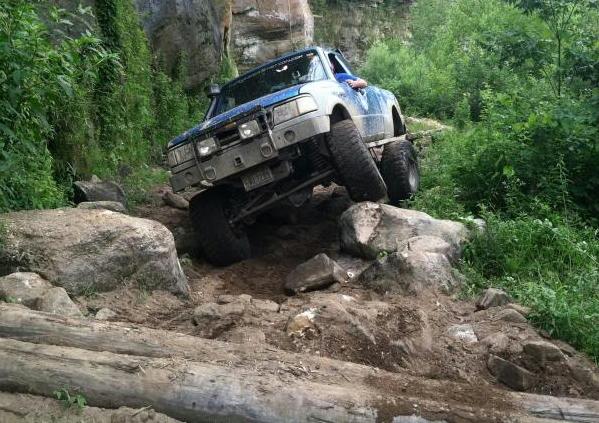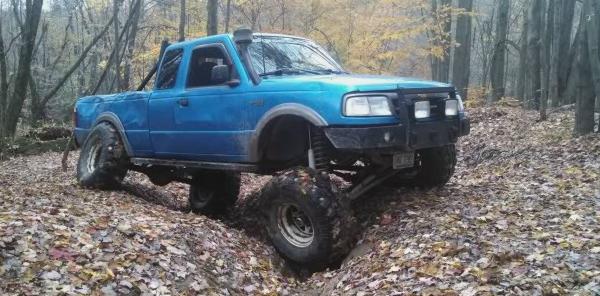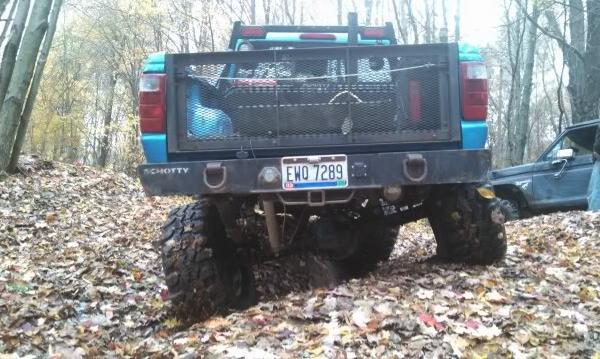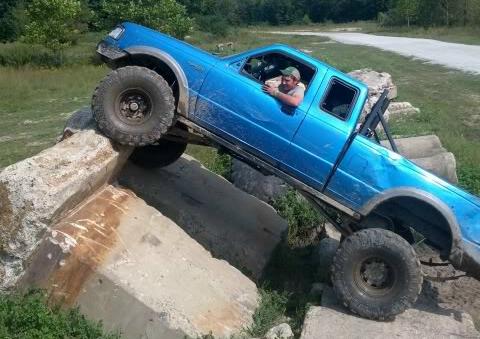 There are so many modifications to this truck. If we tried to show them all to you, it would take pages.
However, Seth (PlumCrazy) has done a great job documenting everything he's done to this truck from day one. You should look at his build to really appreciate the work he's done, and learn a few tips for your own build.
Check It Out:
TRS Awards:
October 2012 Off-Road Truck Of The Month
October 2014 Off-Road Truck Of The Month
2014 Off-Road Truck Of The Year