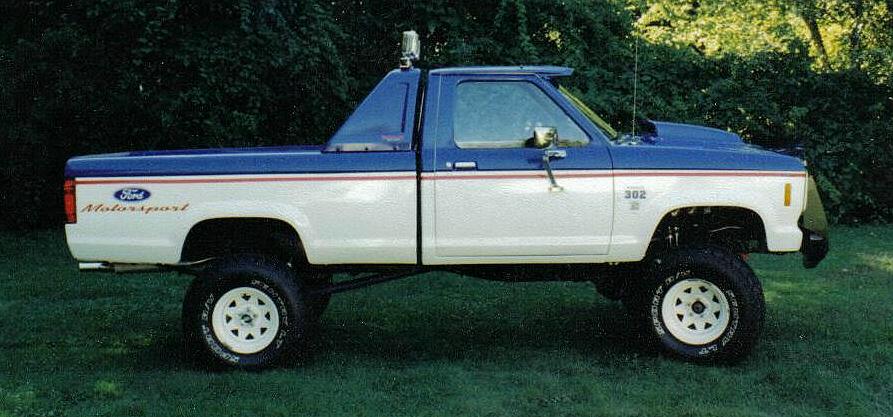 This is the original TRS-1 Ford Ranger built by The Ranger Station creator Jim Oaks.
It started as a red stock 1983 Ford Ranger 4×4 with a 2.8L V-6, and a 5-speed manual transmission. The truck went through various transformations over it's life. The more it was wheeled, the more things were changed / modified.
In 2014, the Ranger was stripped of it's good parts, and sent to the scrap yard. Years of playing in the mud had taken it's toll on the trucks body, and it hadn't been driven in years.  TRS-1 didn't see that much use after TRS-2 (1996 Ford Ranger 4×4) was built.
This truck wasn't purchased to be an offroad truck, but after hitting some trails in Wellsville Ohio in 1991, Jim was hooked. As Jim modified the truck, he realized that there weren't any websites for off-road Ford Ranger enthusiasts. The Ranger Station was created not only for him to share what he had learned with others, but to be a resource to allow others to share as well.
It's crazy to think that none of this would have came to be, if he would not have bought this truck off of a used car lot.
The Ranger Station's TRS-1 Ranger was featured in the December 2003 issue of Off-Road Adventures Magazine. The story is called 'Practical Ranger'.
Specifications:
Engine/Drivetrain:
1970 Ford 302cid V-8 Bored .030 Over
Edelbrock Performer Intake
Holley Avenger 4bbl Carburetor
Summit Racing Camshaft
Complete MSD Ignition
Intake Snorkel
Griffen Aluminum Radiator
16-Inch Electrical Pusher Fan
Flex-A-Lite Engine Fan
1970 C-4 Automatic Transmission
Dual Tranny Coolers
B&M Shift Kit
BW1350 Transfer Case
Explorer 8.8 Axle With 31-Spline Axles
Dana 35 Front Axle
Yukon 4.56 Gears
Trac-Lok Rear
Lock-Right Front Locker
Suspension/Tires:
Trailmaster 4-Inch Suspension Lift
5/8-Inch Front Spacer Under Coil Seat
Skyjacker Extended Radius Arms
Desert Steel Shock Hoops
Superlift Superrunner Steering System
Skyjacker Steering Stabilizer
(2) Skyjacker Hydro Shocks Per Wheel
Dual Rear Shock Mount
TRS Heavy Duty Differential Cover
Desert Steel Traction Bars
Extended Rubber Brake Lines
33x14x15 Inch Boggers in rear
33×12.5×15 Inch Swampers in front
Mickey Thompson Baja wheels
Body:
1983 Cab
1988 Bed
3-Inch Body Lift
Lund Cab Spoiler
Lund Visor
Lund Roll Pan
Custom Grill/Brush Bumper/Guard
Fenders Trimmed
Dupont Imron Paint
Duplicolor Brush On Bedliner In Bed
Duplicolor Brush On Bedliner On Cab Floor
Plasticote Spray On Bedliner On Rockerpanels and top of bedrails
Bucket Seats
Custom Center Console
Miscellaneous:
Warn XD9000i Winch
KC Lights
Unity Spotlights
Hi-Lift Jack
Front/Rear Tow Hooks
Powertank On Board Air
33-Inch Spare Tire
Shovel
Fire Extinguisher
First Aid Kit
Photos:
Click the photos to enlarge. Click the arrows to load more.