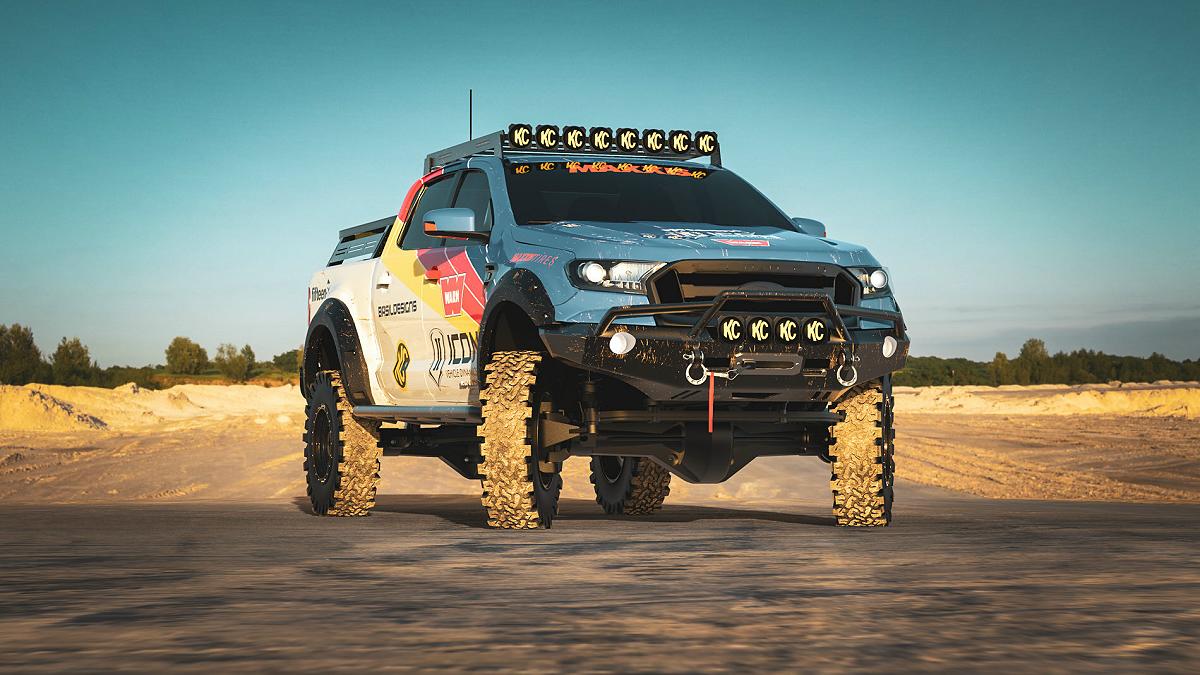 (Yes, this picture is photoshopped)
I'm not always a fan of SEMA build vehicles. I prefer to show off the hard work of individuals who spend their own money than that of people who spend someone else. Sometimes I have to weigh whether or not the build can inspire the readers here, versus just displaying a sponsored show vehicle.
I like the looks of this 2019 Ford Ranger, although I don't like the photoshopped axles in some of the pictures or the fact that it was painted as a tribute to Walker Evans. Although Walker Evans raced a Ford F-100 in the 1970's, the paint scheme used on the Ranger is from the time when Walker raced Dodge's.
This 2019 Ford Ranger is the project of Mark Porudominsky. Mark attended a KC Hilites Summer Camp and caught the offroad and overlanding bug. Building a SEMA Show vehicle was not a new endeavor for Porudominsky. The previous year, he also had one of his vehicles builds shown, a well-known 800-plus horsepower Golf MK4 R32. The work, dedication, and fast timeline were no match for Porudominsky. He hopped on the phone to call upon industry friends and acquaintances to help him get this new Ranger vision completed in time to be in the Maxxis booth at the 2019 SEMA Show.
The bottom of the truck is protected by Shrockworks underarmor. A Warn Ascent bumper protects the front, and a Zeon 10-S winch provides recovery in the event the truck or another vehicle gets stuck.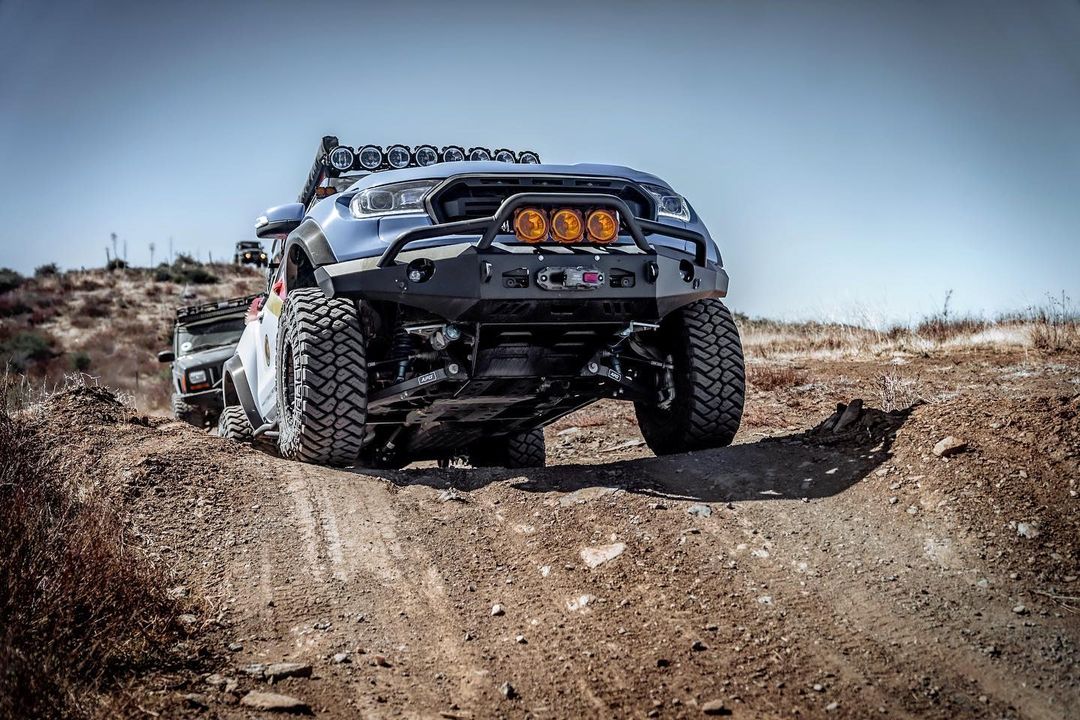 The Ranger rides on an APG (Automotive Performance Group) suspension. Their upper and lower control arms are matched with a set of long travel King Shocks with external reservoirs. They also added axle extensions, tie rods, and a set of APG/Deaver rear springs.
The Ranger rides on 17.9×5 Fuel Offroad Warp beadlocks with a -15 offset and 35×12.5 Maxxis Razr MT tires.
The fenders and bedsides were replaced with APG widebody carbon-fiber panels.
Lighting is provided by KC HiLites Pro 6 light bar up top, 10 LED C Series, two Flex Duals, a set of Flex Singles as dust lights, and a Chase Bar. All of the lighting is controlled by a Trigger Controller Six Shooter.
A Wilco bed rack holds a Roam Adventure Co. rooftop tent. Unlike other truck owners, Porudominsky stores his Dometic CFX3 55IM in the back seat, along with Pelican storage cases and gear. More storage is in the bed, but he doesn't stack things too high to allow for more driving versatility.
Mark plans to remove the rear seat for more storage and add a solar panel and dual battery setup to prepare for a trip from Alaska to Patagonia.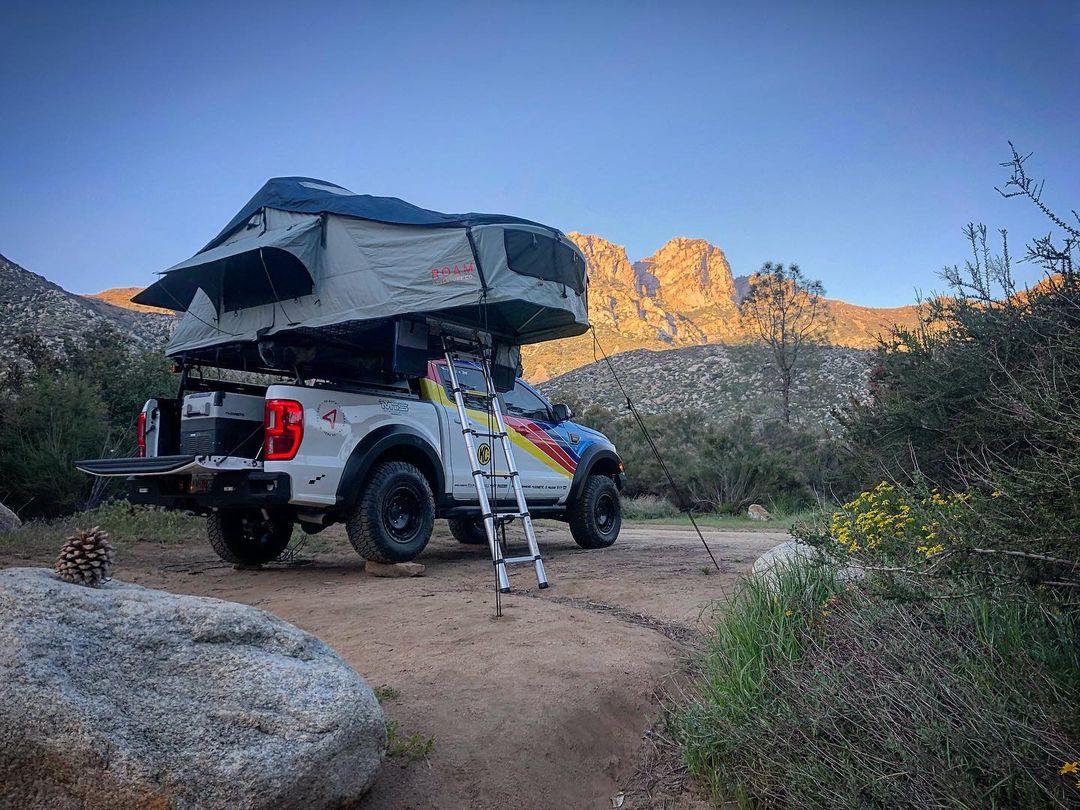 Modifications:
Engine: 2.3 Turbo Ecoboost with intercooler, Ford Performance tune and intake
Suspension: APG long travel upper and lower control arms; APG tie rods; APG axle extensions; King Shocks with external reservoirs; Raptor bumpstops; APG/Deavers HD Leaf pack
Wheels & Tires: Fuel Offroad Warp Beadlock 17-inch with -15 offset; 35×12.5 Maxxis Razr M/T
Interior Accessories: Dometic CFX3 55IM; Pelican Suitcases; dual Trigger Controller Six Shooter
Exterior Accessories: Ranger Raptor grill; KC HiLites Pro 6 Light Bar, ten LED C Series, two Flex Duals, a set of Flex Singles as dust lights, Chase Bar, dual in-bumper C2s; Warn Zeon 10-S winch; Warn Ascent front bumper; ShrockWorks full underbody armor and sliders; Roam Adventure Co. RoofTop Tent; Wilco Bed Rack; Pelican Ruck cases, suitcases; Mountune intercooler and catch can; AWE Tuning exhaust
More Photos: