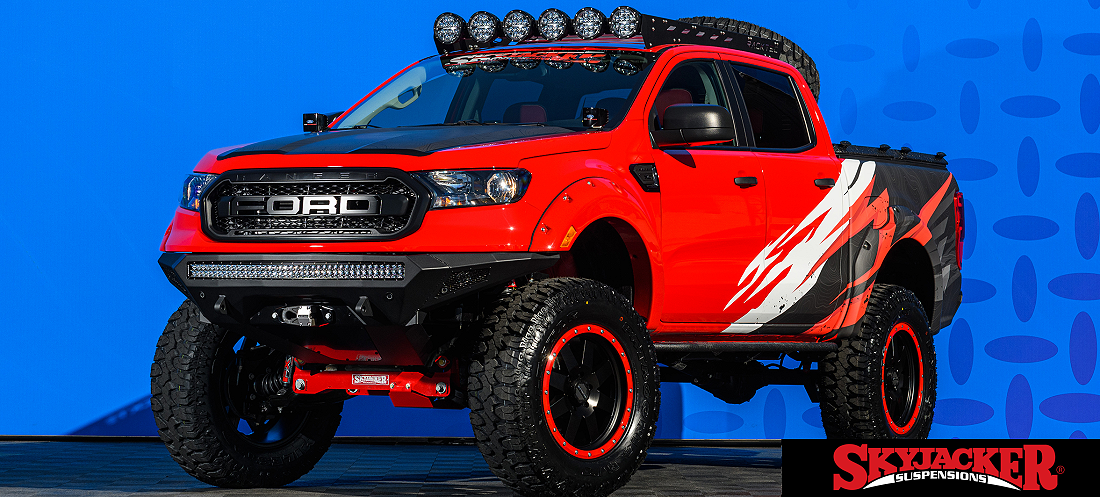 When it came to suspension systems for the 1983-1997 Ford Ranger 4×4 trucks, nobody made a better bolt on suspension system than Skyjacker Suspension. These heavy duty Skyjacker kits didn't just add lift, they also offered extended radius arms that increased wheel travel. For some reason Skyjacker didn't take an interest in the 1998-2011 Ford Rangers leaving enthusiasts to find kits from other companies.
Skyjacker has shown new interest in the 2019 and newer Ford Ranger and showed up at the 2021 SEMA show with their own modified 2021 Ford Ranger 4×4.
The Ranger featured a number of brand new components including Skyjacker's ADX 2.0 Adventure Series Remote Shocks, a 6-inch lift, and a 3.5-inch A-arm suspension kit. In the rear, a new differential cover gives the truck a custom look.
The suspension setup makes room for a set 37×12.5-inch Milestar Patagonia mud-terrain tires mounted on a set of 20×9-inch Raceline Defender 935B wheels.
The 2.3L EcoBoost is now backed by a Borla cat-back exhaust with black tips and an EcoBoost power pack performance calibration.
The exterior received a "Ford" script grille from Ford Performance, Bushwacker fender flares, a Warn EVO winch, Addictive Desert Designs Stealth Fighter front and rear bumpers, Armordillo running boards, a Racktek Phantom Series roof rack, and a Diamondback HD bed cover.
The Ranger also received a host of Rigid lighting, including a hood-hinge-mounted off-road light kit, roof rack-mounted 6-inch lights, a 40-inch light bar in the front bumper, and cube lights in both the front and rear bumpers.
On the inside it features custom Katzkin leather seats stitched up by Advanced Performance Interiors, a Rugged Radio MI radio, and an sPod switch panel.
Skyjacker sells a 2.5-inch and 3.5-inch kit for the 2019+ Ford Ranger, but unfortunately they aren't selling the 6-inch kit. I called Skyjacker but they told me that they don't have any immediate plans to offer it. Apparently there are other projects ahead of it.
I would really like to see Skyjacker become the leader in Ford Ranger suspensions again. If you feel the same or are interested in Skyjacker offering their 6-inch kit, Contact Skyjacker and let them know. Maybe if they know there's enough interest they speed up it's availability.
Meanwhile stay tuned for The Ranger Station's very own 2021 Ford Ranger (TRS-3) that will feature Skyjackers 3.5-Inch Suspension Kit.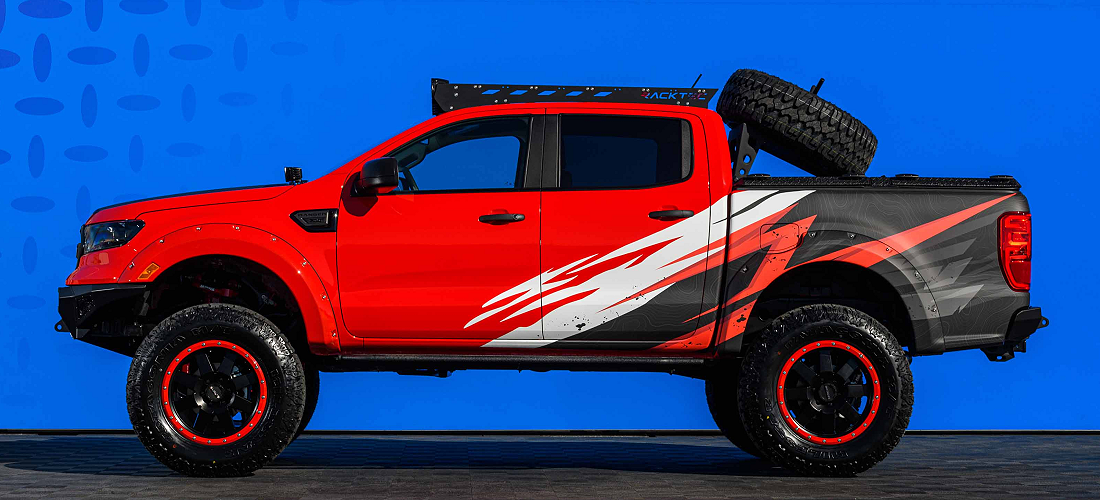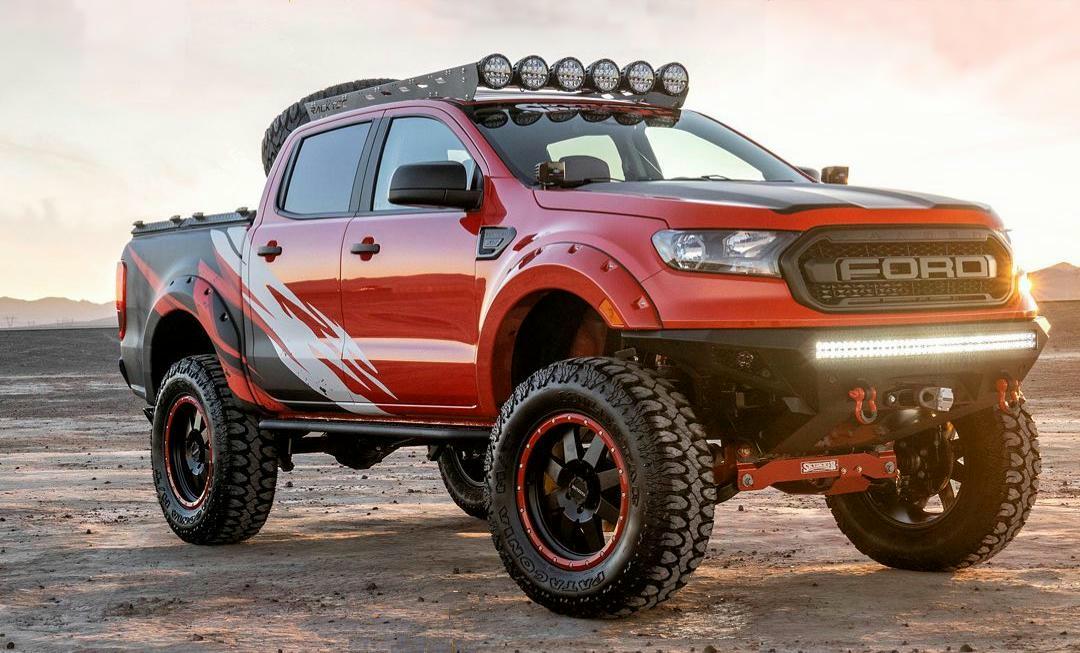 Video:
More Photos:
Click the photos to enlarge.