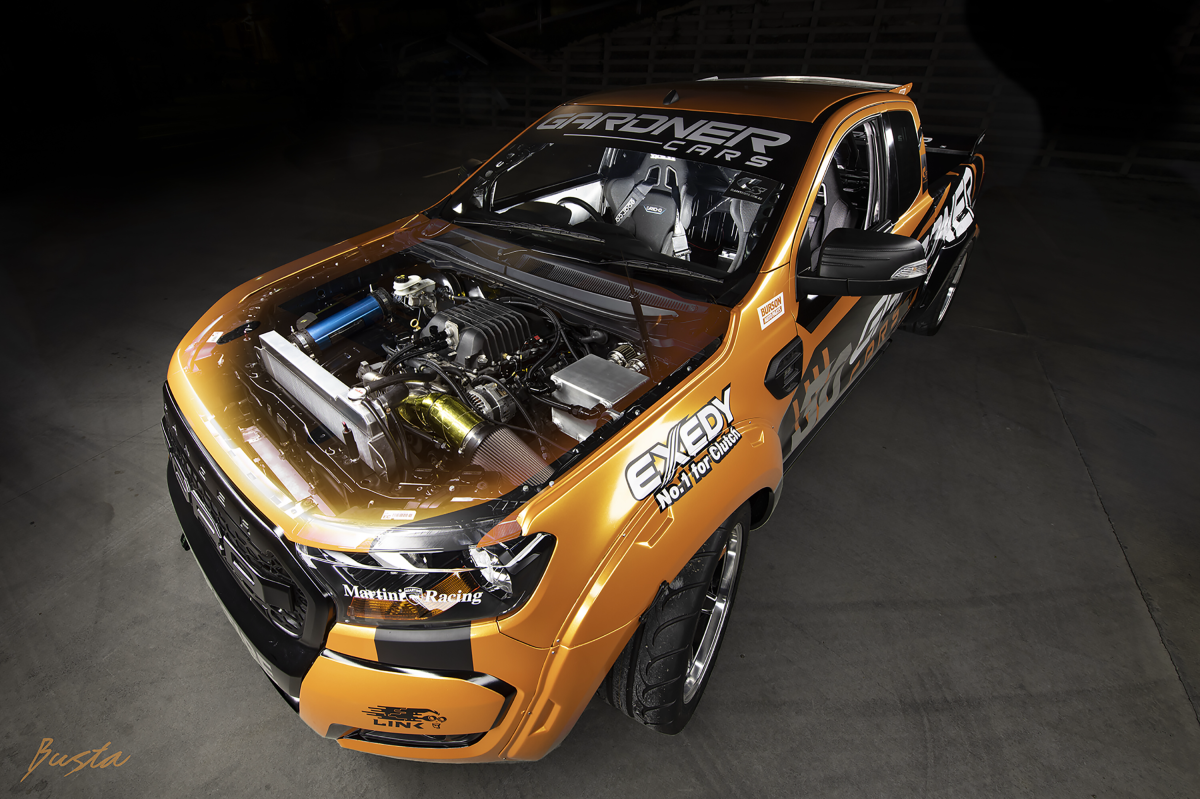 Australians are best known for adding suspensions lifts and snorkels to their Ford Rangers, but Dave Gardner from Gardner Mods had a different plan for this Ford Ranger.
Gardner Mods got the vehicle after it had been written off from water damage, and set out to make it a tire ripping machine. They originally thought about putting a Coyote 5.0L V-8 in the Ranger, but after pricing a motor and measuring the engine bay, they realized that they didn't have enough room, and the cost would eat up to much of their budget. They managed to find a wrecked Holden GTSR with a good 6.2L Supercharged GM LS engine. The engine comes from the factory with 577 horsepower and 546 lb-ft of torque.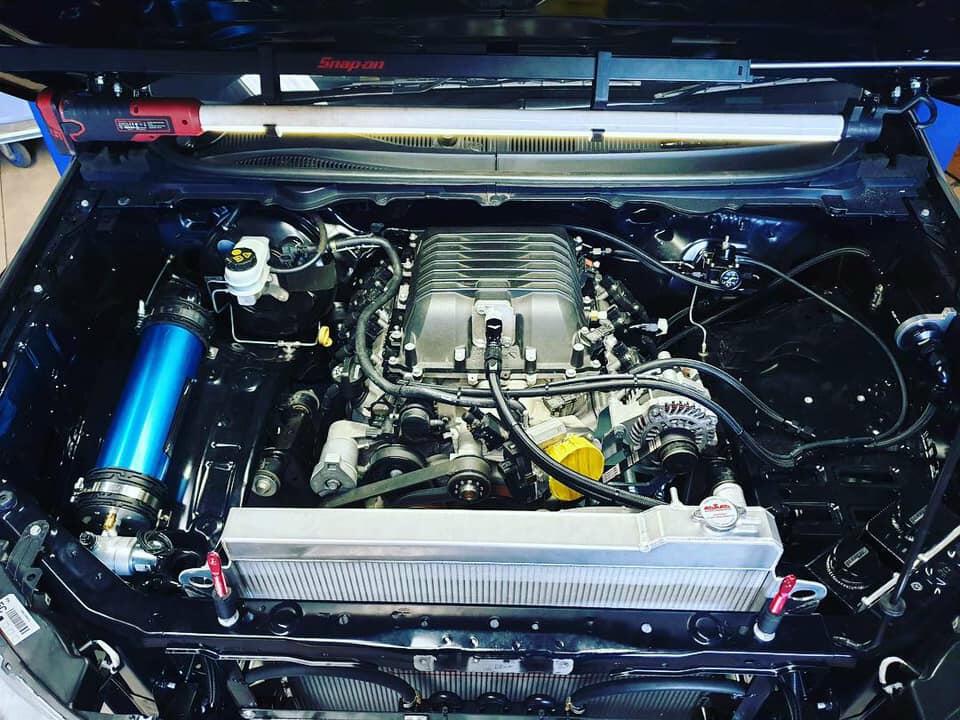 To accommodate all of the V8 power, the Ranger was reinforced all around, removing all unneeded materials, and stripping the interior to the bare frame. Each bumper front and rear includes multiple metal braces, strengthening the ranger's exterior. On the inside, a full, custom roll cage stretching to the rear of the bed, was installed to maintain the trucks structural integrity, since the majority of weight had been removed. In the bed, one of the coolest aspects of the truck is the golden twin piped exhaust. The pipes exit directly out of the center of the bed giving it a classic supercar look. Since the plan was to drift the Ranger, it received a steering angle kit, 9-inch limited-slip differential, and a full widebody kit complete with a low, drag styled spoiler.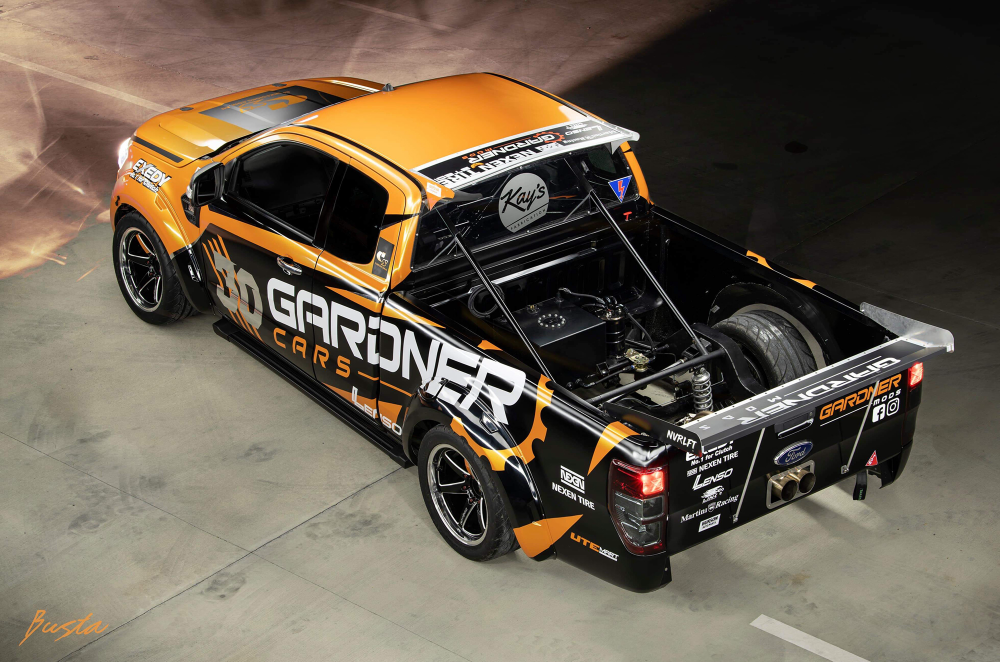 The Build Break Down:
Engine – 6.2L Supercharged LSA V8 (out of a HSV GTSR) with 18% Overdrive Pulley – Upgraded Valves and Valve Springs – Custom Grind Camshaft To Suit – ATI Superdampner – Accusump – Custom Catch Can By
Kays Fabrication – Custom Intake By Kays Fabrication
Cooling System – Custom Made by ADRAD – Twin Aeroflow Oil Coolers – Powersteering Cooler Supplied by Burson Autoparts
Oils – Martini Racing Sint 30R/T Engine Oil (Smurfs Blood) – Racing Formula RF-700 Brake Fluid
Brakes – DBA X Gold Street Series Rotors – DBA Xtreme Performance Brake Pads – Wilwood Brake & Clutch Master Cylinder – Wilwood Clutch Pedal
Fuel System – Taarks Fuel Cell – Taarks Surge Tank with Twin Walbro 460 Fuel Pumps – 1000cc Injectors – Aeroflow Fuel Rails – Taarks Fuel Pressure Regulator – Running E85 Through E85 Compatible Teflon Taarks
Fuel Hose and Dash Fittings
Suspension – Custom 4 Link Rear Suspension by Kays Fabrication – Viking Coilovers – Modified Front Knuckles by Kays Fabrication – Modified LCA's By Kays Fabrication – Custom UCA's – GKTech Tie Rod Ends
Drivetrain – Hyper Series Twin Plate Exedy Clutch – Custom Lightweight Flywheel – TR6060 Gearbox With Customer Shifter Kit By Malex Motorsport – Custom 2 Piece Tailshaft – Modified Factory Ford Ranger Diff
ECU – Link G4 Thunder ECU – Link MXS Strada Dash – Link ECU Lambada Sensors – Link ECU Fuel, Oil and Coolant Sensors
Tuning – M1 Tuning Oxenford by Ben producing 600hp & 1200 NM of Torque
Wiring – 12 Volt Performance Custom Mil Spec Wiring Loom – Engine Protected By PDM Supplied By 12 Volt Performance
Interior – Sparco GRID-Q Bucket Seats – Sparco Harnesses – Sparco Steering Wheel with Quick-Release – Custom Roll Cage by Kays Fabrication
Wheels – Lenso Spec X – 18×9+00
Tyres – Nexen Nfrea SURG4
Exterior – Utemart Flares – Wrapped By Clarkesigns – Custom Rear Window Spoiler – Custom Tailgate Spoiler – Custom Side Steps

Video:
More Photos:
Click the photos to enlarge.
Links: