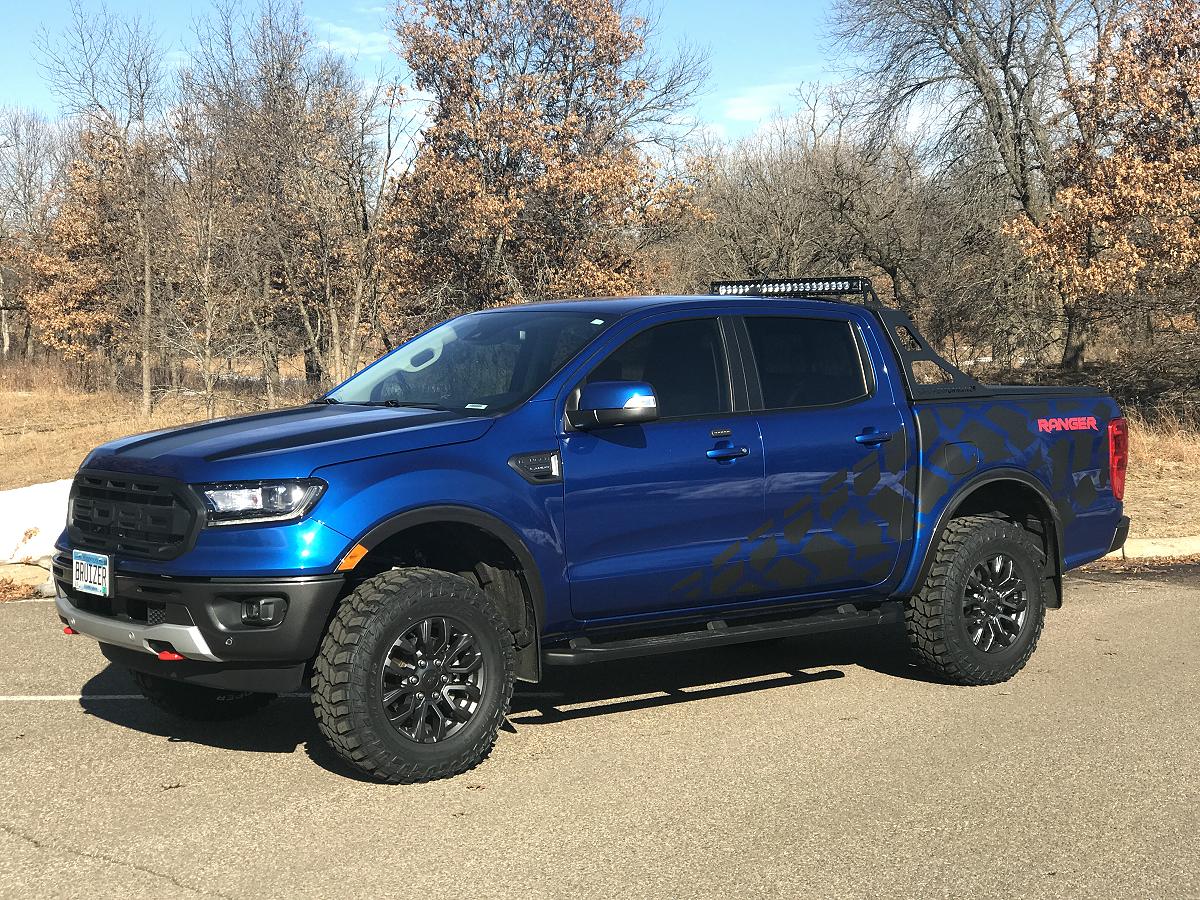 With the return of the 2019 Ford Ranger, there have been several modified Ford Ranger's that have showed up online and in print. And while those trucks might look cool, they don't really impress me much. I get it, your company has money to throw at a new Ford Ranger, and you're trying to lure in customers. I put those trucks up there with the SEMA trucks that look cool, but don't actually get used. No offense to the businesses and their owners, they're just not the type of Ranger I really like to profile. What really gets my attention is the owner built trucks. Not the people with deep pockets and ridiculous builds.
I've been keeping my eyes open for an owner modified Ford Ranger that could serve as an inspiration to other new Ranger owners. That Ranger finally showed up when forum member 'Bruizer' posted the Ranger you see here in the thread 'Largest tire you can put on a 2019 Ford Ranger without a lift'.
Bruizer started with a new 2019 Ford Ranger 4×4 and added:
Ford Performance Chase Rack
LED Light Bar
Ford Performance mud flaps
Ford slush mats
Tailgate RANGER letter inlays
Ford Folding soft tonneau cover
Ford "Ranger" Sill Plates, all four doors
Front Tow Hooks
Ford touch-activated Bed Lights
RANGER inlay in blue on pax dash
Center Console organization tray
Front window tint
Raptor-Style Grille
Forscan Programming Changes (various)
Rear Tow Hook
Tire Track Decals
Hood Racing Stripes
Cup Holder & Cubby Nonslip Liners
RIDE sticker on cab back window
Ford Bed Extender Installed
Ford Tailgate Dampener
Auto-Folding Mirrors Module
2.5-Inch Leveling Lift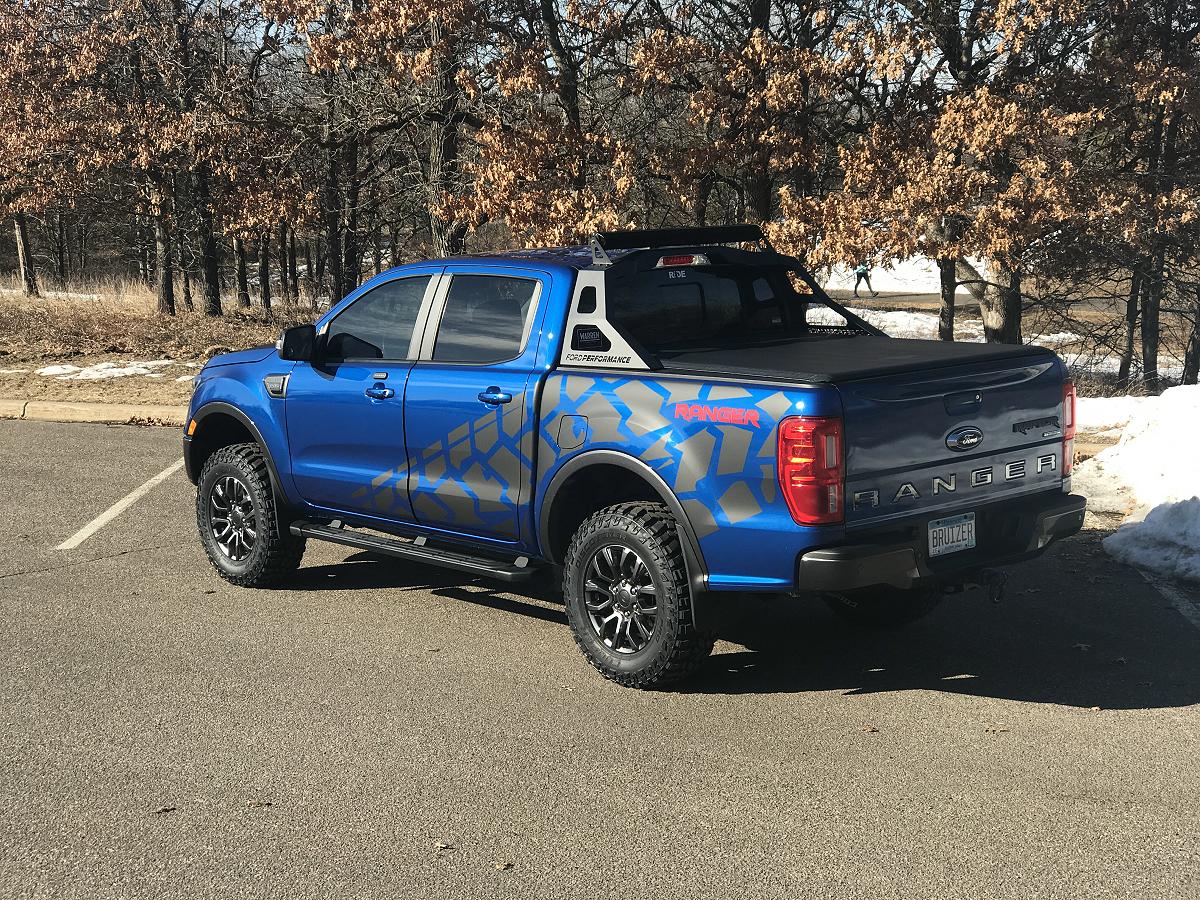 These new Rangers are a great truck, and have far more options than the previous generation of Ford Rangers. Other than the factory electric lockers, you can add items such as a Ford Performance lift, and Ford Performance Chase Rack to mount an off-road light bar.
After seeing how well the Cooper Discoverer STT PRO tires did on the Trans America Trail last year on our 2019 'Loan Ranger', Bruizer decided that they would be the tire to go on this Ranger. They definitely add to this Rangers 'go anywhere' aggressive look.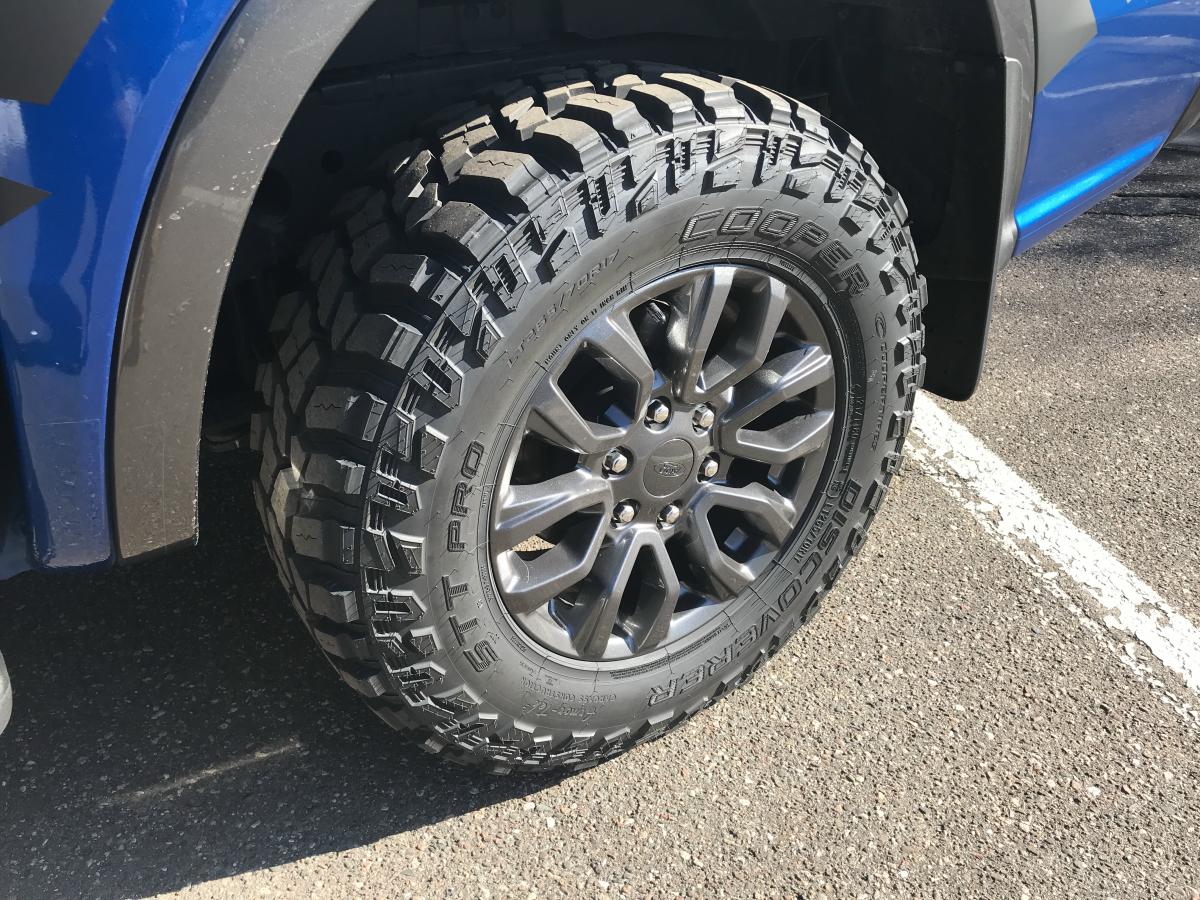 One of the coolest additions to this truck are the graphics that have been added. This goes back to the 'Built, Not Bought' mentality. Anyone can order some decals off of the internet. That was not the case here.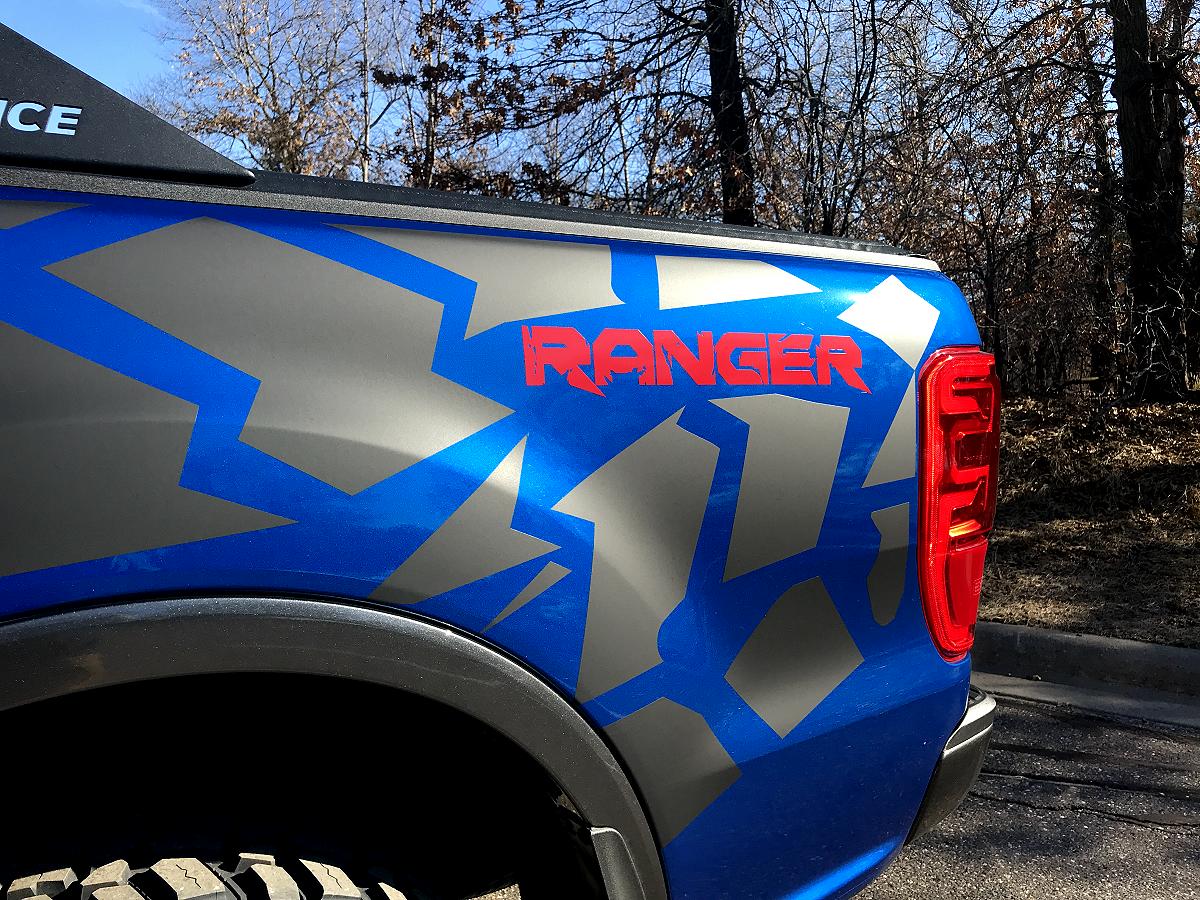 Bruizer went to a local sign shop that typically does vinyl work on commercial vehicles, and had them work on a decal design until they came up with something he was happy with. These unique attentions to detail are what really sets the truck apart from anything else out there.
Regardless of the year, if you've been modifying your Ford Ranger, we'd love to see it. Make sure you take the time to post it in our forum, because it just might end up on our front page.
More Photos:
Click the photos to enlarge.