June 7th, 2019 (Ouray, Colorado to Moab, Utah)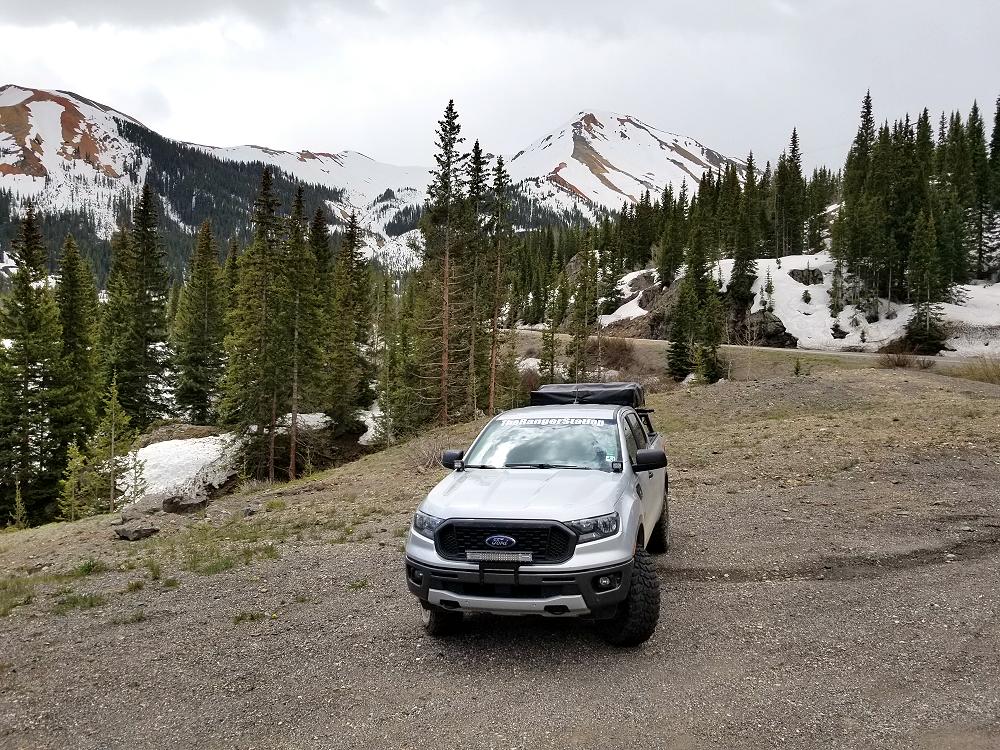 Waking up today in Ouray, my biggest goal for the day was to get out of Colorado. I headed south on US 550 (Million Dollar Highway) towards Silverton to see if I could find some photo opportunities, but the road going back to Yankee Girl Mine was buried in snow. I went a little further and stopped at the turn off for Black Bear Pass.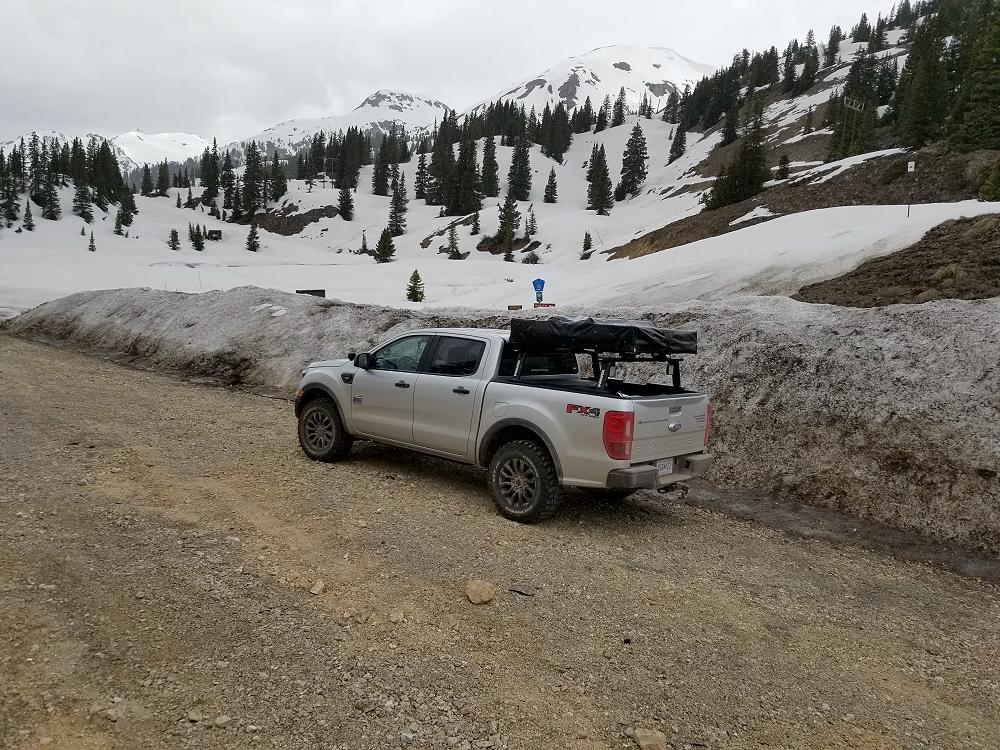 The road for Black Bear Pass was covered in several feet of snow. I knew it would be, but I wanted to see just how deep it was.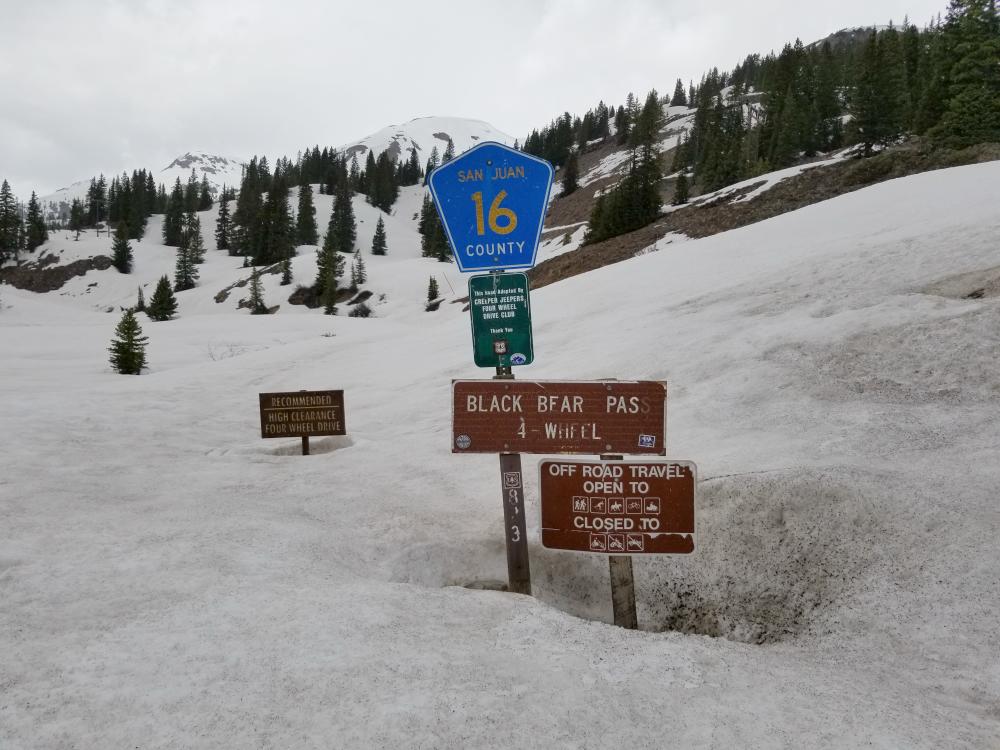 I found it funny that the sign reading "RECOMMENDED HIGH CLEARANCE FOUR WHEEL DRIVE" is barely sticking out of the snow. Needless to say, it will be a few weeks before this road is open. I also saw a lot of avalanche debris that can be seen in the video posted below.
I decided that I should just continue along the Trans America Trail (TAT), which would cross Ophir Pass from US 550 to SR 145 south of Telluride. I knew that it was closed due to snow as well, so I took the highway around the mountain and came south on SR 145 to intersect with the other end of Ophir Pass. I was disappointed that I didn't get any photos of the truck in the snow.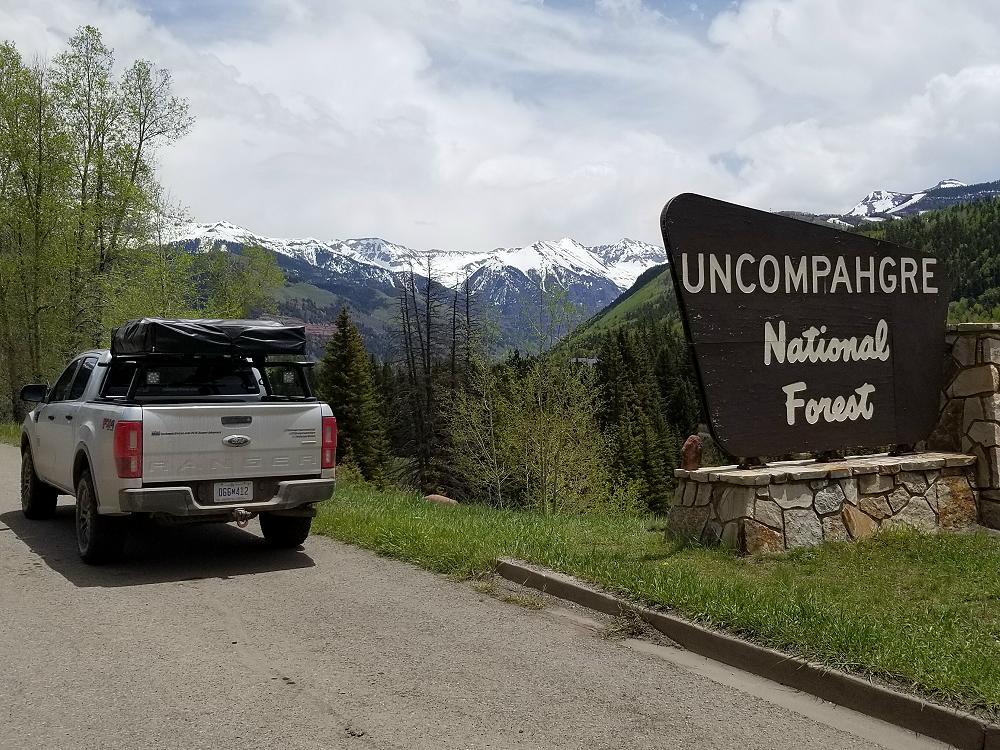 After connecting with the TAT, I finally came to the the first off-pavement section for the day. The road goes up the side of the mountain without guardrails, but eventually trees become your guardrail.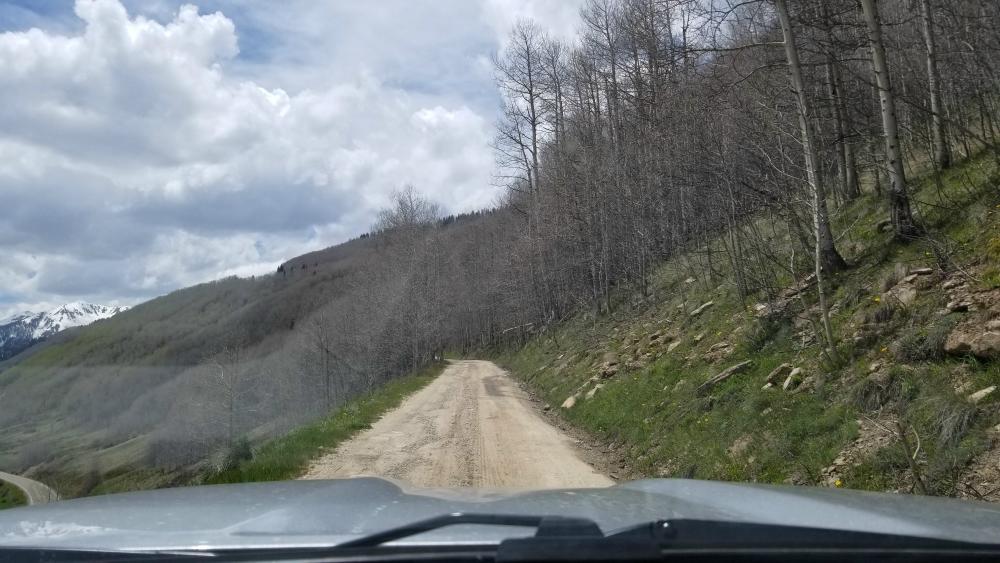 The road started out dry, but then turned to mud, and then snow. The snow was wet and very heavy, and there was mud under it. As I was going up the hill, the truck started sliding to the left towards the trees and the drop off. I tried powering out of it, but stopped before I got to far out of shape.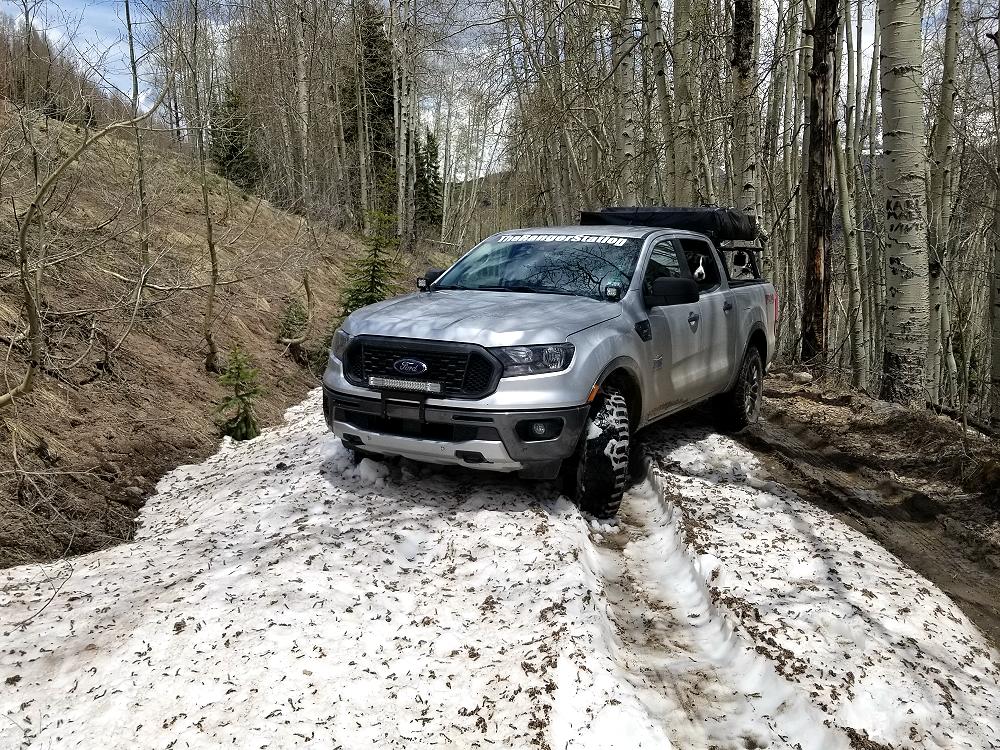 This my friends is why the FX4 (or anything called an 'off-road' package) should have a good front limited slip, or better yet, an electric locker. My FX4 Super Duty had a front limited slip, but the Ranger does not. The Chevy Colorado has a front locker option, and the Jeep Gladiator has a front locker. The Ford Ranger should have one as well.
But let me get off of that rant, and to the point…
A 2WD truck will fishtail and go up a muddy hill sideways because it's pushing against resistance.
A 4WD truck with only one wheel digging in the front can start doing the same thing if the wheel that's not digging is encountering a lot of resistance.
In this case, I got myself unstuck by digging some of the snow out from in front of the right front tire. You can see the snow building up in front of it because it's not digging. It's just hitting a wall, so the truck is starting to pivot around that point. Once I dug some snow out, I was able to get enough forward momentum to power through it.
This isn't an off-road park. This is a public road. their are roads like this all over the country that people have to drive on. And I can't tell you how many signs I've seen out west that indicate that there's no winter maintenance, or snow plowing after certain hours and weekends. If you're going to call it off-road, make it off-road capable.
If I would have had the factory all terrains, I would have been in trouble. Their tread would have been packed full of mud and snow, and offered no traction whatsoever.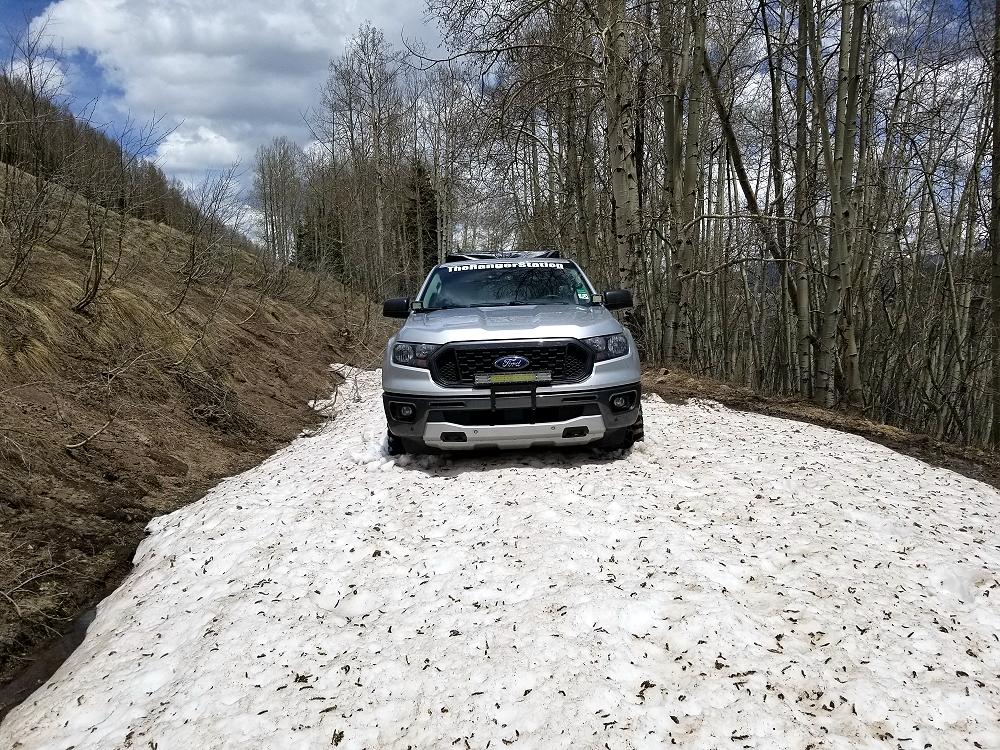 Here I actually stopped in the snow for a photo, and was able to claw my way out of it with the Cooper Discoverer STT PRO tires. I got a little further down the road and ran in to a lot more snow that appeared to get deeper, so I decided it was time to turn around.
Having turned around to skip this snow covered section of the trail, the day started going much smoother. I came across this Galloping Goose in Dolores Colorado when I stopped for fuel.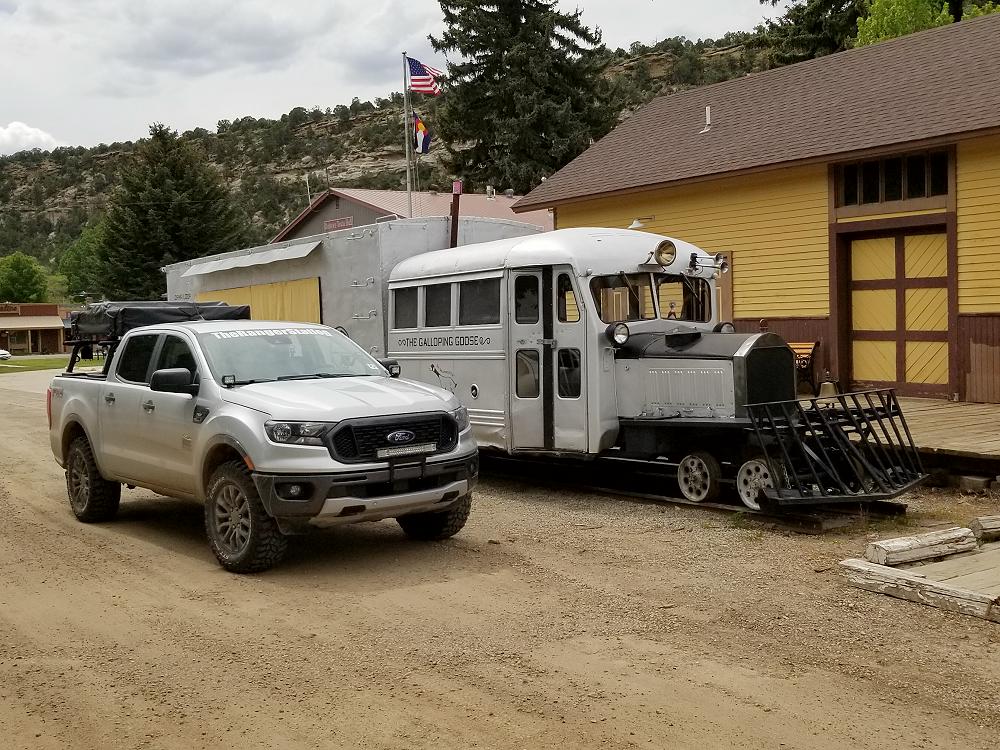 You can learn more about the Galloping Goose and this locaton at http://www.gallopinggoose5.org/
From Dolores, I was able to head north on RD 31, and then RD 526 to reconnect with the Trans America Trail.
Right before I crossed from Colorado to Utah, I came across what I thought was a T-intersection with a driveway directly across the street. That driveway went down through someones property just like a driveway, but it was actually a road.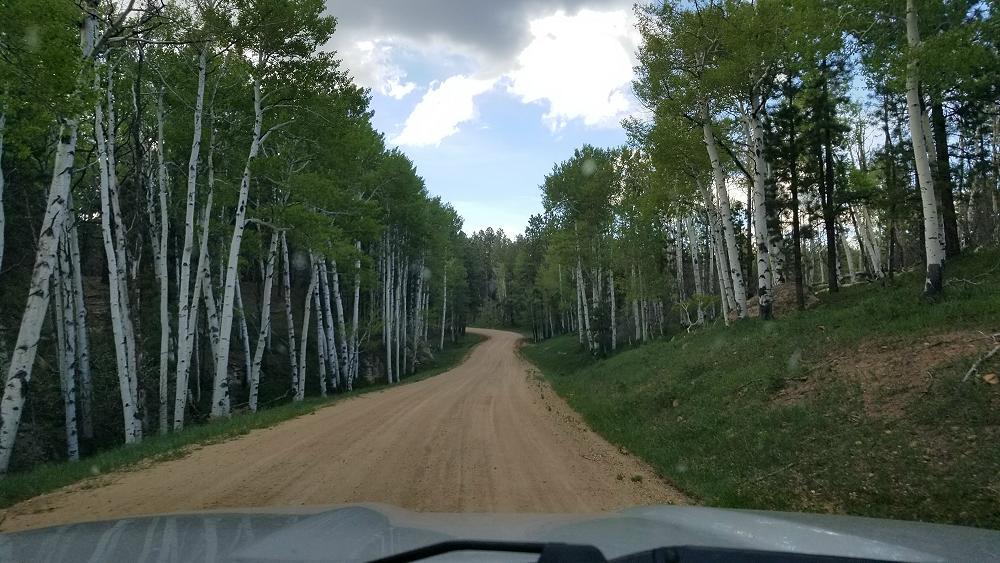 The Trans America Trail takes you around Mt Peale and then in to Moab. I was hoping that I wouldn't get detoured any more, and didn't see snow being an issue, Especially here. But snow started greeting me once again. And then it told me to turn around and go back to wherever it was I came from.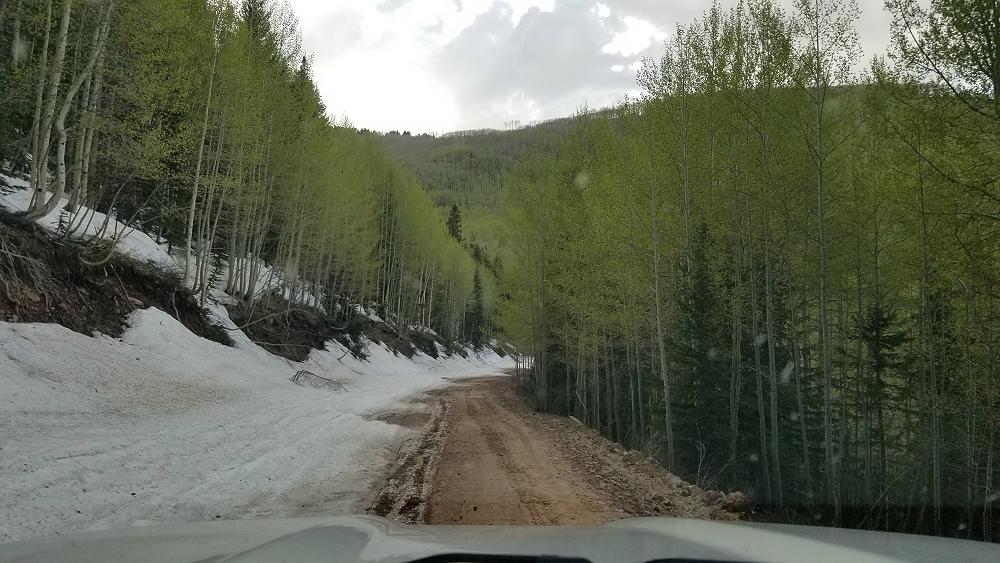 I've had a lot of fun in the snow over the years. I've even hosted Snowball Runs' in the winter. I'm not crazy about getting stuck in the snow late in the evening on a narrow road with a steep cliff.
Once again, I would have to turn around and head back.
Within an hour I was in Moab, and found myself going from snow, to temps in the mid 90's. It was Friday, which meant all of the campgrounds and hotels were full. I headed north to Interstate 70, and got a hotel room in Green River. I could have camped off the side of the road somewhere, but it was getting dark, and I didn't know anything about the area.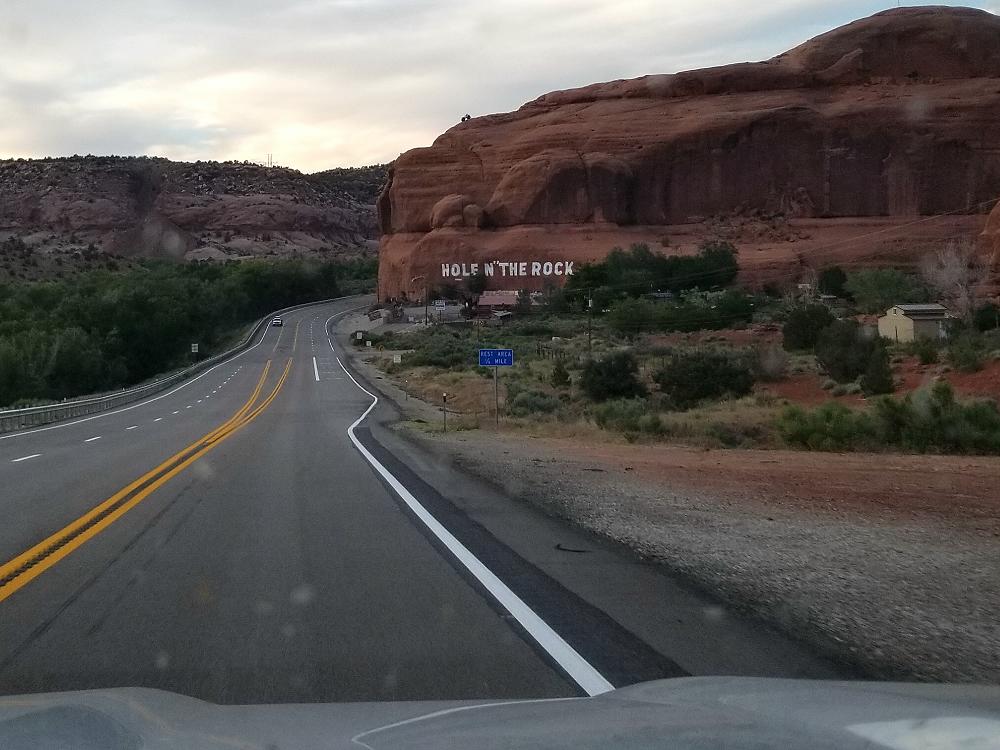 My plan would be to backtrack in the morning, and reconnect with the Trans America Trail in Moab.
Today I drove 108 miles off pavement, with 63 of those being in Colorado and 45 in Utah.
Video:
June 8th, 2019 (Moab, Utah to Salina, Utah):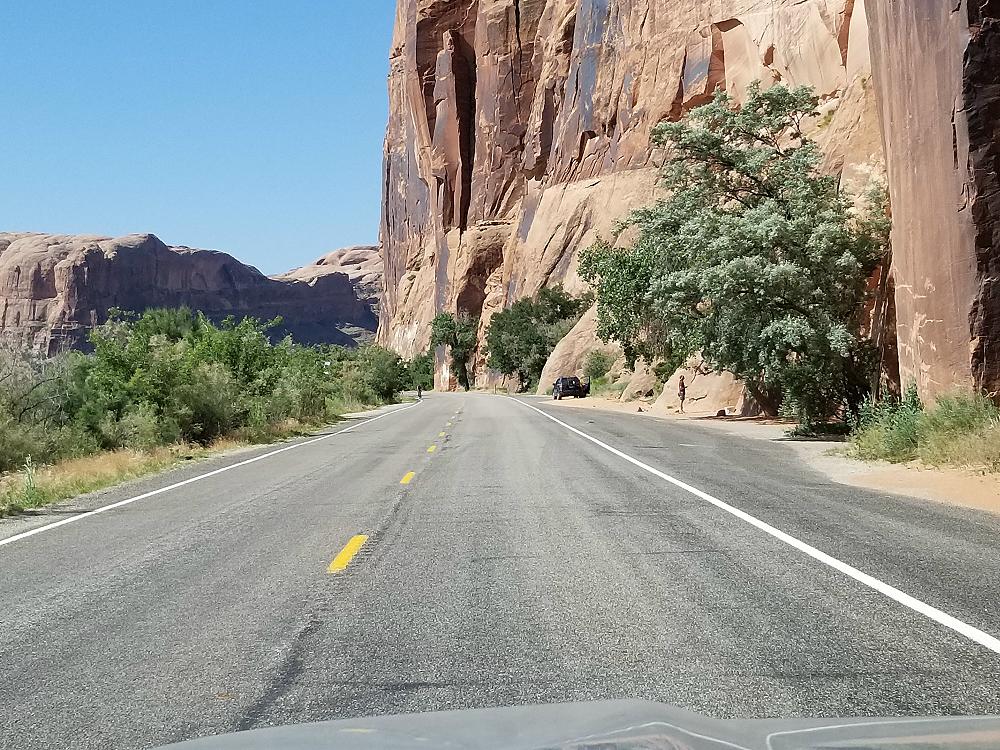 I started Saturday by heading back to Moab to pick up the Trans America Trail (TAT), even though it would come through the area where I stayed the night.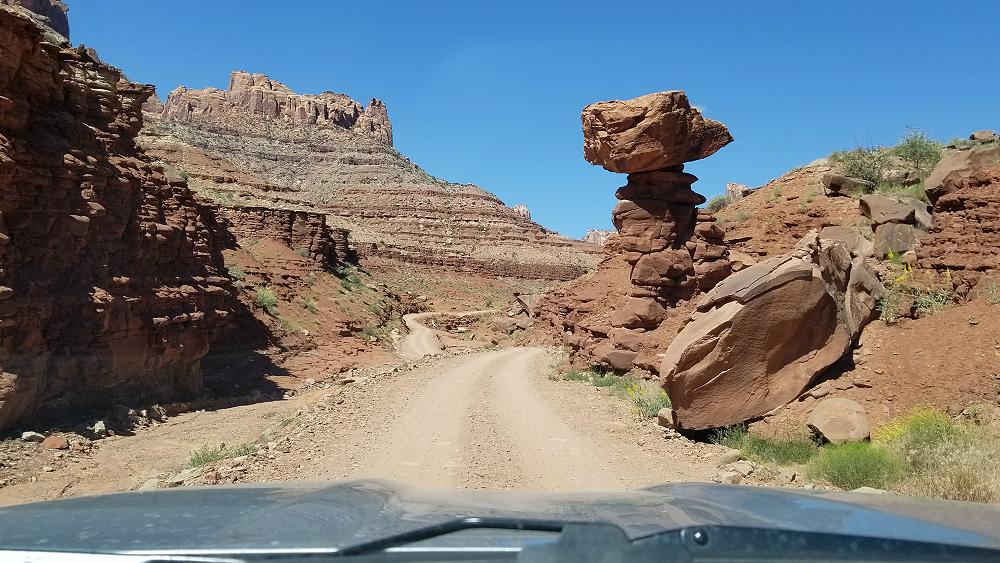 The rock formations around Moab are pretty interesting. It's crazy that this rock balances up there and doesn't fall.
This formation was a fun surprise. Although I was being extra careful to not scratch this Ranger that Ford had loaned me.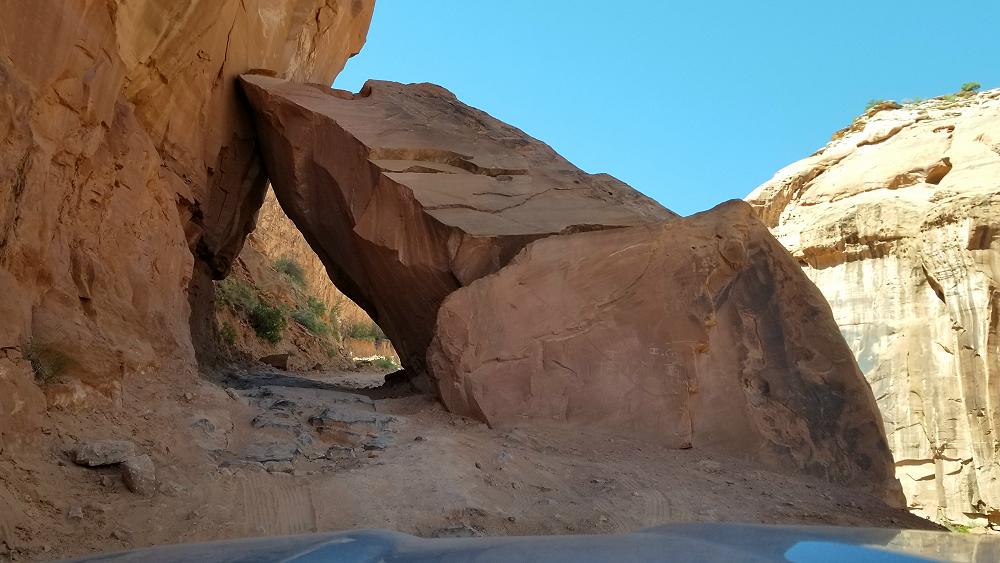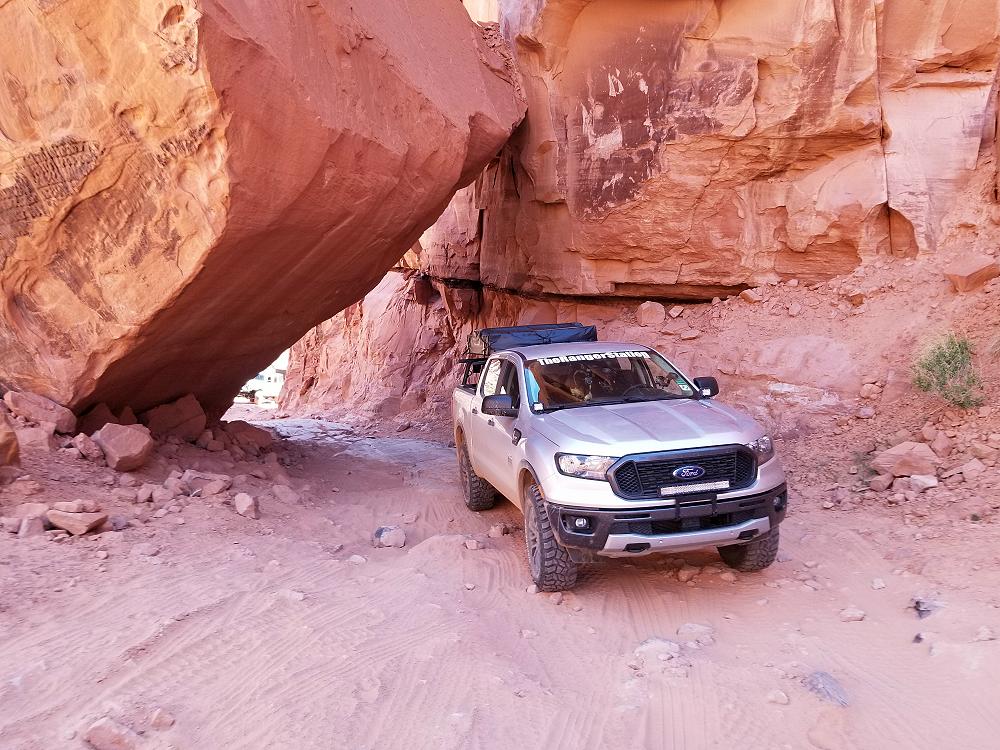 When the TAT brought me back to Green River, I topped off the gas tank again. Even if I still had 3/4 of a tank of gas, I always topped it off in between the off pavement sections if I had the chance.
Let me just say that the horseshoe type section that heads south out of Green River (Road 1010) seems to take forever to complete.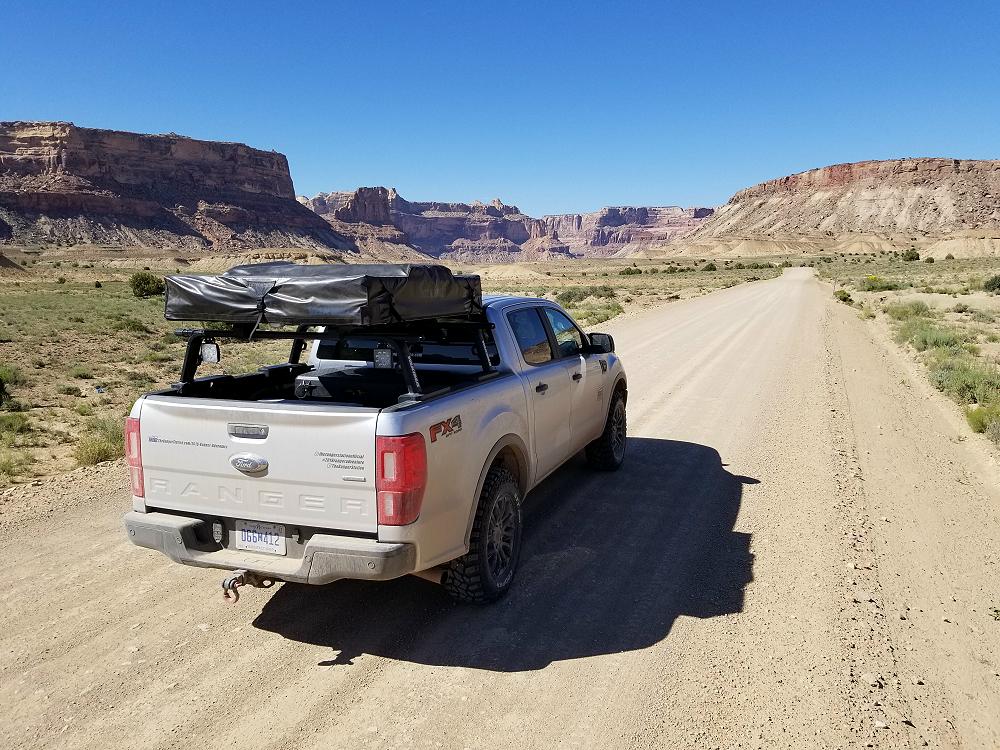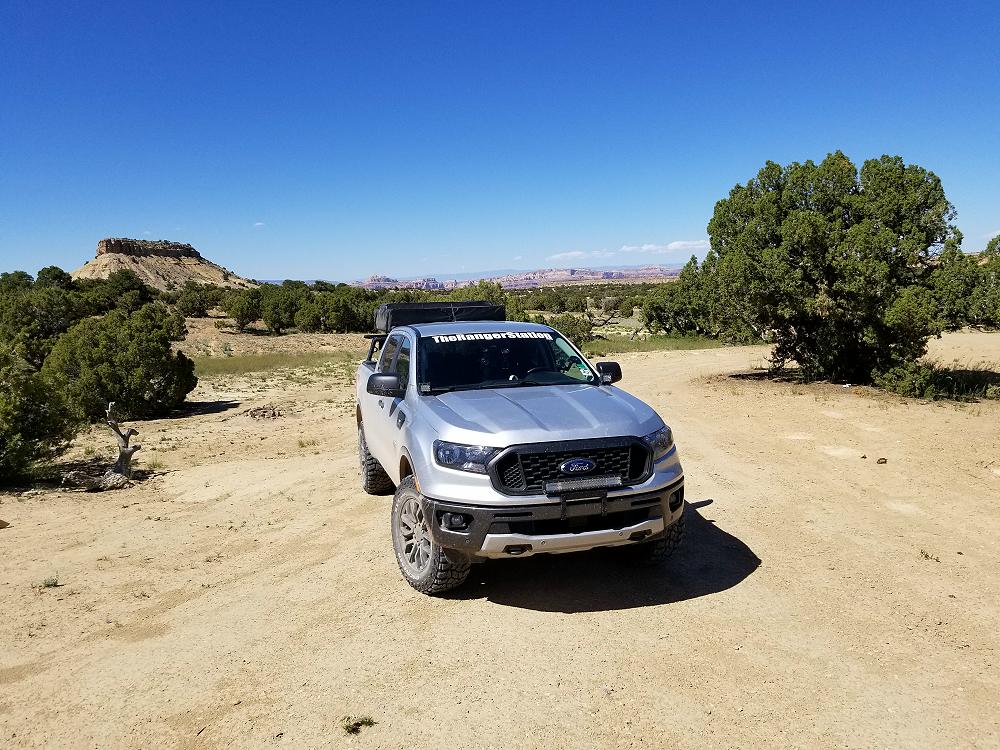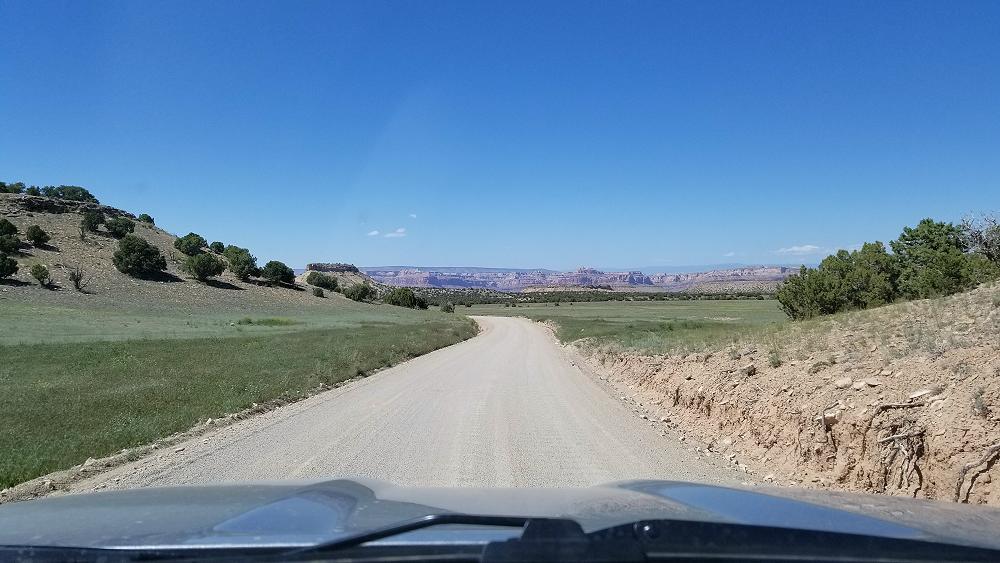 After stopping for lunch and playing fetch with Marley for a while, we continued along the Trans America Trail west across Utah.
We finally came to Manti-La Sal National Forest, and that took us back up in Elevation. After several miles, I came across a sign indicating that the road was closed due to damage. I walked the road a little way and found snow on the road that seemed passable, but a guy came along in a Toyota pickup, told me that the snow gets deeper, and that it wasn't passable.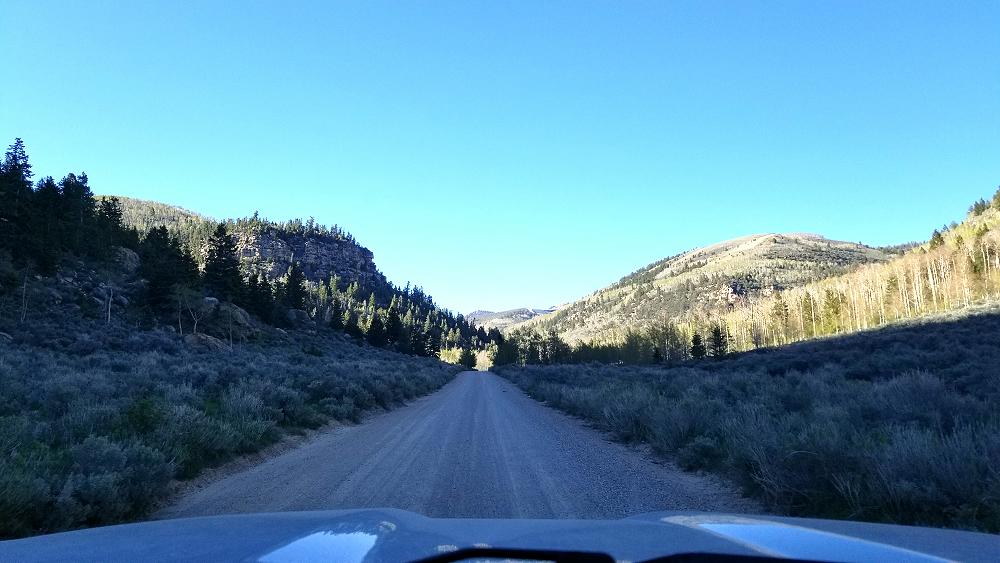 I turned around and headed south to Emery Utah. The original Trans America Trail route ran west of here. That section was a little rough in the early stages, but smoothed out.
This section eventually brought me south to IS 70. It was late and I really didn't feel like messing with the tent, so I went to the Love's Travel Stop at US 50 & IS 70 in Salina, and slept in the Ranger. My plan will be to head north on US 89 to Ephraim in the morning to intersect with the other side of the TAT that was closed.
Total distance driven off pavement today was 216 miles.
Video:
Special Thanks To:
Ford Motor Company for supplying the 2019 Ford Ranger FX4
Cooper Tire for supplying the Cooper Discoverer STT PRO tires
Links:
How To Navigate The Trans America Trail
Trans America Trail 2019 – Main Page
Trans America Trail 2019 – June 3rd & 4th
Trans America Trail 2019 – June 5th & 6th
Trans America Trail 2019 – June 7th & 8th
Trans America Trail 2019 – June 9th & 10th
Trans America Trail 2019 – June 11th & 12th
Trans America Trail 2019 – June 13th & 14th
Trans America Trail 2019 – June 15th & 16th
Trans America Trail 2019 – August 13th & 14th
Trans America Trail 2019 – August 15th & 16th
Trans America Trail 2019 – August 17th – Completed
More Photos:
Click the photos to enlarge.