August 15th, 2019 (Mountainburg, Arkansas to Belden, Mississippi):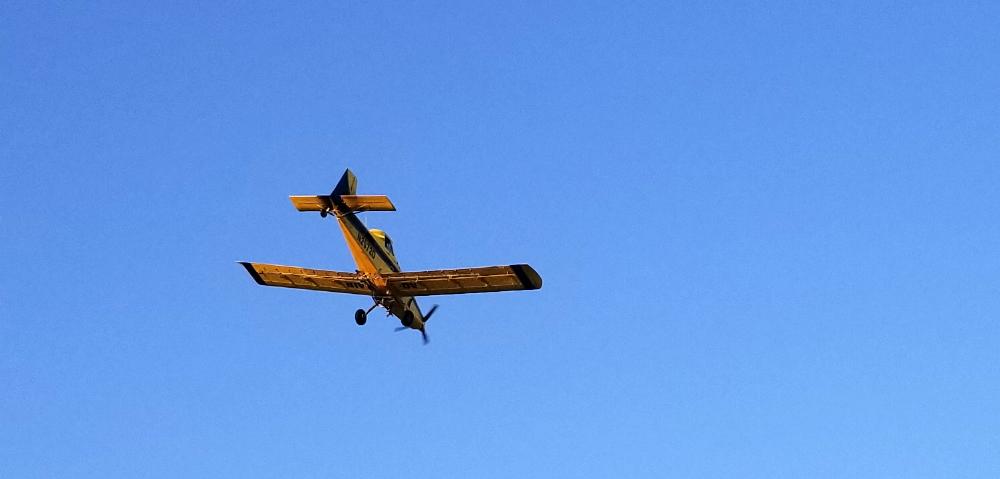 I spent another night in a parking lot in Arkansas, and woke up a little after 7am listening to a crop duster spraying a nearby field. After watching this small one man air show, I was back on the road to reconnect with the Trans America Trail.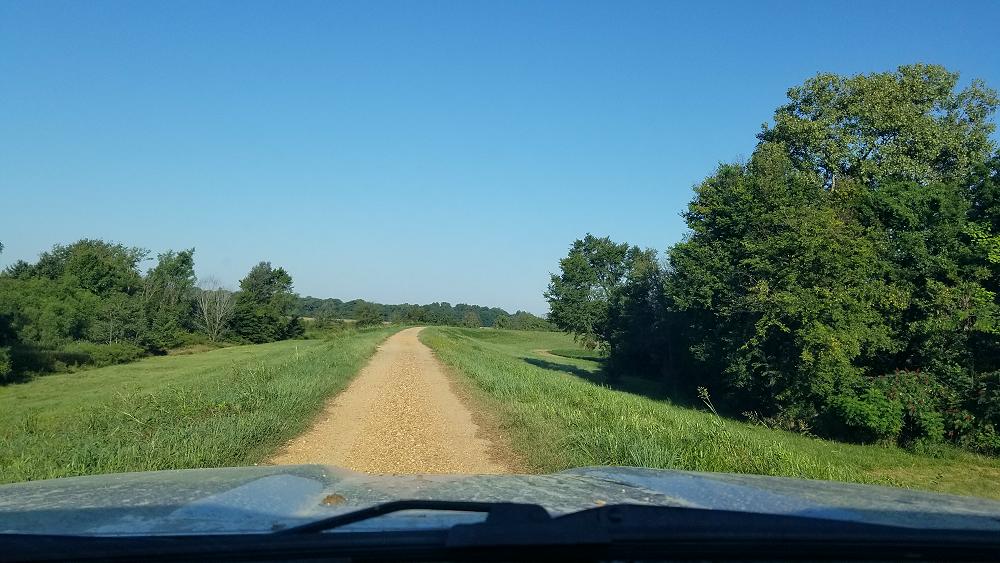 There would be a few times on the trip today that the Trans America Trail would follow along the top of a levee.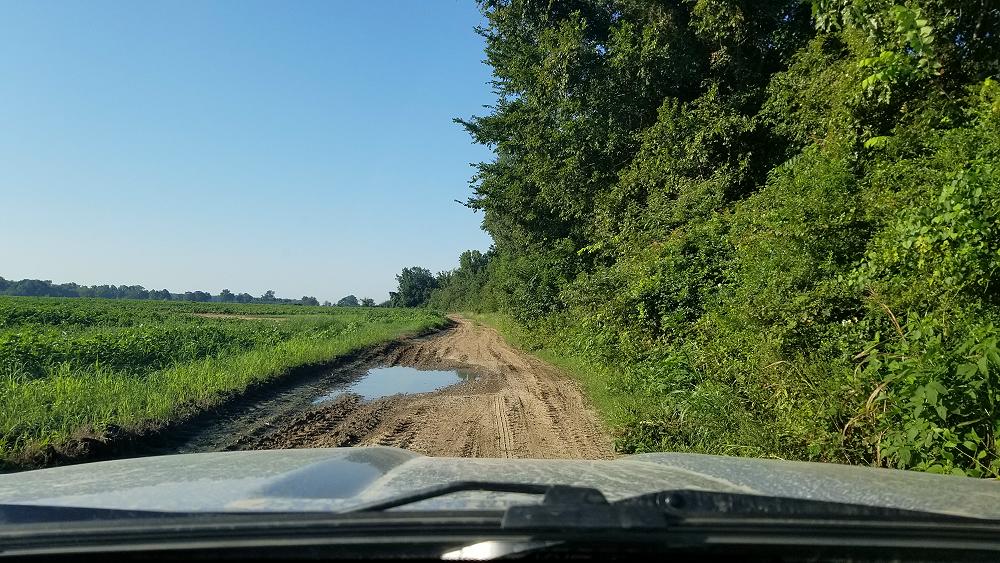 The Trans America Trail is always a little more interesting when the road doesn't resemble a road so much.
Until you come to something like this. The trail actually makes a right turn in the middle of this 'pond'.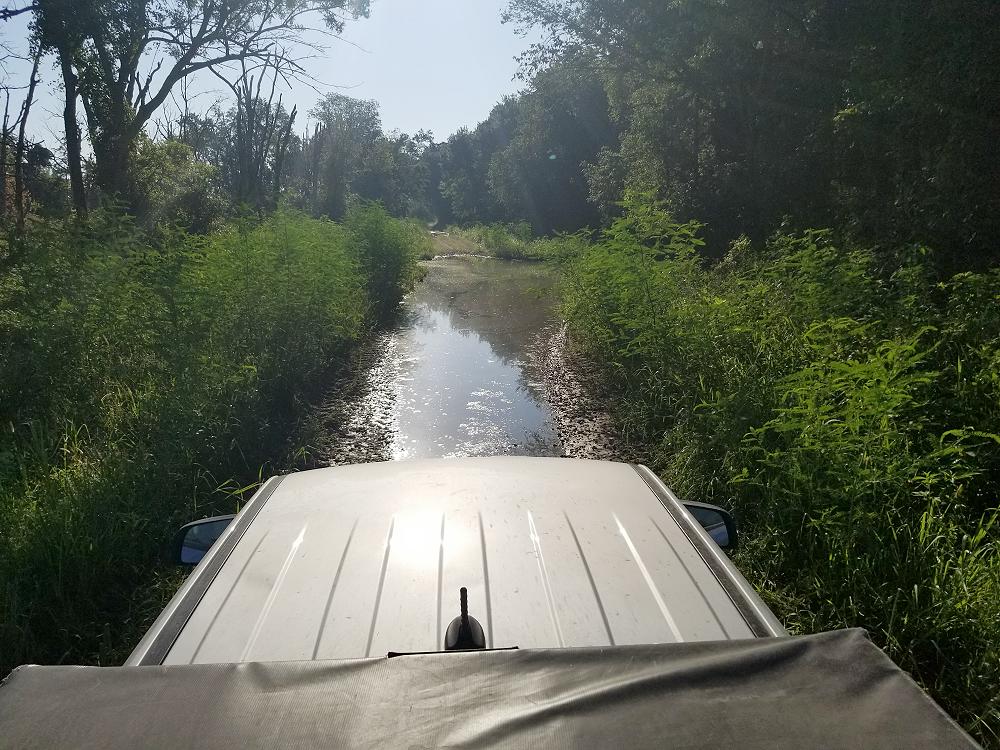 And since the 2019 Ford Ranger doesn't have a snorkel option, I did a u-turn and detoured around it. That would be the only water hole I skipped. I hit the rest of them, and you can see it in the video posted below.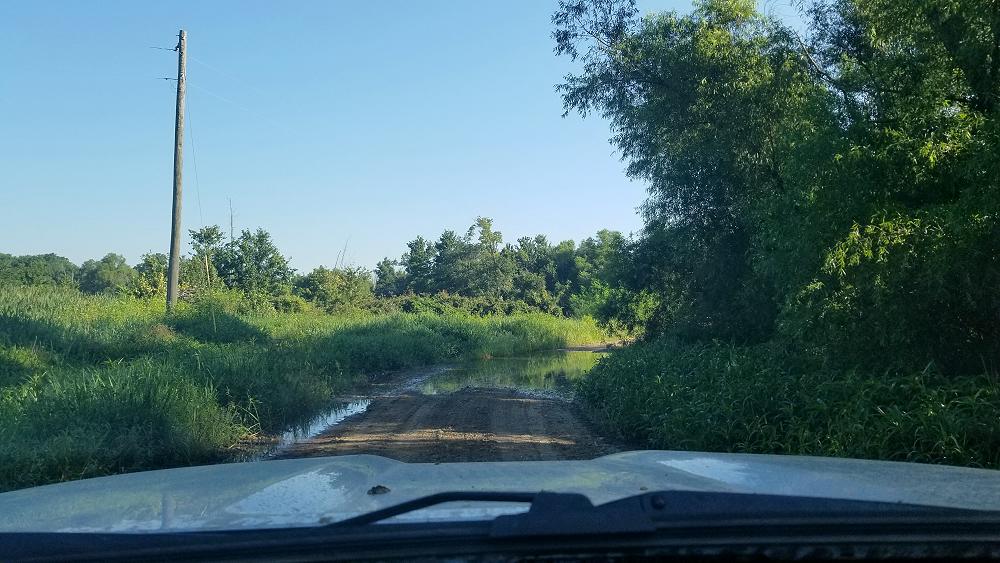 I wanted to stop and see Percy in Trenton Arkansas. Percy has a guest book, and most of the people that ride / drive the Trans America Trail stop and sign it. I was #154 this year. People sign it, list where they're from, and what they're riding / driving. Looking back through the pages, almost everyone of them are on motorcycles. Percy also has a book printed for each year that contains photos of the people that have stopped. He had a friend take my photo with the Ranger, so hopefully I'll show up in his next book. There's also a Facebook Page for his place.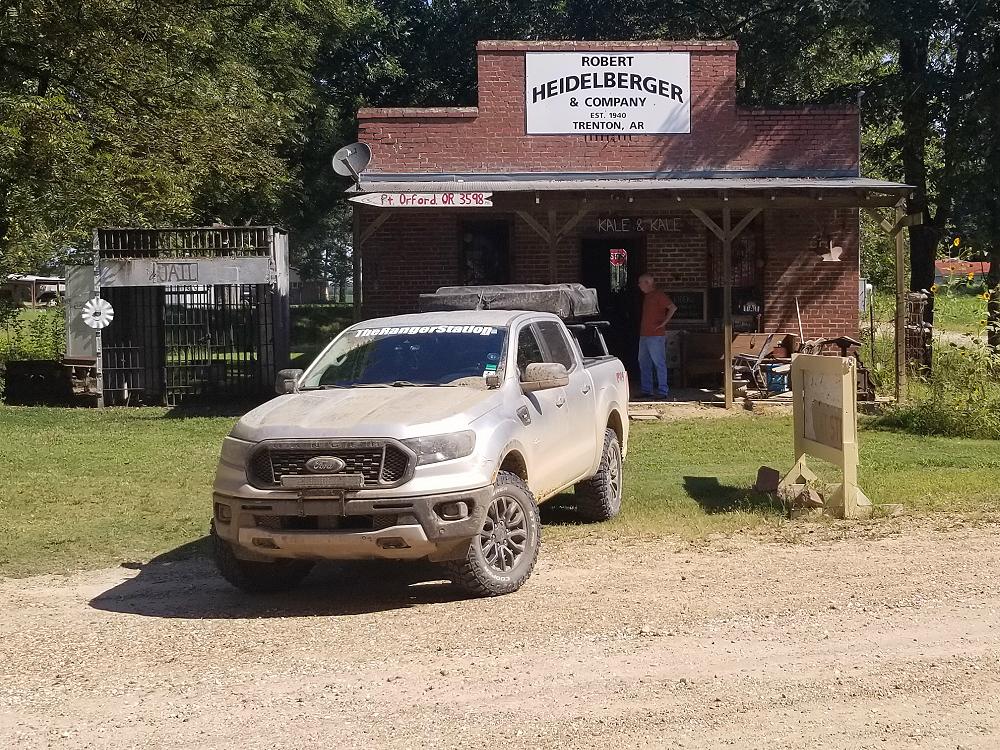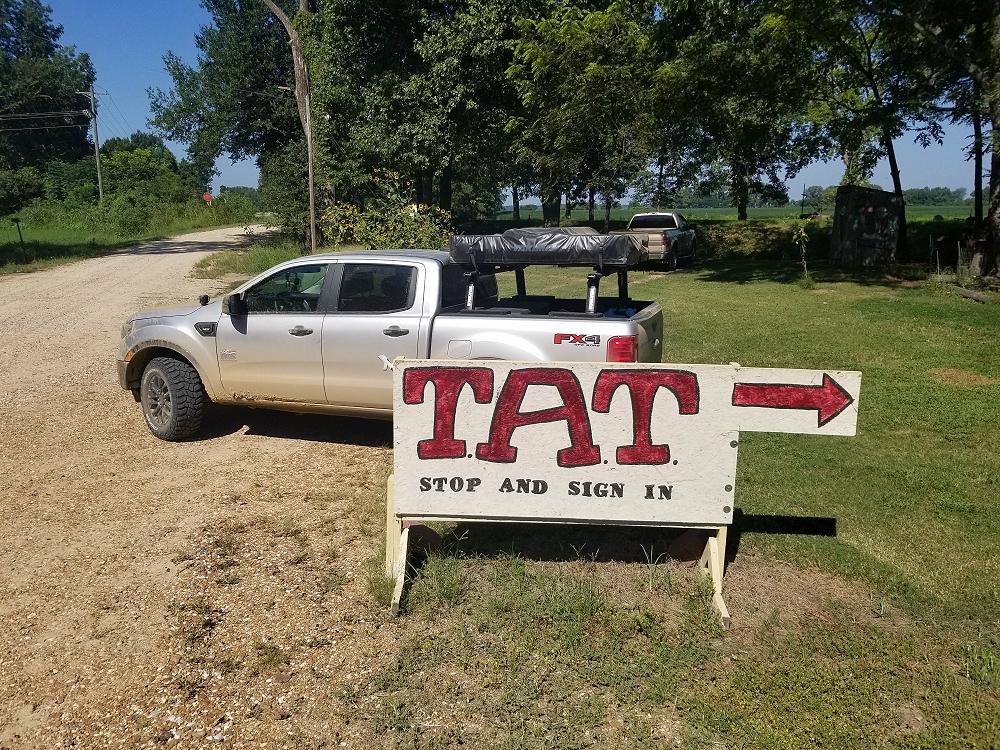 Percy is known for his hospitality, guest book, and offering riders a cold bottle of water as you sit on his porch. I asked how he realized that the Trans America Trail ran in front of his location. He told me that a motorcycle had stopped in front of his place, and was in need of someone with a welder. Percy helped get him fixed up, and began asking the rider (a guy from Ohio of all places…) where he was going. That's when he learned that his store was on the Trans America Trail. The rest is history.
It's funny in a way. Of all the areas you go through, and all the spectacular sights you see, one of the most popular stopping points on the trail is Percy's in Trenton, Arkansas.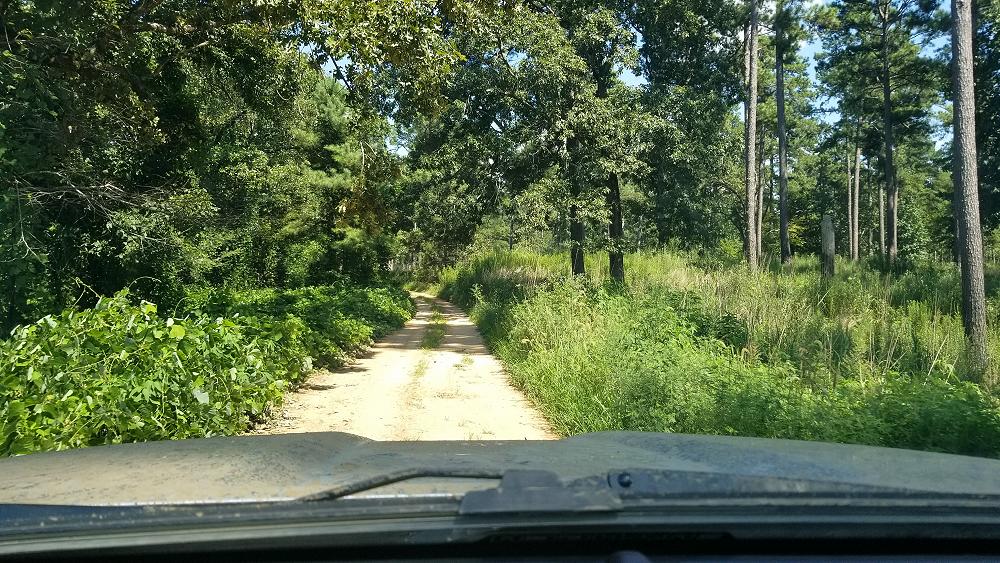 Crossing in to Mississippi, the trail was boring paved back roads for a while, but eventually lead to a lot of gravel ones. But even those got boring after a while. Things finally got a little more fun just outside of Coffeeville, MS. I think it's safe to say that this county road is not maintained.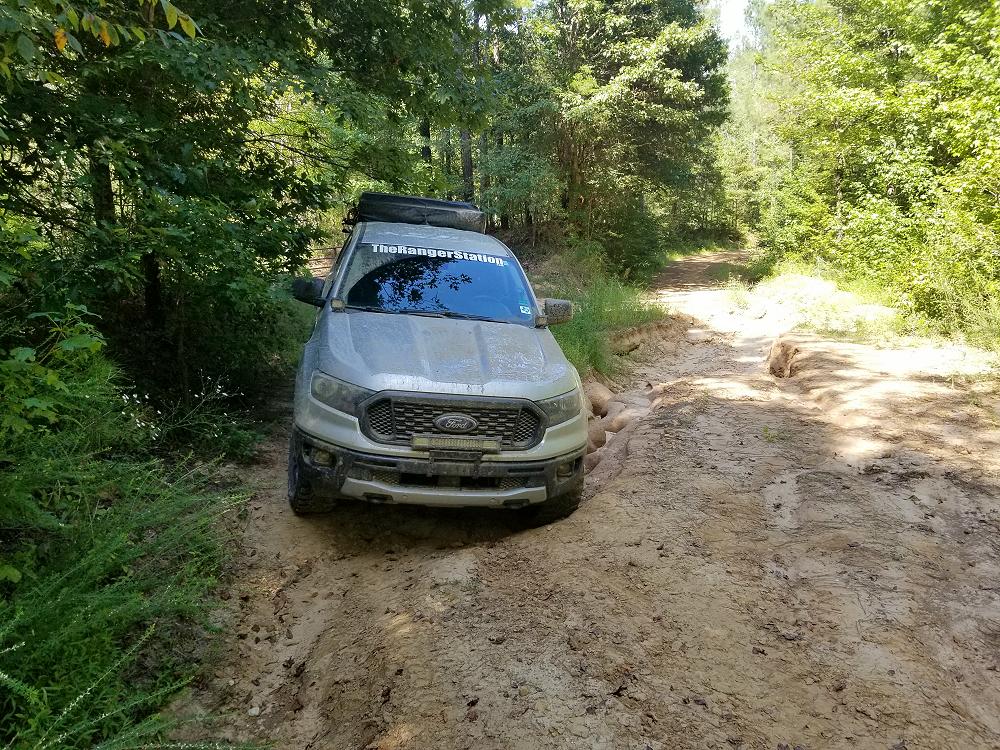 I was actually pretty pleased at how well the Ranger was working. Even though I got a wheel in the air when I was crossing the deep sections that had been washed out, I didn't hear any rubbing or squeaking sounds, and the Ranger had no trouble maintaining forward movement.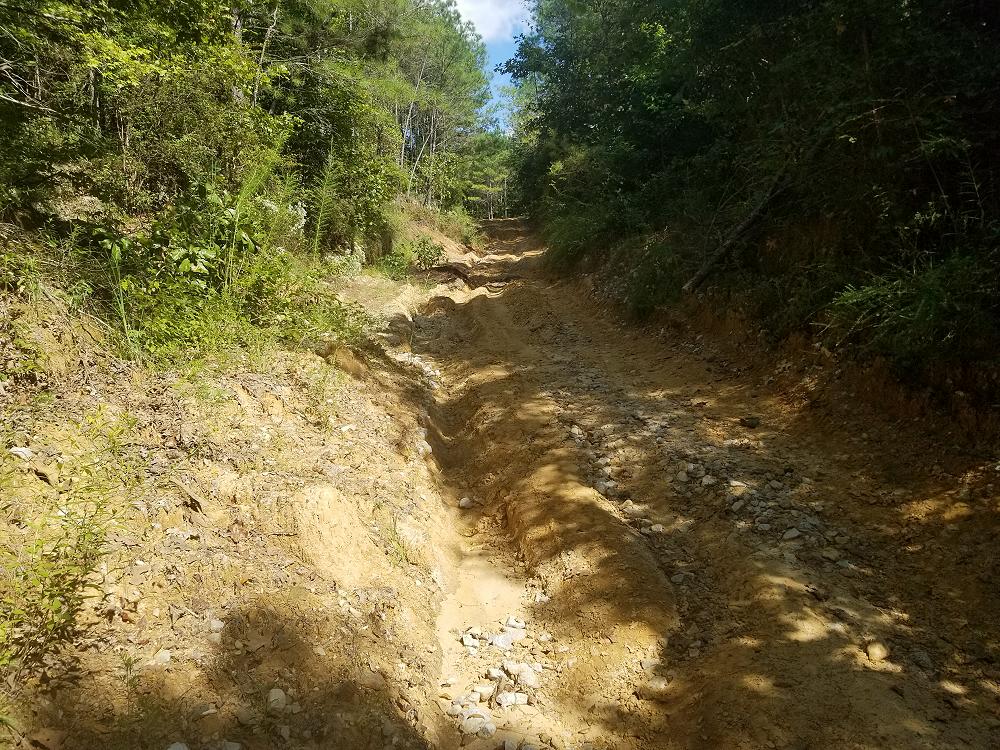 Unfortunately I came to this part. And although I wouldn't have hesitated to go up it in my TRS-2 Ford Ranger, I was not about to attempt it in the Loan Ranger.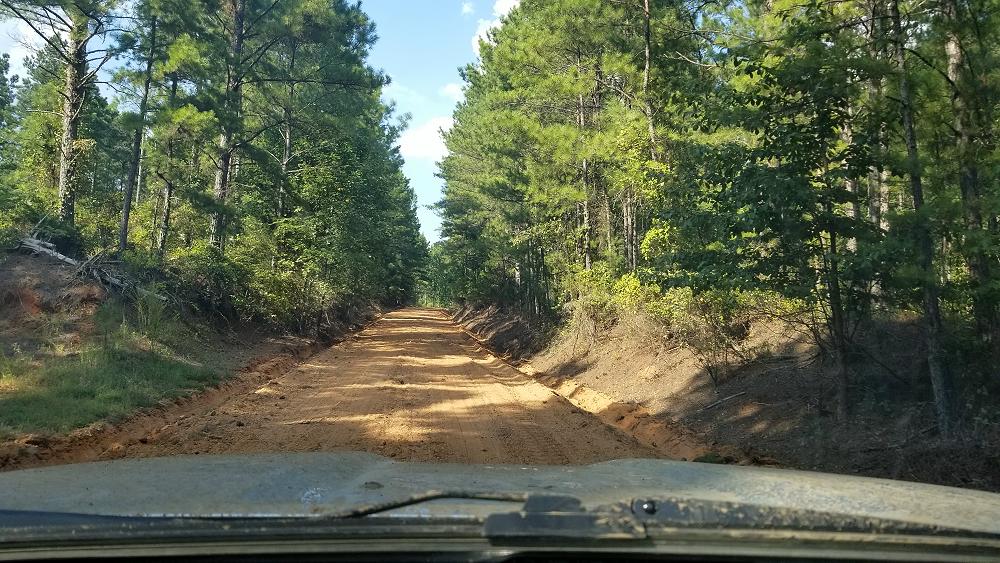 I backtracked, and then detoured around this section. From there, it was back to a lot of gravel sections.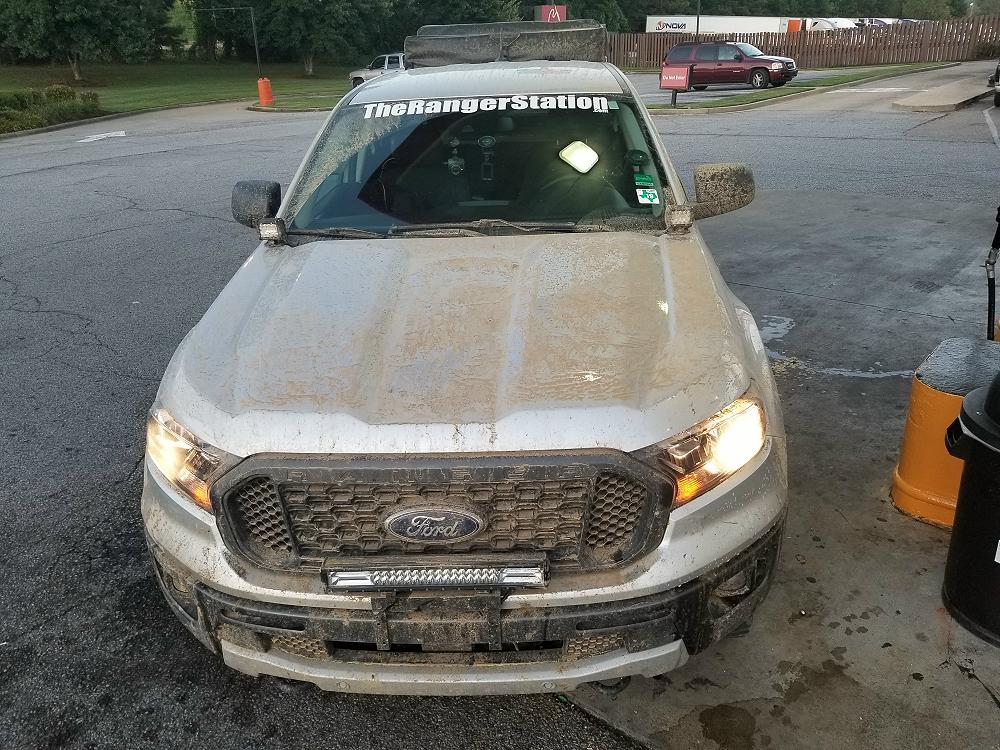 Here you can see the mud on the hood from splashing through the mud and water in Arkansas. I stopped to clean my headlights since it was getting dark.
After a few nights of sleeping in the truck, I got a hotel room in Belden, Mississippi. I traveled 315 miles today, with 93 of those miles being off pavement.
Video:
August 16th, 2019 (Belden, Mississippi to Fayetteville Tennessee):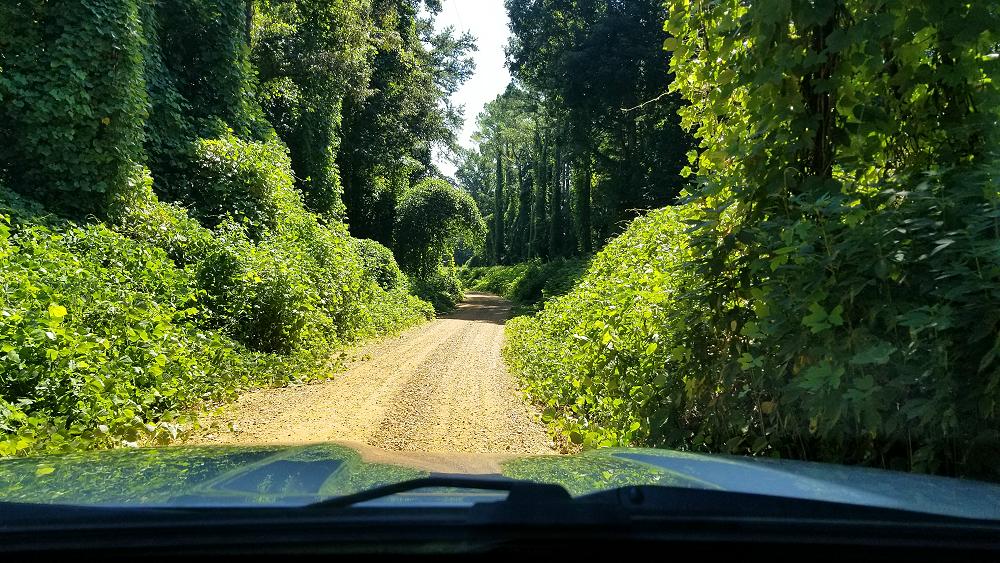 After a good nights sleep, I fueled up the Ranger, pressure washed the mud off of the truck, and was back on the Trans America Trail. I've been seeing a lot of Kudzu vines (The Vine That Ate The South) travelling through in Mississippi. In some spots they were covering fences, trees, and utility poles.
Kudzu was intentionally introduced to North America by the Soil Erosion Service and Civilian Conservation Corp in 1876 for the purpose of controlling soil erosion in Pennsylvania. When kudzu was first introduced in the southeast, it was initially used as an ornamental vine to shade homes. By the early 20th century, southerners began to use kudzu for purposes other than ornamentation and so kudzu began to come closer in contact with the land which, in turn, encouraged its spread throughout the southeast. In the 135 years since its introduction, kudzu has spread over three million hectares (ha) of the southern United States, and continues to 'consume' the south at an estimated rate of 50,000 hectares (120,000 acres) per year, destroying power lines, buildings, and native vegetation in its path. Today, kudzu is estimated to cover 3,000,000 hectares (7,400,000 acres) of land in the southeastern United States, mostly in Alabama, Georgia, Tennessee, Florida, North Carolina, South Carolina and Mississippi.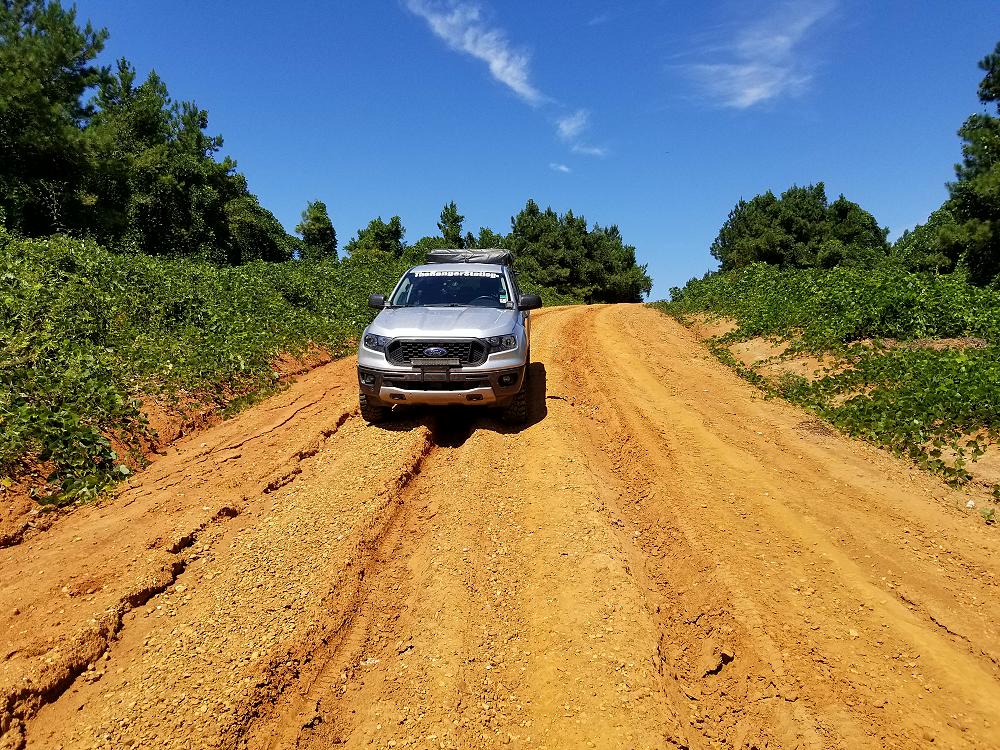 There was some serious ruts on this road, and I could only imagine how challeging this hill would be to drive up after it had been raining for a while. I'm confident that my Cooper Discoverer STT PRO's could get the job done.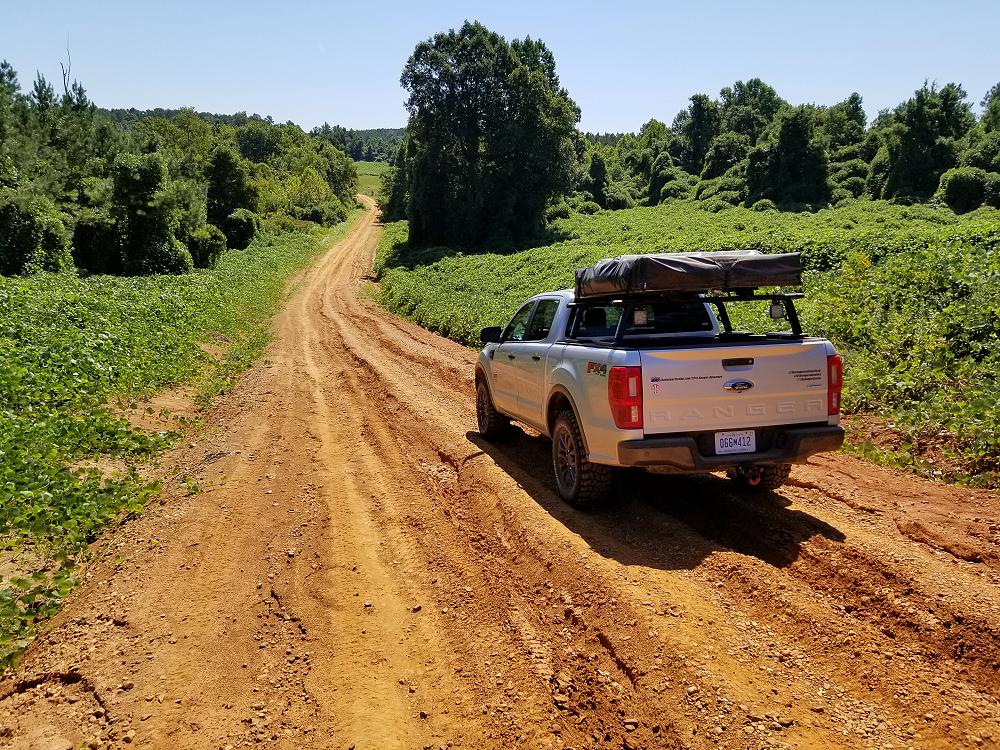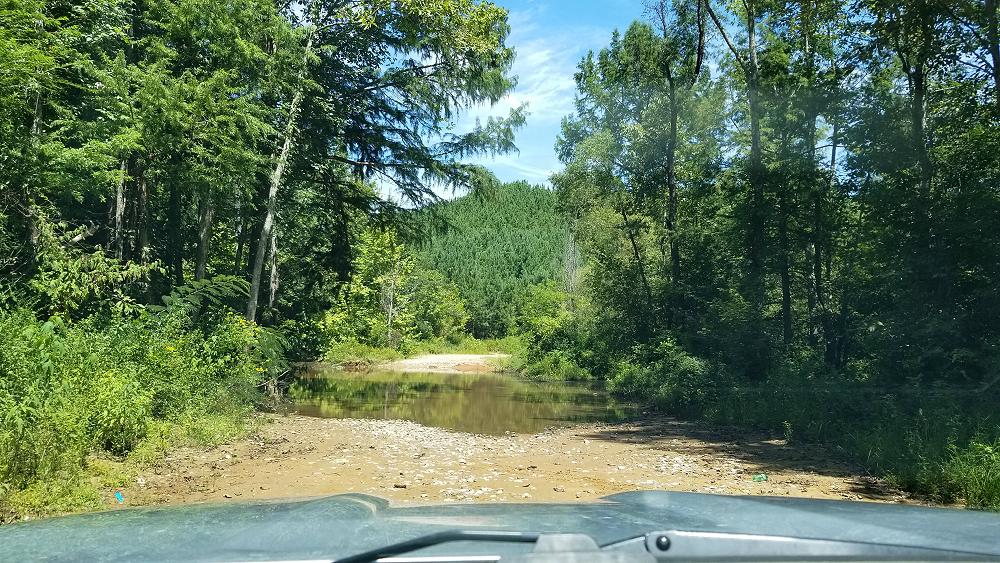 Nothing more exciting then traveling down a long trail, and then discovering that it runs through a big creek. Again, I would have considered crossing it in my Ford Ranger, but I didn't feel comfortable trying to cross it in this one that Ford has loaned me.
I also managed to make it in to Tennessee today. The scenery is definitely a lot greener on this trip than the one in June. LOL.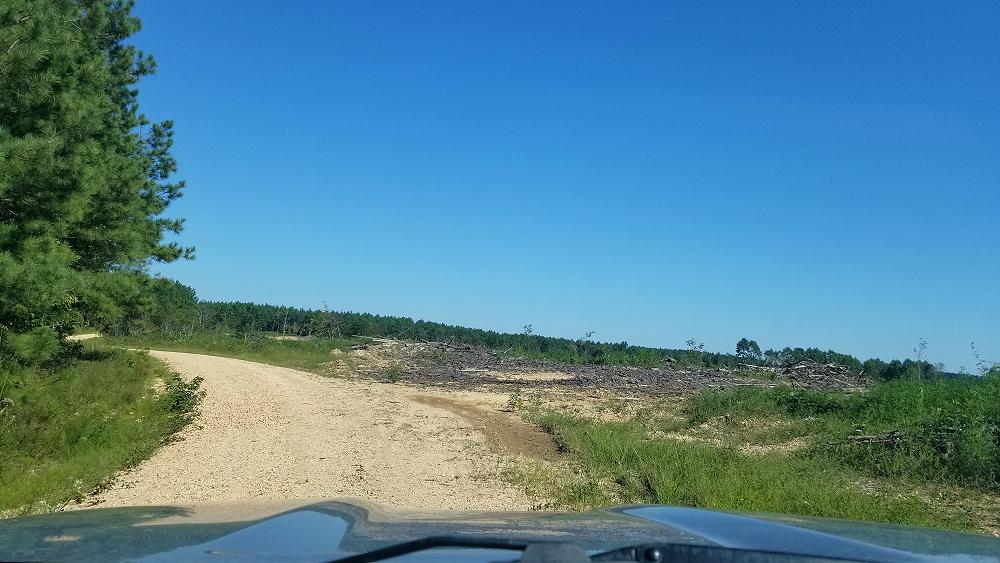 I hate seeing areas that have been logged by logging companies. The land always looks like it's a victim of something horrible. I wish logging companies would clean up the mess they create.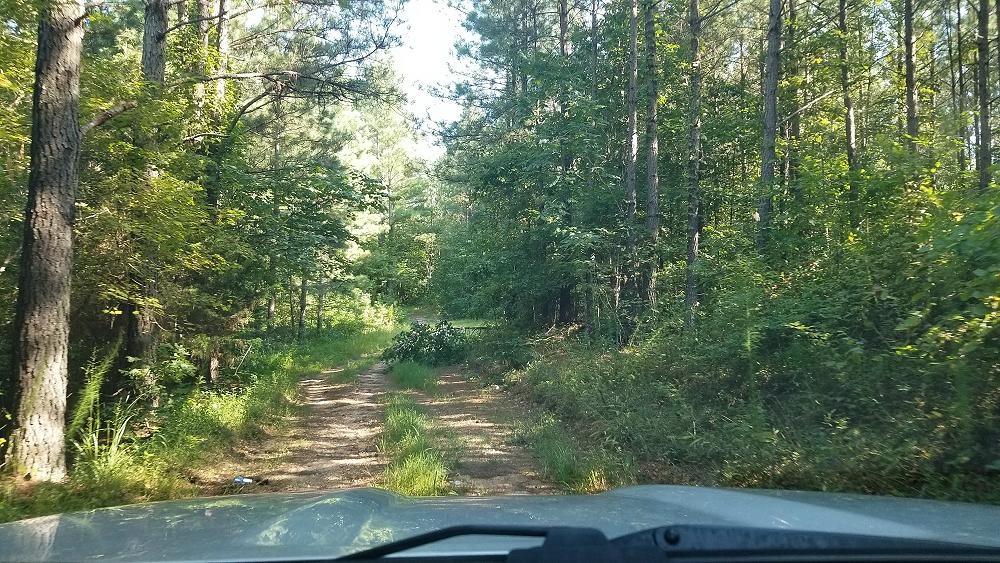 The Trans America Trail can go from wide gravel roads to narrow trails through wooded sections.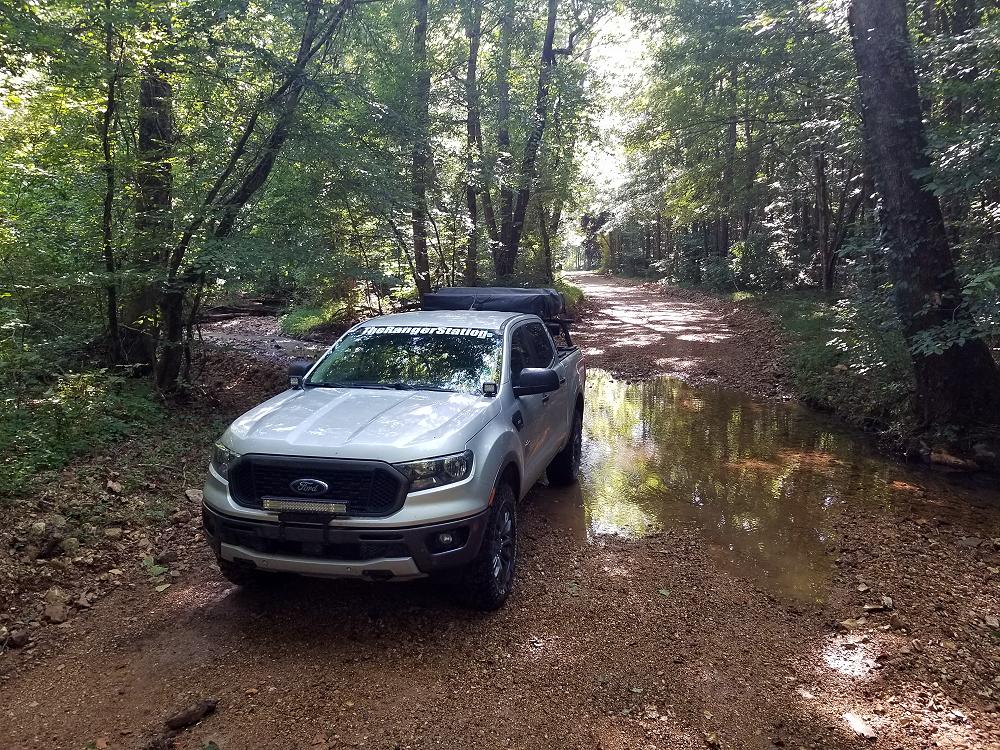 I experienced quite a few water crossings today. I didn't photograph all of them.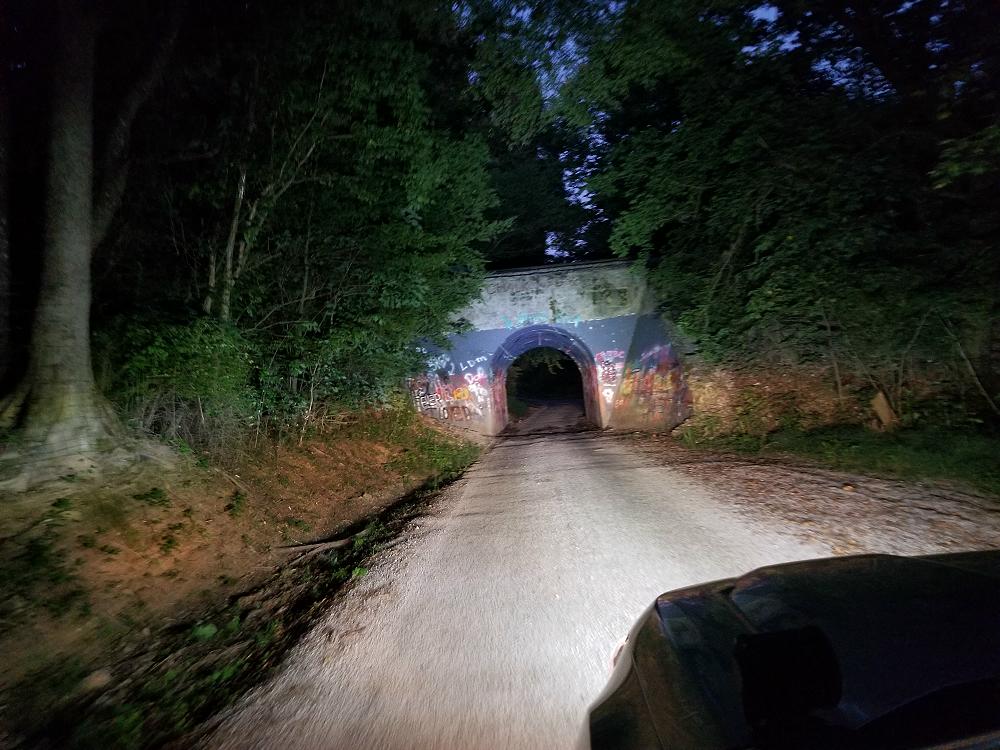 Doesn't this bridge look like it should be an opening to a fun house??
The day was pretty uneventful. A lot of the trail in Tennessee is 2-lane chip and seal roads out in the country. Their were some off pavement sections, but not a whole lot. I made it to Fayetteville TN for the night. I'm guessing another 5-6 hours of driving, and the whole Trans America Trail will finally be completed.
In the morning I'll be headed towards Tellico Plains where the Trans America Trail originated.
Today I drove 296 miles, and 60 of those miles were off pavement.
Video:
Special Thanks To:
Ford Motor Company for supplying the 2019 Ford Ranger FX4
Cooper Tire for supplying the Cooper Discoverer STT PRO tires
Links:
How To Navigate The Trans America Trail
Trans America Trail 2019 – Main Page
Trans America Trail 2019 – June 3rd & 4th
Trans America Trail 2019 – June 5th & 6th
Trans America Trail 2019 – June 7th & 8th
Trans America Trail 2019 – June 9th & 10th
Trans America Trail 2019 – June 11th & 12th
Trans America Trail 2019 – June 13th & 14th
Trans America Trail 2019 – June 15th & 16th
Trans America Trail 2019 – August 13th & 14th
Trans America Trail 2019 – August 15th & 16th
Trans America Trail 2019 – August 17th – Completed
More Photos:
Click the photos to enlarge.