June 13th, 2019 (Ontario, Oregon to Redmond, Oregon)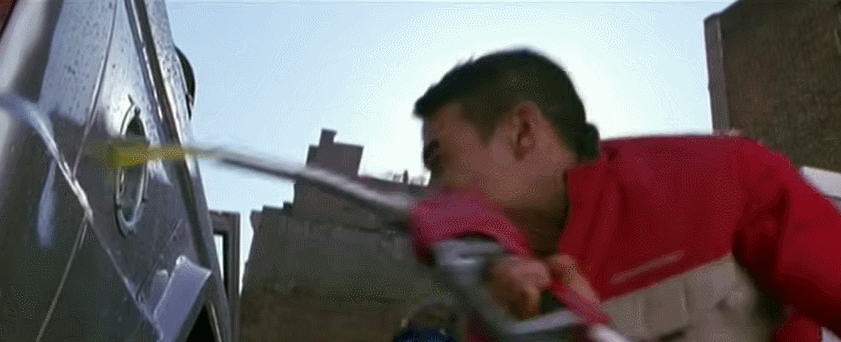 (How Oregon thinks I pump my gas)
I started my day out by filling the Ranger up with gas. I briefly forgot it was a crime to pump your own gas in Oregon. They recently changed the law though so that some rural areas can allow you to pump your own gas, but they apparently don't trust their citizens to pup gas in larger areas for fear they'll wipe out a whole city.
More miles = more cows.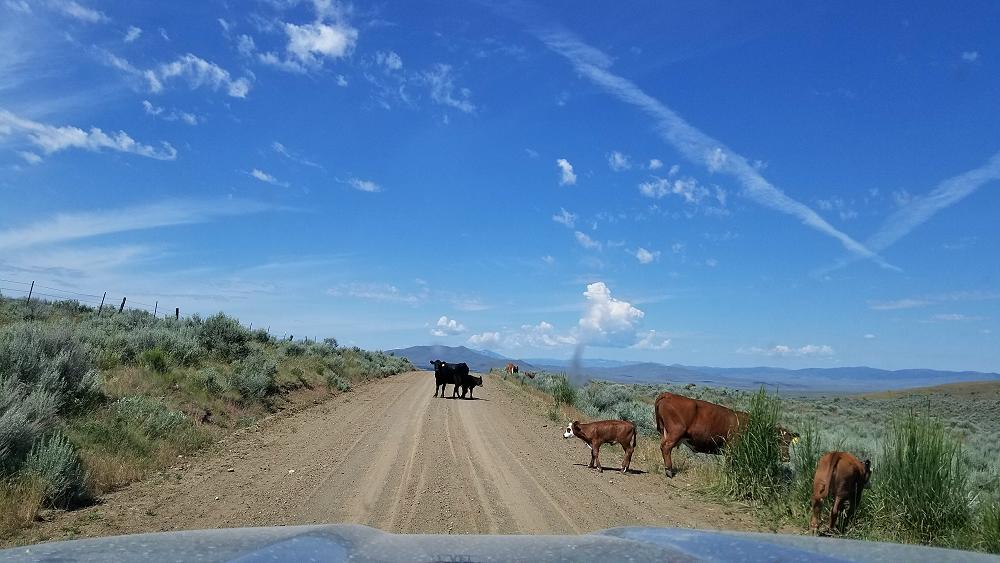 A brief standoff with a fat cow, but I sent her hoofing it.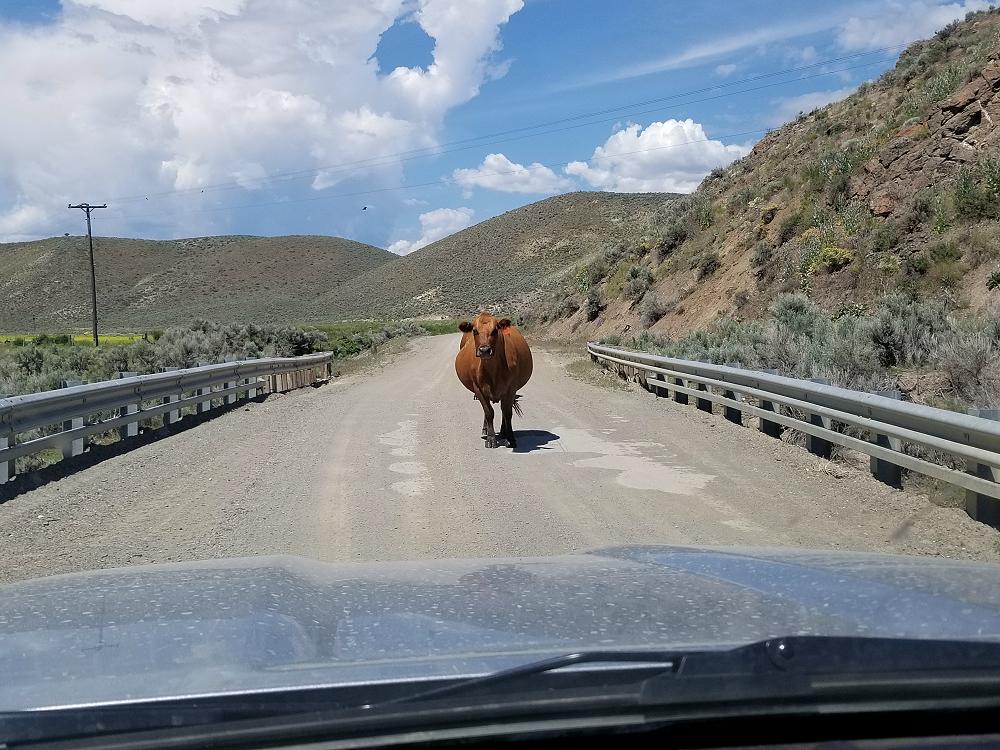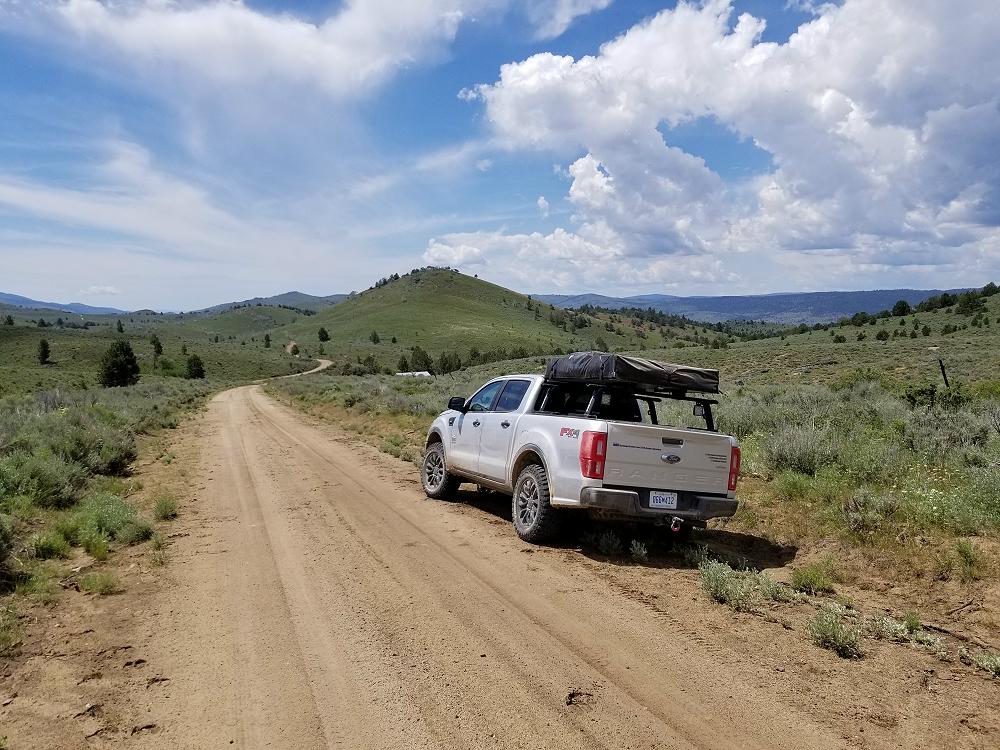 I came across another gate today where you turn from Rose Creek Rd to NF-16. This time it was built like a section of wire fence. the gate was looped with wire pretty tightly at the top and bottom, and then it had wire wrapped around a big stick that kept tension on the gate more towards the middle. I wasn't confident that if I got the gate open I would actually be able to close it myself.
Ranchers will typically have a cattle grate in the road to keep their cattle in. I encountered one gate that you could actually open and close like a normal gate. These are public lands, and the ranchers can't close the road to the public. They can put up a gate to keep their cattle in, but you should be able to open and close it behind you.
It started to rain, so I decide to detour and not mess with the gate. A little further down the road, and it looked like the road became someones driveway. The road seemed to disappear behind their house, and didn't look very promising. I stopped and talked to the property owner for a while. I explained what I was doing, and the problem I had with the gate. It wasn't his gate, but he told me I had a legal right to use the road, and gave me some instructions on how to get the gate open. He suggested that some ranchers may try to keep people out of the area when they put up gates, and I believe the rancher in question chose to build this style gate to look like a fence, and try to deter people from going past it.
I would suggest that anyone doing the Trans America Trail bypass this spot so they don't have to deal with this gate.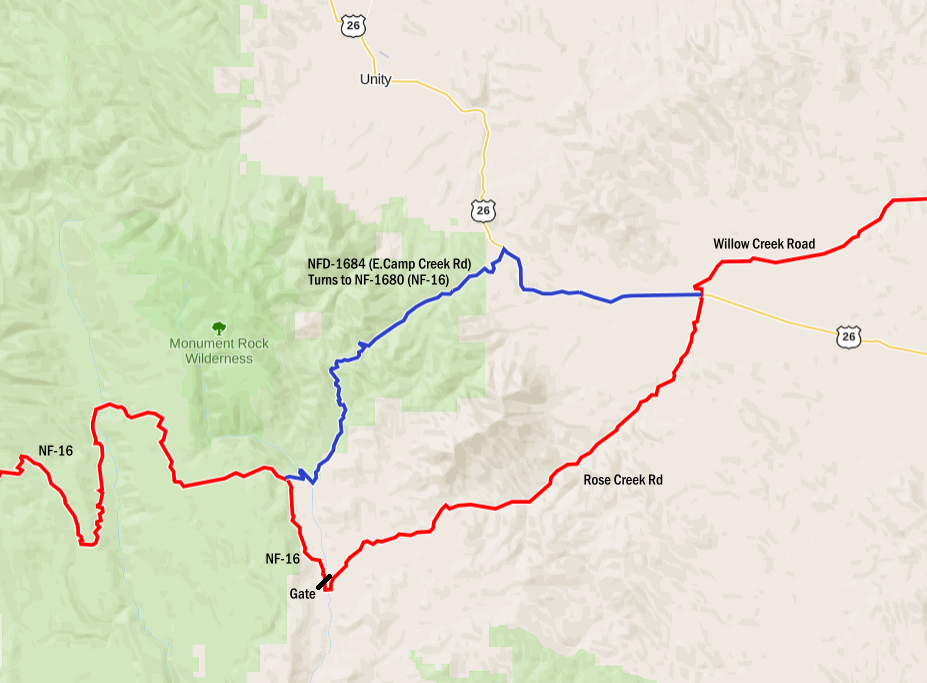 If you turn right on US 26 instead of crossing on to Rose Creek Road (In Ironside), you can travel about 8.5-miles and connect with E. Camp Creek Road (NFD-1684). It's the blue line on my map. The red line is the Trans America Trail route. E. Camp Road (NFD-1684) turns in to NFD-1680, and eventually NF-16 and the Trans America Trail. If you follow the Trans America Trail on Rose Creek Road, be prepared to open the gate.
Looking back, I really wish I would have opened the gate, and it annoys me that I let a rancher deter me from using a National Forest Road.
I actually talked with the rancher for a little while. He told me he had 20,000 acres of land, and around 1,000 head of cattle. The land apparently belonged to his grandfather, and his grandfather had a homestead where we were now. He told me that the road going up behind his house ended and wasn't passable. He then told me about a turnoff a short distance back for a private road, and told me I could use it.
That road had beautiful views, and was in amazing condition, although I'm sure only a few people know about it and use it.
Along the way I met a guy on an ATV that stopped to see if I was OK. I explained the situation, and that the first guy gave me permission to use the road. He was really nice and helpful, and gave me some brief directions on where to turn so I ended up back on the highway.
A couple miles later, and I came across his grandfather in a pickup, who was just as nice as the first two guys. We spoke for a few minutes before I continued on my way. I don't remember how many miles he said this road was (it's pretty long..), but he said they built it in a week with a large bulldozer, and a couple of dump trucks.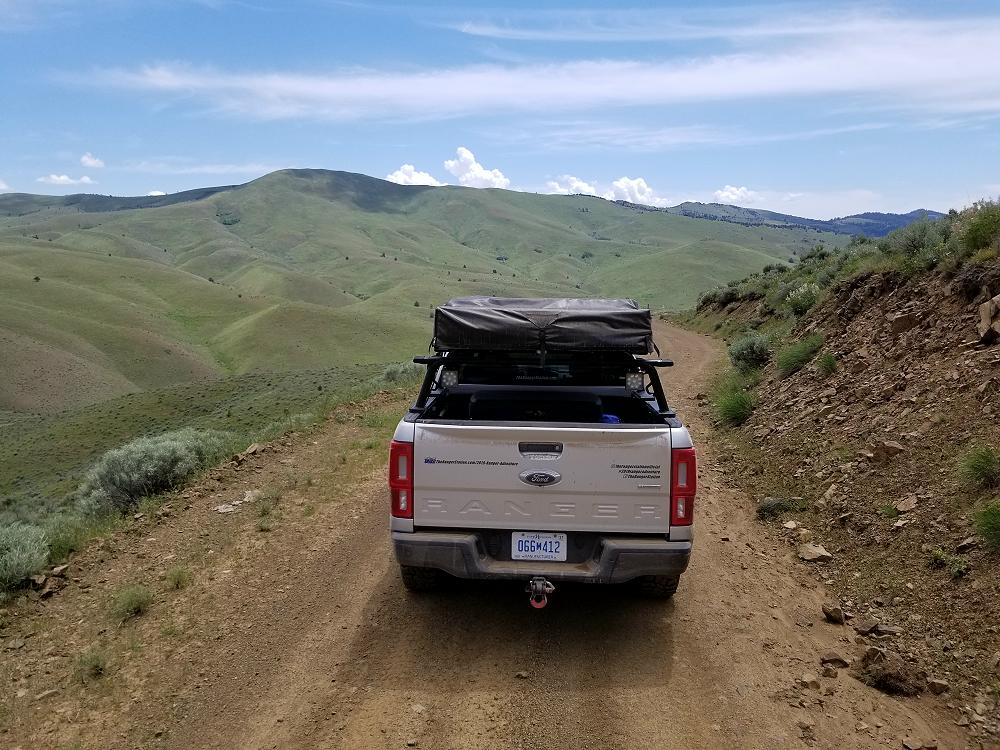 This private road eventually linked back up with a public road, and brought me out by Beulah Reservoir. From there the road goes to US 20, and I had to head west, and then north on US 395 to reconnect with the Trans America Trail. This detour took me way out of my way. Looking back, I should have opened the gate, and simply closed it as best I could.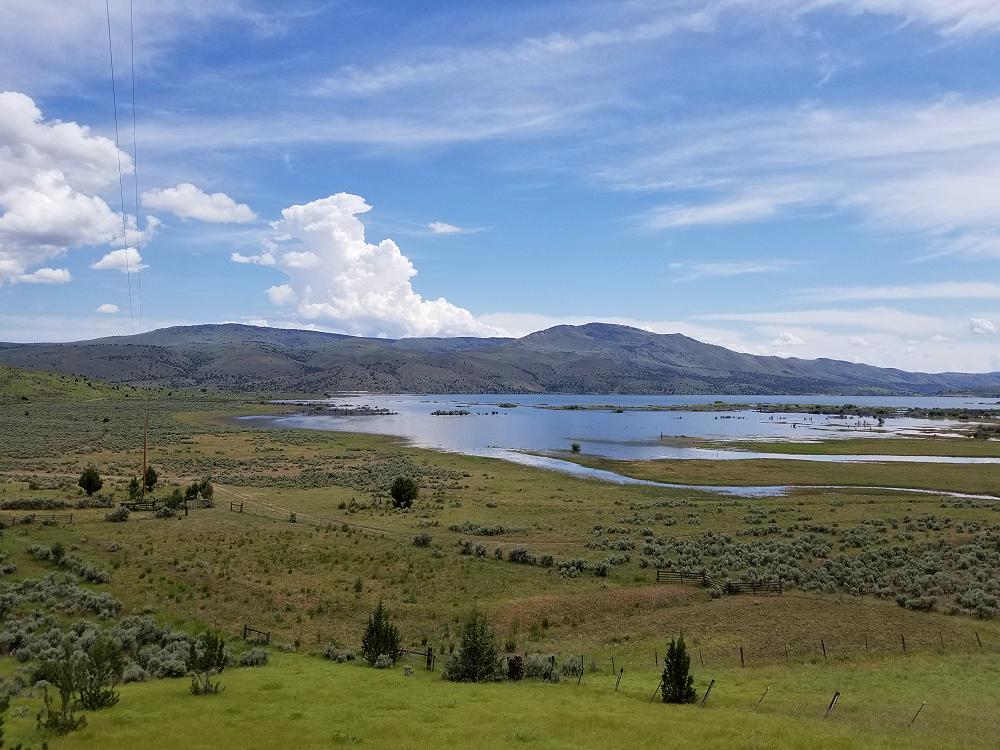 Linking back up with the Trans America Trail took me back in to the Malheur National Forest west of US 395. In some areas, the roads were wide with smooth gravel. Other sections were rough. At one point, I wasn't sure if the trail I was on would even make it all the way through.
I will warn you that these sections through the National Forests in Oregon are longer and more difficult than you may anticipate.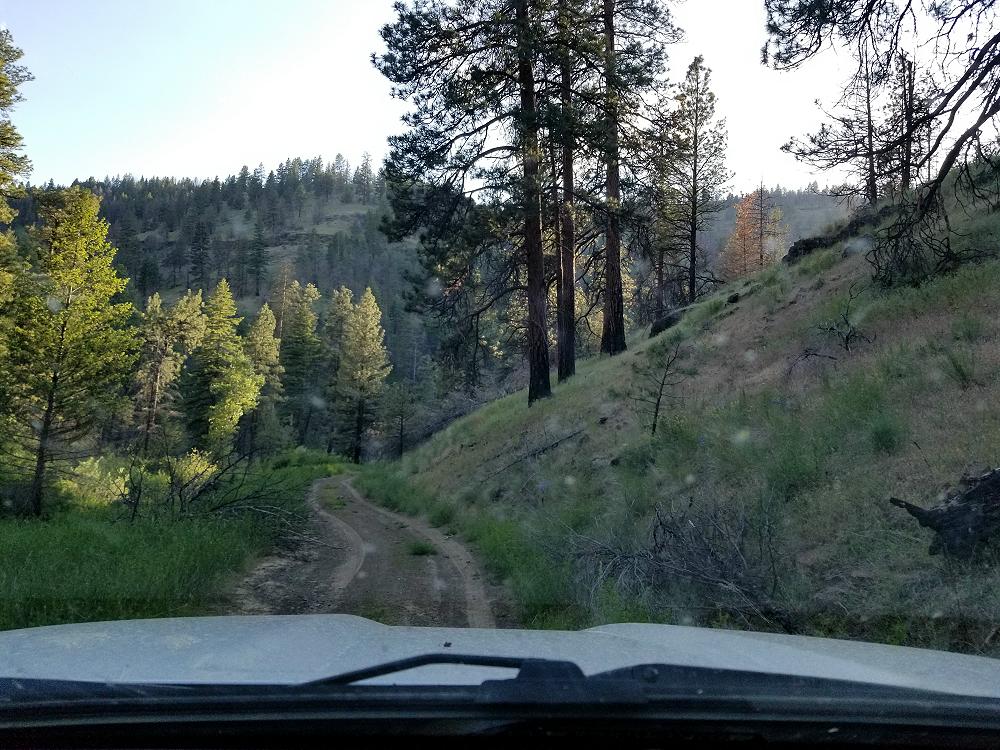 Travelling west takes you in to the neighboring Ochoco National Forest. The sun was starting to set on me, so I ended up heading south off of the Trans America Trail on to CR 380, and taking that in to Prineville. After grabbing some Taco Bell before the lobby closed, I headed west to Redmond and spent the night in a hotel. My original plan had been to camp in the Redmond area, but the detour and lengthy sections of the National Forest caused me to get there much later than I had planned.
Total miles driven off pavement today: 205 miles.
Video:
June 14th, 2019 (Redmond, Oregon to Canyonville, Oregon)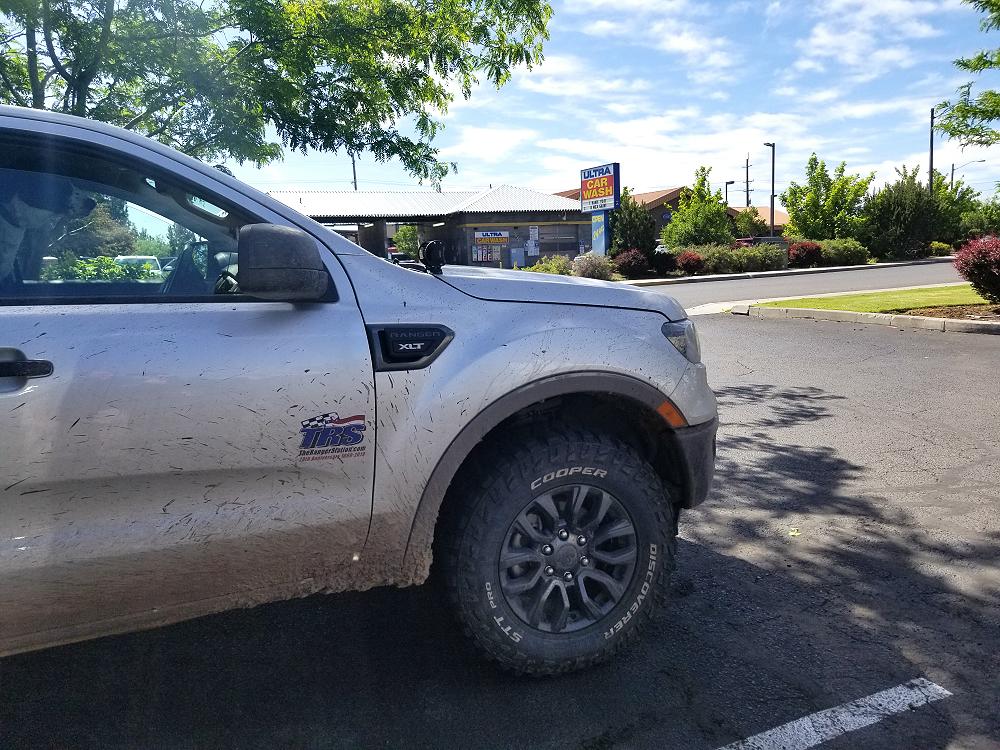 It was nice to get a shower and a good nights sleep in a hotel. The Loan Ranger needed a shower as well, but it could only stare at the car wash and wish.
Today the Trans America Trail would take me through Deschutes National Forest from the area of US 20 west of Brothers Oregon.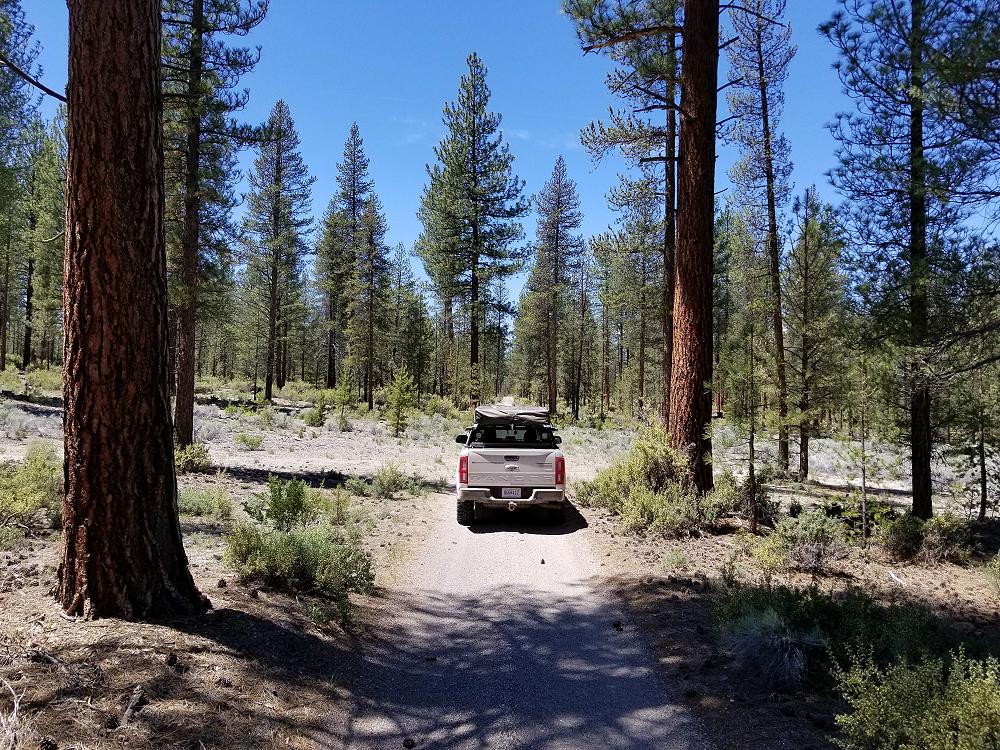 This section of the Trans America Trail takes you up and over the Newberry Volcano, and past it's two lakes. The ride up is really rough and rocky, but the ride down the other side is much smoother.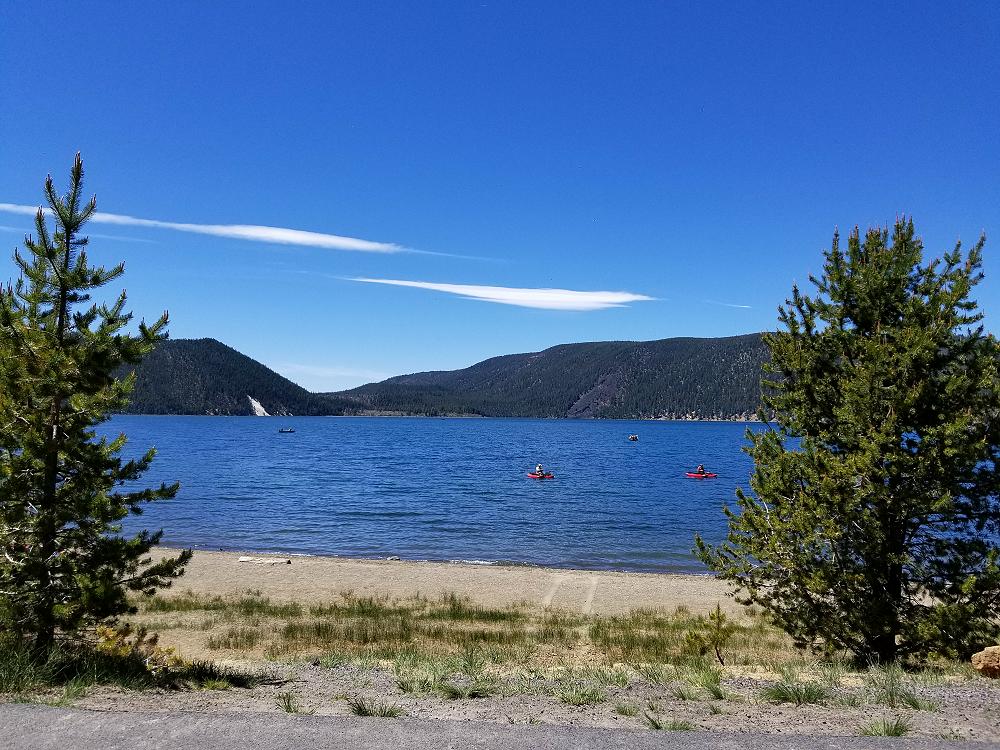 The Trans America Trail brings you in to La Pine where I stopped for gas and to grab a snack. Following the Trans America Trail out of La Pine proved very difficult. The Trans America Trail wants you to take 6th street west from US 97 in La Pine. I ran in to this gate closing the road, and trying to detour around it on other roads was just as unsuccessful.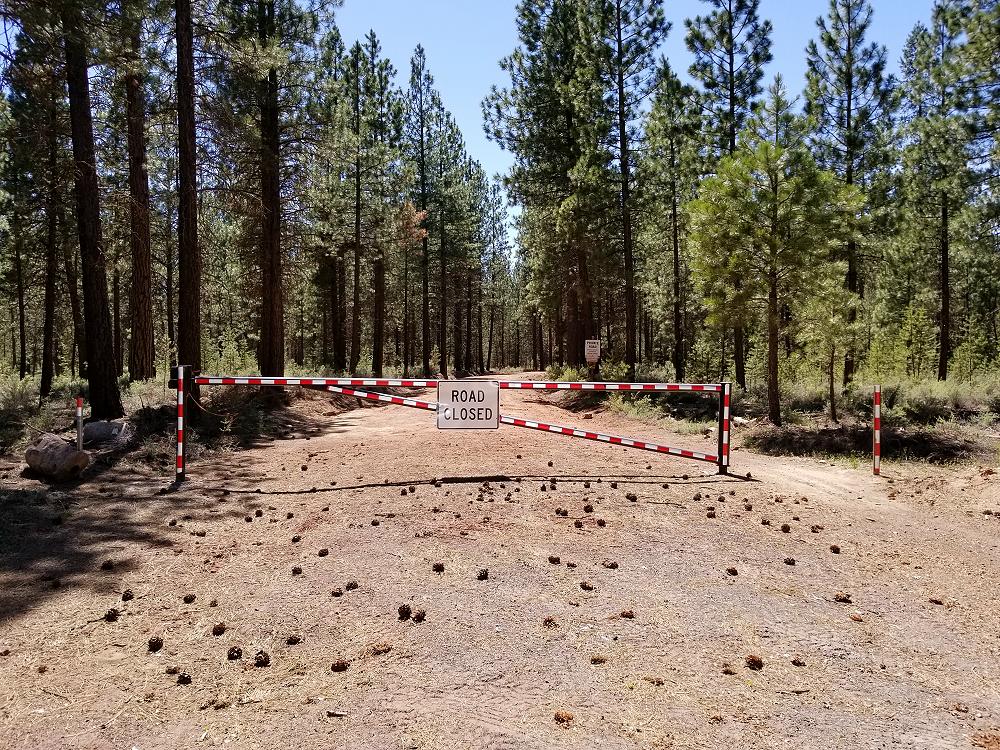 I ended up heading south on US 97 out of La Pine. The Trans America Trail (red line below) will bring you out of La Pine on Masten Road. If you head south out of La Pine for a short distance (blue line below), you'll come to Masten Road. It heads west but eventually turns south and will have you on the Trans American Trail.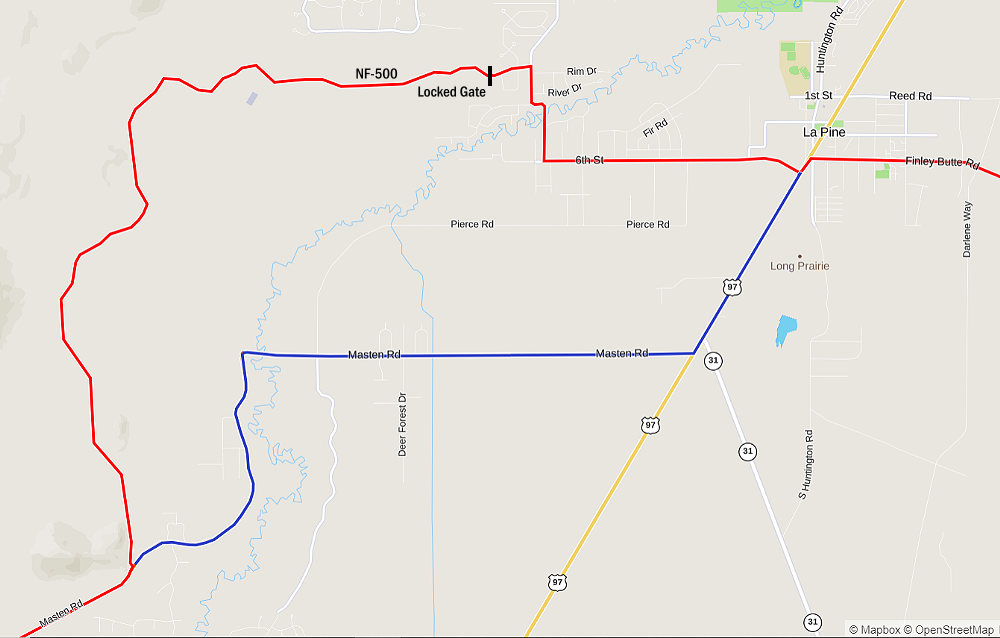 Heading south, you'll run in to a logging outfit just north of Crescent. I believe this was the area where I saw signs that said it was a private road, and permission could be revoked at any time. Turning west here, the Trans America Trail put me on a trail for a little bit that was better suited for motorcycles and ATV's, than the Ford Ranger. I got through it, but there were quite a bit of branches to dodge.
Continuing west, I eventually ended up on National Forest Road 60. Things were going well, until I ran in to this snow. Just like in my other encounters, I was going up in elevation, and the snow got deeper as it went.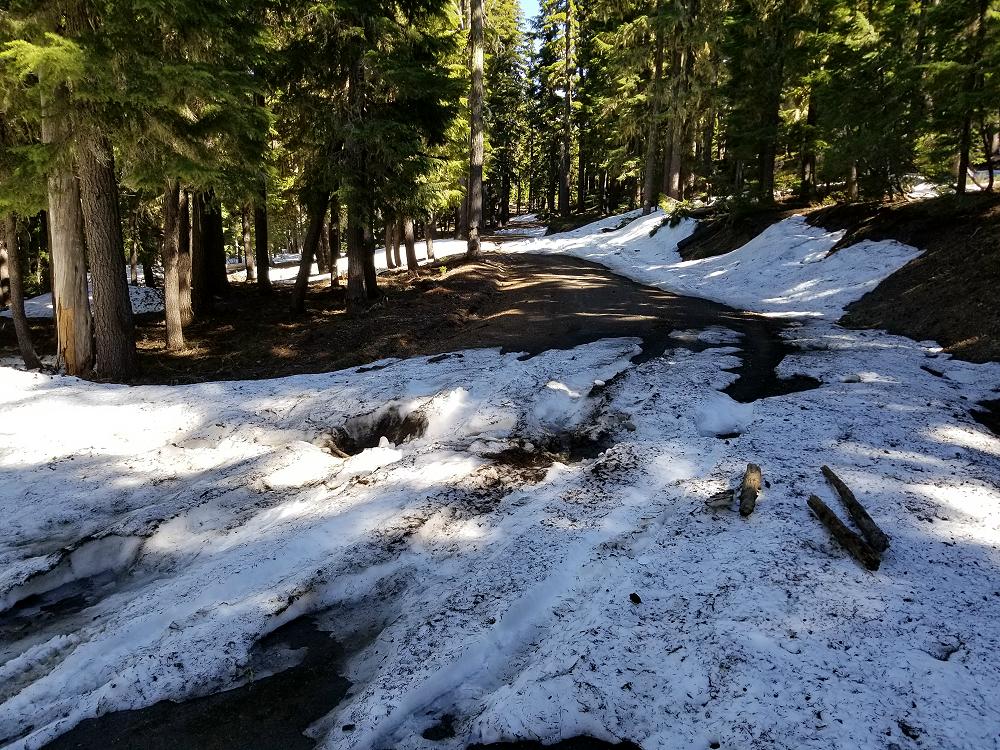 Annoyed, I turned around, and headed back to Highway 58 that I had crossed earlier, and then followed that southeast to US 97. I took US 97 south to Route 138, and followed that west to reconnect with the Trans America Trail. I'd say from looking at the map that I had made it more than half way across NF 60 from Highway 58 to Route 138, before I had to turn around. If I had a winch, or another vehicle travelling with me, I probably could have gotten through it. A front locker surely would have made things easier as well.
Going up Route 138 will take you past Diamond Lake.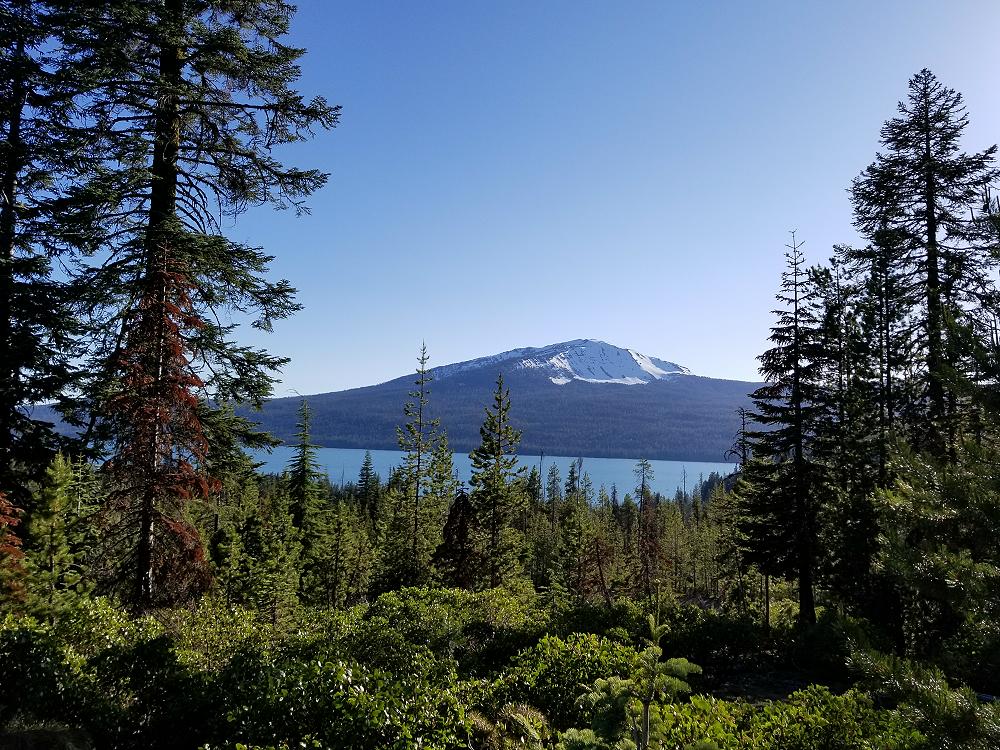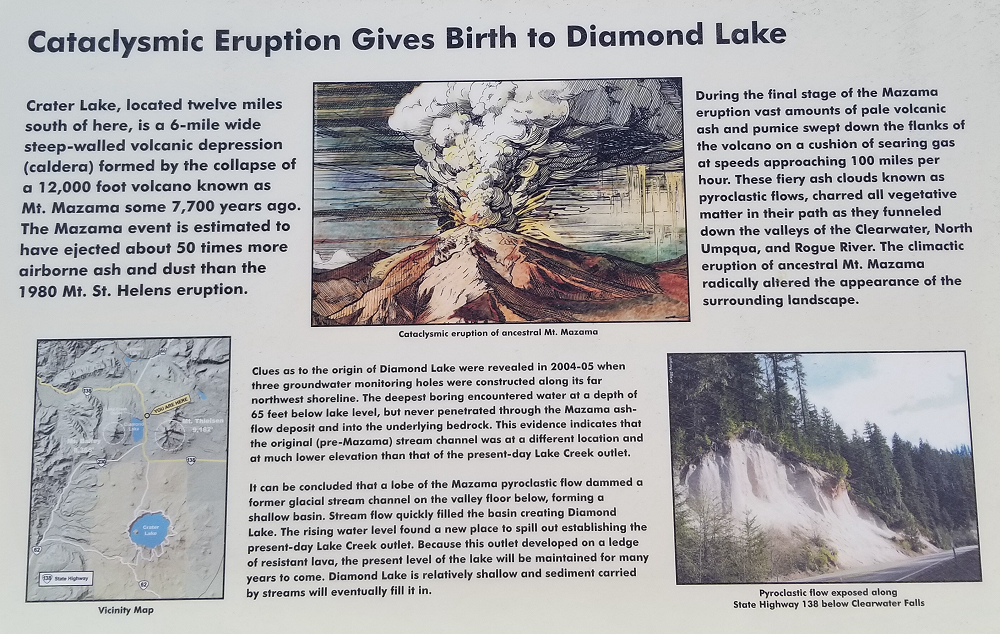 There's also some nice waterfalls not far off of Route 138. I stopped and checked out Clearwater Falls. It was a short visit because every mosquito in Oregon had decided to come here for the weekend.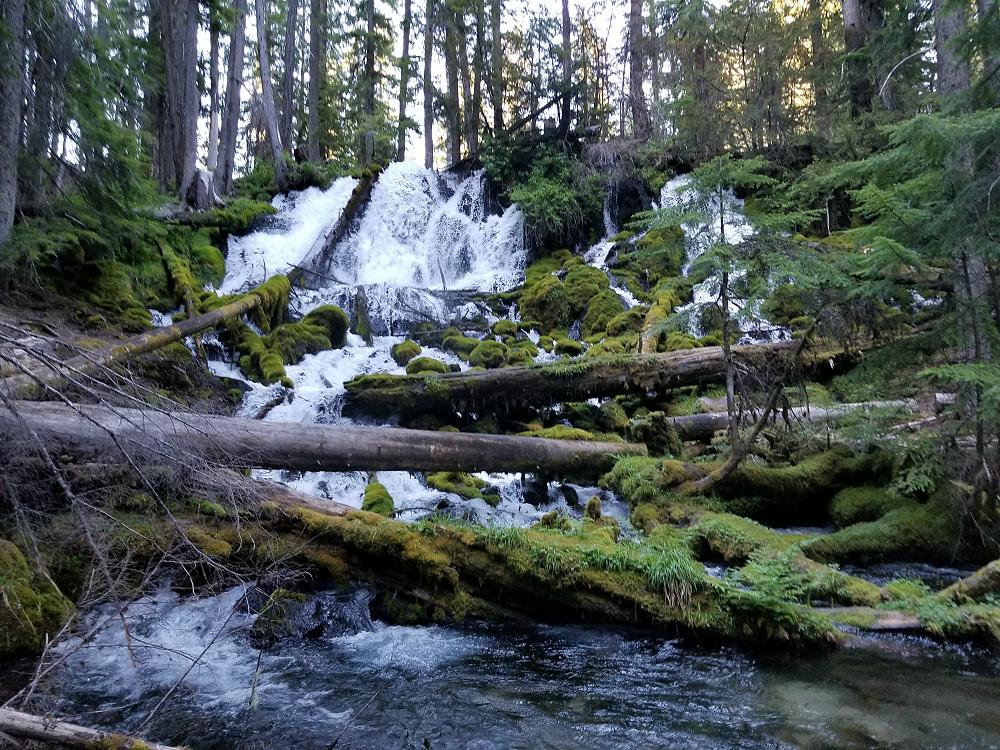 I discovered that there was a KOA campground in the area, but they were full. It's hard to figure out where you're going to be stopping ahead of time, because you don't really know what the trail is going to have in store for you. You options are dispersed camping somewhere in the National Forest, sleeping in your truck, or hoping to find a hotel room in the next town you come to.
It was around 6:30 pm, and I should have make camp for the night, but I knew I had a couple of hours of daylight left, and decided to push a little further. That was a mistake.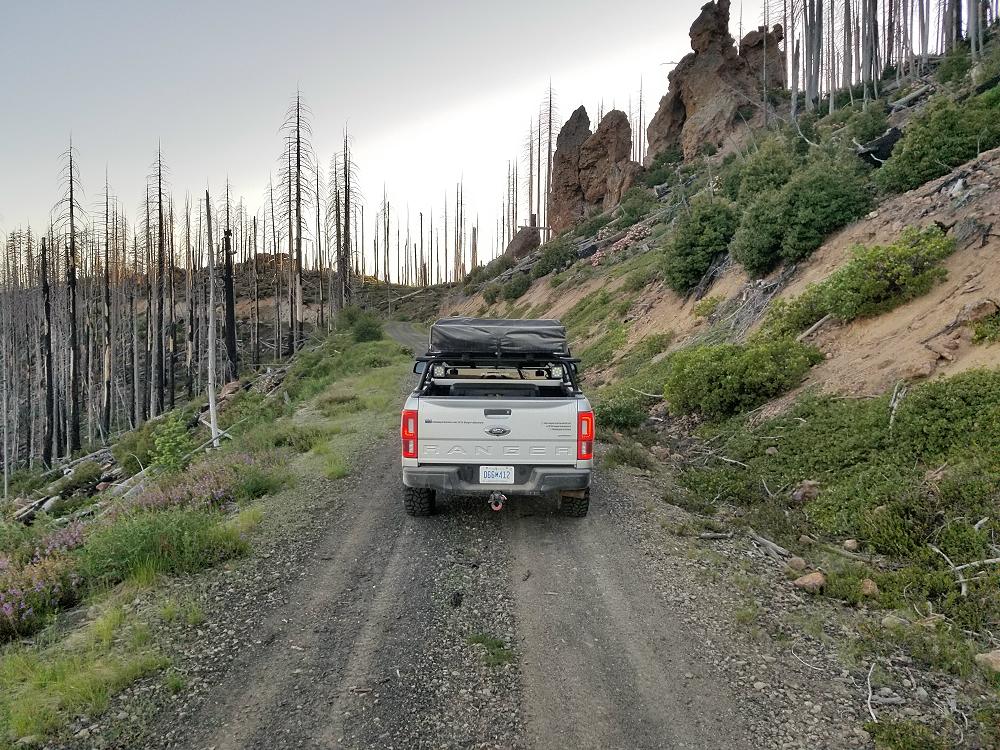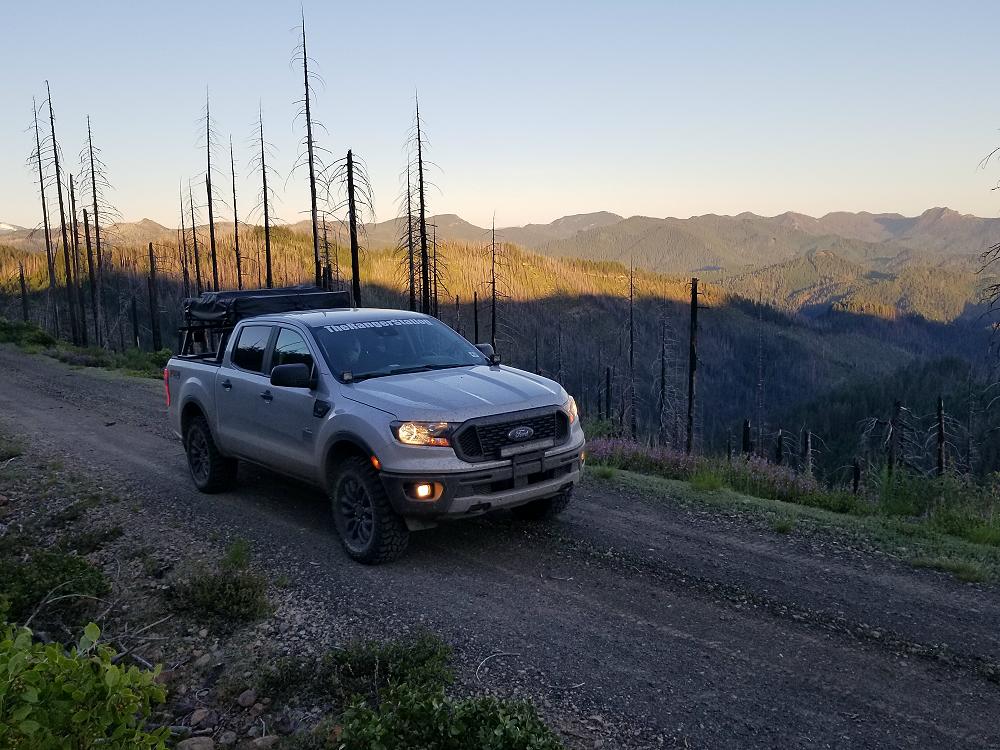 I figured I could get through another section of the trail before it got dark. I was wrong.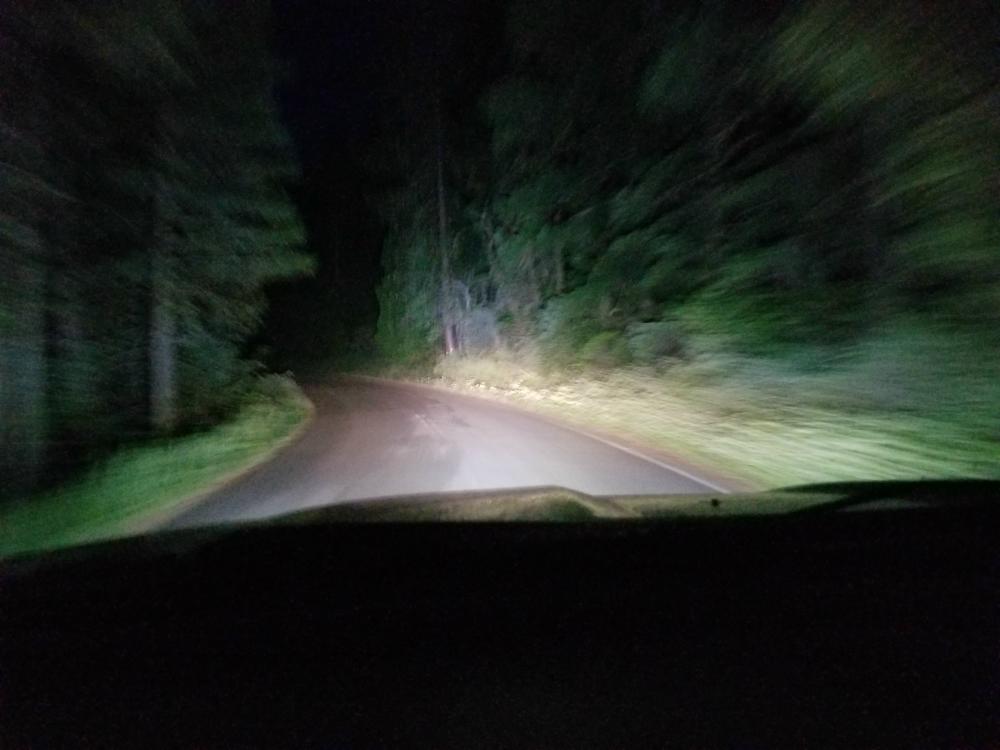 I was following the Trans America Trail route on my Gaia GPS, and continued following it until I eventually came out on the Tiller Trail Highway near Tiller Oregon.
I followed that in to Canyonville. Canyonville looks like a small town in the middle of nowhere with nothing at all to offer. However, if you head north through town, you come to the Seven Feathers Casino Resort, Seven Feathers RV Resort, a Burger King, the Seven Feathers Truck and Travel Center, and the Jordan Creek Rest Area. I ended up just sleeping in the truck at the rest area.
Total miles driven off pavement today: 133 miles
Video:
Special Thanks To:
Ford Motor Company for supplying the 2019 Ford Ranger FX4
Cooper Tire for supplying the Cooper Discoverer STT PRO tires
Links:
How To Navigate The Trans America Trail
Trans America Trail 2019 – Main Page
Trans America Trail 2019 – June 3rd & 4th
Trans America Trail 2019 – June 5th & 6th
Trans America Trail 2019 – June 7th & 8th
Trans America Trail 2019 – June 9th & 10th
Trans America Trail 2019 – June 11th & 12th
Trans America Trail 2019 – June 13th & 14th
Trans America Trail 2019 – June 15th & 16th
Trans America Trail 2019 – August 13th & 14th
Trans America Trail 2019 – August 15th & 16th
Trans America Trail 2019 – August 17th – Completed
More Photos:
Click the photos to enlarge.