June 15th, 2019 (Canyonville, Oregon to Port Orford, Oregon):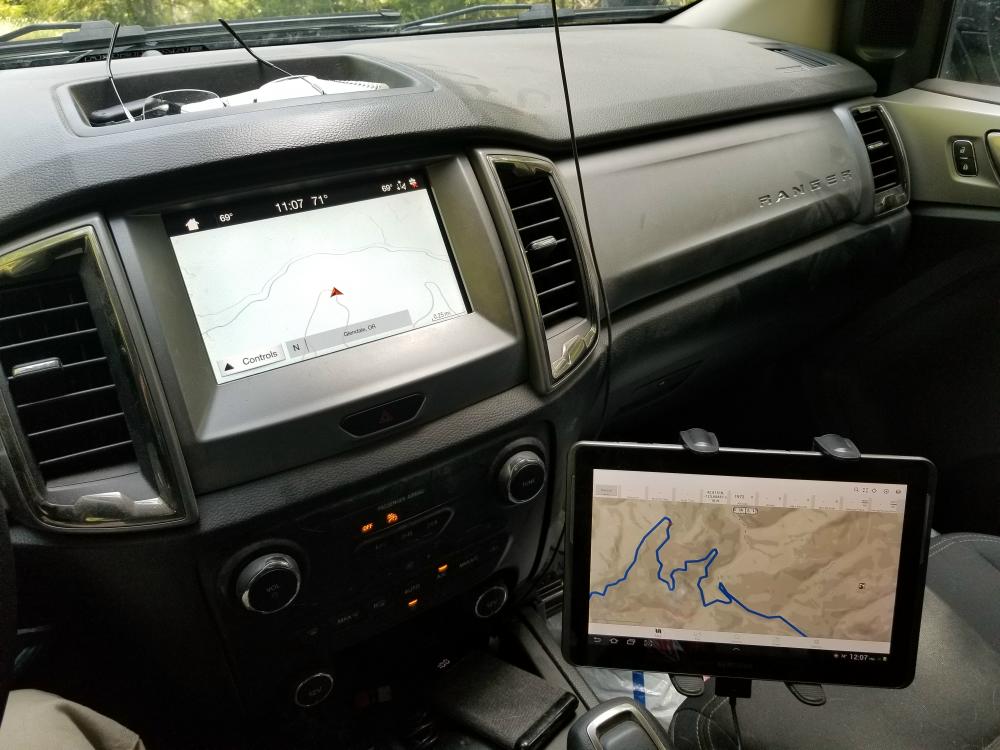 This morning I went over to the Seven Feathers Truck and Travel Center in Canyonville to get some gas, and something for breakfast. This gas station actually lets you pump your own gas!! From there, I headed south on Interstate 5 to Azalea Oregon, where I reconnected with the Trans America Trail. With any luck, I will finally finish it today! Here's a photo (above) of the factory GPS, and the Gaia GPS App on my Samsung tablet. This is how I navigated the trail.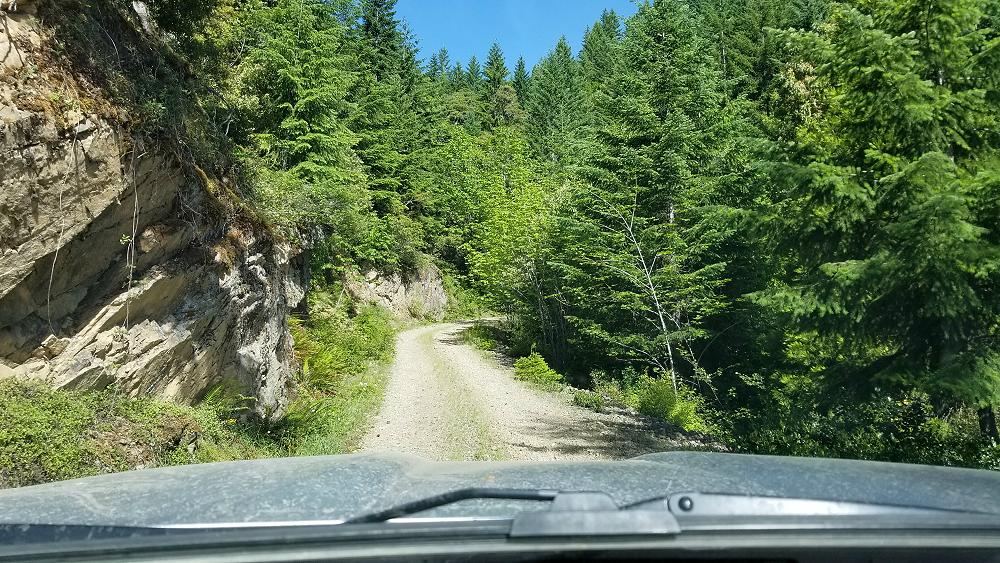 I had an issue pretty much right away this morning. The Trans America Trail wants you to take Hayward Ln to Mehlwood Ln. There is a logging company here, and the road is fenced and gated. This route was not an option. The option was to simply take Reuben Rd, since that's were Mehlwood was going to take you to anyway. You follow Reuben to McCullough Creek road.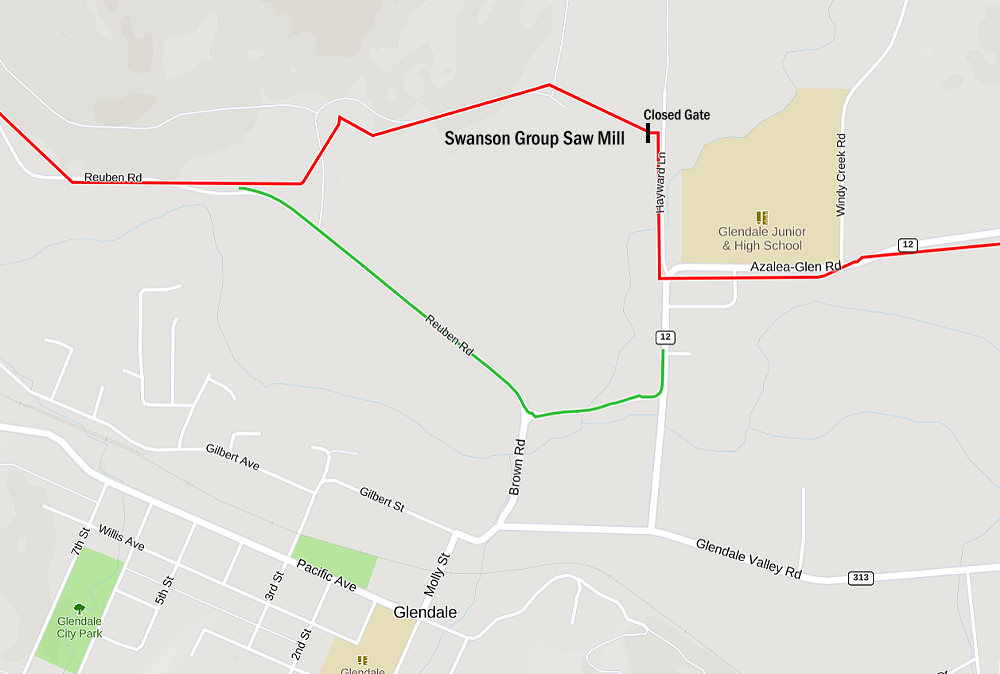 From there you work your way up and over a mountain. The top of it has been cleared by the lumber company, so there's a pretty nice view.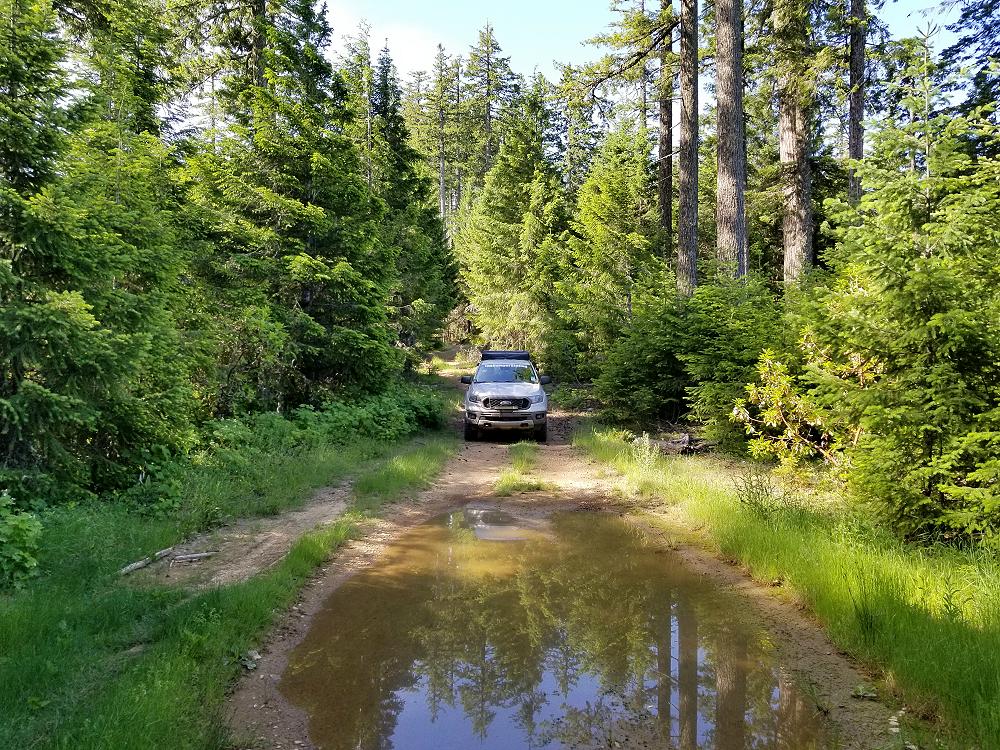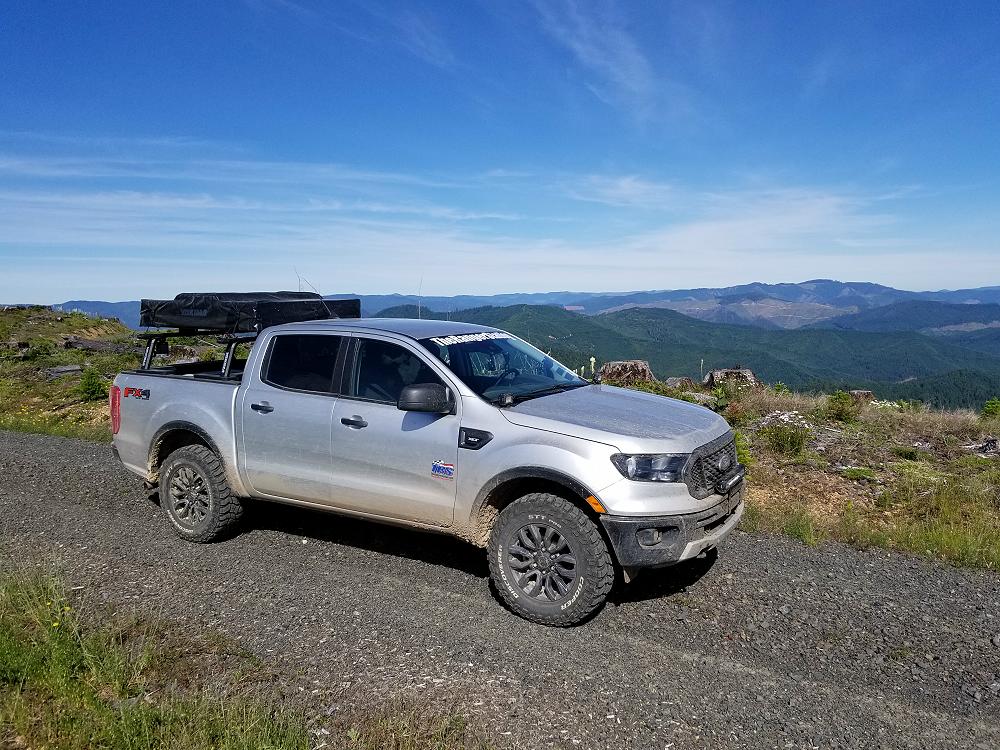 On the way down, I came across a bear that ran out along the edge of the road in front of me. This was only the second bear I had seen on this journey, and the first one was running across a field quite a distance away. Then I was greeted by this locked gate. WTF!!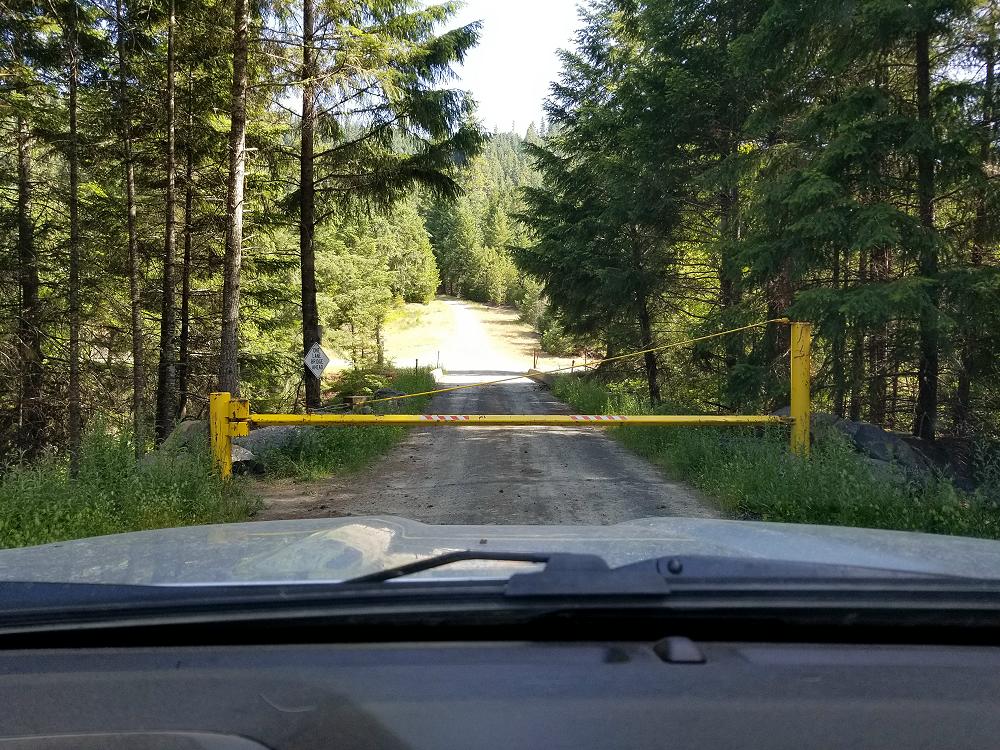 There was no phone number to call, and I didn't have a cell phone signal even if there was.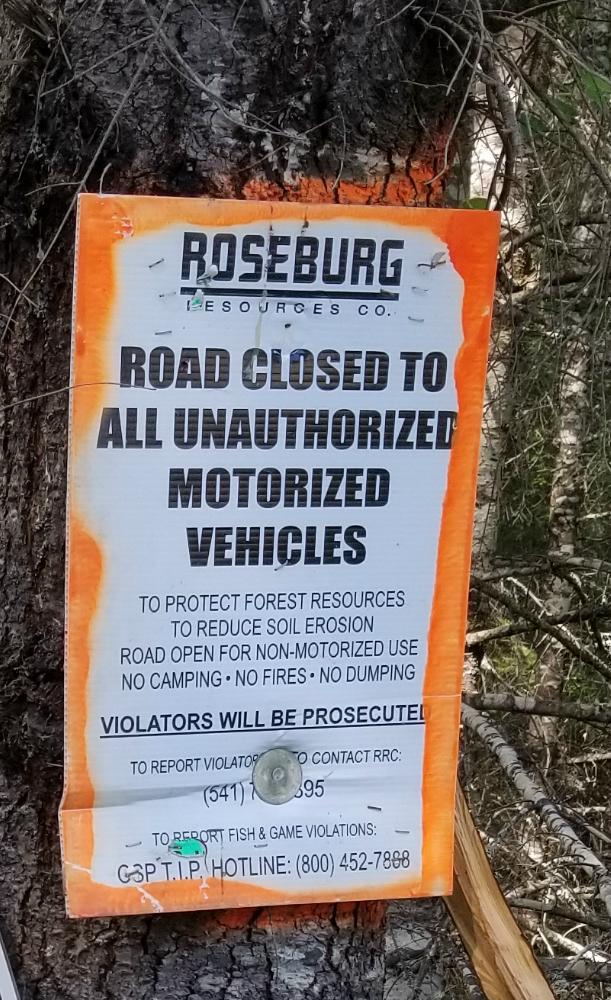 What was even more surprising was the sign saying that the road was closed to unauthorized motor vehicles, and that violators would be prosecuted!
I'd like to see them argue that in court. This is literally a public road named Middle Creek Road. I got to the gate using public roads, I didn't pass through any gates to get here, and there wasn't any signs saying I couldn't use them.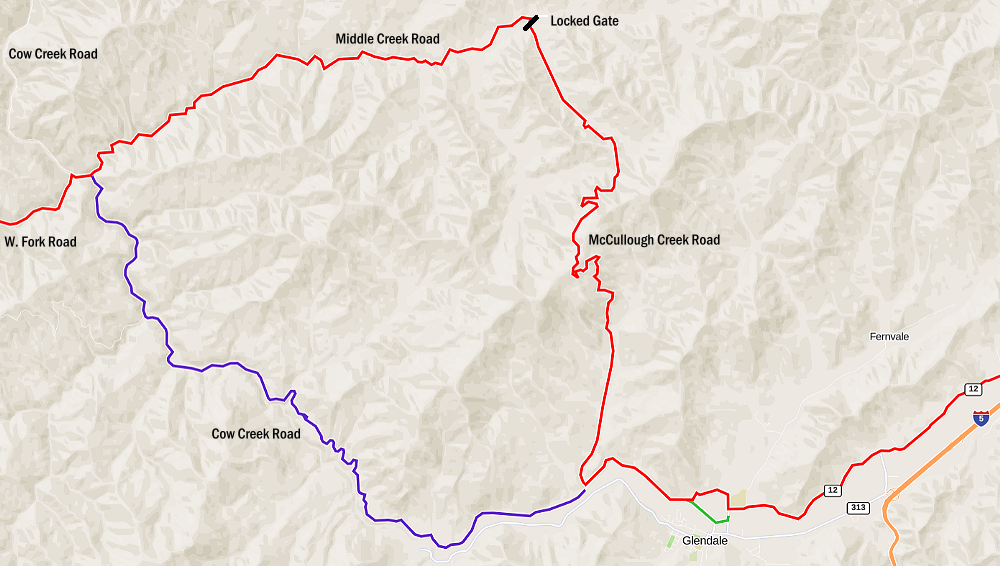 Looking at the GPS, the only way past this gate was to go back the way I came, and then continue west on Reuben Road. Reuben Road becomes Cow Creek Road, and reconnected me with the Trans America Trail. This was actually an easy option suggested by 'gpsKevin', and I'll discuss that more on my page about navigating the Trans America Trail.
Following the official Trans America Trail route was putting me in to way to many trees. I had to get out a few times and snap off some large limbs.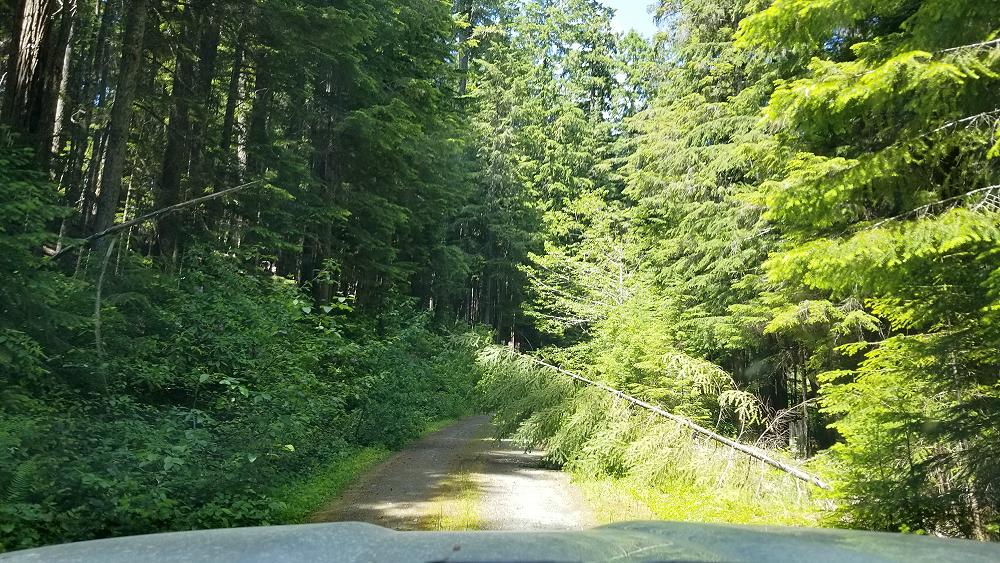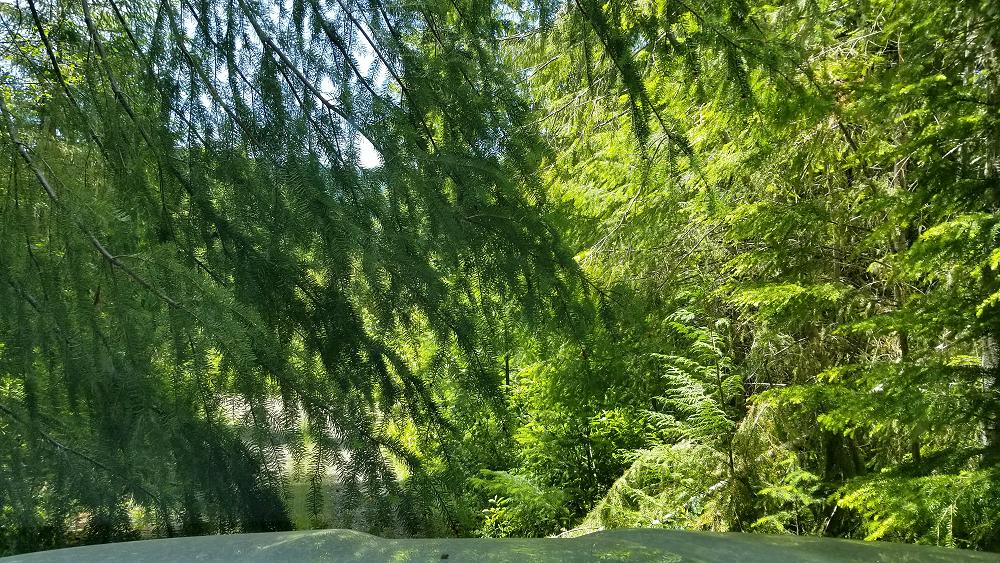 Having decided that I had enough of the trees, and didn't want to scratch up this truck that Ford loaned me, I cut south to NF-595.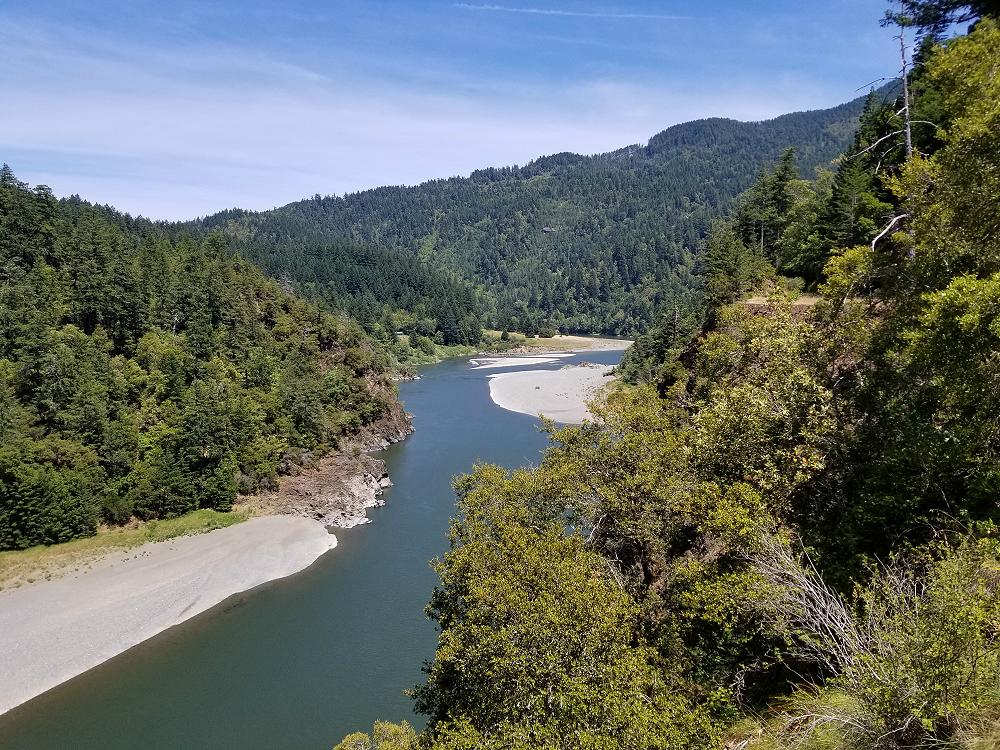 I followed that west out of the National Forest, and on to US 101, the Oregon Coast Highway. This is what my day ended up looking like.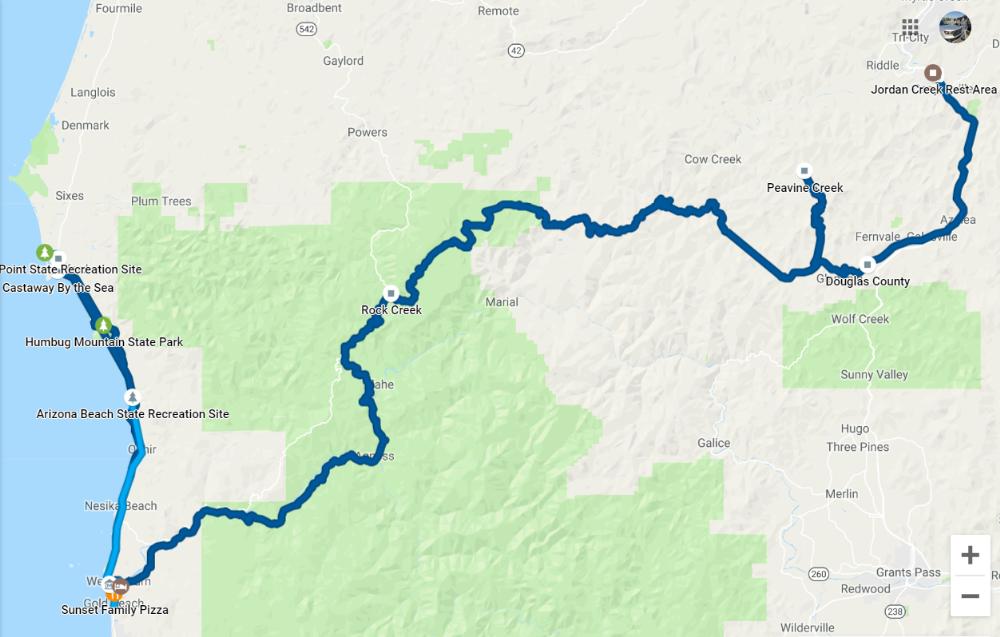 You're not officially done with the Trans America Trail until you get to Paradise Point in Port Orford. That didn't keep me from stopping to take a few photos along the way.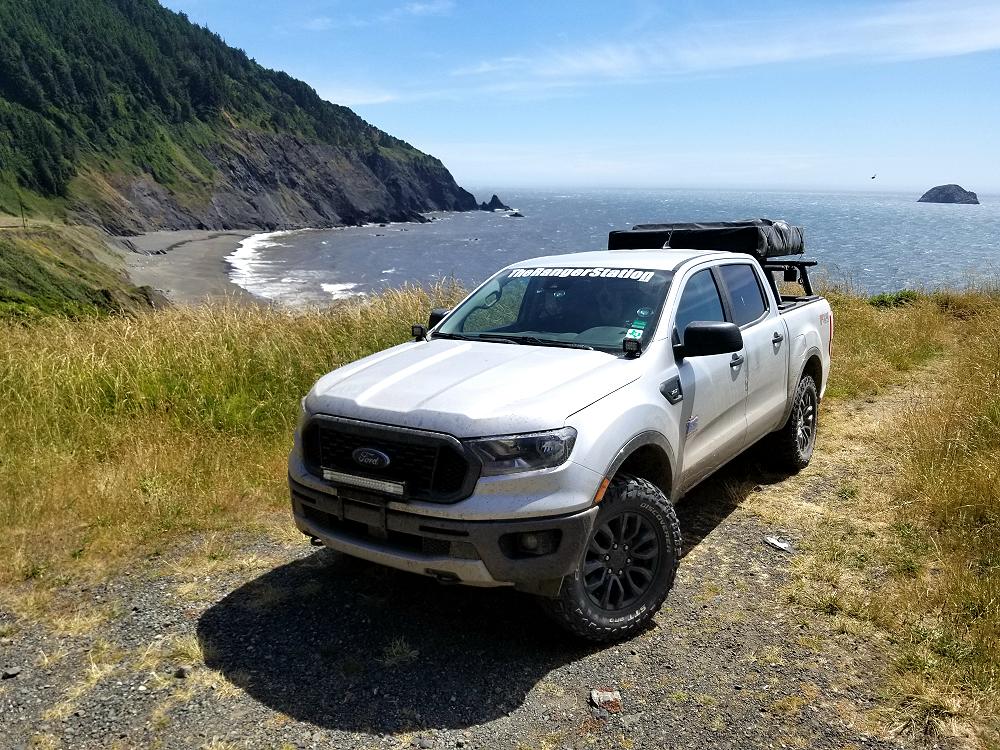 Finally, I arrived at Paradise Point, and the official end of the Trans America Trail.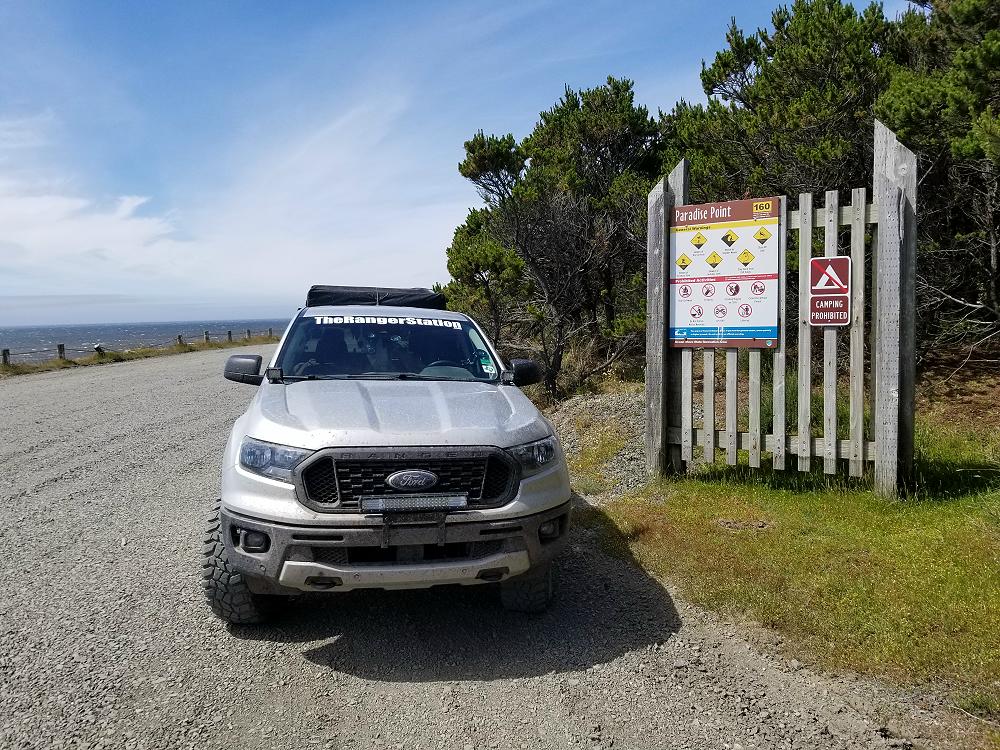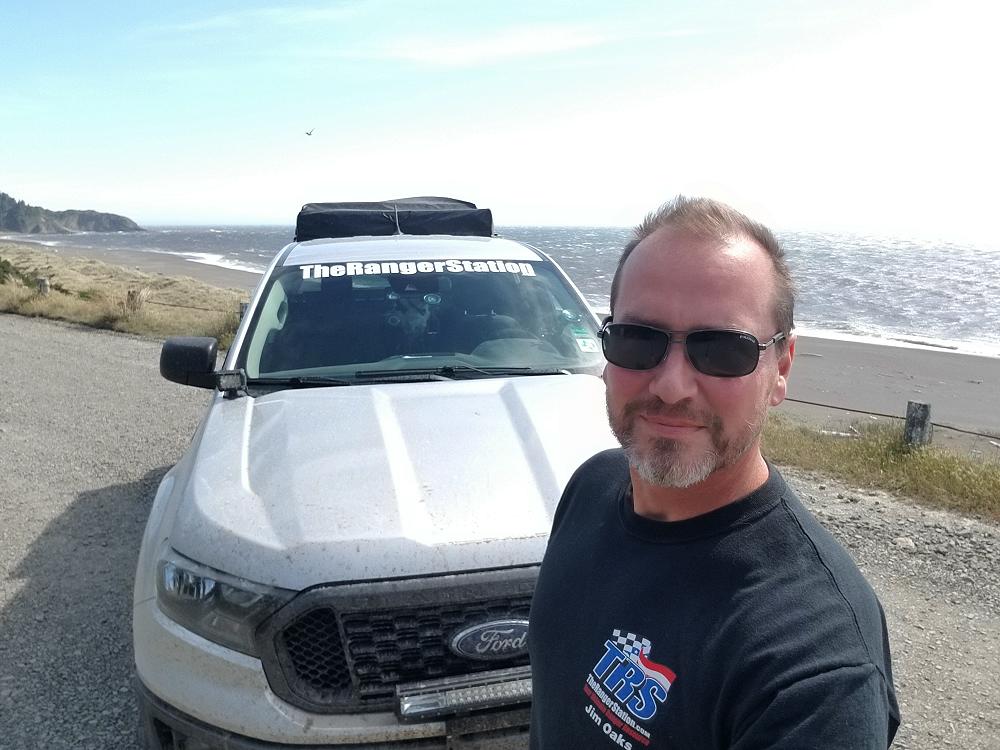 Having finally finished the trail, I headed to the closest car wash, and washed all of the dirt, mud, and sand off of it. Then I headed south on US 101 back to Gold Beach Oregon.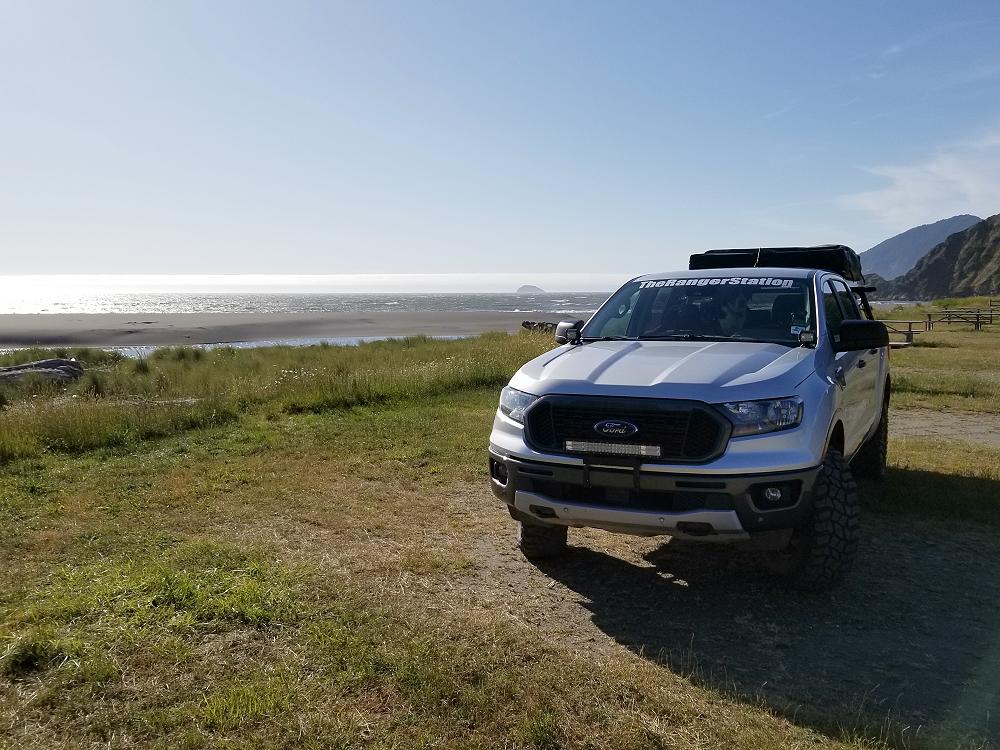 Once in Gold Beach, I went to Sunset Family Pizza for a good pizza. Then I found a place to park so I could try and get some sunset photos.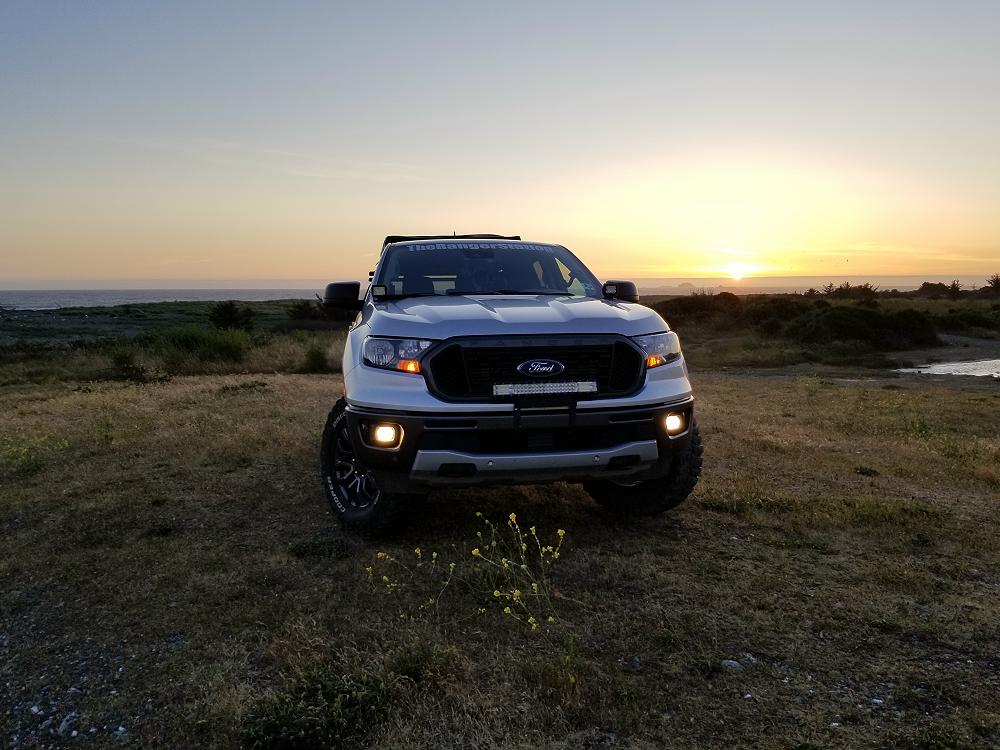 Video:
June 16th, 2019 (The Oregon Coast & The Return Trip Home):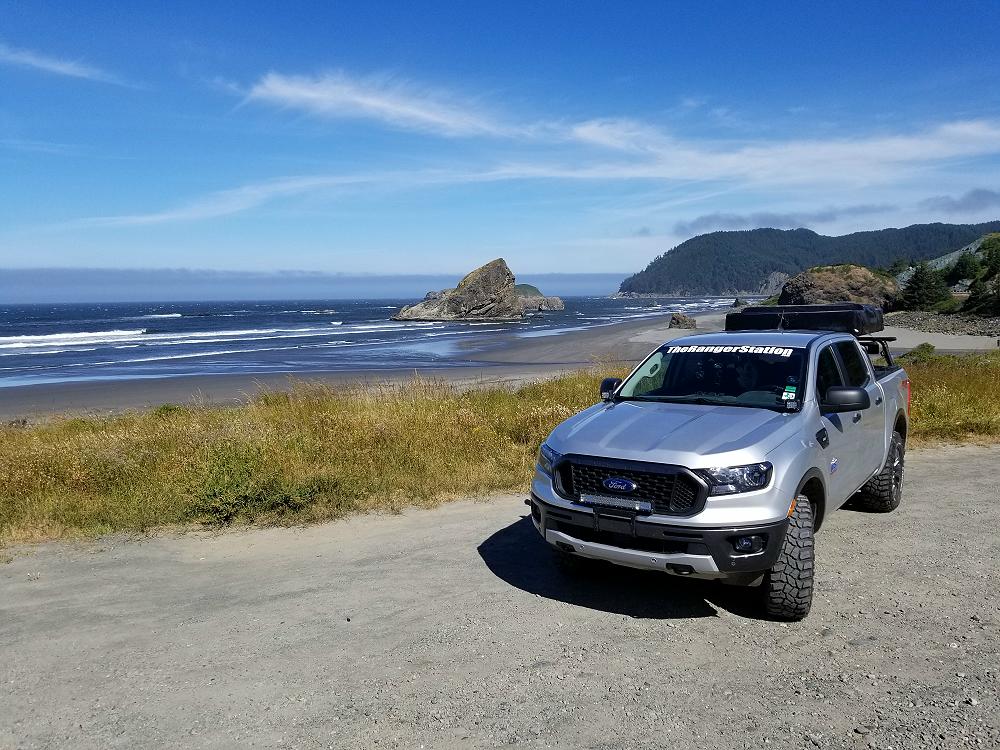 After eating a pizza and watching the sunset last night, I headed to the local Motel 6 for a shower and a good nights sleep.
My goal today would be to check out the coastline, and then head south in to California to visit with some friends. Eventually I would follow old Route 66 back to Texas, and escape California's insane gas prices, and Oregon's stupid laws about pumping your own gas.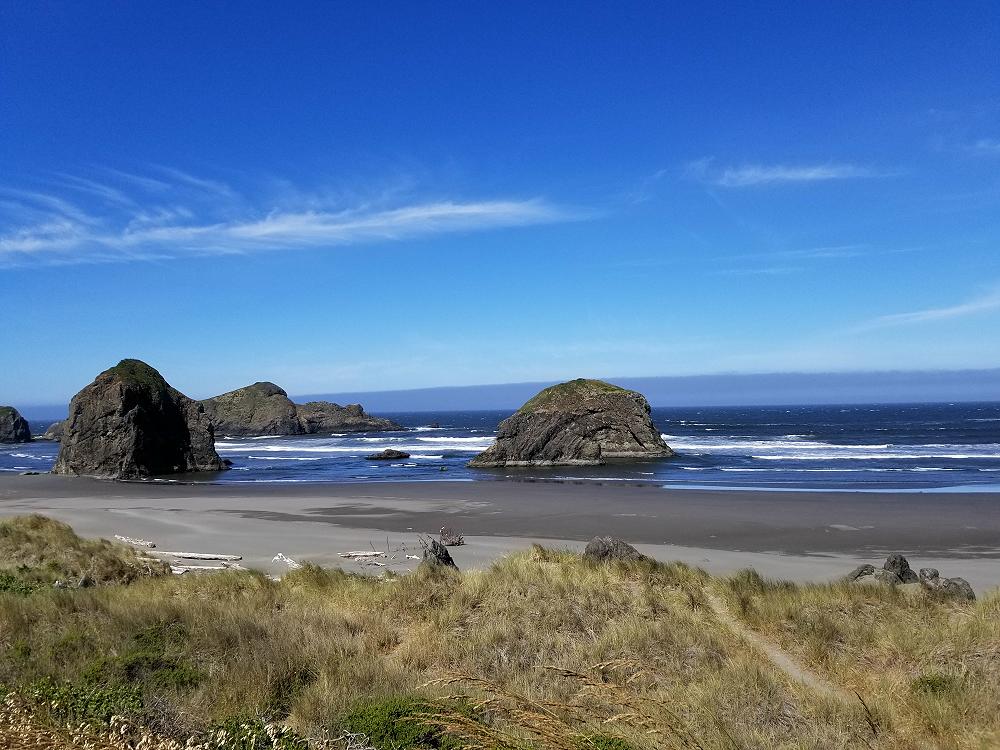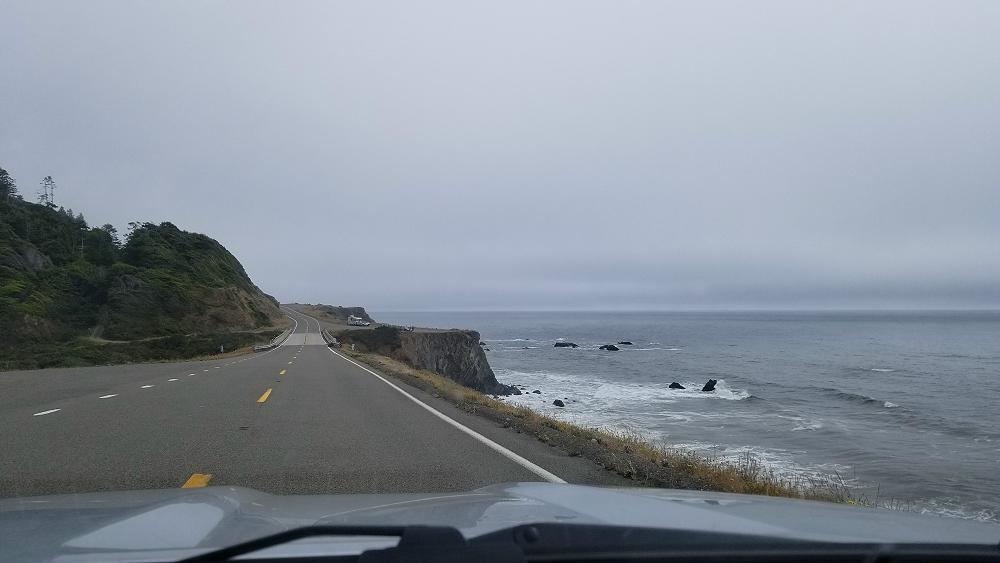 To see more of my adventures with the 2019 Ford Ranger, as well as my return trip from California to Texas, check out my 2019 Ranger Adventure.
This is only the first 1/2 of my Trans America Trail adventure. I started out at the New Mexico / Oklahoma border, and headed west. In August, I finished the first half of the Trans America Trail by heading east from Oklahoma to the trails beginning in Tennessee.
Special Thanks To:
Ford Motor Company for supplying the 2019 Ford Ranger FX4
Cooper Tire for supplying the Cooper Discoverer STT PRO tires
Links:
How To Navigate The Trans America Trail
Trans America Trail 2019 – Main Page
Trans America Trail 2019 – June 3rd & 4th
Trans America Trail 2019 – June 5th & 6th
Trans America Trail 2019 – June 7th & 8th
Trans America Trail 2019 – June 9th & 10th
Trans America Trail 2019 – June 11th & 12th
Trans America Trail 2019 – June 13th & 14th
Trans America Trail 2019 – June 15th & 16th
Trans America Trail 2019 – August 13th & 14th
Trans America Trail 2019 – August 15th & 16th
Trans America Trail 2019 – August 17th – Completed
More Photos:
Click the photos to enlarge.