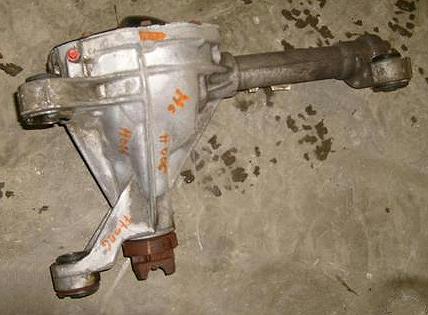 Specifications:
7.120-Inch Ring Gear
27-Spline Axles
Standard Rotation
(10) Cover Bolts
In 1995, the Ford Explorer 4×4 went from a TTB (Twin Traction Beam) Dana 35 front axle, to a Dana 35 SLA (Sort arm Long Arm) front axle. In 2002, the Ford Explorer switched from a Dana 35 to a Dana 'Super' 30. The Super 30 should not be confused with the 'Super 30' axle upgrade kit intended for the regular Dana 30 axles. The 'Super 30 kit' upgrades a Dana 30 27-spline shaft to a 30-spline shaft.
The 1995-2001 Ford Explorer Dana 35 SLA, and the 2002-2010 Ford Explorer Dana 'Super' 30 both use 27-spline shafts, but use different carriers. The earlier 1995-2001 Dana 35 uses (8) ring gear bolts, and the 2002-2010 Dana 'Super' 30 uses (10) ring gear bolts.
Just like the Dana 35 SLA, the Dana 'Super' 30 is a standard rotation axle.
The Ford Dana 'Super' 30 will use Dana 30 ring and pinions that require a crush sleeve, but it needs a Ford specific installation kit due to some unique bearings and seals.
3.55 & 3.73 is the carrier break. So if you wanted to add 4.10 gears, you would need a carrier that had 3.73 gears. You couldn't put 4.10 gears in a carrier that originally had 3.73 gears.
A good place to hunt for used front Dana 30 differential parts would be the Jeep sites.
How Does This Help A Ranger Owner?
Because 1998 and newer Ranger owners may try to put a used carrier and or gears from an Explorer in to their Ranger, and it's important to know that the 2002 and newer Explorer does not have the same front axle assembly found in their Ranger.
What Vehicles Use A 'Super 30'?
According to Randys Ring & Pinion, the Super 30 is broke down in to (3) groups:
Ford Dana Super 30:
Lincoln Aviator: 2003 – 2005 (Front)
Ford Explorer: 2001 – 2013 (Front)
Mercury Mountaineer: 2002 – 2010 (Front)
Ford Ranger: 2001 – 2005 (Front) (We believe the Ranger only used the Dana 35 SLA)
Jeep & Chrysler Dana Super 30
Grand Cherokee : 1999 – 2004 (Front)
Dodge Nitro: 2007 – 2011 (Front) (Same platform as Jeep Liberty)
Jeep Liberty: 2002 – 2007 (Front)
Why Did The Explorer Switch To A Super 30?
We don't know. It may have involved cost and the fact that at the time of the Ford Explorer generation change in 2002, the Super 30 was becoming common in Jeep and plentiful. It's likely that the Super 30 never found it's way in to the Ranger because the Ranger was basically unchanged from 1998 to its production end.
What Have 2002-2013 Ford Explorer Owners Used For Gear Swaps?
Yukon Gear 4.11 Dana 30, part number YG D30-411
Yukon Gear 4.11 Ford 8.8, part number YG F8.8-411
Yukon Gear Master Kit, Ford 8.8 31 Spline, part number YK F8.8-IRS-SUV
Yukon Gear Master Kit, Dana 30 Super (Ford), part number YK D30-SUP-FORD
* Note: The 4.11 gears in the Super 30 have to be used in a 3.73 Ford Explorer carrier.
Specifications: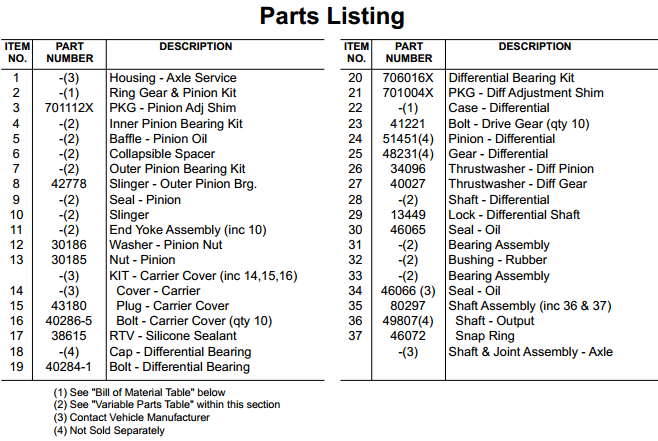 For more information and part numbers, click HERE and scroll to page 8.
Have information to add? Contact us.