I'm finishing up an engine swap from a 1988 Thunderbird Turbocoupe into my Ranger, it's a '91 that had the N/A 2.3 in there before the swap, so it has been mostly plug and play. After ironing out some fuel issues, it seems to start and idle fine now, but I found that the tachometer isn't working with the new ignition system (using distributor and ignition module from the Thunderbird). I verified that the pins on the TFI module go to the correct destinations on the harness/ECU (specifically the IDM pin), but noticed something funky about the wires going to the tach.
First, here are the diagrams I am referencing: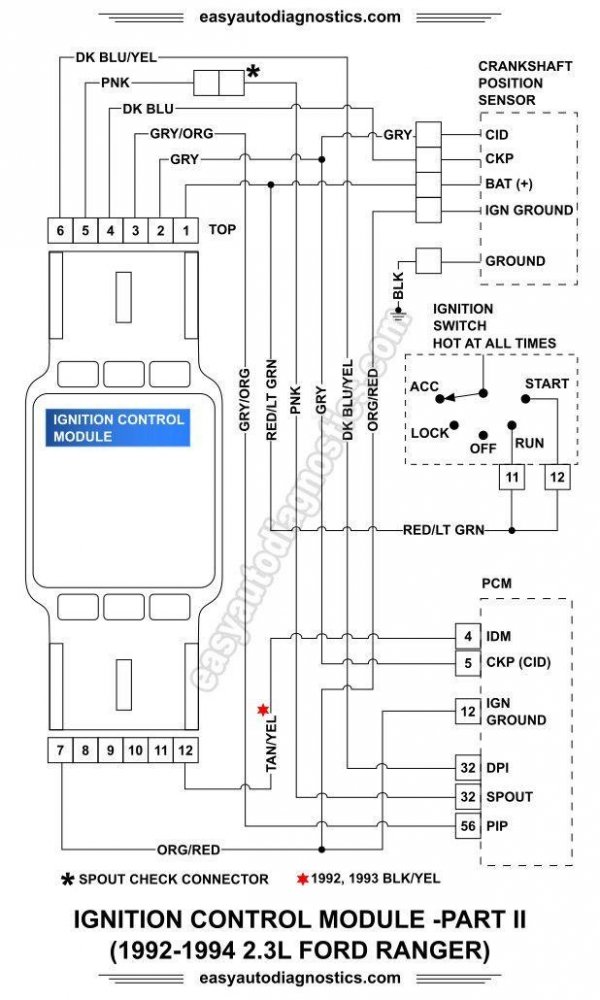 At the instrument cluster: the pins and colors match up to diagram above, tan/yel on pin 6 and blk/yel on pin 7. Pin 6 is the signal pin that should lead to the ignition system, which would lead to the IDM pin on the ECU and TFI module, and the tan/yel wire matches what I would expect at the ECU. Pin 7 is supposed to be the ground pin. There doesn't seem to be any indication the two wires directly join paths at any point, however both pins have continuity at all times (key on, key off, positive probe tested at each pin). After tracing the wires back into the engine bay, I found this factory(?) splice:
None of the wiring diagrams I have found indicate these wires are supposed to cross paths, all show the IDM wire going straight from the ECU to the TFI module, but none of the engine diagrams even mention the tachometer wiring so I assume that they may leave out some other details as well.
However, since the splice has been on the wiring harness before the swap, and the tach worked before the ignition system swap, and the wires all go to the correct destinations on the new TFI module and ECU, I am thinking the above splice isn't actually the cause. Other possibilities I was trying to track was the removal of the crank position signal, if that ran the tach, or if the ignition coil negative wire needs to be connected to the tachometer in some fashion? I couldn't see any ignition coil wires from the EDIS ignition system that lead to the tach, and couldn't figure out how the new coil would wire into the instrument panel connector. If anyone has any input on this issue I'd appreciate any help I can get.