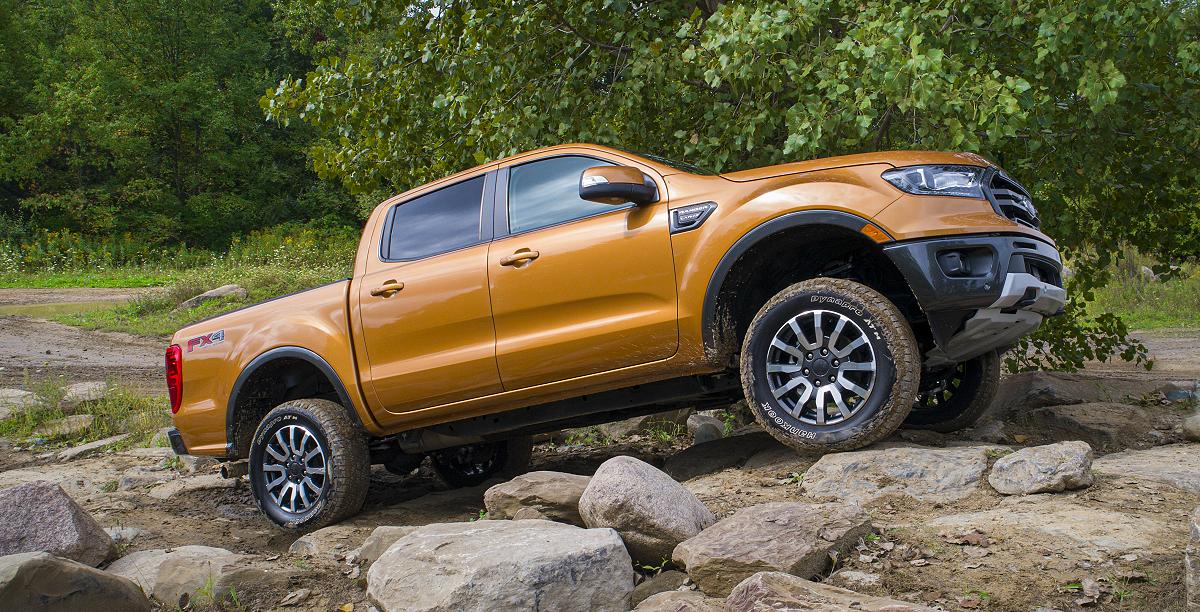 Ford Performance Parts takes Ranger and F-150 even further for off-road adventure and customization with new off-road leveling suspension kits
A first-ever offering from Ford, the off-road leveling kits bring FOX™ shocks, exclusive Ford Performance tuning, 2-inch front lift, new front coilovers, vehicle-specific upper front mounts and locking spring pre-load rings
Customer benefits of the leveling kits include better off-road capability with more front ground clearance and improved approach and breakover angles
DEARBORN, Mich., Sept. 18, 2019 – For the first time ever, Ford Performance Parts is offering after-purchase leveling kits for Ford Ranger and Ford F-150 for even better off-road performance and greater vehicle customization.
"Ford Performance Parts developed these kits to make the off-road experience even better for our Ranger and F-150 customers," said Eric Cin, global director, Ford Vehicle Personalization and Accessories. "Truck customers are asking for options for increased capability and customization, and the new leveling suspension kits for Ranger and F-150 deliver on that need."
The majority of Ranger and F-150 trucks are purchased with four-wheel drive, and for those who want to go further, the leveling kits will enable off-road explorers to venture into even more challenging terrain. Beyond adding additional ground clearance, off-road performance is improved with Ford truck-optimized FOX™ shocks.
The dealer-installed off-road leveling kits for Ranger and F-150 include:
New aluminum FOX shock bodies are designed to provide ample cooling capacity over rough terrain
New front coilover springs deliver optimal spring rate
Vehicle-specific upper front mounts with polyurethane bushings work to help isolate noise and vibration
2-inch front lift levels the truck from front to rear
Ford Performance engineers worked with FOX to develop unique internal valving for the shocks to deliver confident performance and predictable handling both off-road and on the pavement.
With kit installation, both Ranger and F-150 see improvements to front ground clearance, approach and breakover angles, based on internal Ford computer generated engineering simulations. Ranger sees an approximate 21 percent increase in approach angle and a 10 percent increase in breakover angle. F-150 with a 145-inch wheelbase sees an approximate 22 percent increase in approach angle and 7 percent increase in breakover angle.
Development and testing for the leveling kits included high-speed off-roading in Borrego, California, and low-speed rock-crawling in Arizona to optimize for a variety of off-road driving experiences.
"The elevated off-road geometry, paired with Ford Performance tuning, makes this a really unique offering," said Cin. "The secret sauce to this kit is in the Ford Performance tuning. This suspension and its tuning are designed to improve off-road handling and responsiveness, specifically for Ranger and F-150."
These new offerings are available through Ford dealers for $1,495 before installation. The kits are designed to be installed at the dealer on any four-wheel-drive 2019 Ranger or four-wheel-drive 2015-19 F-150. Kits come with a Ford Performance Parts limited warranty. See a Ford dealer for details.
Off-road enthusiasts can order Ford Performance Parts leveling kits for Ranger and F-150 later this fall.
Join The Discussion:
Ford Ranger Gets First-Ever Ford Performance Off-Road Leveling Kit with Tuned Suspension