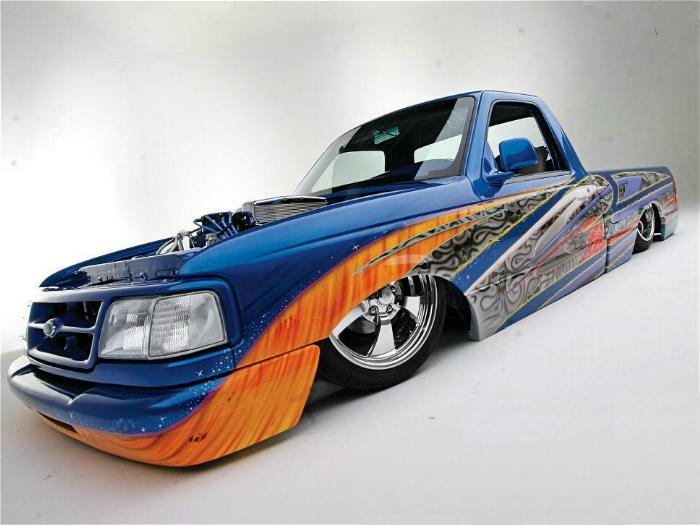 This 1997 Ford Ranger owned by 'Uncle Fester' is a beautiful example of a customized truck. Don't think this is another mini truck that was purchased used and given a new life. The owner bought this truck new in 1997, took it home, and started taking it apart. The truck became a 14-year project as the owner went to great detail to customize the body, engine / drivetrain, and interior. Being inexperienced, the build became a learning experience that lead to many friendships along the way. 
The beautiful and meticulous paint job was done by Jamie Cummins of 'If Its Got Wheels'. The Ranger is actually a rolling piece of art, and would look just as beautiful framed on someone's wall, as it would at a show.
The Ranger received a suspension and body drop, custom body work, custom interior, and the V8 drivetrain from a 1991 Ford Mustang. The Ranger actually had the Mustangs floor pan welded in when the body drop was done.
Fester's brother Jason helped with with the stereo setup. Unfortunately, he lost his brother to leukemia. Fester had a picture of his brother painted on the dash as a tribute. He kept his promise to his brother that he would be his passenger for life.
Here are the specifications for this build:
Owner: Uncle Fester
Ride: 1997 Ford Ranger
Location: Phoenix, AZ – Uncle Fester's Garage
Rolling Attire:
Wheels: 17×7 Billet Specialties (front) 17×10 Billet Specialties (rear)

Tires: 205/40/17 Kumho Ecsta (front) 245/40/17 Kumho Ecsta (rear)
Chassis Modifications:
Suspension (front): One-off arms fit to a Toyota spindle/brake assembly

Suspension (rear): Two-link with a Panhard bar

Control Arms: Custom-made by James Strassner

Shocks: Monroe air shocks

Compressor(s): Two Viair 380s

Frame Mods: Full-custom frame by Chris Alston's Chassisworks

Brakes: Stock Toyota front, Explorer rear discs

Misc.: Floor is out of a '91 Mustang, custom firewall

Performed By: Owner, James Strassner, Greg Costlow
Body Modifications:
Shaved: Third brakelight, emblems, cowl, antenna

Bodydrop: Stock-floor and traditional amount to a big drop

Body Mods: Rockers removed

Suicide Doors: Reverse suicide

Bolt-ons: None

Performed By: Owner and James Strassner
Paint:
Brand & Colors: House of Kolor and Sherwin Williams colors, main color is HOK True Blue Pearl

Misc.: Hours of airbrush work and graphics

Performed By: Jamie Cummins of If Its Got Wheels
Interior:
Interior Seats: Reupholstered Rhino seats (thanks, Mom!)

Dash: Fiberglassed; shaved vents, air bag, and other misc. parts

Gauges: Stock

Misc.: Fully painted and wrapped in gray pleather

Performed By: Owner, paint by Jamie Cummins
Stereo
Head Unit: Pioneer

Mids & Highs: Kicker

Subwoofers: Kicker

Amplifiers: Kicker

Misc.: Custom sub box

Performed By: Owner, brother Jason, and James Strassner
Engine/Performance
Engine: Rebuilt Ford Mustang 302ci

Intake: Chrome aftermarket

Header/exhaust: Chrome headers, custom exhaust by Mad Hatter

Transmission: Fully rebuilt AOD painted

Rearend Type: Mustang 8.8 narrowed with 9-inch end welded on

Detail Work: Fully painted and chromed to the max

Performed By: Owner, Steve Max, paint by Jamie Cummins
More Photos: