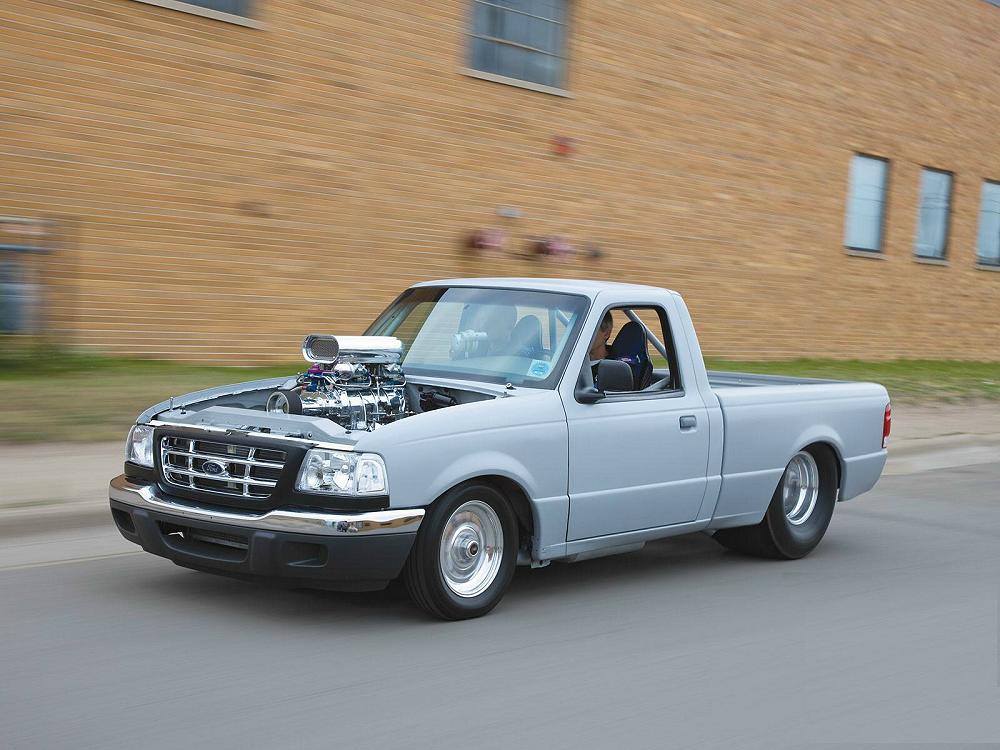 Tim Sockness was looking for a lightweight car he could cut up and use as a "Pro Street go-fast car." He'd been doing so since the '80s when he saw a Pro Street Duster wobbling down the freeway. "I thought it was the coolest thing I'd ever seen," Tim says. So it stayed in his head for 20 years. Then one day, something clicked. "I was a late bloomer as a car guy. Up until I was 30 years old, I drove garbage." When Tim realized his fate, he began to build. First there were four-wheel drives, then an import with a turbo. "That car was fast; it had 240 hp at the wheel and only weighed 2,100 pounds." That's when Tim decided to build a real car.
Tim was on the hunt for "not a Nova" when he found this '98 Ranger. It had 291,000 miles on it, but the body was still in good shape. Without telling the owner his plan for a complete teardown, Tim paid the man $1,700 and drove it home. Since Tim was relatively new to building cars, he went to car shows with a camera and snapped photos of Pro Street cars to see what people were doing. If he had specific parts on his mind, he'd focus on that at the show. Soon, his photo album contained enough information for Tim to start ordering parts.
Once he had the basic plan, he tore into the truck. Over the course of a year, he'd accumulate parts, then work, and then buy more parts. He started with the rear suspension by first pulling the box off the frame, then taking the car to a friend with a welder to build the four-link and back half the truck. That friend also had a tubing bender, so they built the rollcage at the same time.
His son, Nate, attended a one-year class at a technical college that focused on bodywork, so he was hired as the panel beater. The aim was a coat of Volkswagen Indigo Blue, but there is still some work to be done before the truck sees a paint booth. In the meantime, it'll get blocked and bumped until the body is straight. This happens one weekend at a time so Tim and Nate can drive it.
And drive it, they do. "It's not a daily driver but a toy to take to Porky's drive-in and other cruises during the summer," Tim explains. "The goal last year was to get it to the [Car Craft Summer Nationals]. All the engine wiring was zip-tied to the rollcage so we could get it there."
Why is it primer? Last winter, they chased rust in the core support until it was summer again, so they still didn't get it painted. Another problem was it is too much fun. "After [driving it], we really dragged our feet taking the car apart again," Tim says. So the truck remains in primer.
"We can't believe the reaction we get about the primer. Some guys tell us just to leave it that way, but it will get paint eventually. The plan is to finish the inside of the box, drive it in primer next summer, and take it apart next fall for final paint," Tim says. Yeah, sure, we believe him.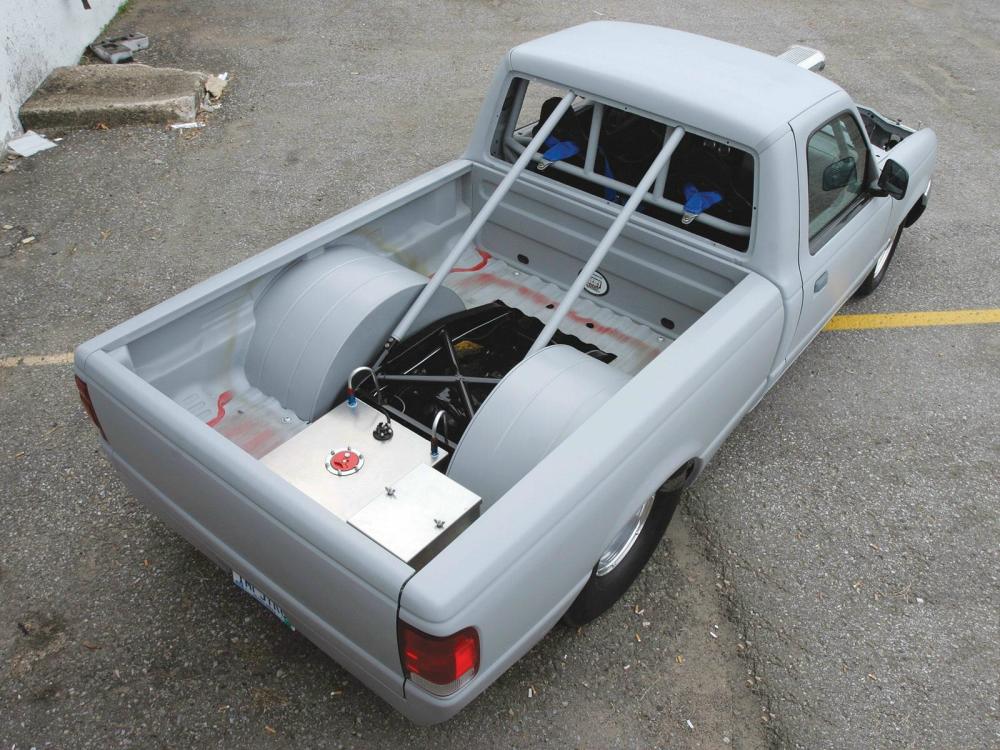 Tech Notes:
Engine: The 351 Windsor was punched to 383 by Gary at Magnum Superchargers in Oak Grove, Minnesota. It was built with SRP forged 8.5:1 pistons to handle the violence of the 6-71 supercharger and has a bumpy 244/254-at-0.050-duration cam. On the dyno, it made 683 hp and 635 lb-ft and was still making power past 6,000 when Tim first thought about purchasing an aftermarket block for the next build. "I really didn't want to blow the stock block apart right there on the dyno, so we stopped at 6,000," he says. The heads are from Trick Flow, the carbs are a couple of Holley 750s, and the headers were handmade and then coated by Jet-Hot.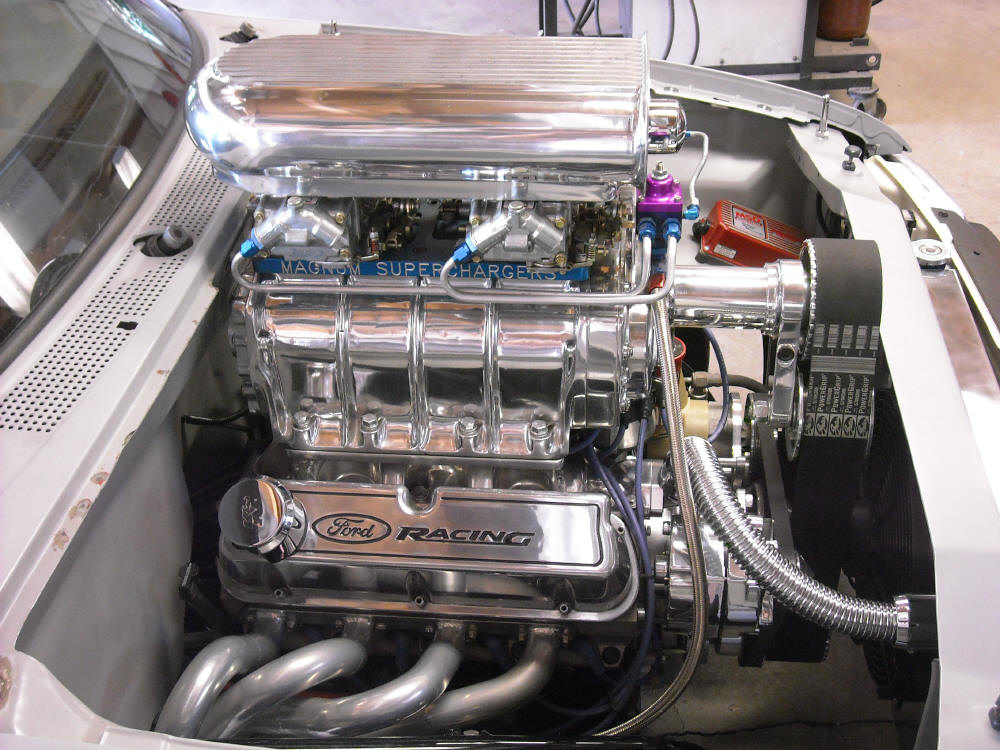 Drivetrain: Down the line, the Ranger has a C4 transmission built by St. Croix Transmission with a reverse-manual valvebody and an A-1 Transmissions 10-inch converter. The rear is a 9-inch from a mid-'80s, fullsize, disc-brake Lincoln that was chopped to fit. For fun, it's packin' a spool and 4.88s.
Interior: It's almost done. So far, it has a B&M MegaShifter, Summit Racing plastic buckets, and a brace of Auto Meter gauges. There is no rear glass-you're seeing that right.
Body: Nate shaved the emblems, killed the third brake light, and pretty much did away with the stake pockets, tailgate latch, and gas cap door, then molded a roll pan-all while Tim supervised. Nate also took out more than 60 holes in the engine compartment and blocked his way to a straight coat of primer. Paint is next, or so they say.
Suspension: Most of the suspension was built by Tim and his fabricator buddy Dusty Ewing. And by that, we mean they built a jig with the same mounting-point geometry as the factory suspension, then fabbed up some tubular lower front control arms and a four-link. Jounce and rebound are handled by QA1.
Wheels/Tires: 15×15 and 15×4 Weld Drag Lites with 165R15 tires, and 33×16-15 Goodyears.
Photos:
Click the photos to enlarge – click the arrows to load more.