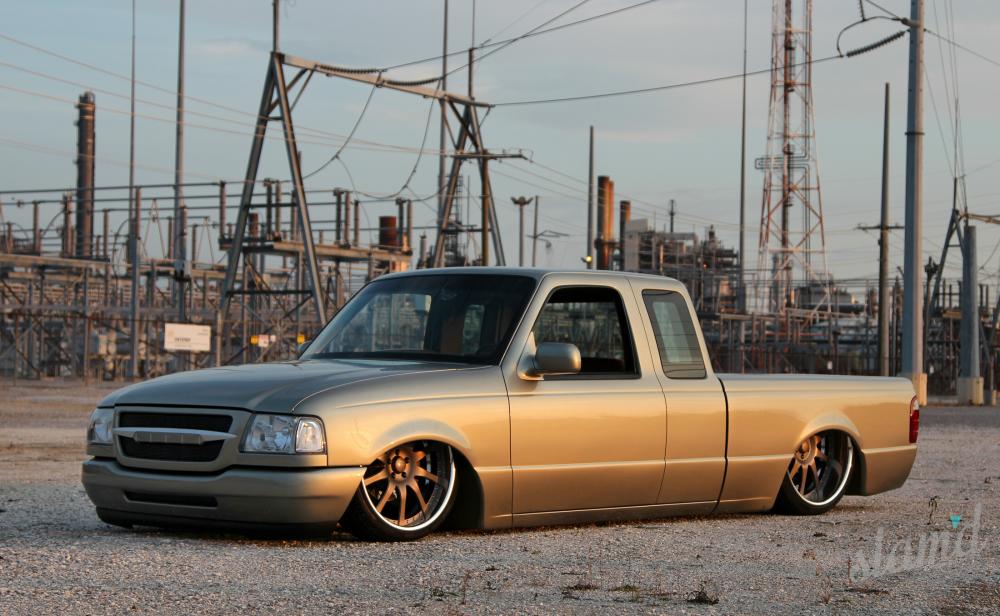 Owner: Pascal Barone IV
Vehicle: 2000 Ford Ranger
Hometown: Metairie, LA
From the owner;
Now let's get down to business shall we. This little ol' minitruck has done very well by me since its completion and I'm thankful you're taking your time to find out more about the history and story as I tell it. I'm also honored to be asked to tell you in my own words how this vehicle has influenced my life in the last 10 years. Mike has always been good to me, but I'm confident in saying this isn't what he expected. I'm going to take this opportunity to change what I typically know of a write up. I don't want to talk about what parts are where on this truck (you can check out the specs for all of that) rather, I'm going to mostly let the pictures do the talking and tell you some personal stories.
I'll keep it 'shortish' by starting at the end; In hindsight, if I were given the chance to do it all over again, even though I might change what vehicle I were doing the work to, I could only hope to have the same great memories! Now to the beginning… I sat in the shadows of the car scene not really knowing anyone but still thoroughly enjoyed vehicles of all types. This gave me the chance to observe while I tried my hardest at home to build something unique to my personality that I could be proud of. My advantage was that since I wasn't heavily involved in the scene yet, I didn't take very much influence from the trends or theme builds at the time. Instead, I just took a bunch of stuff that I thought was cool and just sought out to make them all work in harmony. Little did I know, as a first timer, this finishing a vehicle thing was a lot harder than it looked.
In high school I acquired my very first vehicle, a Ranger, that was later destroyed by a drunk driver. I have no clue why, but I was a gluten for punishment by purchasing another Ranger shortly after to replace what I wasn't quite ready to let go. When I bought the truck this go round, it had some previous work done to it that needed to be addressed. So I did what anyone would do and carelessly, through the nights, found myself disassembling and demolishing every inch of what Ford had once made into a functional truck. Once the damage was done, I had no other choice but to put humpty dumpty back together again… except I got rid of everything I took off. Well, as most of you know, that tends to get out of hand and become what typically gets to be unmanageable.
That's about the point in which people usually give up or commit insurance fraud, whichever your personal preference. I had almost given up at trying to make something out of this giant paper weight when I decided to start asking for help and that's when I first contacted The Little Shop for assistance. This is where the most important part of the story begins. Without all the help I was about to receive in every form imaginable, this truck would have never gotten done! The first thing we did was build a solid friendship. Despite the work and tireless hours Eric and crew put in on the truck, the amount of time we spent doing spontaneous non car related things is really what kept this whole build going. I really try to surround myself with like-minded passionate people that are in it for the right reasons and I knew I was at home with the Little Shop crew.
We came up with a plan to revive the project and do some things that hadn't already become common place. Two main areas that I wanted to focus on that I felt our scene had come up short with were the engine bay and the interior. They tend to always look like after thoughts and I sought to change that with this build. There were times a car load of friends and myself would drive eight hours on a Friday to Little Shop in Tennessee just to work as many hours straight as we could and make it back in time for work on Monday. That sort of dedication from everyone was crucial and I could never express my gratitude enough. Although I'll try my best since that is the strong undertone of my entire story.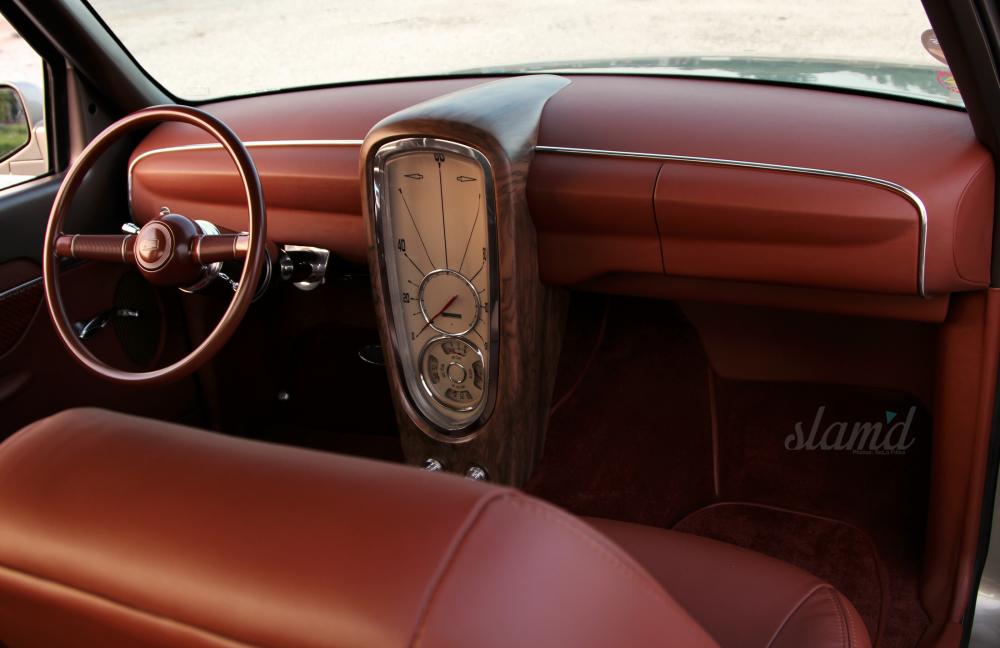 Anywho, after the Little Shop built and reformed nearly every square inch of the truck that you see, the ones you don't and even the ones you don't realize you are seeing, it was time to coat the inside of the cab with some of the finest dead cow around. Except at this point, everything else on the truck had become much more than I ever planned it to be. I knew there was only one person who could handle the work we needed done in order to make this truck a cohesive unit. That person was someone I looked up to for quite a long time. I even put them on a wish list of 'If I ever get to the point that I can make it happen, I'll have him do some work for me.' I hesitated a lot and it was difficult for me to make the phone call to talk to an idol of mine to ask him if he would be willing to work on a little ol' mini truck. Little did I know, Tracy Weaver at Recovery Room Hot Rod Interiors was not only willing and excited to work on the truck with us, but he was also another passionate like-minded person willing to stretch the norm and push he boundaries for his friends!
He actually has his own farm of cows that he hand feeds daily so that he knows exactly what kind of life his future leather hides had. But enough about that… this story is already longer than I thought I'd write, so take a look at the pictures, read the spec sheet for details, and most importantly support the shows and come check it out if it is ever at a show that you attend. I only hope to inspire someone in ways my car 'forefathers' inspired me. That is actually why I did everything I could to finish this truck out the way it should be. I owed it to myself to see it to the end and I owed it to you all to actually bring you a final product. I thank you for your time, I thank Mike and the Slam'd crew for letting me be the first of what is hopefully a wonderful future for Slam'd Mag and you can see more of the truck in action below. This is the video teaser for Solo Film's DVD newest release of Inspired Lifestyles 4. Insert inspirational quote here and I'm out!" -PCal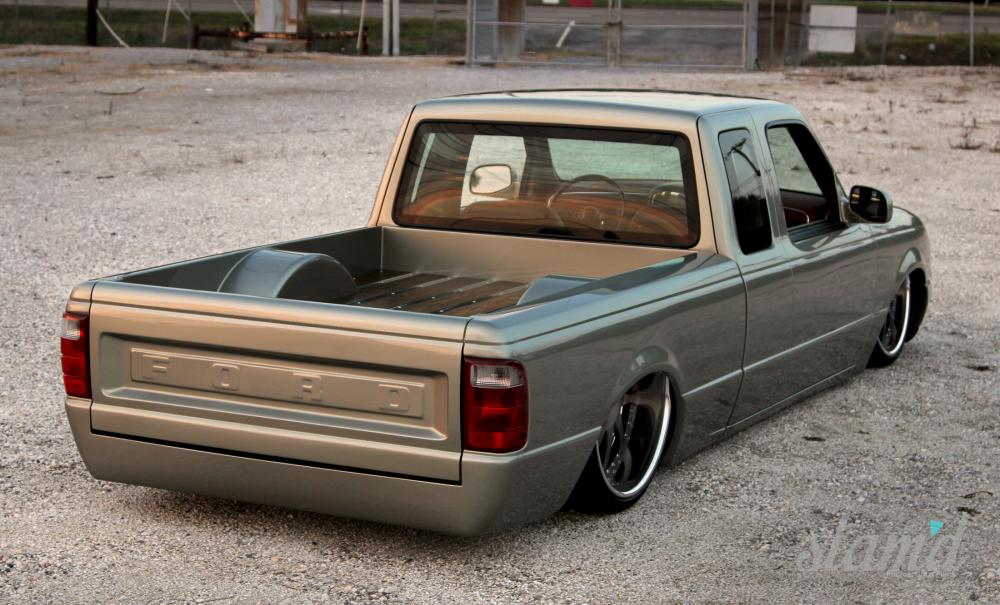 Specifications:
Wheels/Tires/Brakes:
22/24-inch custom wheel combo wrapped in Pirrelli tread
13-inch Wilwood brakes
Chassis/Suspension:
All suspension and chassis mods performed by Little Shop
Complete scratch-built frame
Air ride suspension built with components loosely based around a Toyota pickup
Custom 4-Link
Custom tubular control arms
Complete AccuAir management
Body/Paint:
Body modifications performed by the Little Shop
Shaved everything that needed to go
Custom holes added to the cowl which functions an air intake
Bumper made from two different ranger bumpers shortened and reshaped
Handmade grille insert as well as cross bar
Cab corners squared off
5/16-inch chop top (haha that made us laugh)
Embossed older Ford logo into tailgate
PPG Sparkling Silver Metallic with flat and gloss accents
Interior/Stereo:
Interior performed by Recovery Room Hot Rod Interiors
Volkswagen Passat seats reshaped and re covered
Dash started as a 1950 shoebox and morphed into what you see here
The gauges were a true team effort!
All custom-built gauges designed by owner, Ryan and Dustin Goitia made it into a CAD file, Little Shop was responsible for getting all the pieces cut, made, polished, printed and working and the Recovery Room took over by building the surround to hold all the parts and fit in perfectly, then Brad Starks of Stark Industries, errr Brad Starks Rod and Customs was responsible for air brushing the incredibly real looking wood grain onto the cluster
All hidden stereo components with an iPod cable hook-up
Old Ford hood hinges used as straps for the rear storage compartments
Vintage guitar amp speaker grille material used for the speaker opening accents
1940 Ford steering wheel
Clayton Machine Works handles
Rolls Royce imitation carpet
Hidden shifter built into gauge cluster
Turnbuckles cut in half and used as a rearview mirror mount and arm rest mounts
Engine/Performance:
Small block GT 302 Ford with March Performance front runner
AOD Trans
Custom valve covers raised to run spark plug wires through the valve cover
Smoothed, painted and symmetrically setup with matching fluid knobs, pop up cap for oil fill on valve cover, ridge lines in valve cover extended further around edges, etc. -custom errrrr thing
Resource:
Video: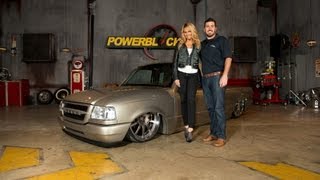 Photos:
Click the photos to enlarge – click the arrows to load more.