By Edward Kohler
This 1985 Ford Ranger was a suggestion by my father (r.i.p.). He said "Why don't you put a small block in one of those Rangers?" At first I was like, "No way." I didn't have the confidence to take on such a project. I wasn't even aware that things like that could be done. Well, I found the truck, and with some help from my dad, we did the small block 302 with a C4 and 3:55s. I only drove it a year before I attempted to build it up more. I got a roll cage and ladder bar kit, and that's where things stopped for about 13 years.
Over the years, I honed my skills and built my '87 Mustang and rebuilt the engine in my '02 Lightning, but this truck was still lurking. I had to build it again because this was my dad's bright idea. I was going to build it with parts I had kicking around. The more I got into it, the more serious the build became. I wanted to do something that would reflect my personality but also pay tribute to my dad. He was the one who planted the car/truck/hotrod bug in me, whether he would admit it or not. So that's why I put a lot of thought and effort into the build and wanted to do it to the best of my ability. If he was still around, I'd want him to be proud of my skill and abilities that I applied to building this truck.
I ended up totally stripping the truck to a bare chassis. In an effort to lower the truck and make it more aggressive looking, I installed a pair of 3″ drop I-beams. I did a C-Notch to accommodate the modified S&W Ladder Bar kit and dropped the rear about 5-6 inches so the rear tires would tuck into the wheel wells a bit. I did the full job on the 9″ from narrowing it to setting up the gears. The transmission is a Performance Automatic Super Comp C4 with 3500 stall converter. The engine is out of my '70 Mach 1. A 351C 2v, 10.7:1 comp, Comp Cams valve train, Holley Terminator EFI on top of a Weiand X-CELerator intake (for now), an Aeromotive fuel pump with a Holley EFI regulator, MSD Ignition with timing controlled by the EFI. I also added a whole lot of custom stuff, like the water pump hookups going into the front of the block for the remote mount electric water pump. I also had to make various custom brackets, plug wire looms, etc., along with a bunch of home powder-coated items.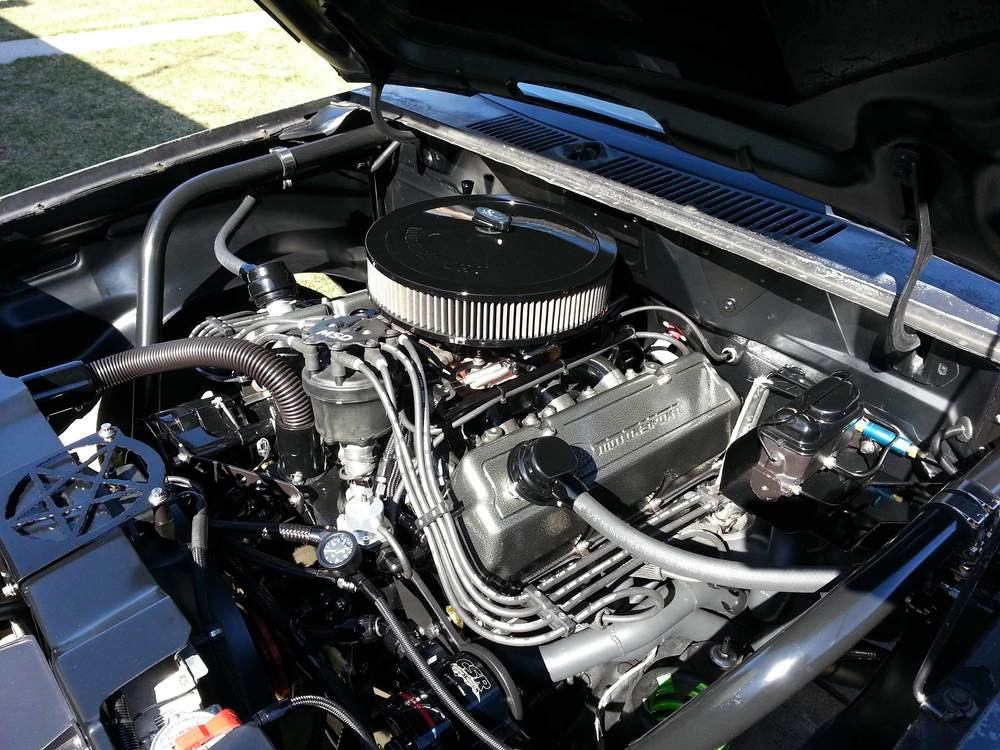 The full exhaust, from headers back, was built by me except for the mufflers. The chassis was stiffened up and painted. The 12-point roll cage was also painted. I did a lot of custom work in the bed of the truck, making a removable fuel cell cover and removable two-piece cover that goes over the C-Notch hump. I also installed larger wheel tubs and then sprayed the bed with Raptor liner. Then I capped off the whole thing (pun intended) with diamond plate bed rail caps I got from LMC. But first they had to be painted satin black.
The interior was given a minor facelift. The dash was left intact but fitted with a whole mess of AutoMeter gauges. I had to use a dash cover from LMC to cover up the cracked factory dash (great product). I then installed a pair of Kirkey drag seats on top of my LMC rubber floor liner (another great product but forget about installing it in the winter!).
Then I had to cut my own Lexan rear window and side windows. I tinted them a green color to match the other green accents that were set in place by my oldest son, who picked out the green skull shifter knob, which then led to matching valve stem caps. That then led to having the coil springs powder coated a matching green and replacing the hood pin lanyards with (thanks to Frank for spotting it at Home Depot) a green-coated lanyard cable.
The exterior was obviously and intentionally left alone. I did paint the 13-year-old hood satin black. The creamy gray wasn't gonna cut it. I used a new LMC grille left in natural black finish. Then, to finish it off around back, I used a sheet metal roll pan from LMC, which I sent to a local guy to have the louvers punched (didn't realize that the roll pan was also offered with louvers. That could have saved me some waiting time). Then I had to give it the treatment and blend it to make it look as weathered as the rest of the body.
The only other features are the wheels and tires. I had the wheels professionally powder coated by a friend. The rear are Centerline Convo pro wheels wrapped with Mickey Thompson drag radials (325 series). And the fronts are Weld Drag Star with Goodyear Eagle Front Runners. I'm sure there are a bunch more features I left out. But it's much easier to appreciate them by seeing them.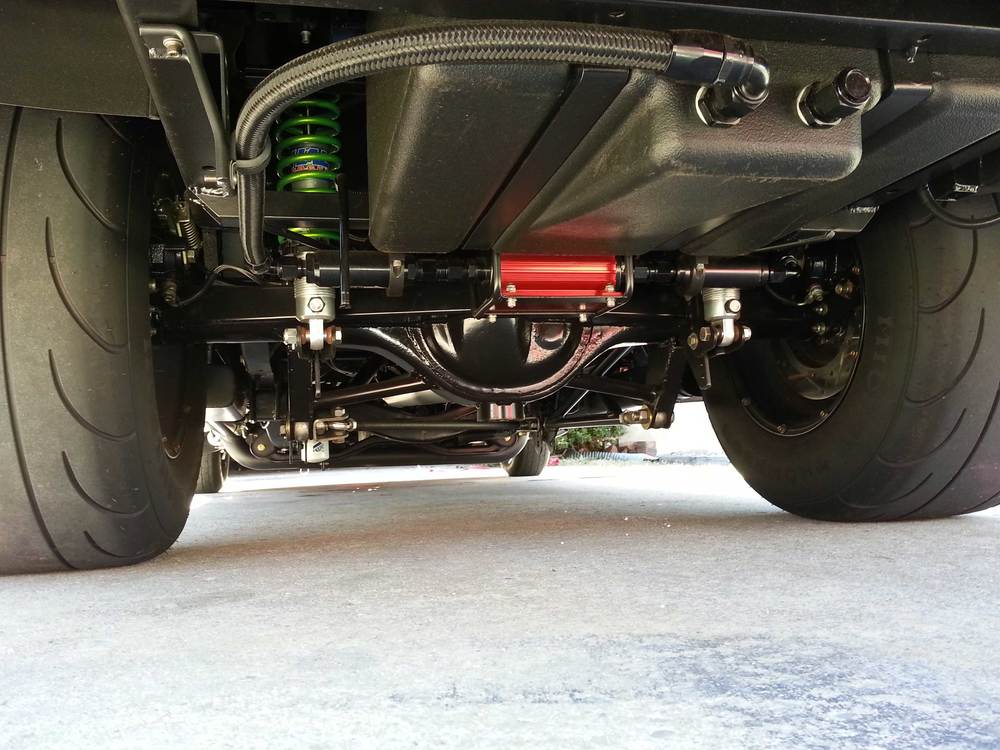 I haven't raced the truck yet, but I have been enjoying it by terrorizing the locals. Haha!! But seriously, it has been fun enjoying it with my sons (they have to take turns riding along), going to car shows and cruise nights. It's been getting some decent attention from the people who understand it.
So after four years I was able to learn even more, because a lot of the work I did was a first for me: bead rolling, painting with an HVLP gun, setting up gears, TIG welding … just to name a few. It was all a great experience that I am very proud of. So that's my story.
Thanks for reading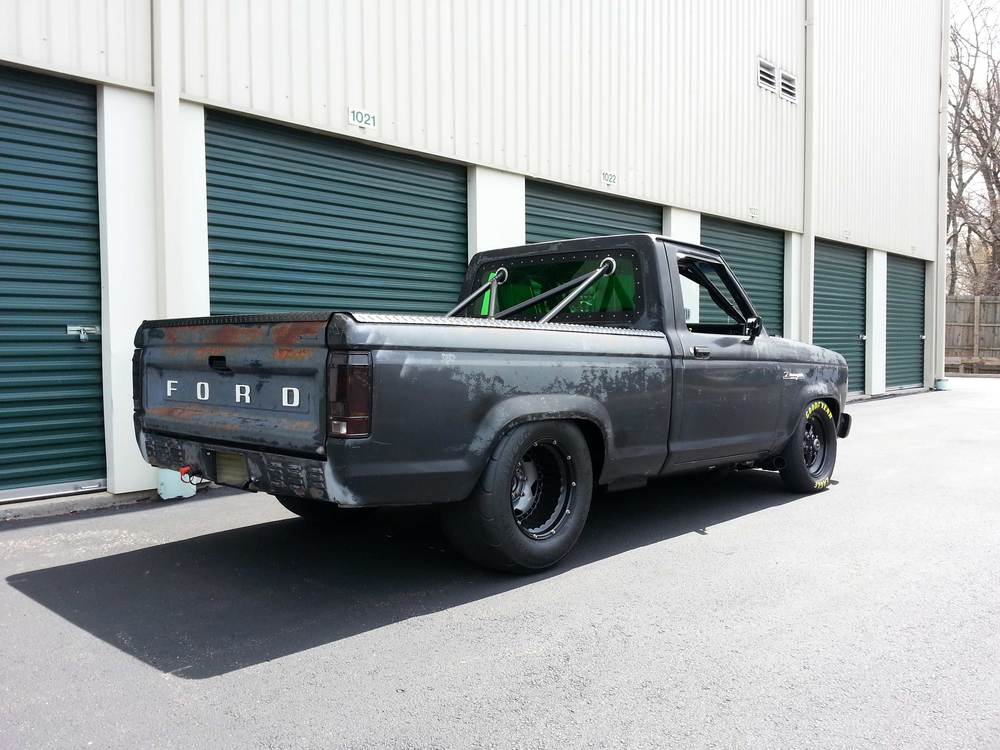 Photos:
Click the photos to enlarge – click the arrows to load more.