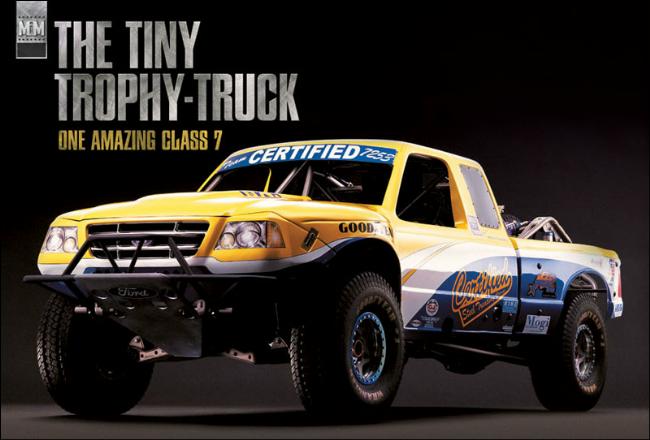 After 25 years of treating other people's race frames, Jeff Davis decided he wanted something more. So when it came time to envision his 2003 Ford Ranger in off-road trim, he saw it as a prerunner–a modified rig he could roll through the desert in, without having to give up the finer things in life such as air conditioning. However, Davis' longtime association with Sandy Cone, Baja winner and owner of Cone Industries, helped Davis' thinking evolve even more. A call went out to Mike Normile of Normile Concepts in Atascadero, Calif., and such was the birth of Davis' race truck. Working closely with Cone on the overall design, Normile retained the stock Ford frame rails but supplanted them with a hand-built, 4130-chromoly tubular chassis, resulting in a chassis and suspension system that would be more at home in The Museum of Modern Art than in the desert.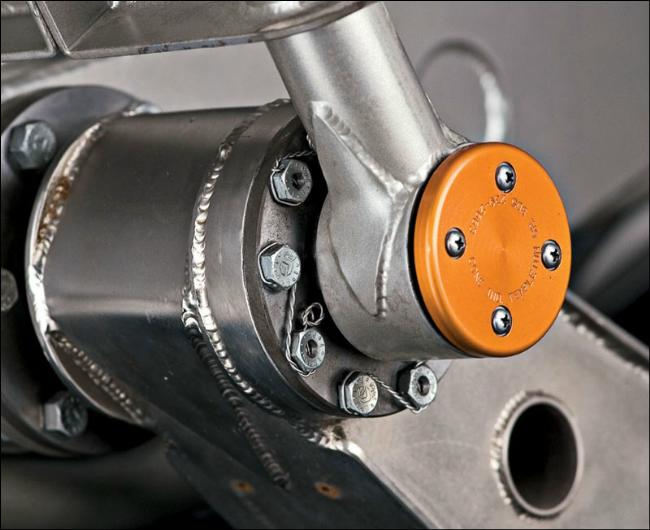 The J-Arm suspension, which also houses the Cone Industries anti-sway bar, features fully safety-wired hardware.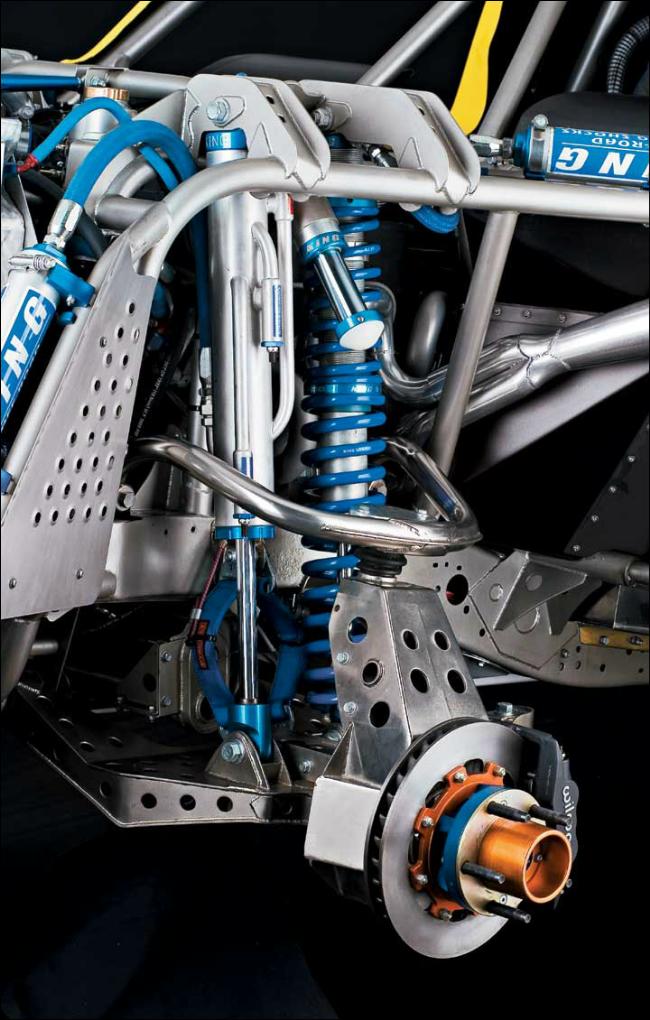 The front suspension of the truck was designed and built by Mike Normile of Normile Concepts in Atascadero, Calif. Providing 21 inches of travel, the unequal-length arms are made from 4130-chromoly tubing and plate. A pair of King shocks (2 1/2-inch King coilover with reservoir and 3-inch King four-tube bypass) provide the damping and spring action.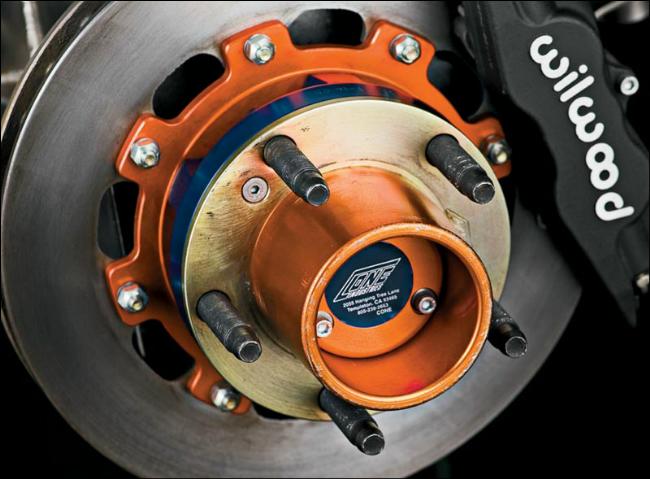 Cone Industries hubs have been fitted with 12-inch Wilwood rotors and Superlite calipers, featuring four pistons of stopping power.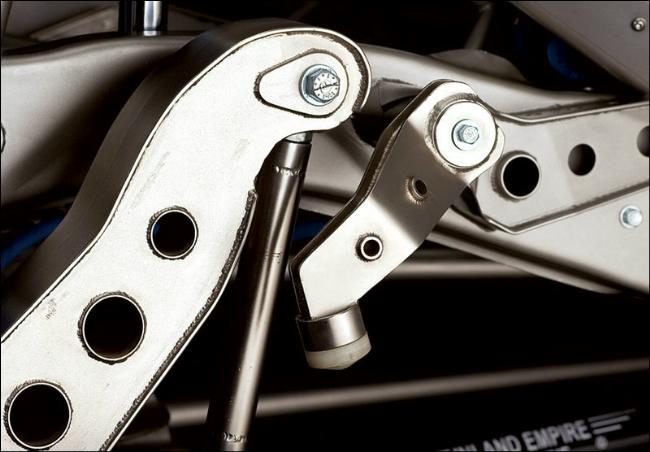 Instead of having the King hydraulic bumpstops hang on the outside of the frame, Normile created this trick pivot assembly, which he calls an offset bell crank, to activate the King units while still allowing them to be out of the way.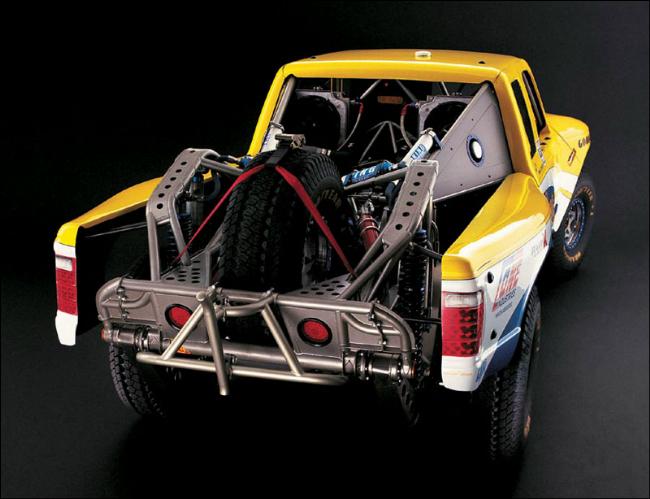 Designed and fabricated by Normile Concepts, the entire chassis is made from 4130-chromoly tubing. The 2003 Ford Ranger cab and other body parts are Trailer Products fiberglass units, while the paint scheme was applied by Abstract Fiberglass in Reseda, Calif. Graphics were created by Chino, Calif.-based Signs By Tomorrow.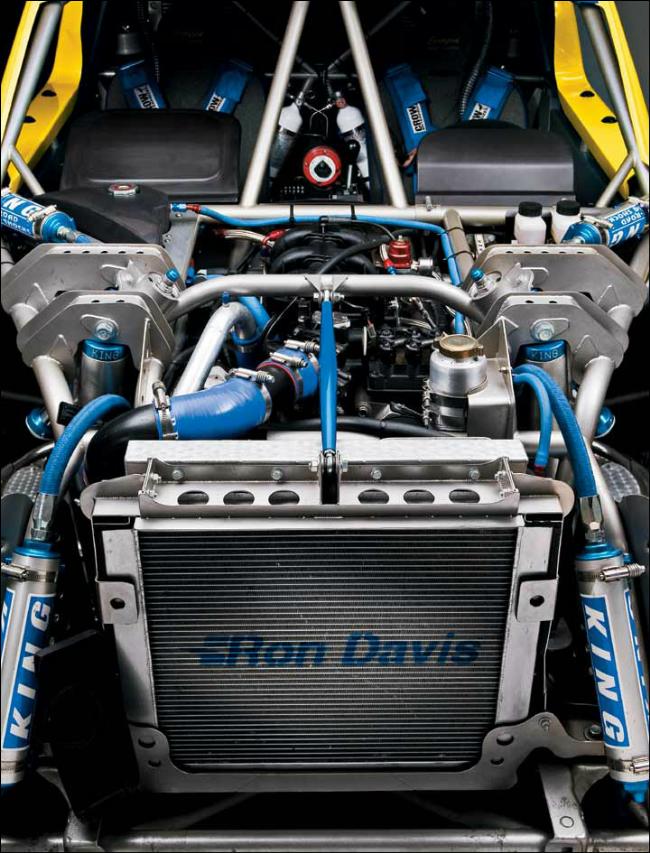 Equipped with a custom Ben "The Professor" Strader EFI unit, the 4.0-liter Ford engine features a custom ground crank, SC-2 heads with titanium valves and an Autotronics ignition system. Built by Zorn Blythe of Paso Robles, Calif., the engine puts out over 300 horsepower.With all that power, the Ron Davis aluminum radiator provides sufficient cooling, even on the hottest desert days.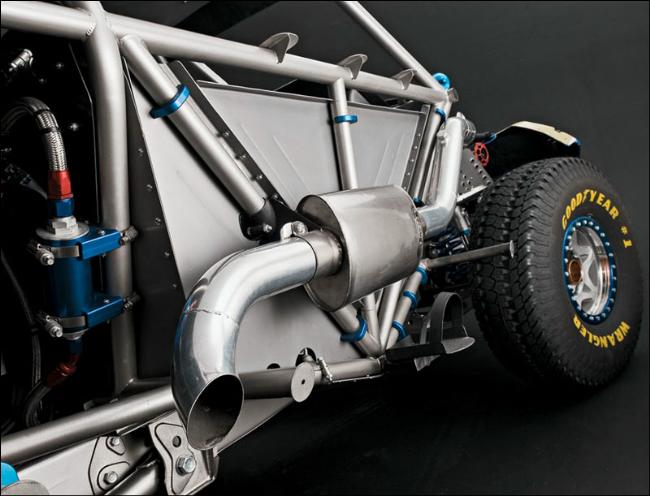 The rolling hardware consists of 35-inch Goodyear Wrangler tires mounted onto 15×8-inch Walker Evans beadlock wheels. Snaking down the side of the truck is the Borla muffler and exhaust system with a custom built header also by Normile Concepts. Rather than having tabs welded to the frame, the inner panels are held in place by creative, little aluminum hooks–invented by the ever-resourceful Mike Normile.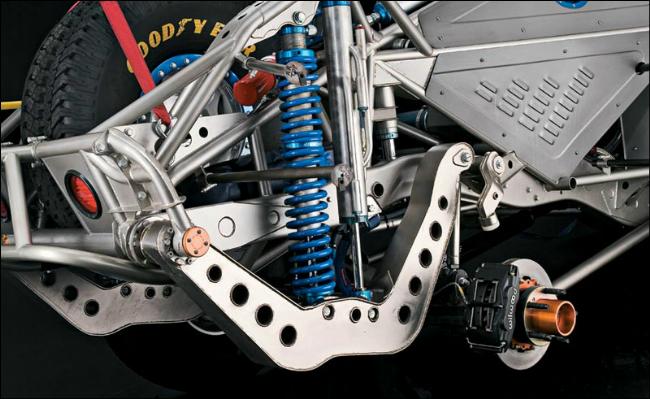 Providing a full 28 inches of wheel travel, this amazing cantilevered J-arm system was designed and fabricated by Normile Concepts as well. Made from 4130-chromoly, the multi-link suspension system holds the Cone Industries rear end aloft. The full floating Cone unit has a gear ratio of 6.00:1, is equipped with 40 spline axles and is capped off with Cone Industries hubs. An Inland Driveline driveshaft connects the rear end to the Mogi C4 transmission. Efficiency rules as the Cone Industries anti-sway bar resides inside the pivot point of the J-arms and out of sight and harm's way.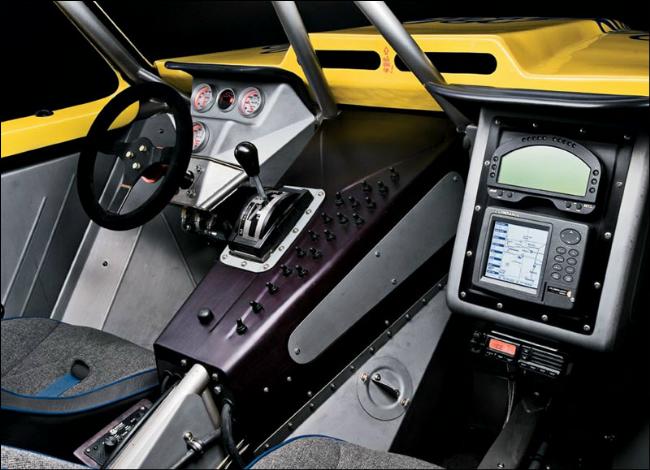 Providing some creature comforts to the crew are the MasterCraft seats and Parker Pumper system, while the Momo steering wheel, Kevin Bunderson Racing hydraulic steering system, CNC pedals and Winters shifter provide the driver with all the control he can get.Vital information needed by the occupants comes from the Auto Meter gauges, Lowrance GPS unit and Versatex radio. Normile Concepts also fabricated the interior body panels and dash pods.
Specifications:
Vehicle: 2003 Ford Ranger
Owner: Jeff Davis
Builder: Zorn Blythe – Paso Robles, California
Powertrain:
Suspension:
Brakes:
Wheels / Tires:
Interior:
Exterior:
Resource:
Dirt Sports Magazine / Publish date: Oct 29, 2007 By: Matt Emery