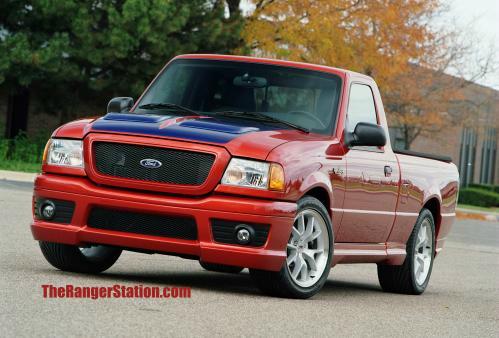 Las Vegas –
Ford Performance Group is spicing things up in the compact performance segment at the Specialty Equipment Market Association (SEMA) show in Las Vegas this year. Using personalized body kits, customized interiors and performance-minded engineering, they've transformed an otherwise stock Ranger pickup into a showcase of available and affordable modifications.
"Individualization is the key in this marketplace," says Bob Masone, director of Ford's Vehicle Personalization group. "Consumers are looking for something different or something that stands out from the crowd."
This Ranger performance concepts exemplify the good looks and enhanced performance most vehicle tuners are after, and at the reasonable price they expect.
"SEMA reports that the compact performance market totaled $2.3 billion in sales for 2002 and is growing at a rate of almost 50 percent year-over-year," says Masone. "Our Ranger conceptis meant to help these vehicles' owners see what might be possible to achieve on their own route to personalization."
"All the modifications you see here will be available soon," he adds.
The Ranger performance concept is based on the two-wheel-drive 2004 Ranger Super Cab, but is given a new front fascia, fog lamps, rocker extensions, roll pan, tailgate spoiler and hood extractors. Spiffy headlamps and tail lamps are by Visteon and TYC, and Genuine Ford Accessories provided the bedliner and soft snapless tonneau cover. Black leather sport bucket seats and a black-and-tangerine, perforated, leather-wrapped sport steering wheel finish off the interior.
This souped-up pickup is powered by a 3.0-liter V-6 engine rated at 154 horsepower and 180 foot-pounds of torque, but with the addition of a Ford Racing/Whipple supercharger kit, the Ranger concept realizes 230 horsepower and 260 foot-pounds of torque. Ford Racing lowered the front by 2 inches; the back by three. And 13-inch Brembo front brakes help pull the reins on the truck's Mustang FR500 18-inch aluminum wheels.
What about tunes?
The Ford Tremor audiophile sound system is powered by Pioneer and features an AM/FM stereo and an in-dash, six-disc MP3/CD player with clock. High-output amps meet 10-inch subwoofers and four 6″x8″ coaxial speakers.
Ford has some of the most recognized and respected compact vehicles on the market; Focus and Ranger are just two examples. A combination of efforts by Ford Performance Group's Vehicle Personalization team, Ford Racing Performance Parts and the Ford Special Vehicle Team, the Focus and Ranger performance concepts go even further to demonstrate the possibilities available to individuals who want individualized vehicles.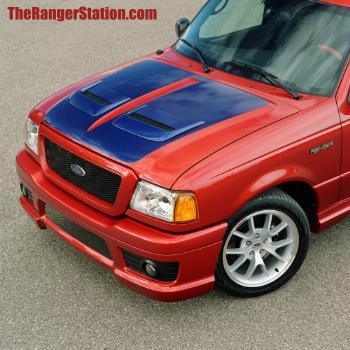 Ranger Performance Concepts: Imagine the Possibilities