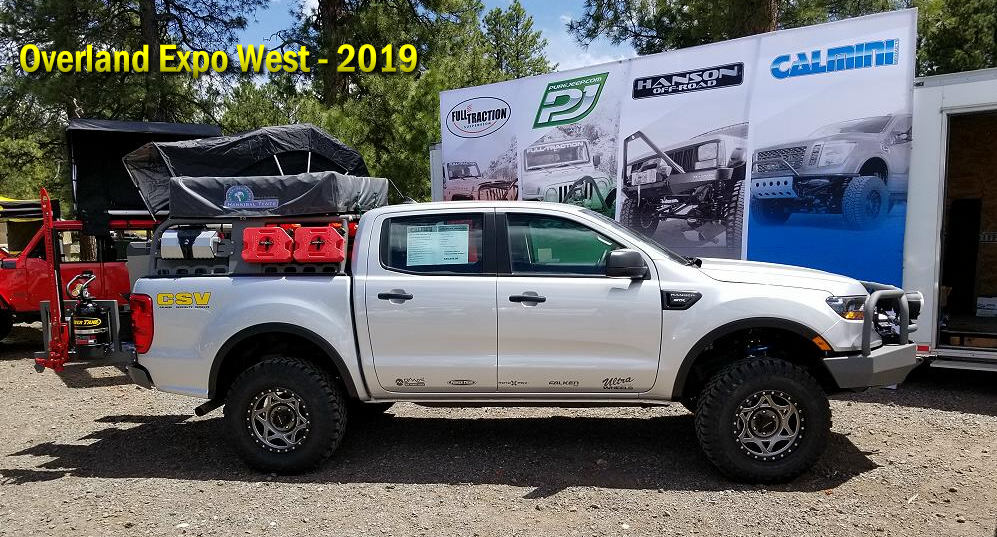 Overland Expo West 2019 – And Why You Should Go To An Overland Expo!
I love to travel and discover new areas. I've done everything from a random 1-day roadtrip, to a trip that lasted 22-days. These trips always involve me either sleeping in my vehicle, or a tent. There is an amazing sense of freedom when you can just roam about, not be on any kind of schedule, and simply find a place to sleep when you're tired. There's probably nothing that will make you feel any more free.
I had the opportunity to attend the 2019 Overland Expo in Flagstaff Arizona. The idea of Overland Expo may conjure up images of huge expeditionary vehicles, and people that travel around the world, but it's so much more than that. Whether you like to take a roadtrip on the weekend, camp, or simply wheel in your favorite off-road park, the Overland Expo has something to help you enhance your experiences.
The biggest obstacle about Overland Expo West, is that it's in Flagstaff Arizona. It's a long drive for the majority of the people that attend, but this is actually a good thing. I believe that with most trips, the trip can be as exciting, if not more exciting, than the destinations. The trip to Overland Expo should be just as much of your adventure, as the Expo itself. Look at a map and see all the interesting places you could visit along the way. Flagstaff is surrounded by beautiful mountains, and national forests. Even Flagstaff itself is a beautiful area. You also have the Grand Canyon near by, and historic Route 66. You could easily spend a week visiting places on the way to Overland Expo.
For me, I left the Dallas Texas area on Wednesday May 15th. I wanted to avoid interstates as much as I could, so I traveled north on US 287 to IS 40 in Amarillo. The only good thing about IS 40 is that it follows along historic Route 66. When you get to the Texas / New Mexico border on IS 40, there is an old section of Route 66 in Glenrio where you can still find some old structures.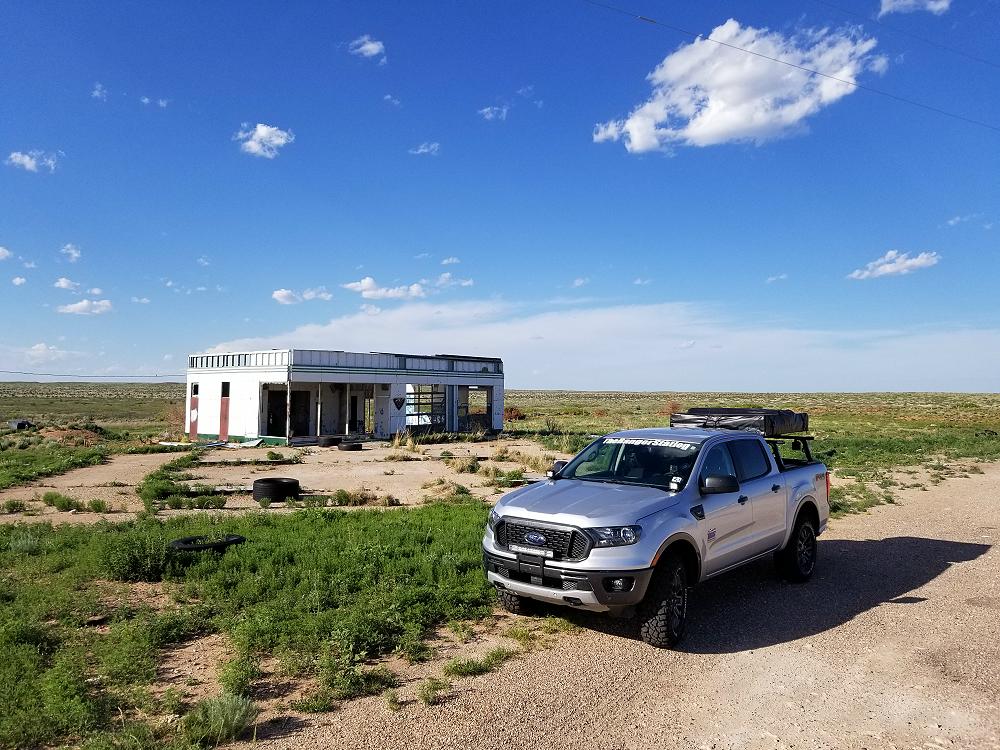 Continue to the next exit west on IS 40, and you'll find the Russells Truck & Travel Center. In addition to having a gas station, store, and restaurant, it also has a free car museum.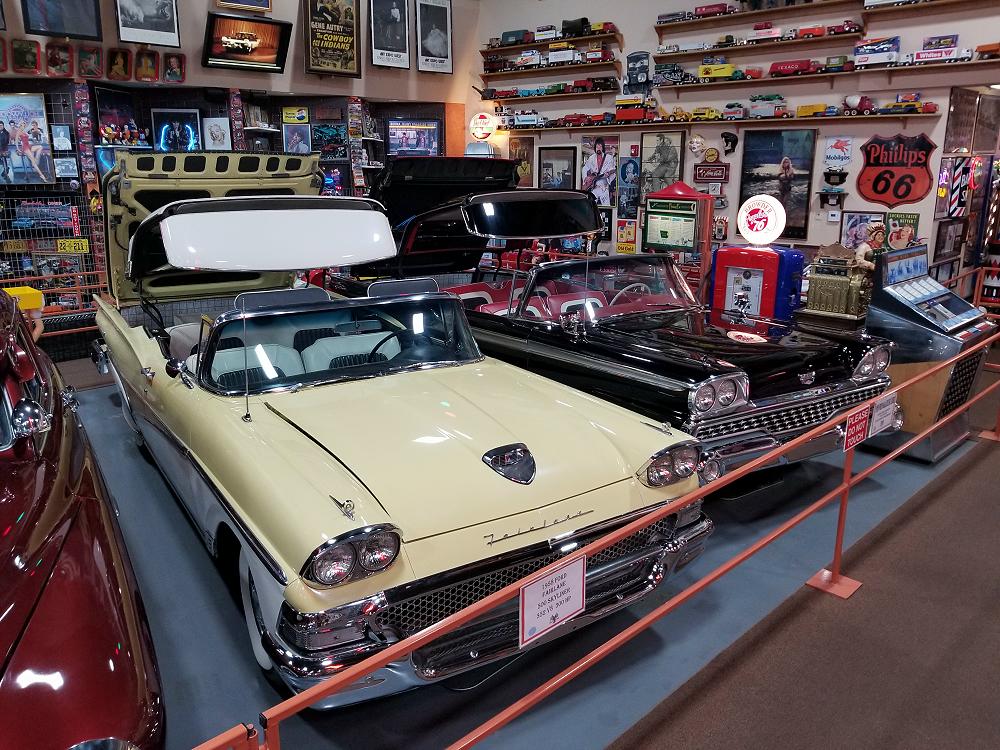 I continued west and stopped in Santa Rosa NM for fuel. I drove past the Route 66 Auto Museum. It had a few interesting vehicles displayed outside, but the museum was closed.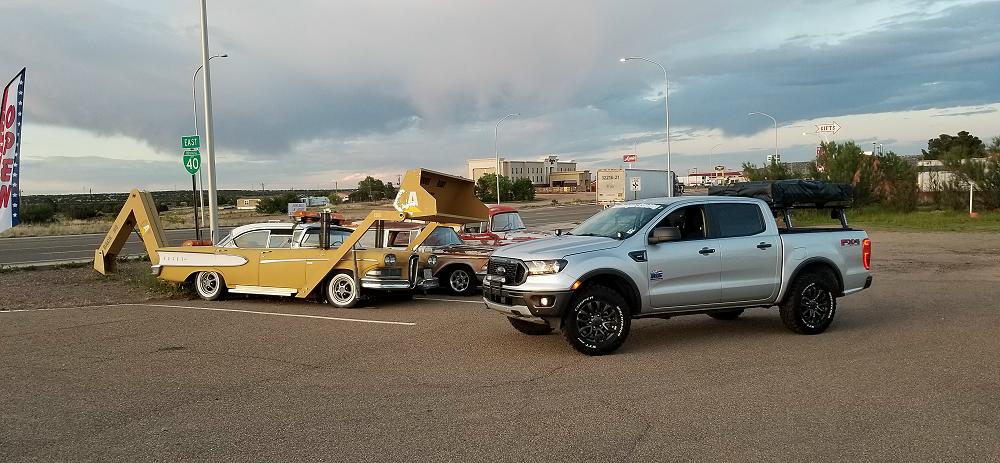 I continued on to Bernallilo NM (just north of Albuquerque), and spent the night at a KOA campground.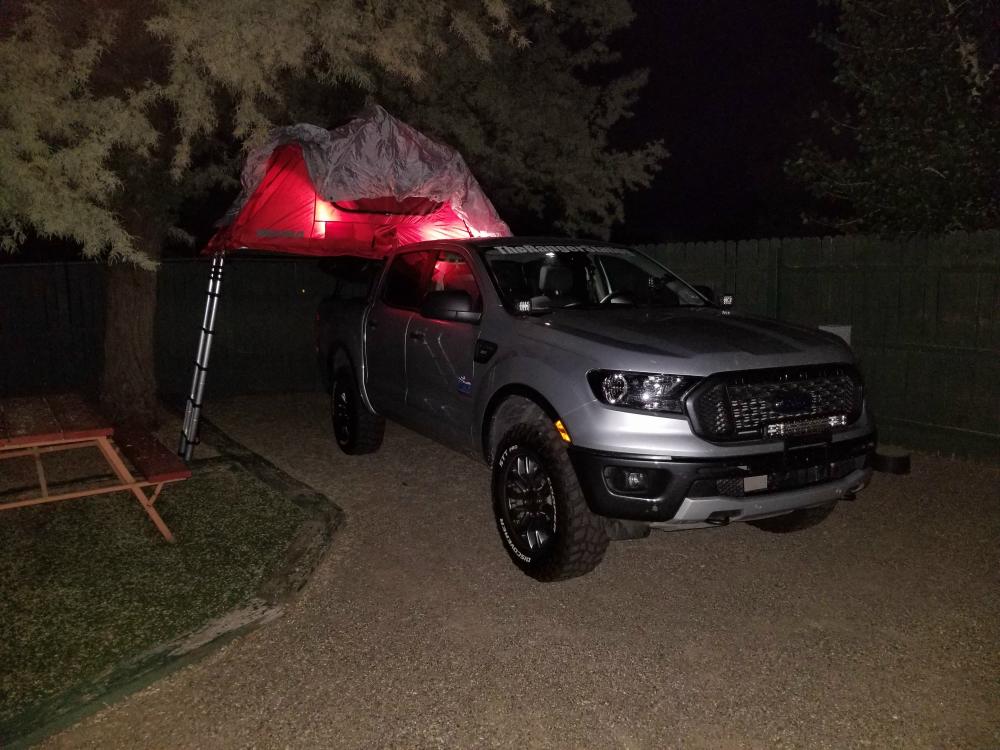 It was late and I was tired, so I never bothered installing the rods for the tents rain fly. I just climb in and went to sleep.
On Thursday May 16th I continued west towards Flagstaff, and detoured south on SR 117 through the El Malpais National Conservation Area. This is a beautiful area with scenic forest roads to explore.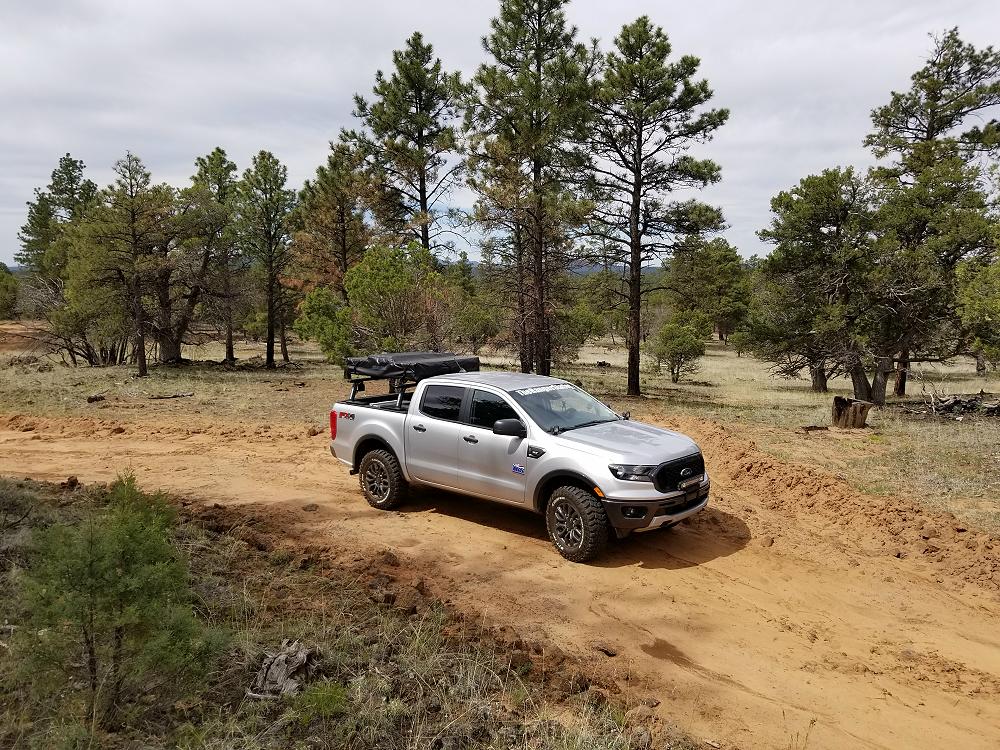 After exploring some forest roads, I headed south on Rt 36 to US 60 west. I turned north on US 191 to US 180. When I got to IS 40 I continued west to Flagstaff. I finally arrived at Fort Tuthill County Park for Overland Expo. The event actually starts on Friday, but those camping on site show up on Thursday. After checking in, I got in a line of traffic waiting to get a spot to camp.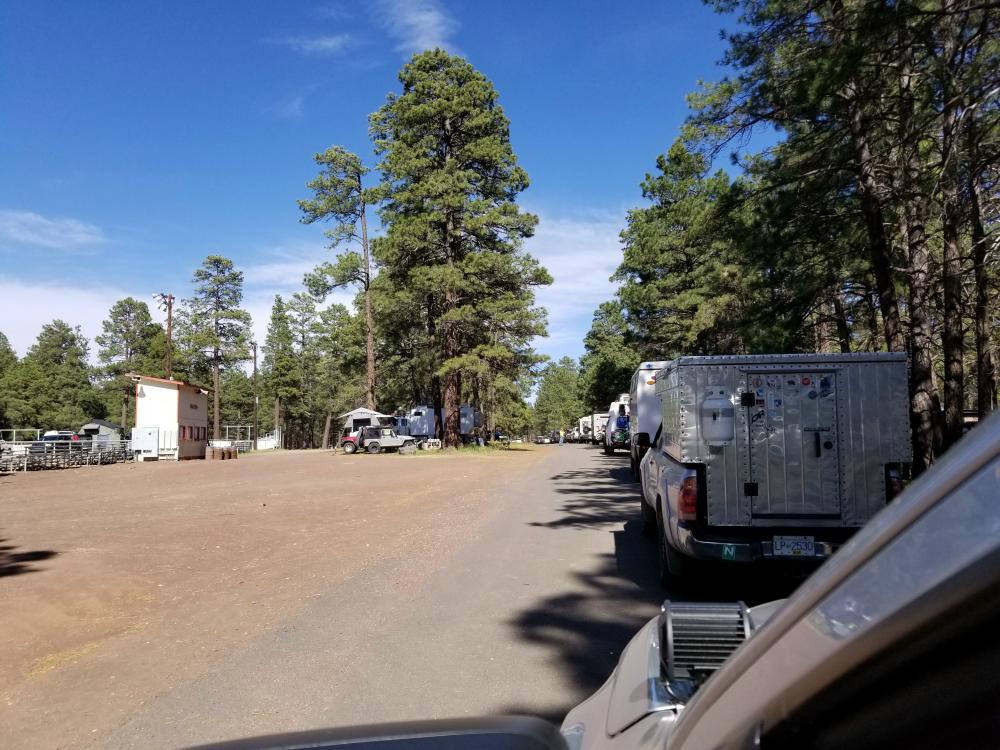 After a short wait, I was finally direct to a place to park and set up camp.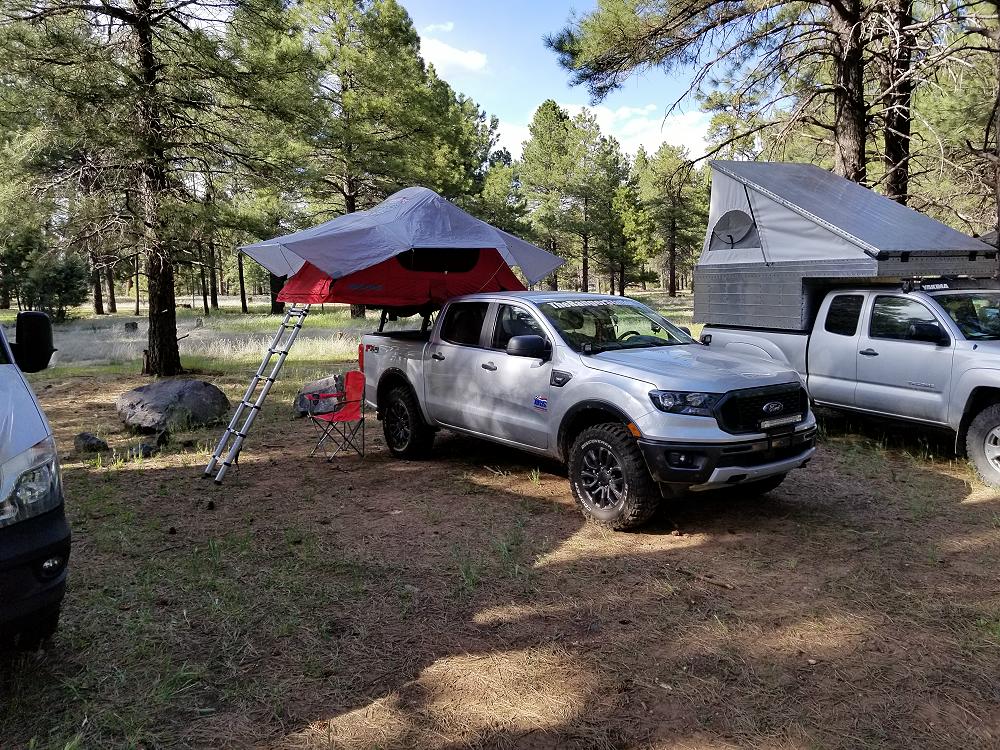 You can find some pretty expensive vehicles at this event, by the guy and his son that were camping to the right of me were in a camper they built themselves, It was a slide in truck camper with a pop up roof. The father sewed the canvas section and it was hard to believe the whole thing cost no more than $2,000 to build.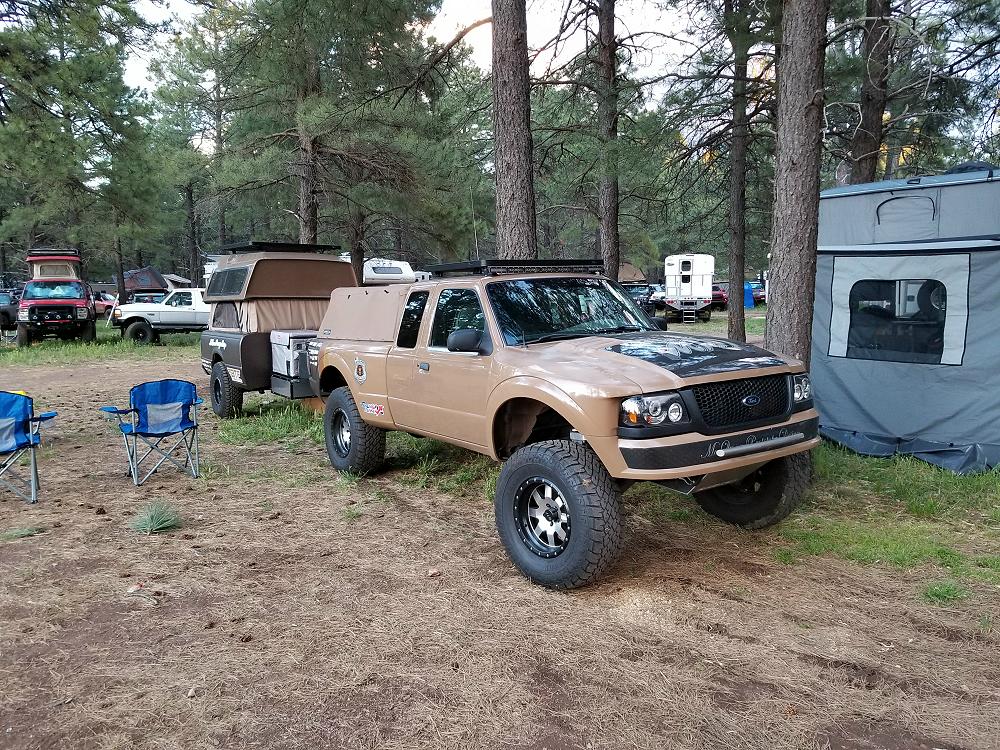 This was an interesting setup as well. It was a Ford Ranger pulling a pop up camper made from a Ford Ranger bed.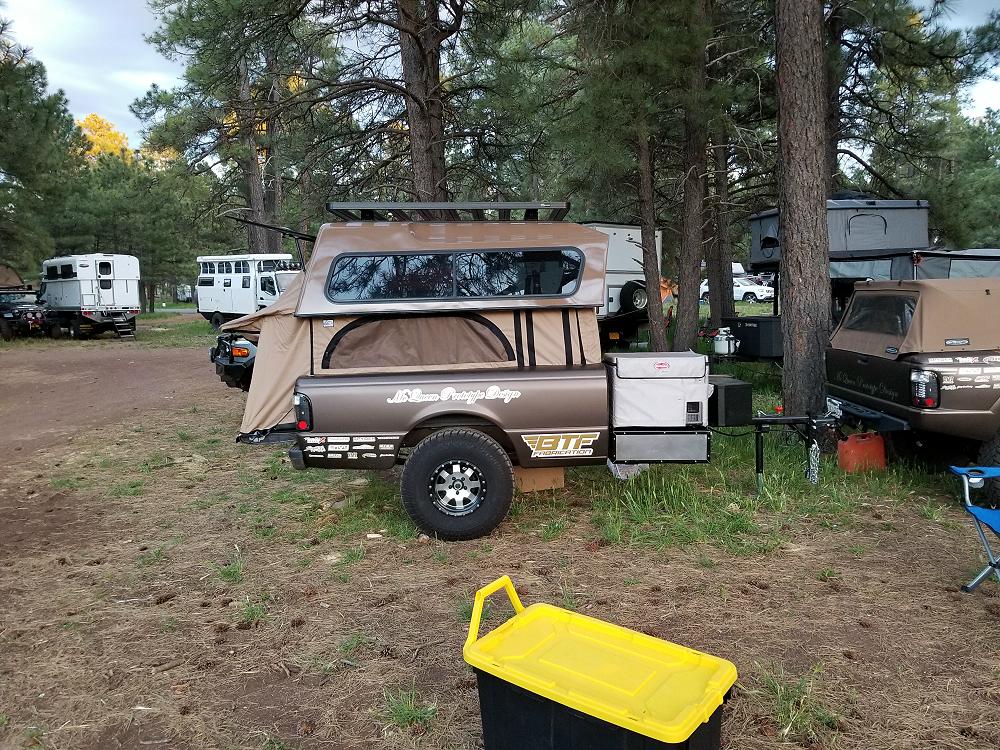 The Overland Expo offers classes that covers the areas of:
First Aid
Driving
ADV Moto Riding
Expedition & Recovery
Maintenance
Communication & Navigation
Food & Cooking
Planning & Logistics
Safety & Security
Some of these classes require an additional ticket to get you in to the Overland Experience area. There are more classes than you have time to take. Some you can just walk in to, and some you have to sign up for due to demand, so you have to look at the offerings, and pick the ones you're most interested it. There are also seminars, slide shows, and other various presentations to enjoy.
I tried to check out as many classes as I could. But with all of the vehicles and displays to check out, and the different companies that I stopped to speak with about Ford Ranger product, the time went pretty quick.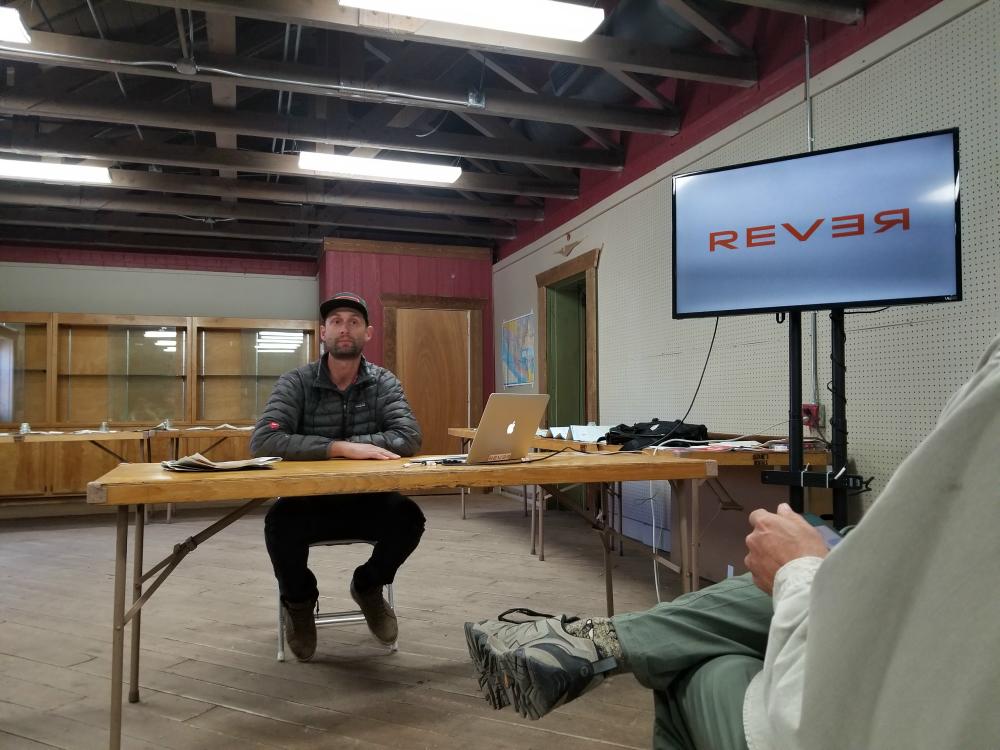 Justin Bradshaw from Rever gave a great presentation on mapping. Rever is actually a phone app that allows you to create routes or tracks, and use your phone as a GPS. He discussed the importance of paper maps, using GPS units, creating your own routes to follow in mapping apps, and importing GPX files in to a GPS.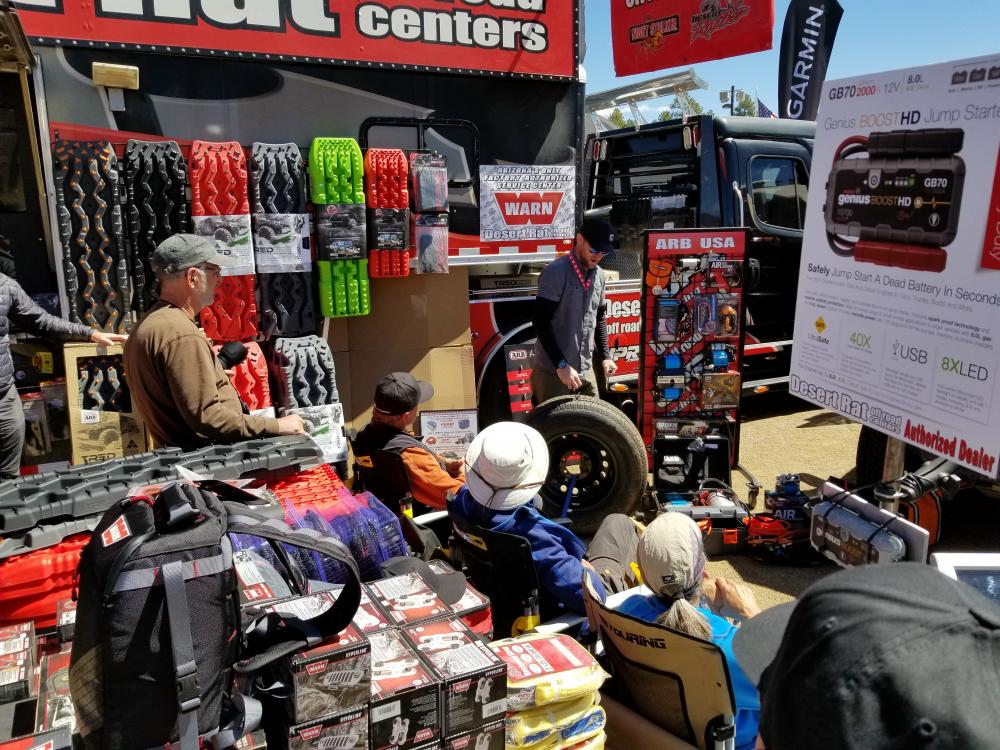 I watched a demonstration on how to properly fix a tire on the trail. I actually walked away with a better understanding on how to properly plug a tire, as well as how to repair the valve stem.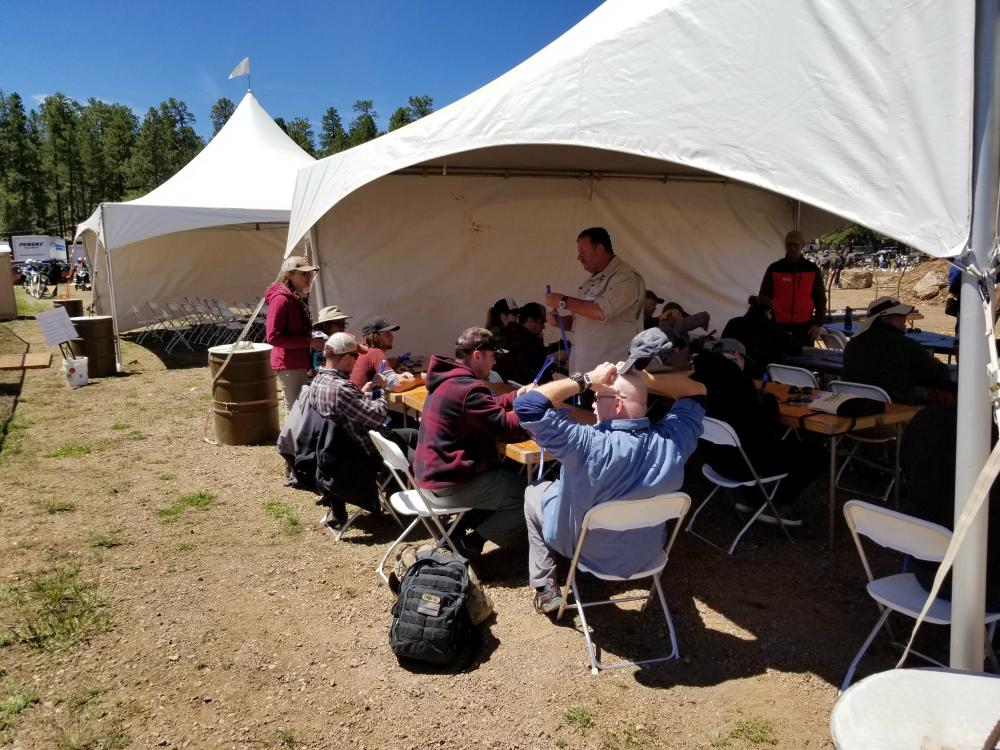 This instructor had his class in knots. Literally.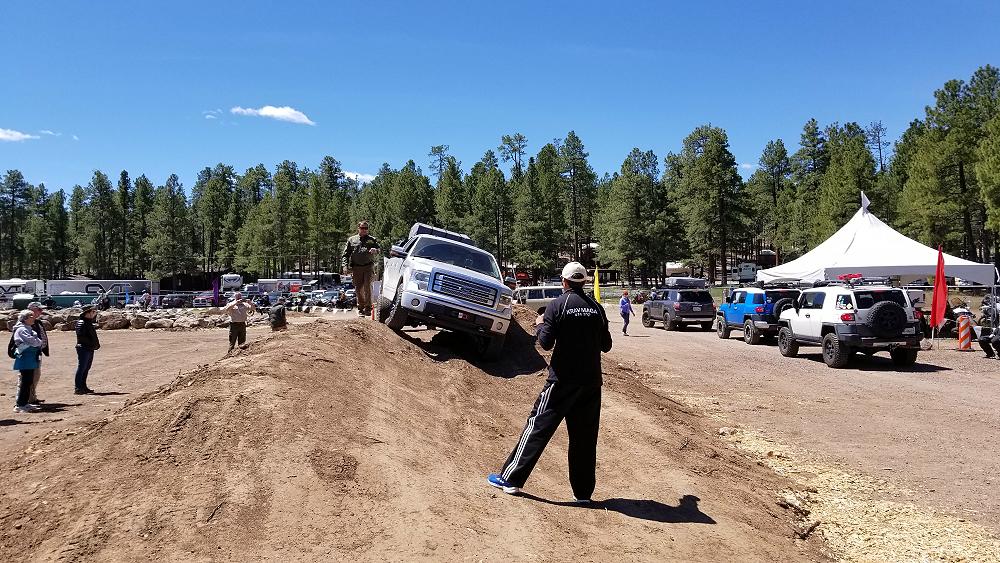 And I enjoyed the classes that dealt with spotting, and picking the right line. The majority of the people I saw doing this were married couples. I quickly started referring to these classes as 'relationship building'. It may sound like I'm being funny, but I really believe activities like this tighten the bonds of a relationship. If you've ever been behind the wheel and needed someone to guide you over a difficult trail, then you know how valuable it can be to have a good spotter. Not only does it help you, but it allows your 'spotter' to be part of the adventure as well.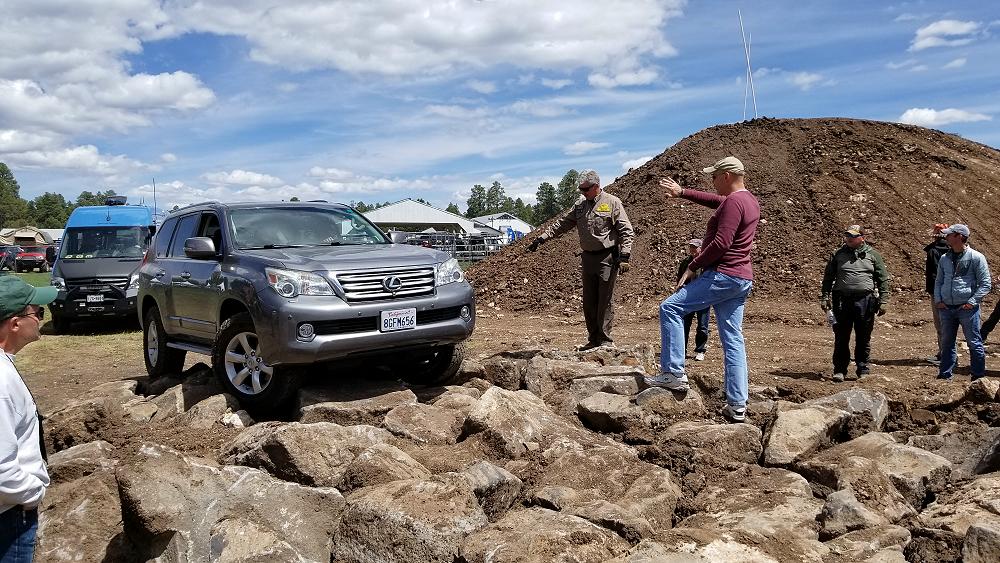 Don't think that all of these people were driving Jeeps or hardcore adventure vehicles either. The woman driving this Lexus was being spotted by her husband under the watchful eye of a Camel Trophy instructor.
Speaking of Camel Trophy….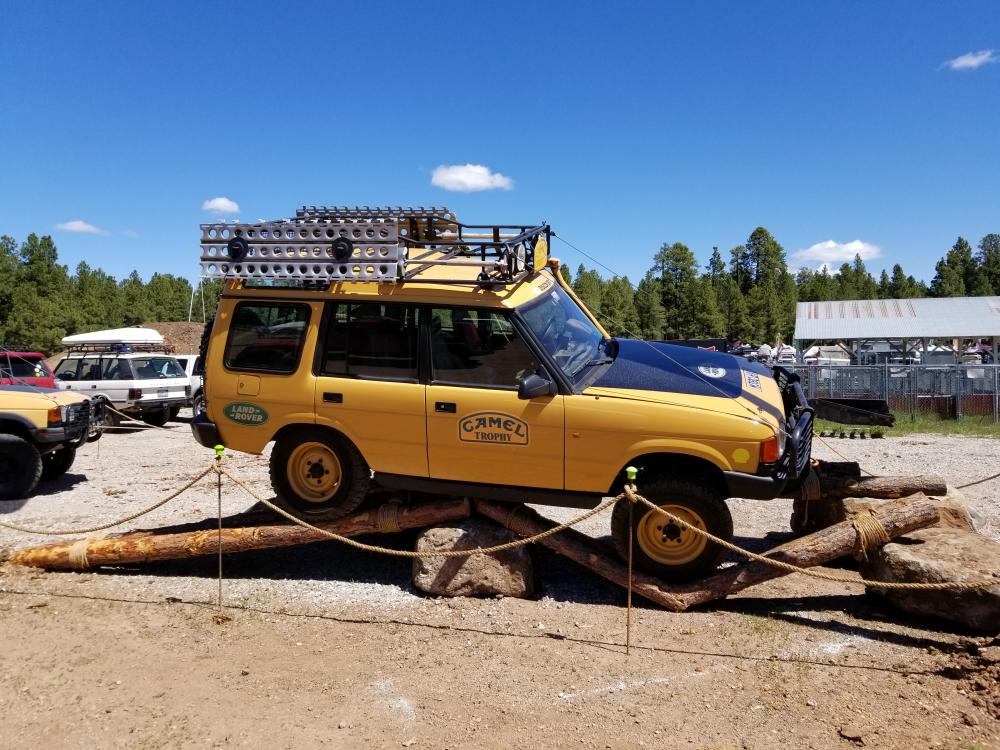 If you ever wanted the skills needed to do the old Camel Trophy, you could get them here as well.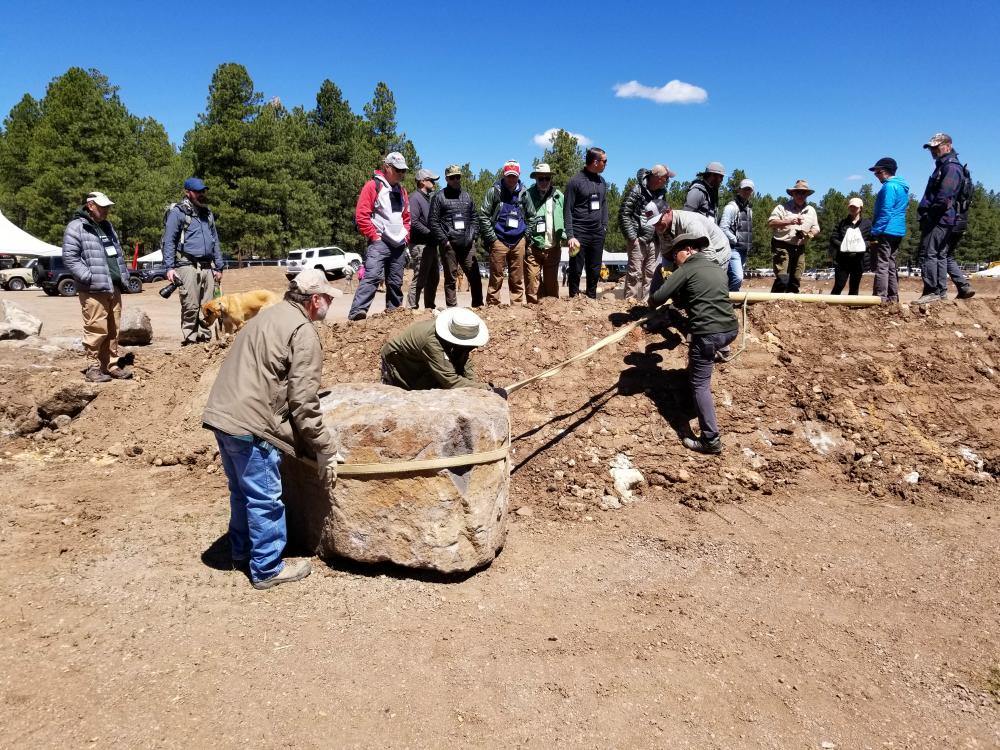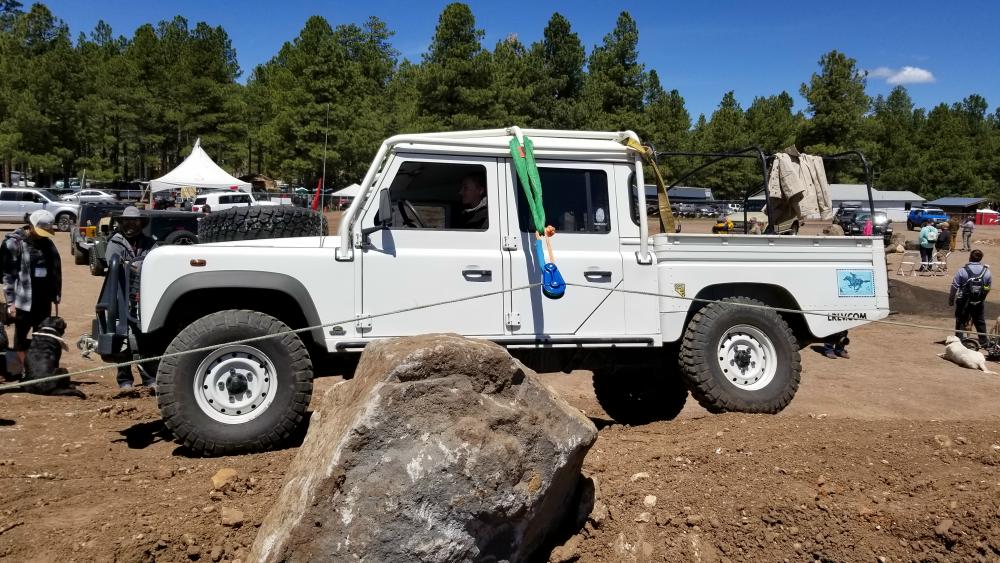 But for most people, it was probably about checking out others vehicles for inspiration, finding deals on new products, and seeing what new products were available.
I was actually excited to see the companies that were offering product for the new Ford Ranger.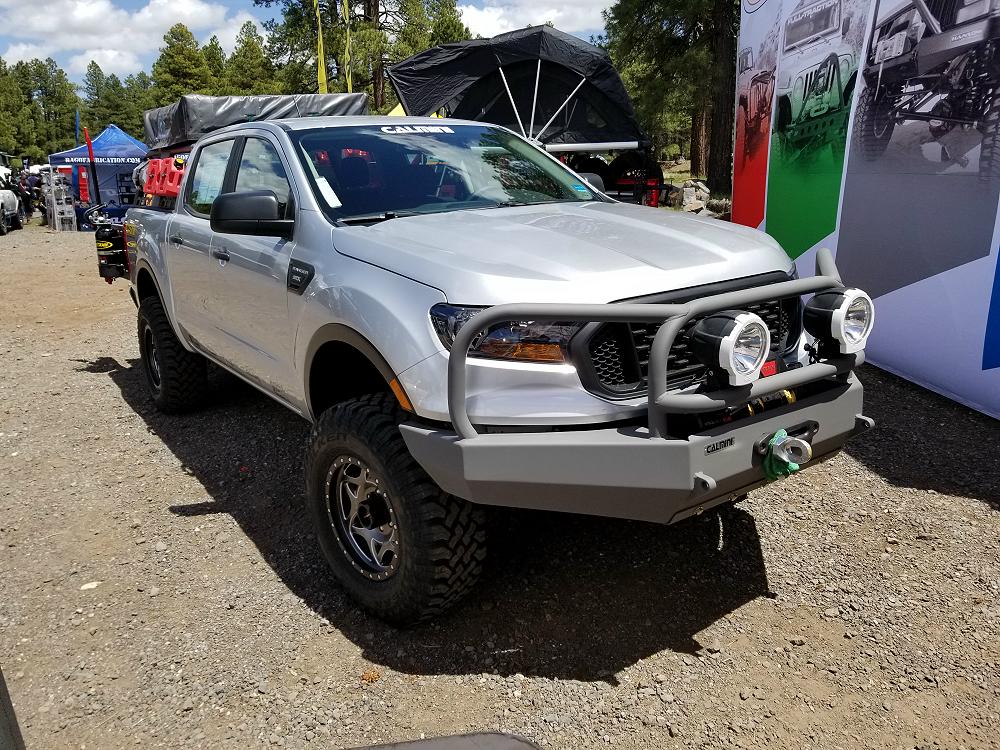 Calmini has been around since 1986, but has just recently begun producing product for the Ford Ranger. Best part, it's all made right here in the USA. I had to wipe my chin to make sure I wasn't drooling when I saw the Ranger they built. The truck featured their new 3.5″ front and 2.0″ rear lift, front winch bumper, and rear bumper with integrated tire carrier. They even made the bed rack holding the roof top tent. If I had money to spend, they probably would have gotten it.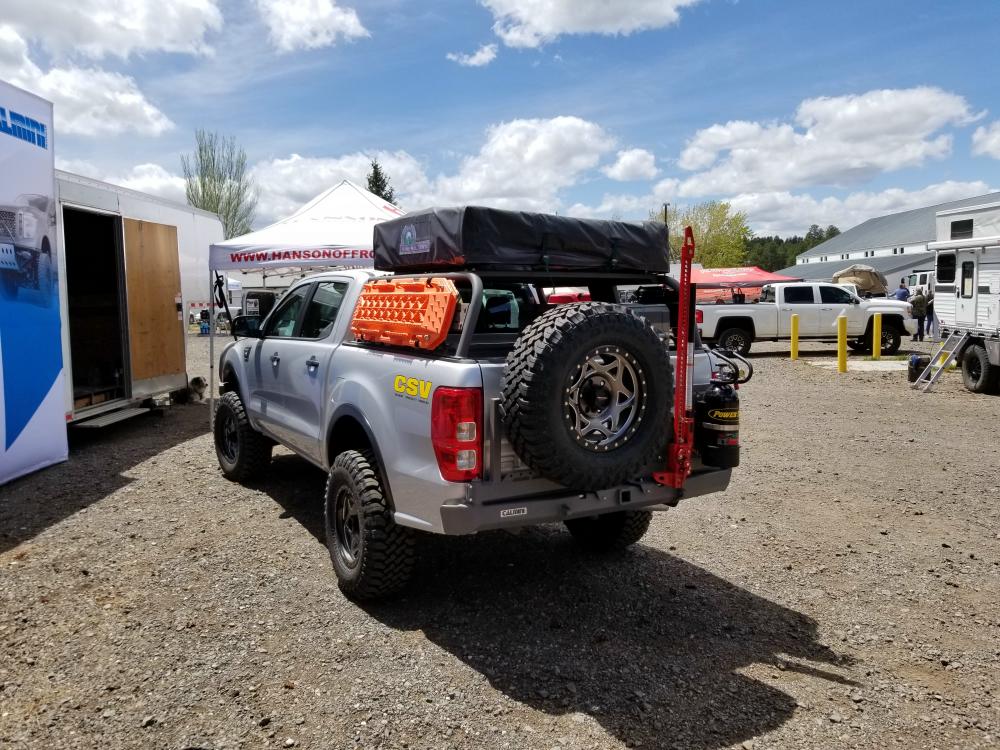 There were actually more Rangers displaying new product than I expected.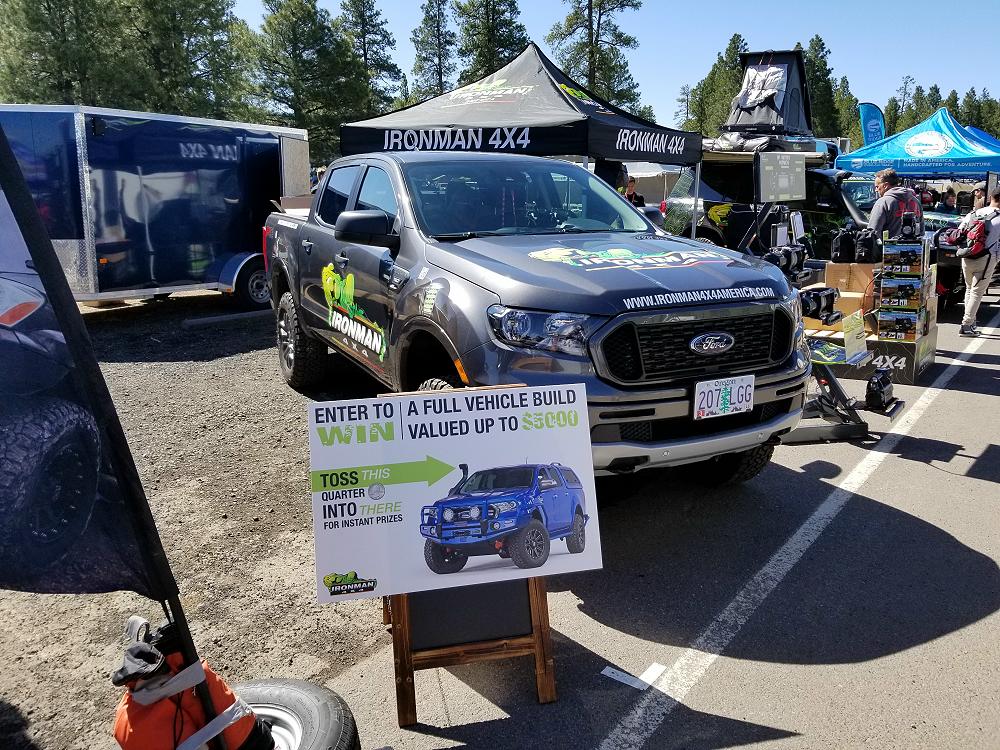 Ironman 4×4 has been making products for the global Ranger for years. They are entering the North American market with the new 2019 Ford Ranger. For those that have wondered, Ironman 4×4 told me that none of their products for the global T6 Ranger fit the new North America Ranger.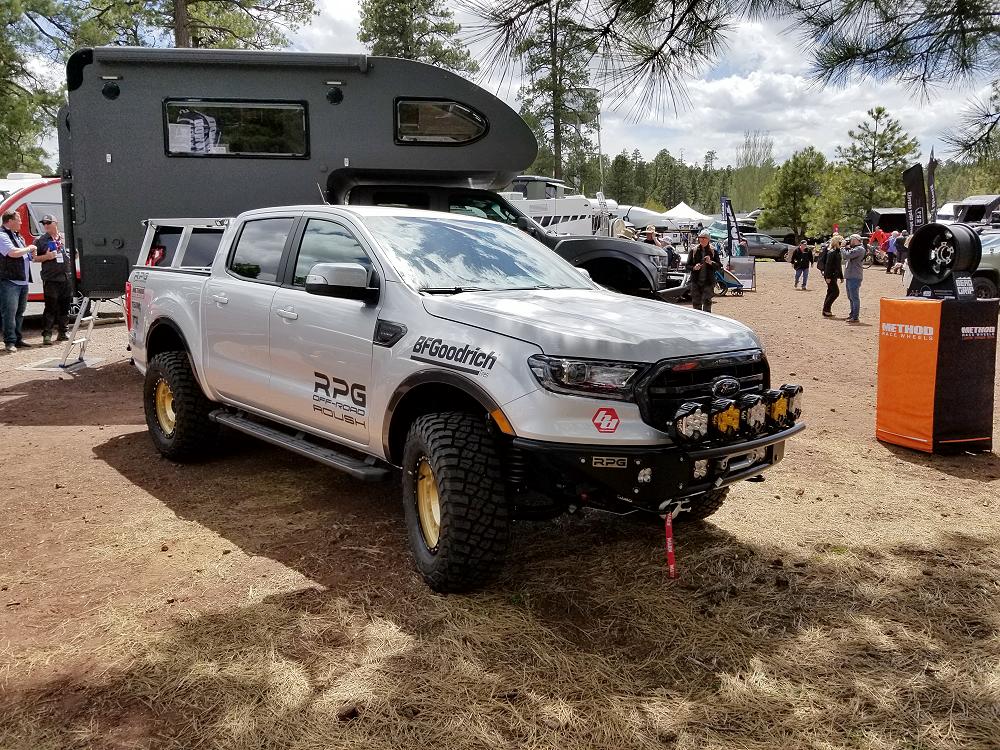 Patriot Campers showed off their utility bed.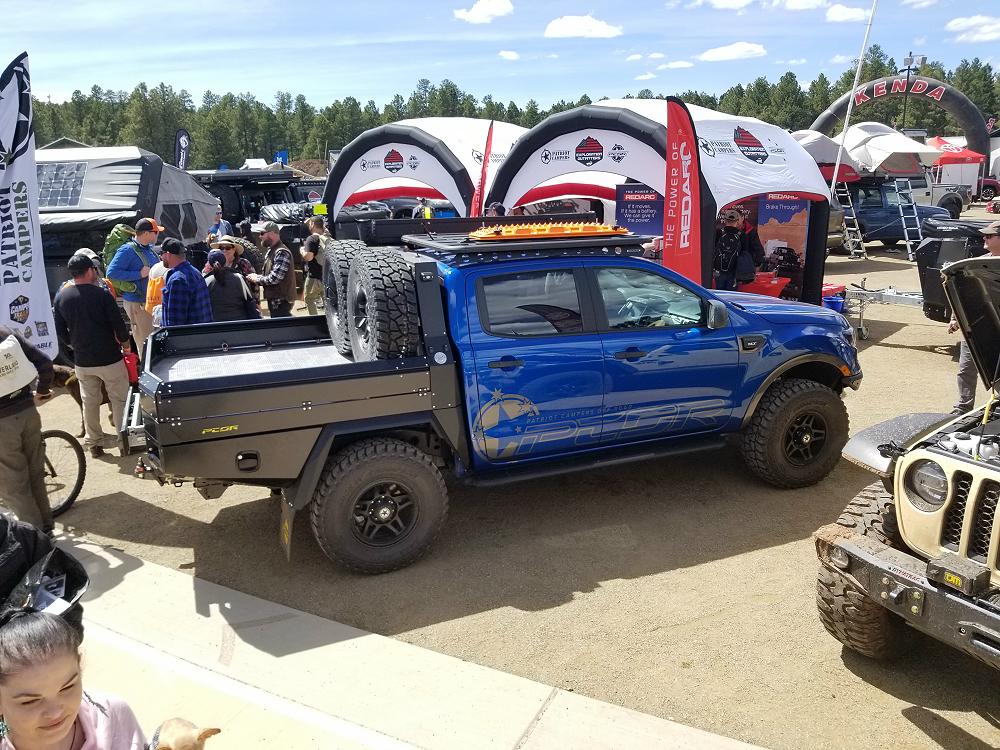 This Ranger was demonstrating the new Alu-Cab.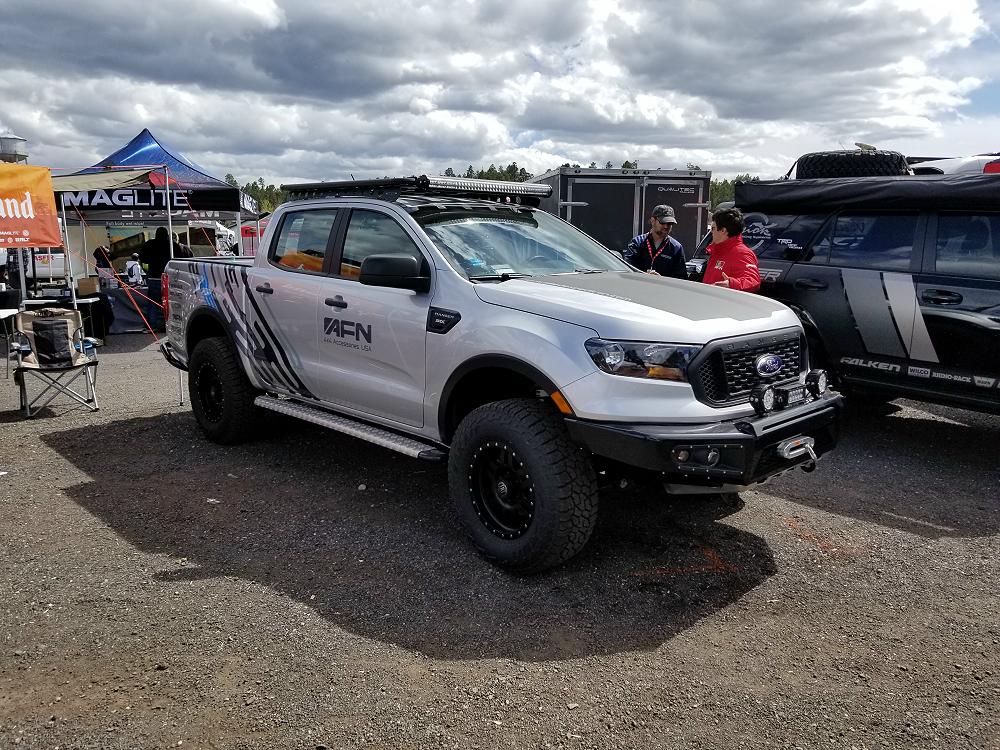 Allied Expedition had this 2019 Ranger on display. I really liked the design of this winch bumper made by AFN, although I would want a grill guard on it. Not only did it retain the factory driving lights, but it had a mesh grill to supply airflow to the radiator. The skid plate is included. I liked the smooth rounded corners, and the fact that you could bolt lights on without having to crawl under the bumper. It's also designed to take the place of the front crash bars, so you can install larger diameter tires.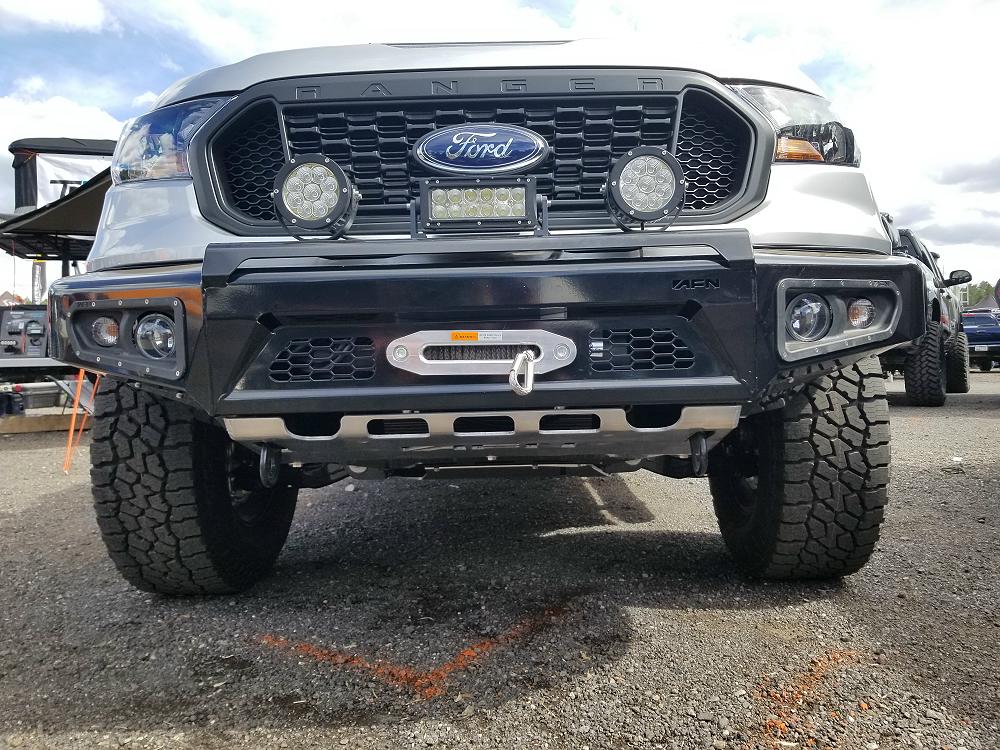 Even Rivian was there with their electric pickup set up for camping.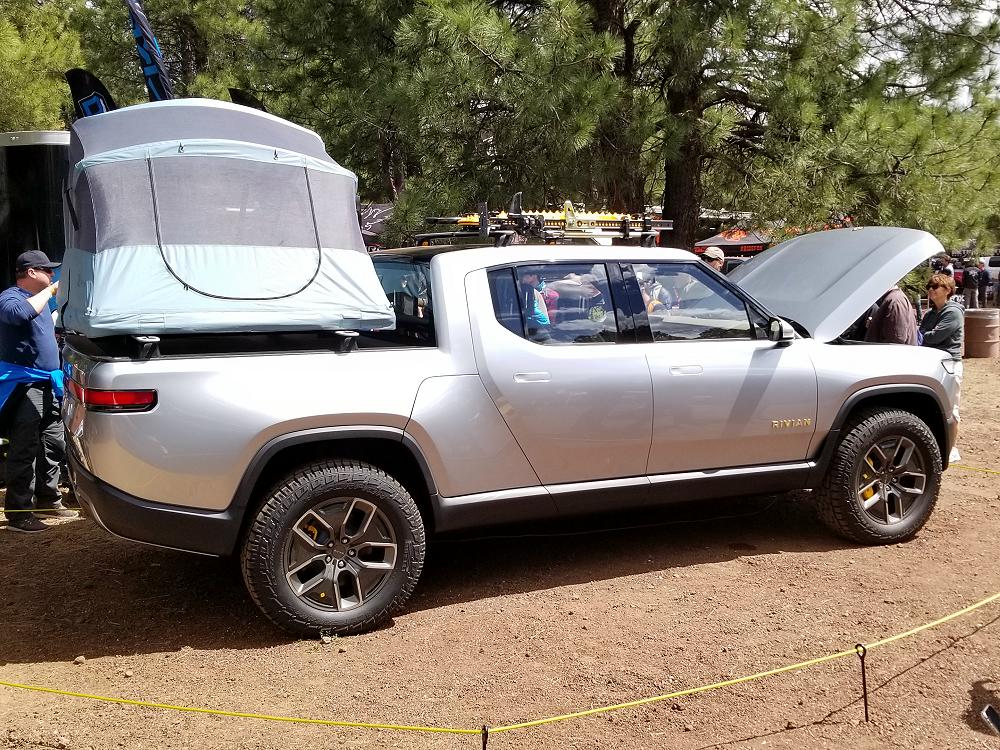 There were rows and rows of vendors.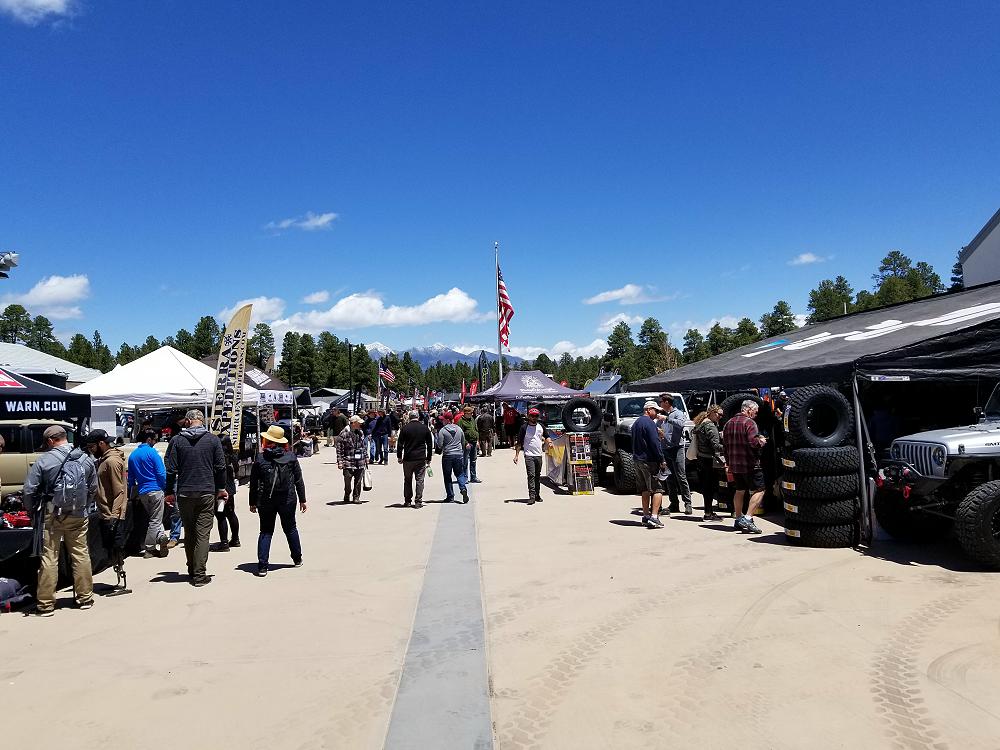 (check out the snow capped mountains!)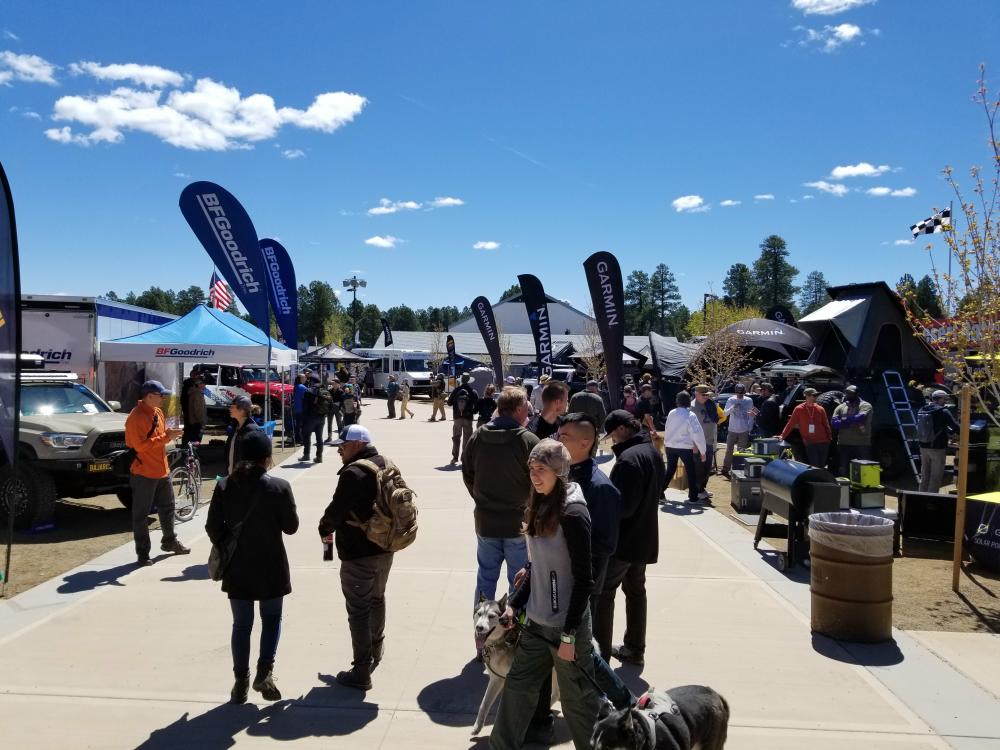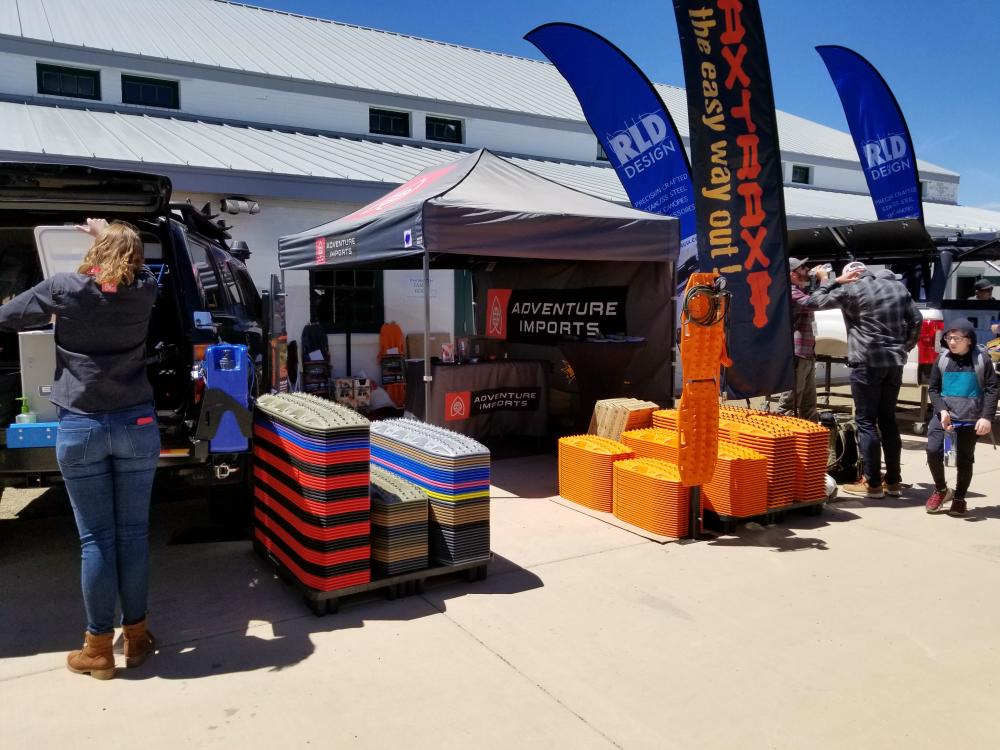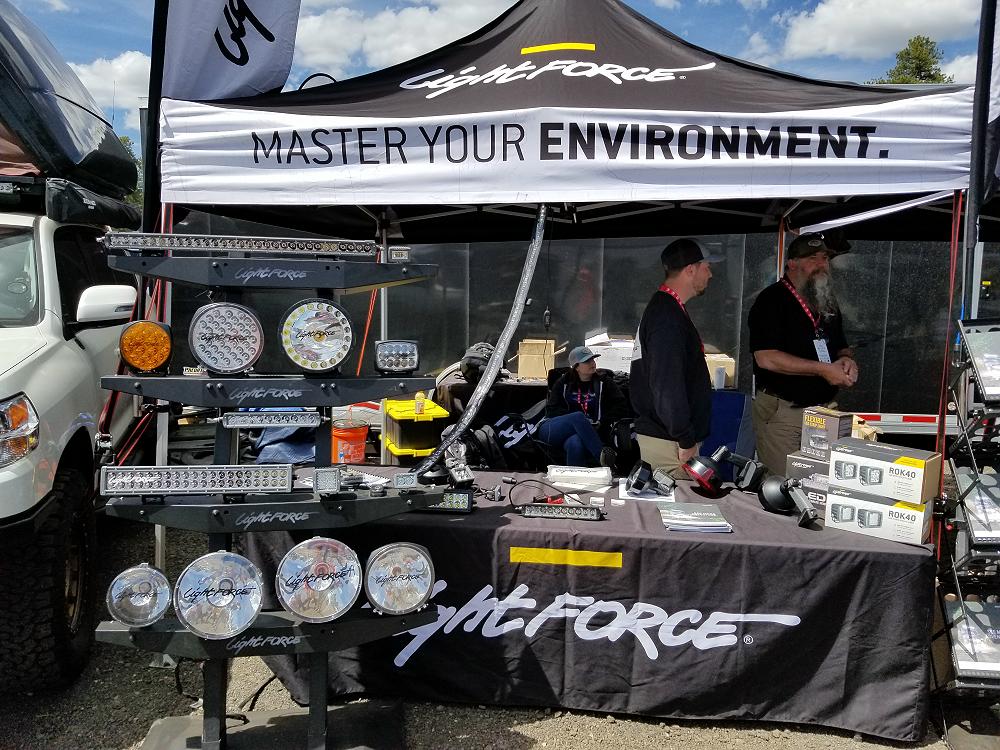 I even saw Dan from Ruff Stuff Specialties who's sponsoring our 20th Anniversary Trail Ride.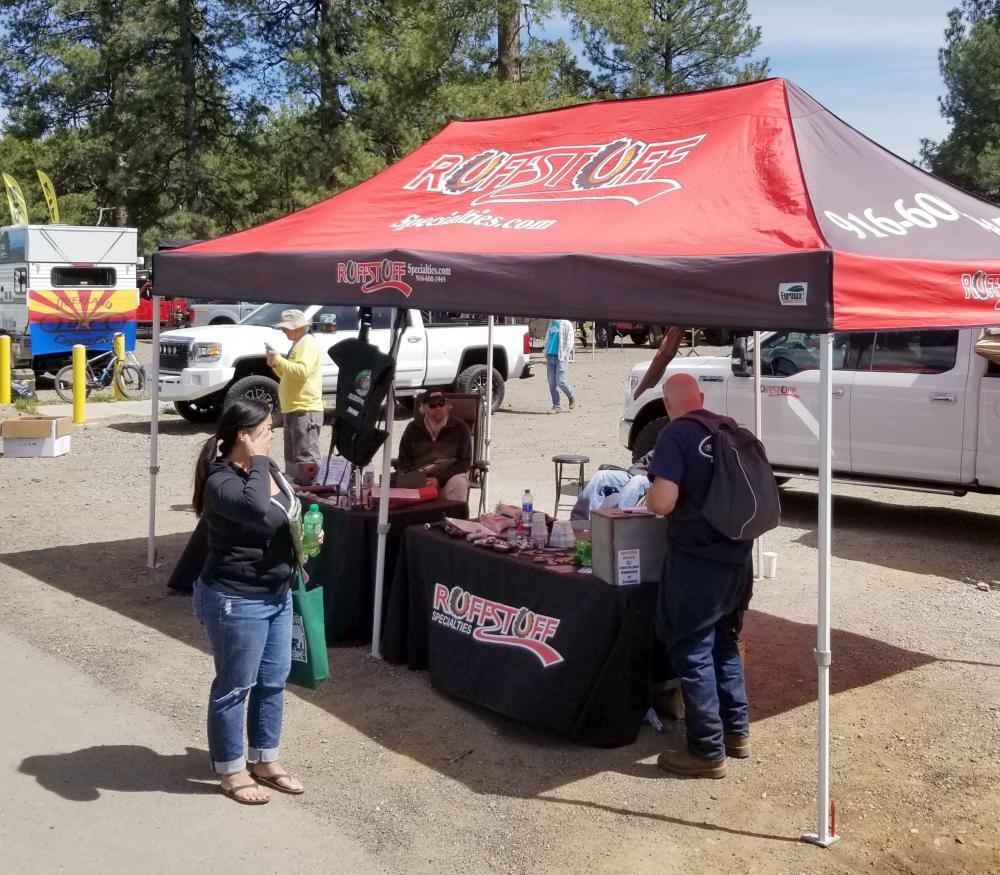 There was probably every roof top tent (RTT), offroad camper, and truck camper you could think of, and some you've probably never heard of.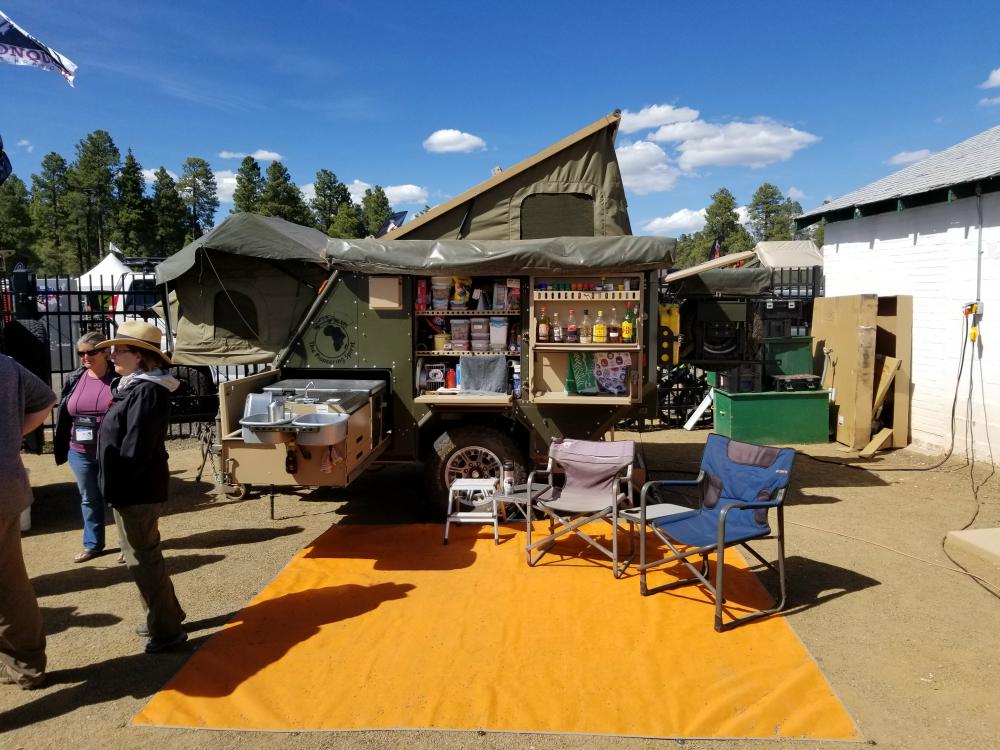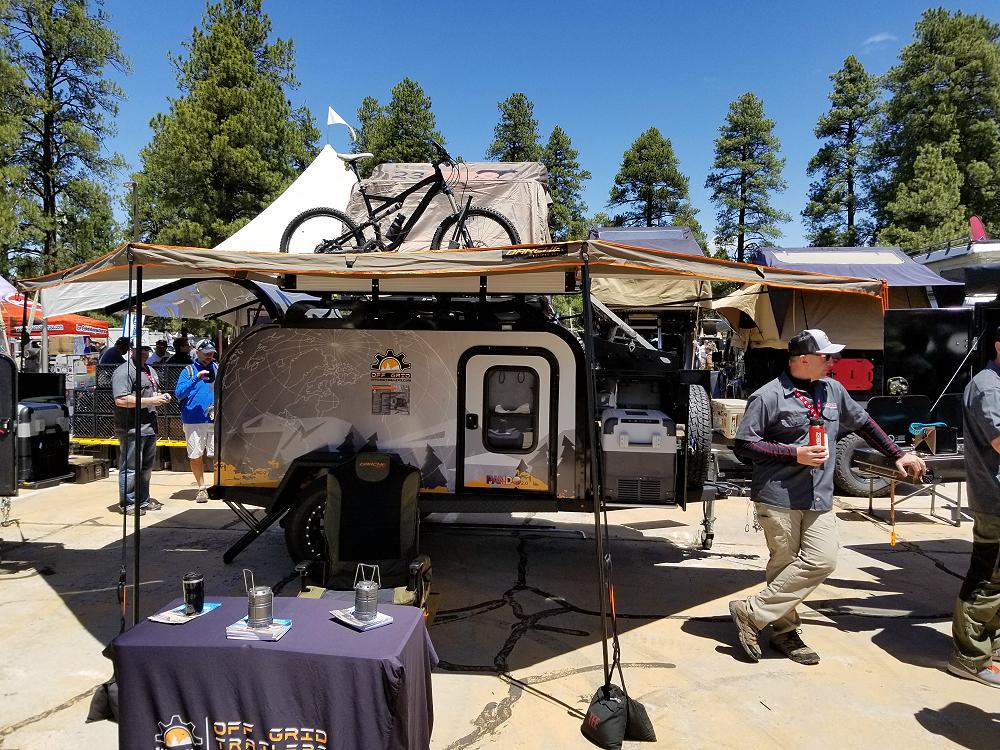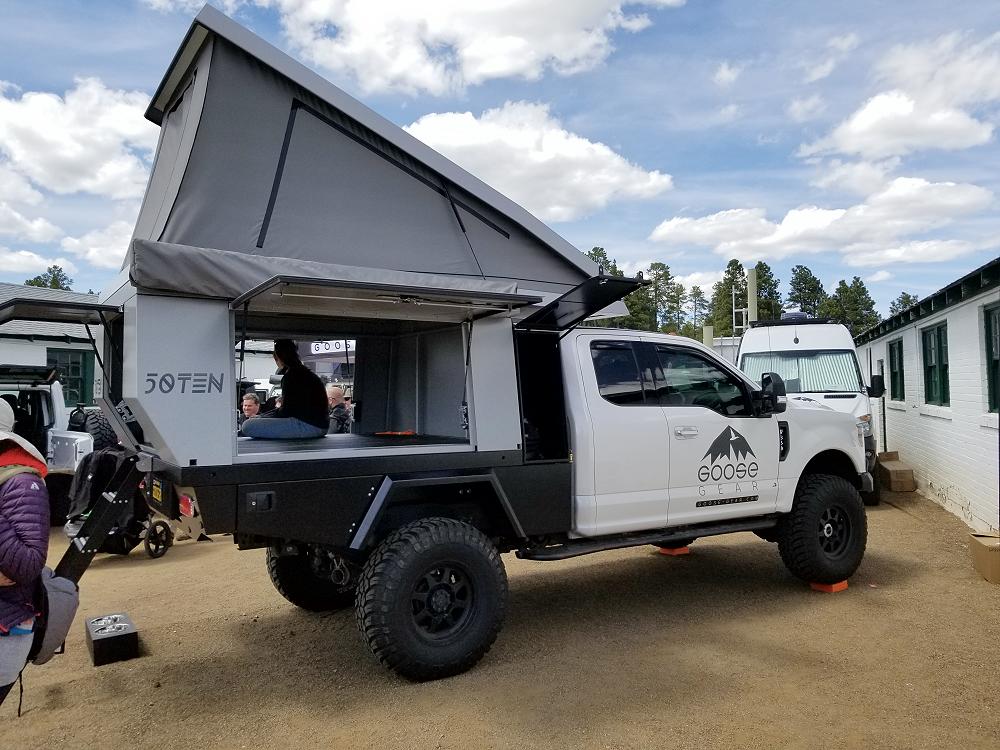 And yes, the big stuff was there!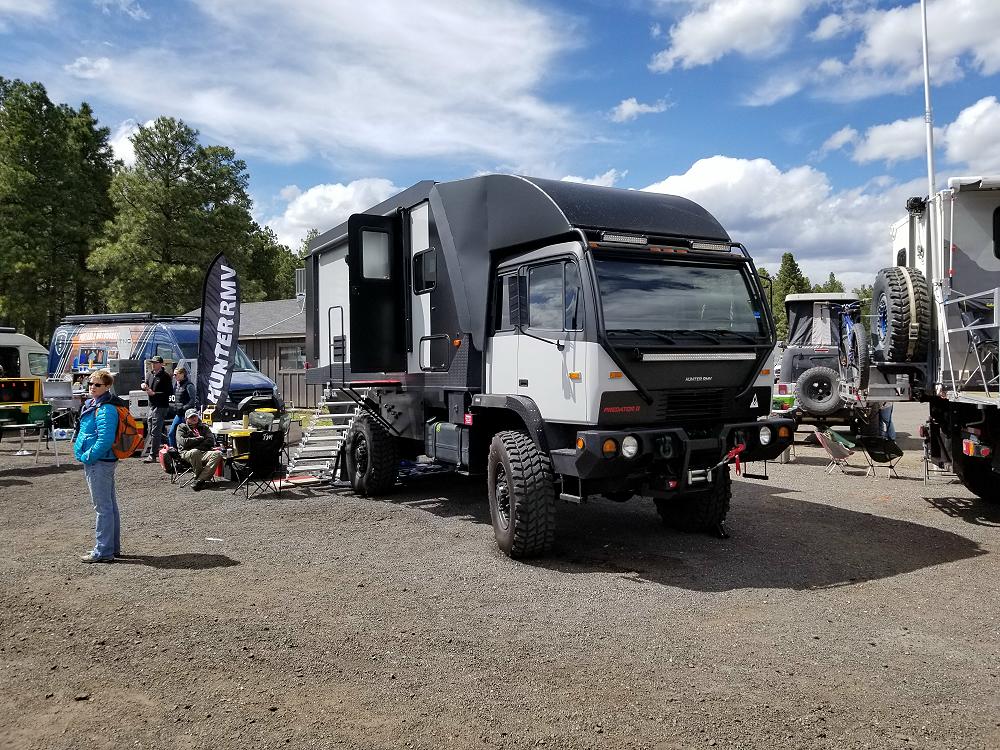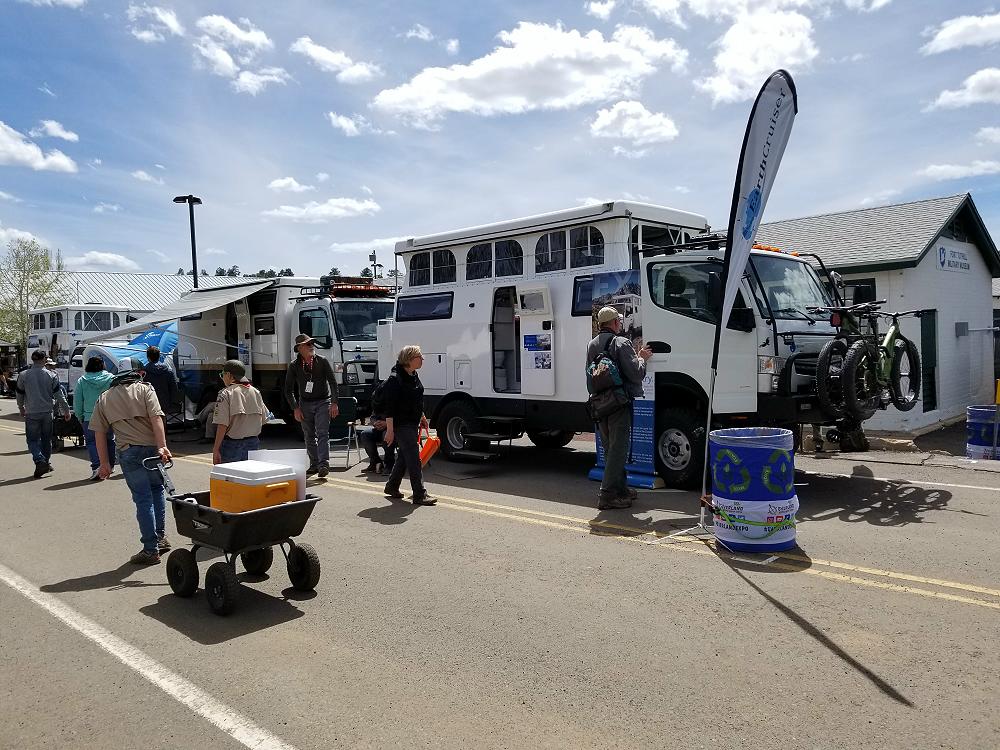 I liked this companies advertising slogan 'Own a home in every country'.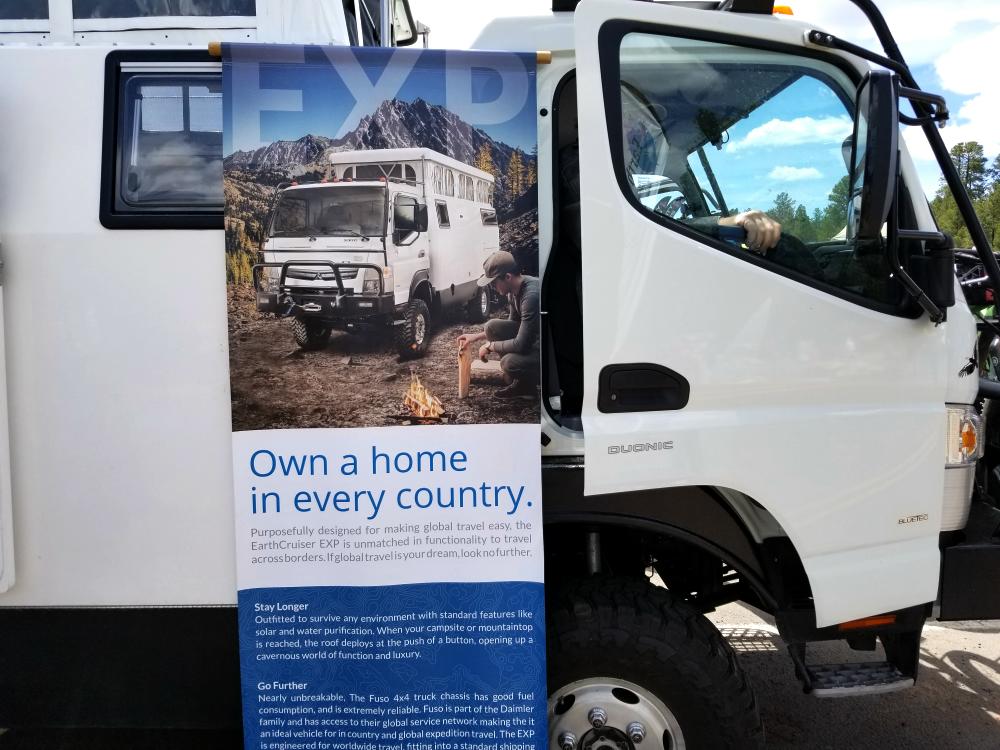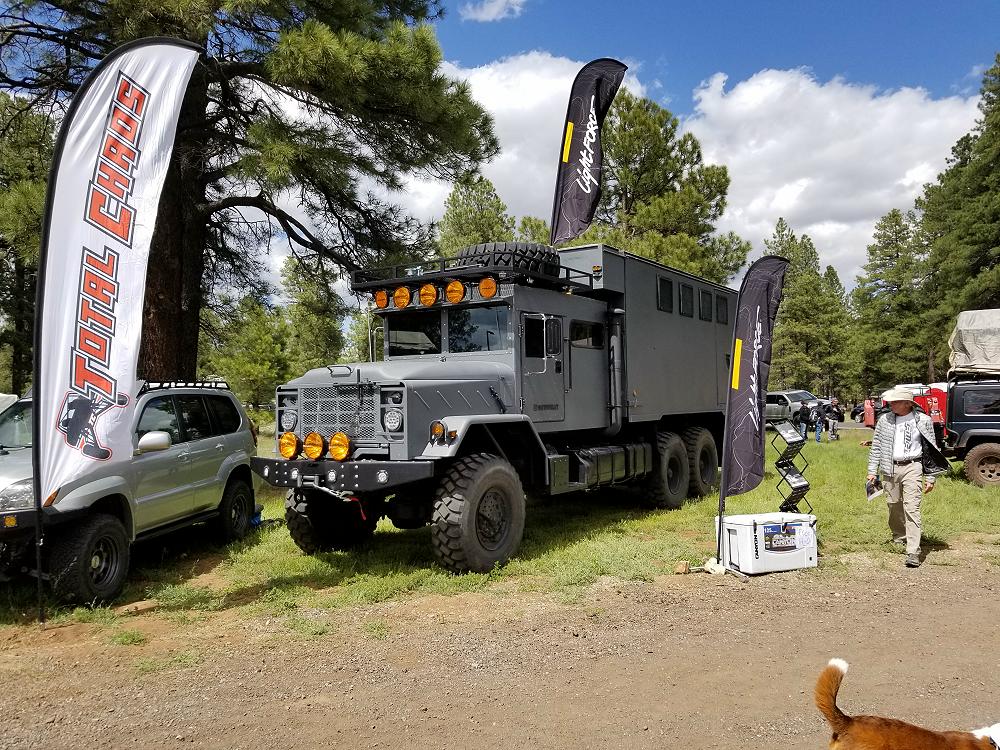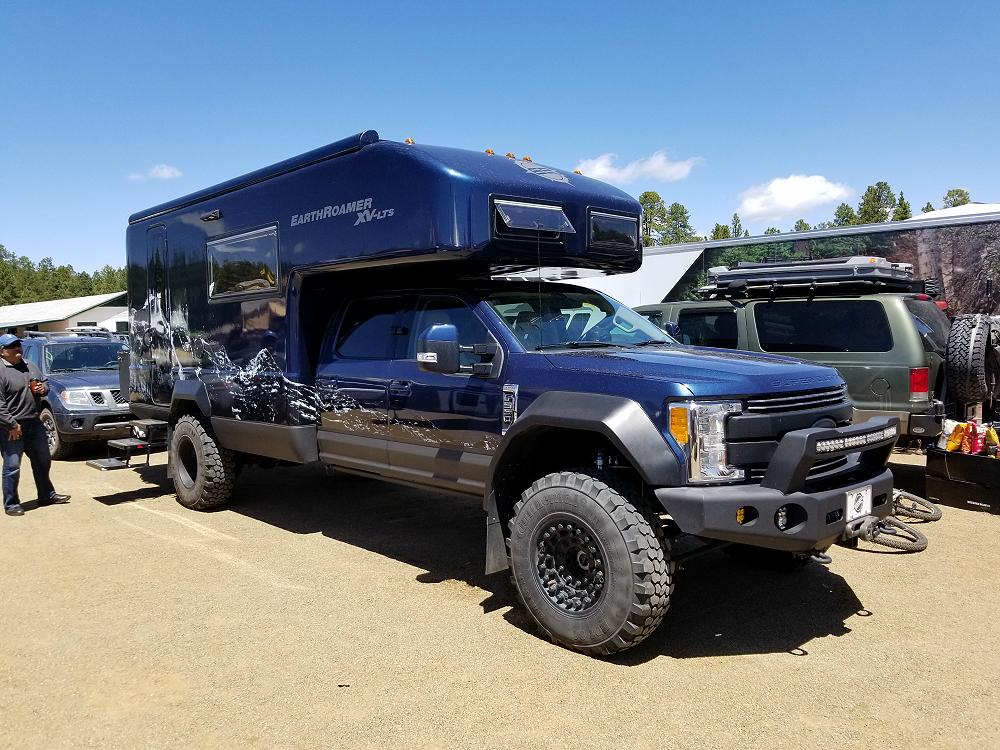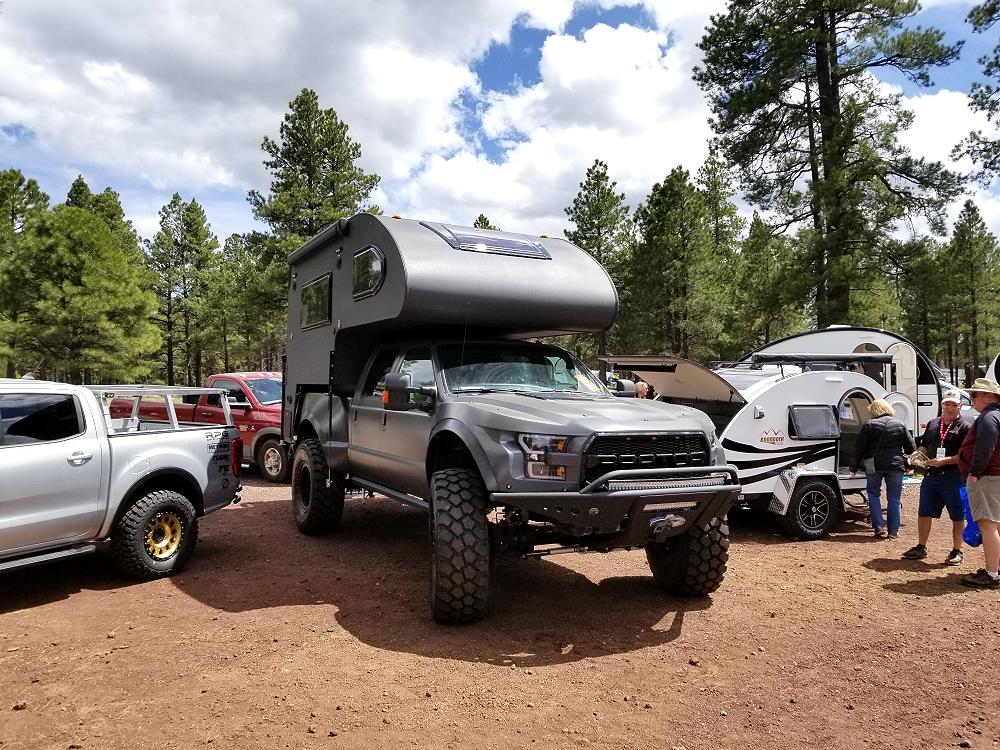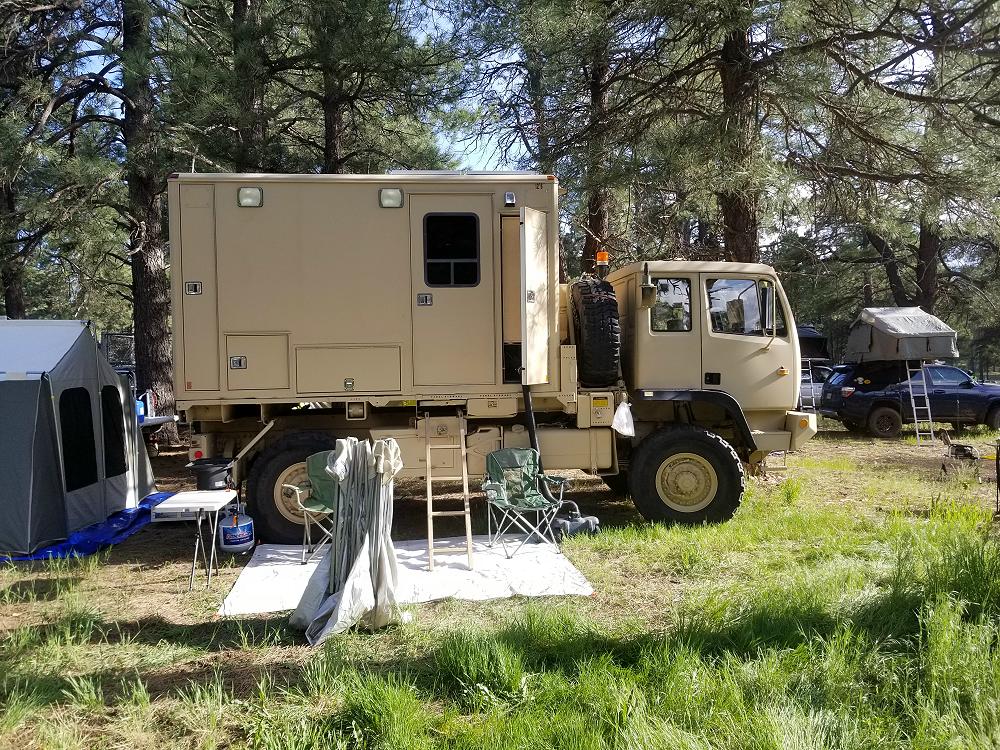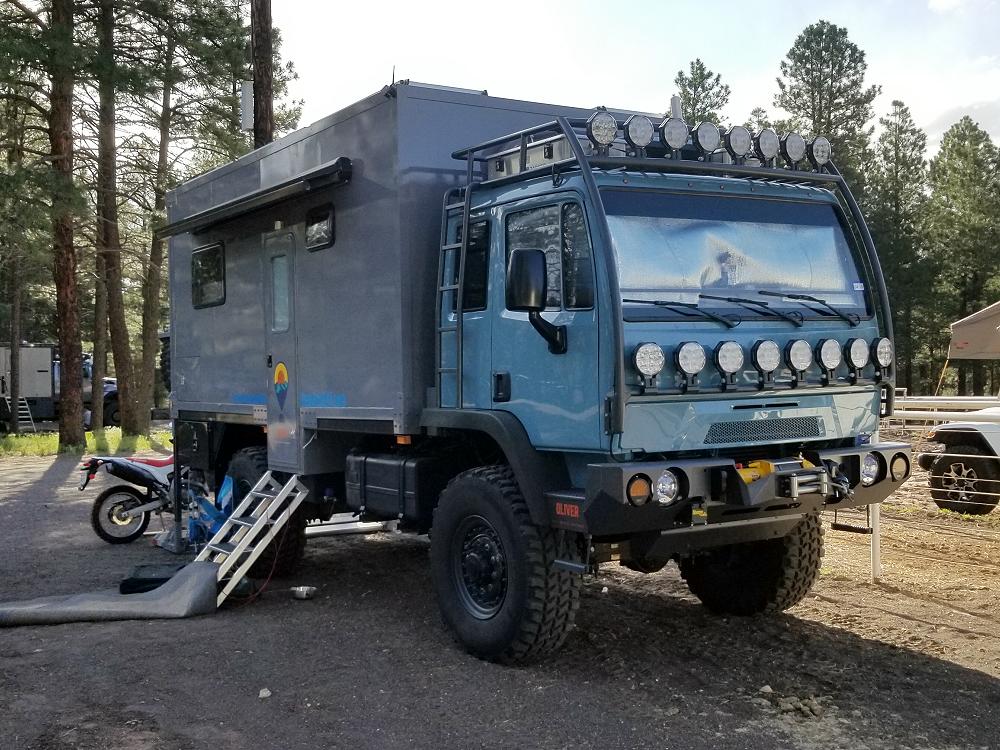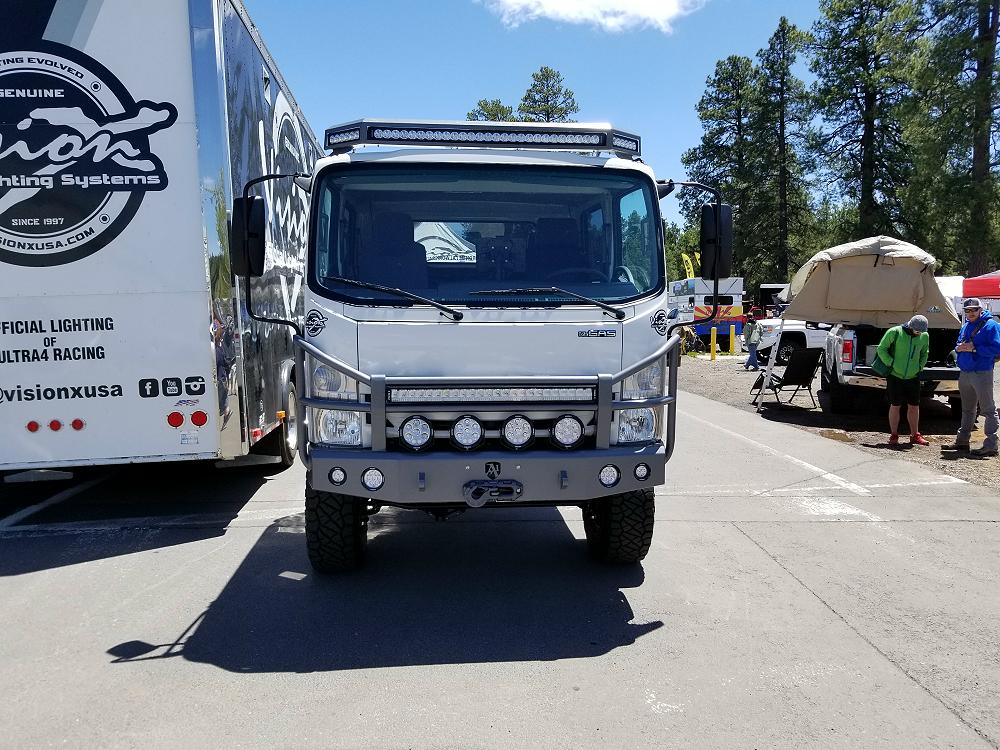 Since I had not been to this event before, I asked for advise online to get an idea of what I would be in for. I heard about no showers, and people standing in line for ridiculous amounts of time just to buy a slice of pizza. However, I didn't find that to be the case.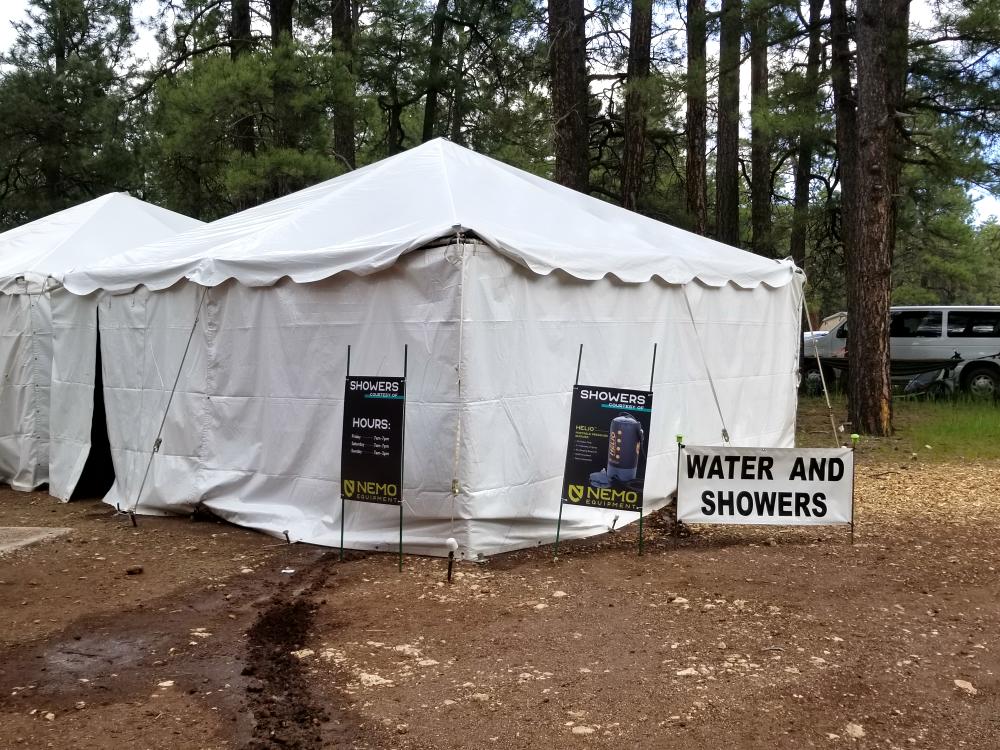 Nemo Equipment had a large tent set up offering showers to people in the campground.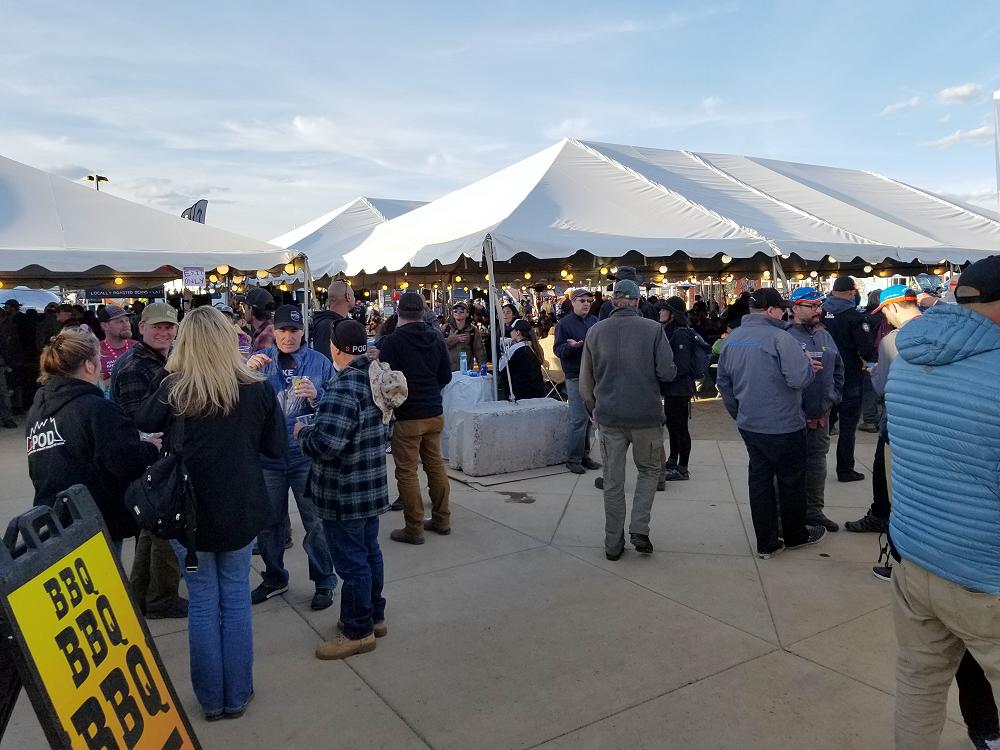 There were plenty of food trucks, and well as this food court area set up with large tents.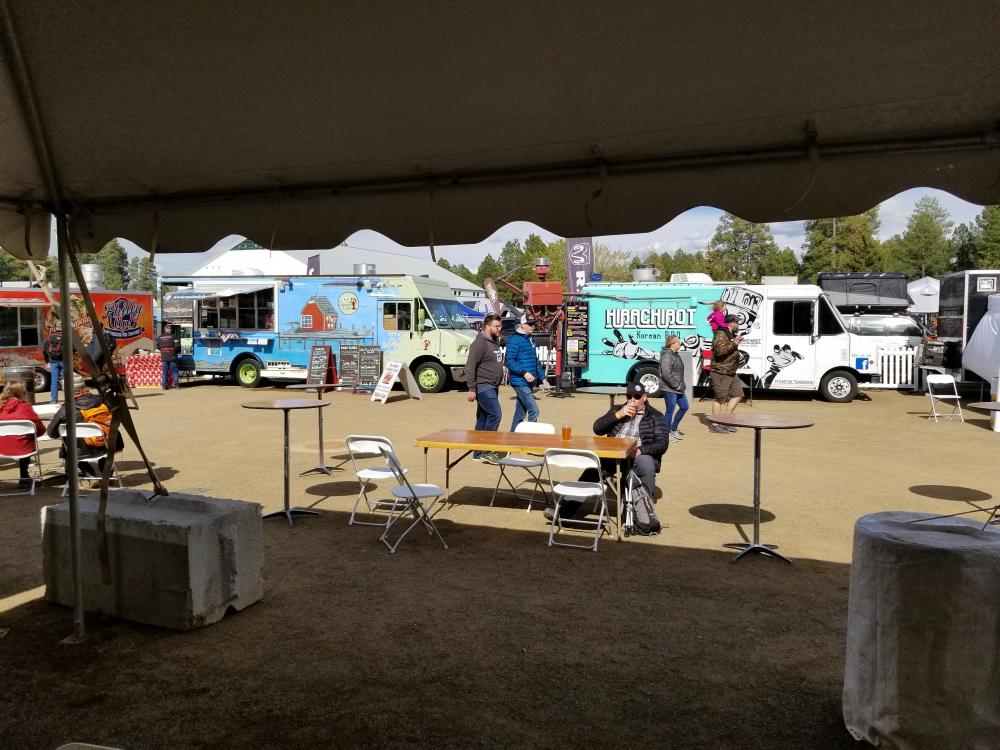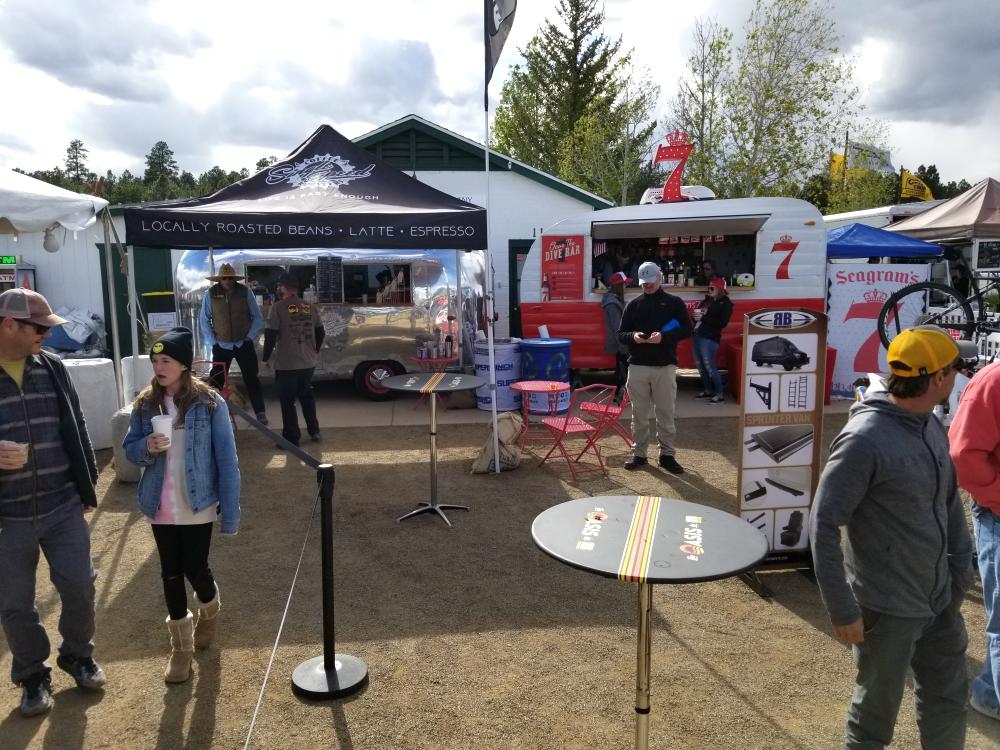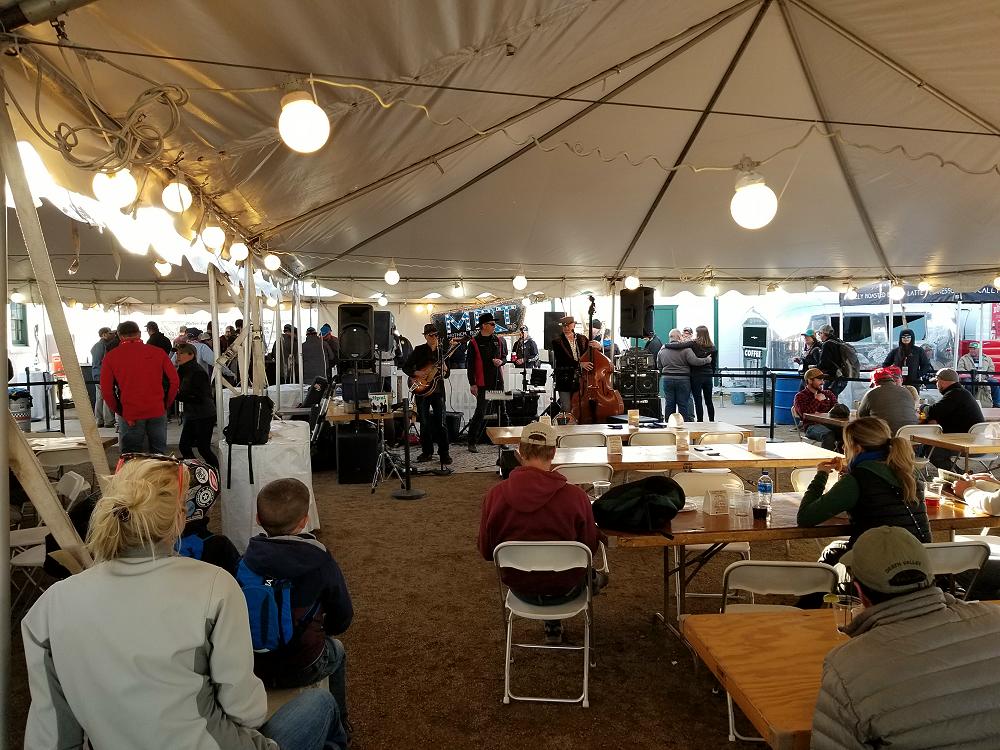 There was even a live band. Every evening was like one big party. I can see why people come back year after year.
All in all, it was an amazing experience. I met new people, discovered new products, and learned some things in the process.
Whether your weekend involves camping, riding your motorcycle / dirt bike, hitting the trail in your 4×4, or taking longer self sustained trips to remote areas, the Overland Expo has the gear, training, and people to help you make your next adventure even greater. No matter how much you think you know, and what you think you've seen, the Overland Expo will open your eyes to so much more.
My adventure did not end at Overland Expo. Although I needed to get back to Texas, I enjoyed exploring Arizona along the way. Click HERE to read more about my trip in my discussion forum thread.
Event Statistics:
This was the 10th anniversary of the Overland Expo, and it grows every year. This years exhibitor registration grew by 30%.
22,000+ Attendees from all over the world
405 registered exhibitors
1,500+ registered adventure vehicles
300+ registered adventure motorcycles
150 presenters, instructors, and VIPs
135 media outlets from all over the world
85 staff & 225 volunteers
750 Overland Experience VIP package attendees
330+ classes, seminars, demos, activities, slideshows, and films; totaling 450+ session-hours of instruction
Attendees came from as far away as Argentina, Australia, Belgium, Brazil, Chile, Germany, Great Britain, India, Indonesia, Japan, Peru, Sweden, and Ukraine.
Most U.S. states were represented; in highest attendance was California, Arizona, Colorado and Nevada; others came from as far east as Florida and the Carolinas, and from as far north as Alaska and Canada.
Link:
Video:
Photos:
I know, you probably just came to look at photos 🙂  No problem. Since there's so many to share, I put them on a separate page.
You can see more photos in the 2019 Overland Expo West Photo Album.