Wellsville, Ohio – April 25-27 2003
Thanks To Our Sponsors:


Memphis Store
Story by Will Wills
Special thanks to Jim Allen from Off-Road Adventures Magazine for covering the event and supplying most of these photos.
Page created by Jim Oaks.
The TRS Spring Round-Up began with a Friday evening barbecue at TRS owner Jim Oaks' house. Forum members trickled in throughout the afternoon and by 7PM, Rangers and Bronco II's filled the vacant cul-de-sac down the street from his house.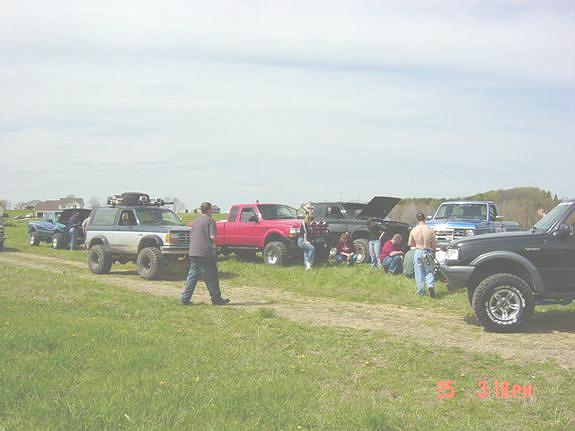 Hanging out Friday while Jim Allen shoots photos of two trucks for a feature.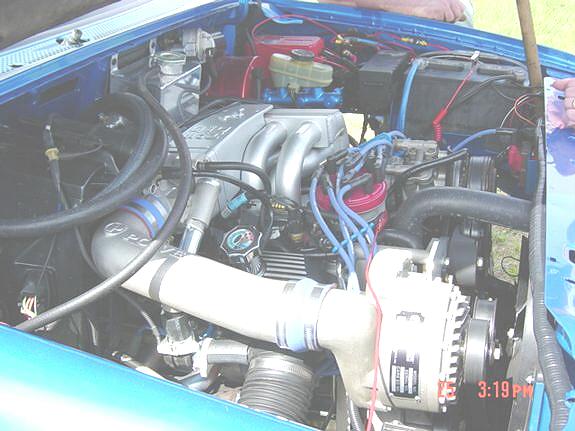 This Ranger showed up Friday with a supercharged 5.0 under the hood.
By about 8PM some of the TRS crowd was getting a little restless in anticipation of the Wellsville night life, so Jim throttled up his Ranger and headed out. Eleven other TRS Rangers and Bronco II's formed up behind him and the posse headed out to the music of mud-terrains howling on the pavement. After a quick stop for fuel, the squad arrived at the lock-'em in and air-'em down spot along the river road.
With everything locked and loaded, the TRS column headed off the pavement and after a quarter-mile of bouncing along reached the hot spot of Wellsville's night life: the Tank Traps. The Tank Traps are a couple hundred yards of the nastiest, gooiest, deepest and smelliest mud this side of the Ohio River. It gives one the feeling of being in no-man's-land in Flander's Field, and with Jim Oaks in his TRS-1 leading the charge, we threw ourselves into the muck and mire.
Eventually TRS disengaged itself from the battle and we formed up and headed to our night quarters. The next morning was the main event and there were a lot more TRS forum members on hand for it. This time our convoy consisted of 22+ trucks and somewhere close to 40 enthusiasts. By 11AM we were back at the river and locking in hubs. The TRS crowd broke into two groups, one group consisted of those members that cared about their paint and the other group that also cared about their paint, but not so much.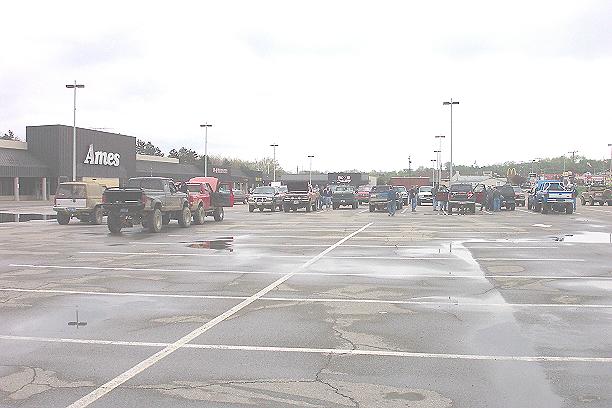 The group gathering at the Ames parking lot for the Saturday trail ride.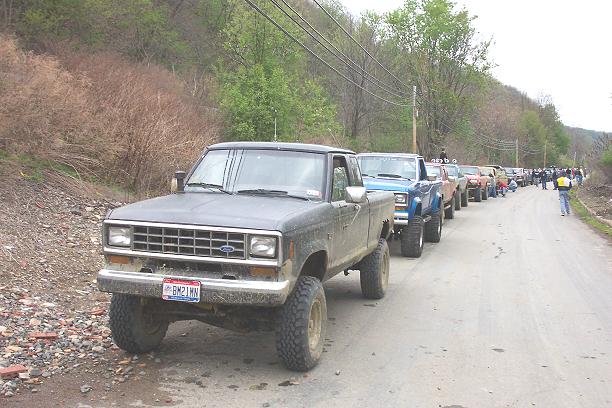 Airing down the tires.
Wellsville is a great place for variety in 'wheeling. Throughout the day the Forum Members engaged in hill climbing, mud bogging, rock crawling, trail riding and I even saw a Ranger or two skimming across a pond like flying fish.
At the end of the day most of the TRS crowd gathered back at the Tank Traps and spent a half hour reliving the days events and discussing the additional modifications they would pursue before the next TRS Round-Up. After a few of the more radical members were done being retrieved from some exceptionally deep yick, TRS owner Jim Oaks held a drawing for some extremely generous gift certificates and other items provided by TRS sponsors 4WheelParts and Randy's Ring & Pinion.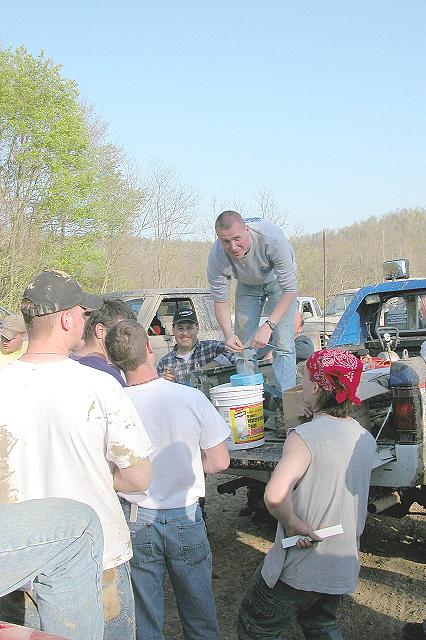 Jim Oaks giving away items during the drawing. Everyone left with something.
A special thanks was also given to Jim Allen, a writer/photographer/author who showed up on behalf of 4WheelPart's magazine Off Road Adventures to cover the Spring 2003 TRS Ranger Round-Up. Look for Jim's coverage in the July edition of Off Road Adventures Magazine. You had better get over their Website and reserve a subscription now; there is no other way to come up with a copy. Also, don't forget to visit our other great sponsor, Randy's Ring & Pinion. And lastly; we hope to see you all (and more!) at the summer event. TRS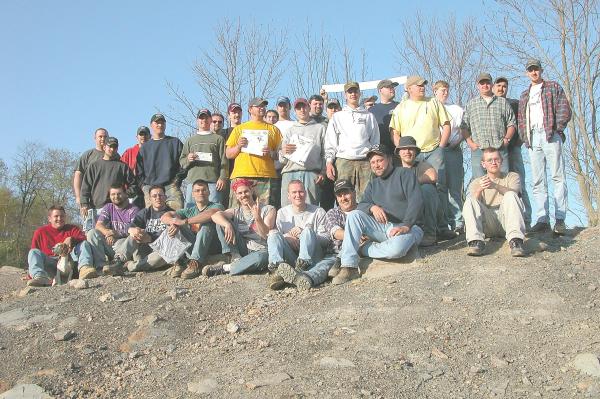 Click HERE (346kb) for a large group or here for a HUGE (1,057kb) group shot.
Here's a list of prizes that were given away:
$500.00 Randy's Ring & Pinion gift certificate
$50.00 4Wheelparts gift certificate
$50.00 4Wheelparts gift certificate
$50.00 4Wheelparts gift certificate
$50.00 4Wheelparts gift certificate
$25.00 4Wheelparts gift certificate
4Wheelparts Shirts
Off-Road Adventures Shirts
$25.00 cash long distance award
Numerous 4Wheelparts Windshield banners
Off-Road Adventures Magazine windshield banners
TRS full Color Calendars
Look for an upcoming story in the July issue of Off-Road Adventures Magazine.
Photos:
Click the photos to enlarge – click the arrows to load more.