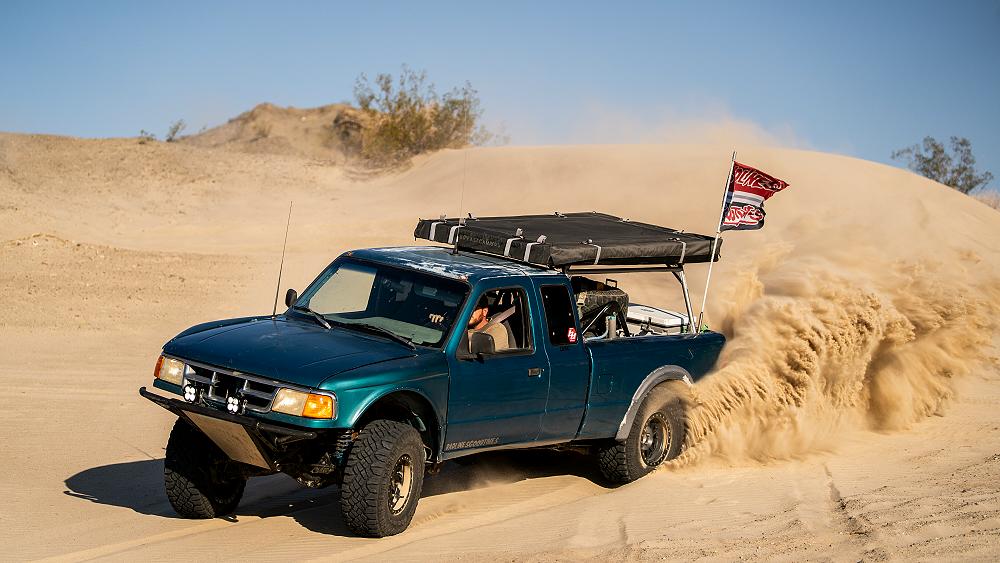 What do you get when you cross a Ford Ranger built for pre-running with a Ford Ranger built for overlanding? A Prelander.
This 1994 Ford Ranger Prelander serves as a shining example that a $10,000 budget and a passion for off-road adventure are more than enough to create a capable and enjoyable prerunner.
When the owner bought the Ranger it already had a Deaver 64 race kit on it with 18-inch King smooth bodies. The springs were oversprung and only allowed the shocks to cycle 4-inches. The owner removed 4-springs, built a rack for his GoFast Camper, and added a secondary spare tire. That along with his cooler and 8-gallons of fuel helps smooth out the ride and helps with the wheel travel.
The front suspension is made up of cut and turned beams, tube radius arms, a simple bolt-on engine cage, and 12-inch King Racing Coil-overs. The front bumper started life as a tube bumper from an F150 that was rebuilt to fit.
The Ranger was built to simply have fun with the truck in the desert, go to Mammoth for snow wheeling trips, or head down to Baja on a quest for great tacos and margaritas and is simply a capable budget truck made for prelanding (prerunner overlander).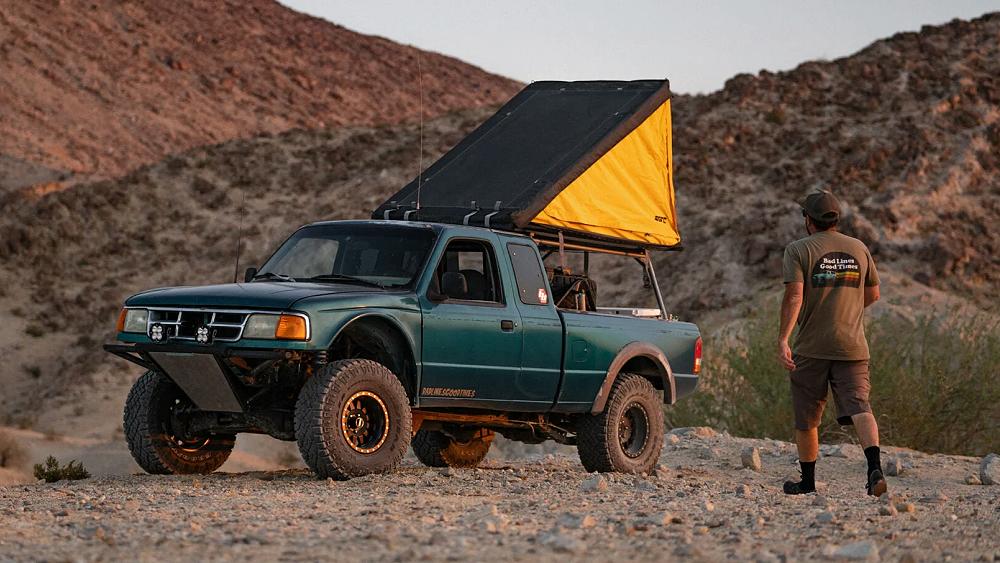 Specifications:
Vehicle:

 1994 Ford Ranger 4wd

Engine:

 Ford 4.0 V6

Transmission:

5-Speed Manual

Tires:

33-inch Goodyear Wrangler

Wheels:

17-inch Method Race Wheels

Front Suspension: Cut and turned beams with tube radius arms
Rear Suspension: Deaver leaf springs
Shocks:

Front 12-inch King Racing Shocks 2.5 Coil-over

Shocks:

Rear 18-inch 2.5 King Racing smoothie shocks 

Lights:

 Baja Designs

Communication:

 PCI Race Radios

GPS: OnX Offroad
Resource:
More Photos:
Click to enlarge.