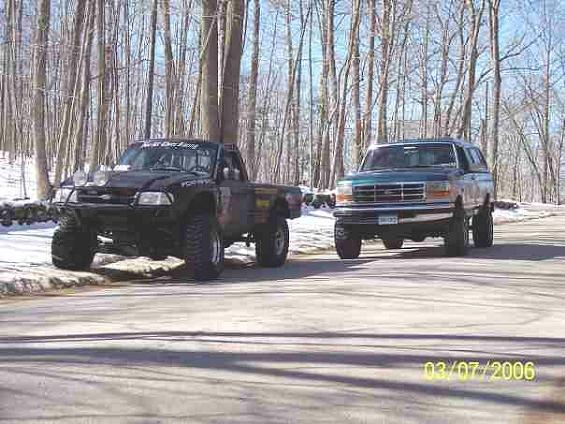 Recently I had the opportunity to talk to Aaron Matthew-"Air" for short, President of Uconn Off-Road and the owner/driver of Not All There Racing about the 1995 Ford Ranger he's building to replace the Bronco he races……..
What have you done to the engine? – Stripped and gutted, Ported intake and exhaust ports, engine is on its way out and we are focusing on its replacement motor (351W out of my old Bronco) which will be built to around 400+horespower for next winter. Set up is still being drawn up and revisited so a final plan isn't set yet.
What have you done to the suspension? – Swapped in a Dana 44 I-beams out of my old 88 Bronco, we bent the beams, running shock hoops with 16″ Bilstein Coilovers with Resi's, runs around 18-20″s of travel in the front end which will be limited to 17″s. We also built our own extended radius arms with heims. For the rear we run an 8.8 out of an explorer, 4 wheel disc brakes, and soon to install are a Deaver Race pack with around 16″s of travel. Once I can afford to we will be 4 linking the rear.
What is the truck built for? – Started as a trail rig, but I needed something with a little more speed so I started setting it up as a replacement to the Bronco that I used to race with. It has actually been daily driven till recently where it is now a race only vehicle. Its now built for jumps more than rocks, but can handle the trails very well. We try and keep a nice low stance with a lot of travel so I can hammer it threw the corners and keep her on the ground. Its also built to be different and stand out.
What kind of racing do you do and where? – Currently due to time and money we run around with the Mickey Thompson Tough Truck series in Bloomsburg and the Essex Junction Jamborees, soon to hit up the 7 milers in PA as well as Southwick eventually. Trying to get into PA's racing oriented clubs and do many events with them.
What wheels do you run and what size and type of Mickey Thompson tires? – We are trying to decide on a new set of rims to go with my now mismatched lug pattern (fullsize front end with ranger rear) But will always be running Mickey Thompson Baja Claws (33's) which I choose due to there versatility and ways in which they can be cut for different tracks and grip. They also last long to the abuse and hold up well.
Gears? – 488's within the next few weeks
Lockers? – Detroit in the rear
Fiberglass body panels? – Fiberglass front fenders with an edge hood.
What else can you tell me about the truck? – There's tons!, when I first bought this it was to be my daily driver, and over the past 5 years I have owned it it has changed dramatically. It went from a daily driver, to a daily driven trail rig, to a daily driven race, and now with the purchase of a 2 wheel drive ranger as a new Daily, it is strictly race and fun only. Its gone threw many different lifts, started with a 2″, than a 4″ where we started making our own brackets and such, to what we have today which is a completely adjustable set up both wheel travel and ride height wise. We have also been working with a few different cage designs and are eager to finish caging the vehicle from bumper to bumper. There's a basement full of parts left to install but both school (UCONN) and work limit what can be done to the truck at the moment.
My co-driver/partners are also both serving there time in IRAQ with their Recon unit out of the USMC. By this time next year we should all be home safe and working on finally completing this truck and competing much more heavily. A lot of things have been holding us back the past few years with this build, as for myself I have been busy with founding and running the UCONN Off-Road Club which has grown rapidly over the past 2 years, as well as my work with the UCONN Car Club and my effort in this years car and truck show where we attracted over 650 vehicles! I have been spending so much time on others I haven't had the time to focus and really create what I want for my own truck.
Over the next few months we have a lot of work to do, hopefully we will be racing at this years Jamborees (at least!) but we have a few big expenses to get out of the way, as well as the time problem but those on my team work well together and we will be making an appearance with the ranger at the Bloomsburg Jamboree down in PA, and possibly will be driving it around the streets downtown to get it out there as well. My trucks my passion as well as my escape, and is a direct expression of my own personality threw its looks and my driving style, as well as its reputation here in my hometown.
The truck is around 20% complete the way you have last seen it so keep in mind its and under construction rig still and we have way more to both buy and build to get on the race track.
Thanks for your interest, we also have a webpage, www.notallthereracing.com which should be back up soon, its been down due to a new server.
Note – Also check out http://www.uconnoffroad.com/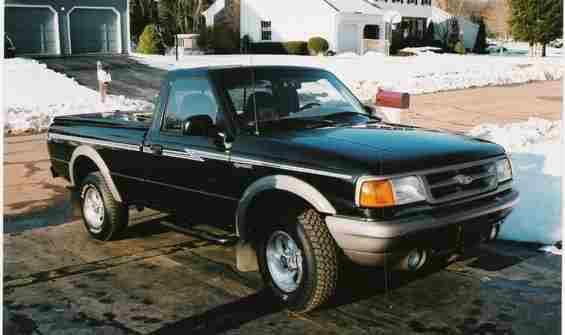 Here's a photo of what Aaron started with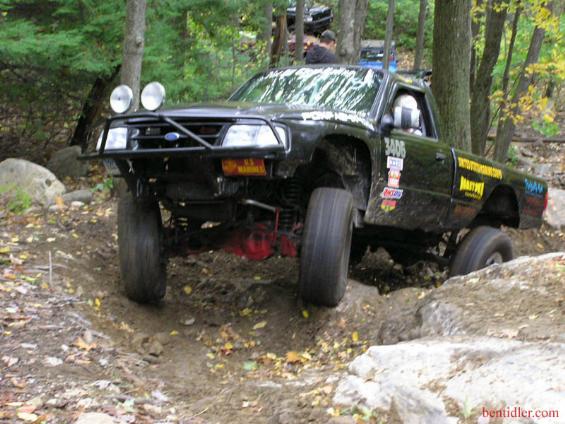 Running the stock front axle with a suspension lift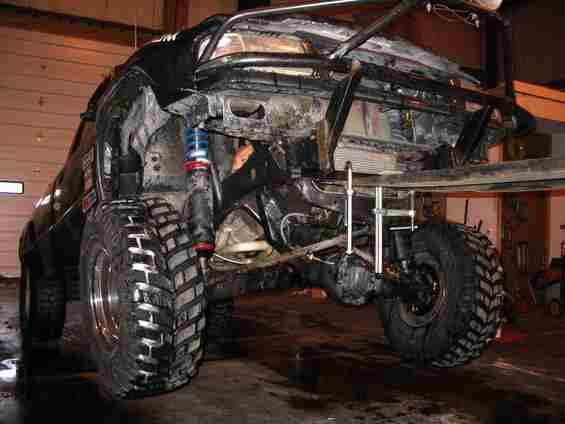 The new fullsize Dana 44 suspension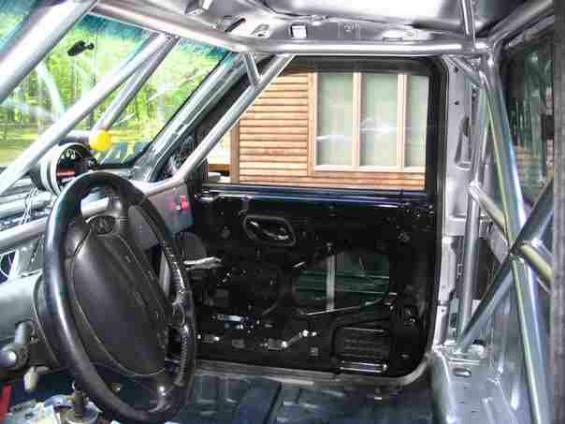 Interior cage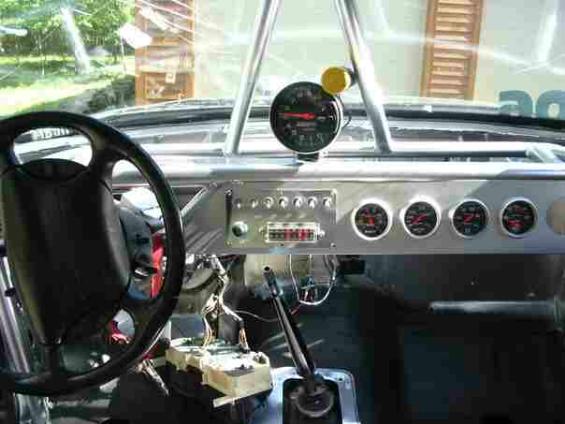 New racing dash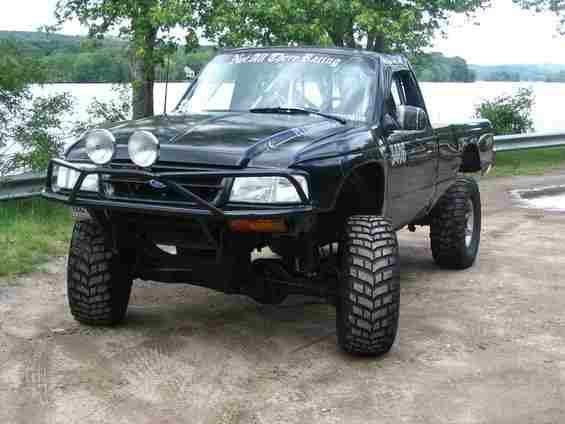 Most Recent Picture As Of 6/8/2006