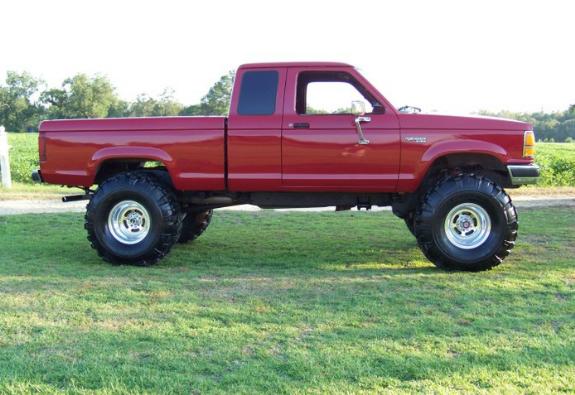 I saw this truck in our forums with it's new red paint job and was really impressed by it. I asked the forum member (rangerslim) who owns it if he would send us some pictures and details about the truck. Here is what he wrote ~ Jim Oaks:
Well, I guess you could say that my ranger is not just transportation or even a hobby. More like a way of life. The very first vehicle I learned to drive was grandpa's old Ford Courier. Grandpa worked at the Ford motor Company for over 30 years as a mechanic and all he drove was Rangers after that old Courier and naturally I was hooked. So when I joined the Air Force I was stationed overseas for the first 2 years and when I returned to the states I began to search for a truck when I stumbled upon her on a lot near the base. It had a 3-inch body lift and 30-inch tires when I bought it with just over 100k miles.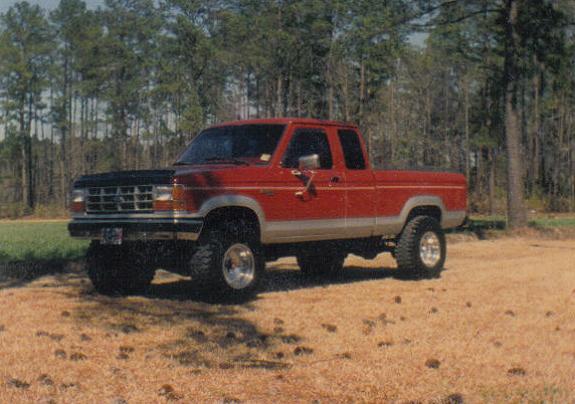 (Originally purchased in 1995 with a 3-inch body lift and 30-inch tires)
I had big plans for it right away but funds was limited. My dream was a v-8 and at least 38-inch tires. From the beginning Ol' Red was getting 110 miles a day during the week to the base and always managed to find a mud hole on the weekends. Matter of fact, two weekends after I bought it I filled the motor full of water and locked it tight. From those 30-inch tires that began on it a installed a 4-inch suspension lift and ran every tire from 30 to 36-inches. 31, 32, 33, 35, 36 and back down to 35-inches where it sat for the last 6-years as served as a daily driver to work and my hunting rig on the weekends.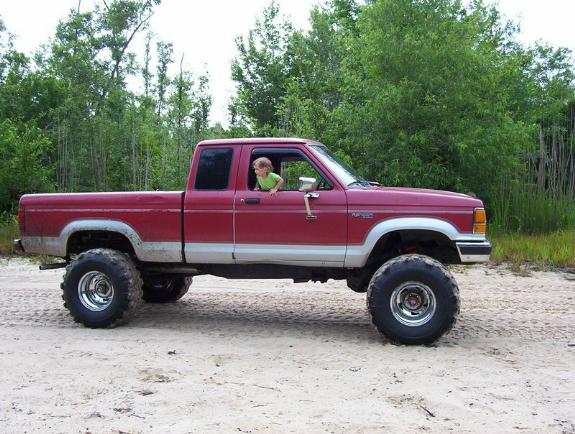 Then back in February of this year (2008) my dreams began to take shape. I have been collecting parts for this build over the last few years and finally got most of them together and began to do the V-8 swap. The 302 engine was from a 1979 Ford F-100 with flat top pistons and I installed an Edelbrock performer intake and 600 carb. Mustang oil pan and custom motor mounts with Lincoln headers. The donor C-4 transmission came out of a 1979 LTD-II and was built by the family transmission genius.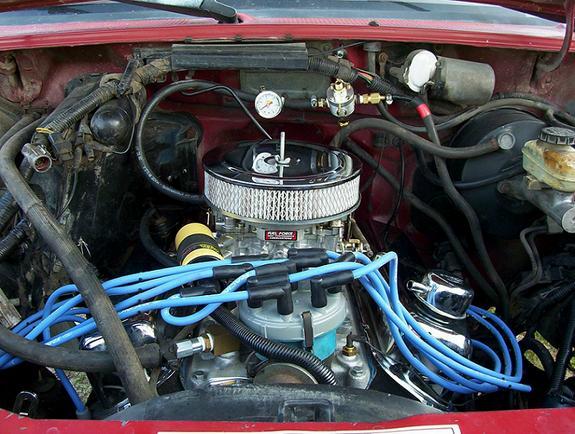 (1979 Ford 302 V-8)
After the small block was in I knew now I could handle more meat. So I bought and installed 6-inch springs up front and Explorer springs out back which gave me enough room for the icing on the cake. 38's.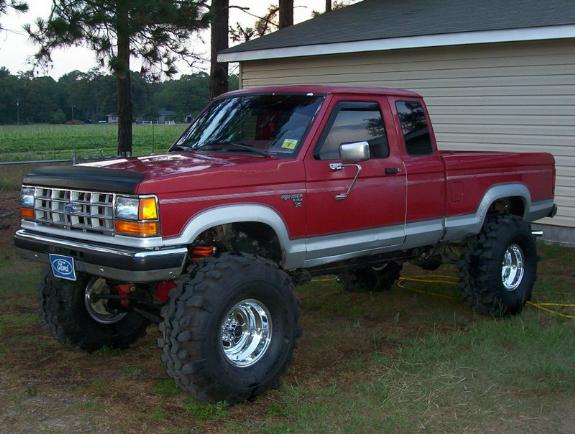 (38.5/16/15 TSL Swamper on 15×10 M/T ET Drag rims)
And just weeks ago I topped her off with a fresh coat of nice red paint.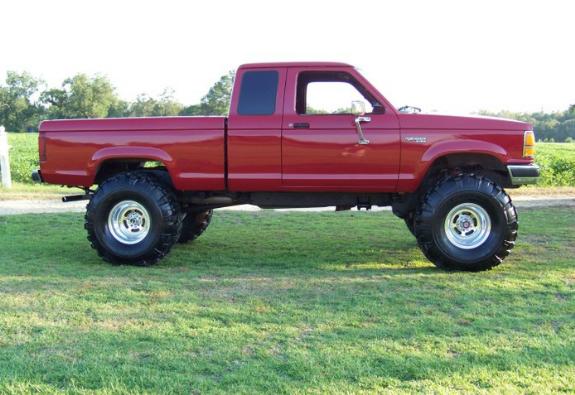 (We think it looks a lot better solid red! ~ TRS)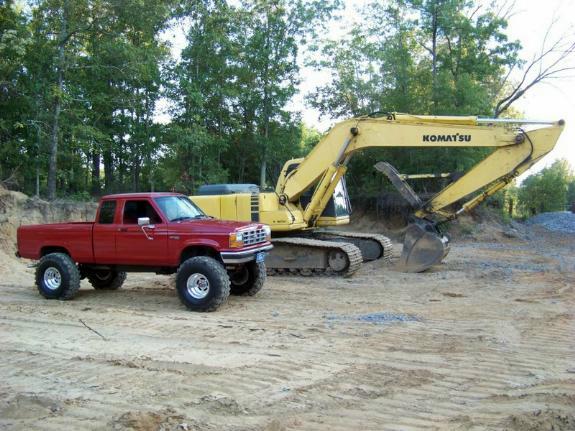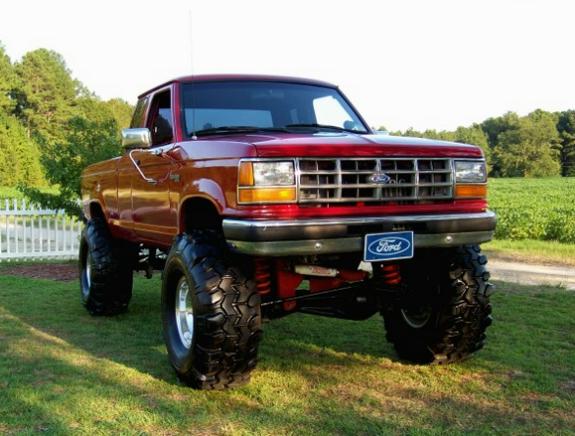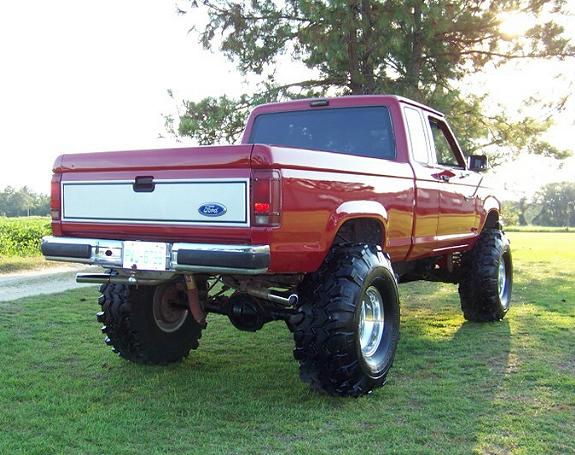 Next on the agenda: bigger axles……But Rome wasn't built in a day!!!
Specifications:
1989 Extended Cab 4×4 Ranger
Ford 302 V-8
Edelbrock Performer Intake & 600 CFM Carb
C-4 Automatic Transmission With 2500 Stall Speed Convertor
Hurst Pro-Matic Shifter
6-Inch Softride Coils – Front
Lift Blocks & Explorer Leaf Spring – Rear
3-Inch Body Lift
Ford 7.5-Inch Rear Axle With 4.56 Gears
Dana 28 Front Axle With 4.56 Gears & Locker
Warn Hubs
38.5/16/15 TSL Swampers
15×10 Mickey Thompson ET Drag Rims
Sony CD Player With 10-Inch Kickers & Rockwood 300 Watt Amplifier
Check out his CarDomain page HERE