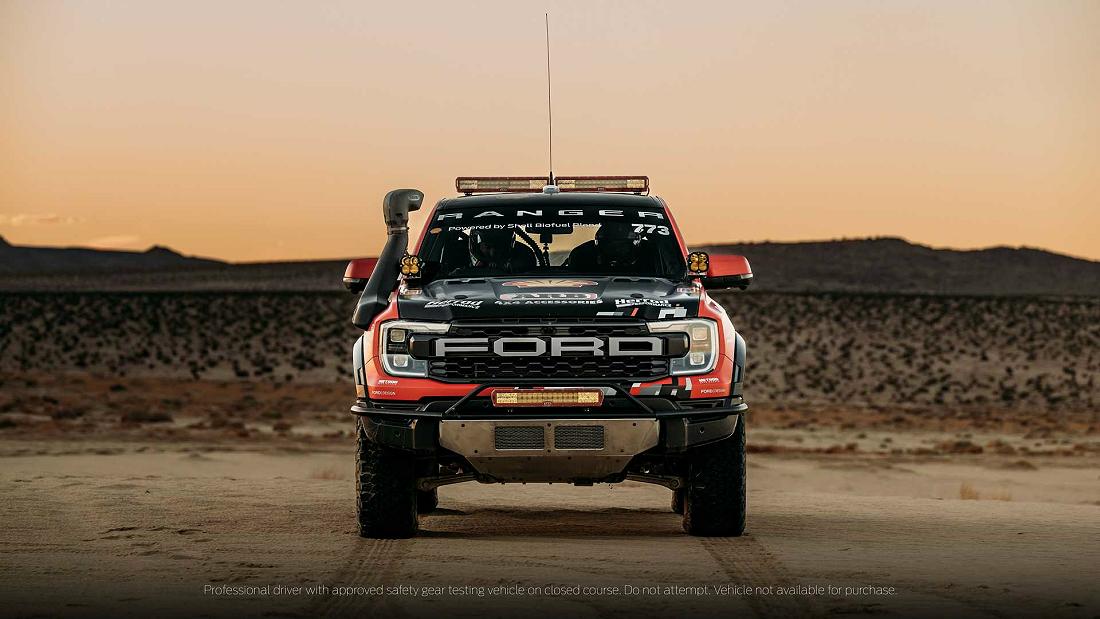 The next-generation, race-prepped, stock next-gen Ranger Raptor finished the SCORE-International Baja 1000 atop the stock classes, then drove on public roads back to its base in Riverside, California after the race.
The nearly flawless Ford Performance global effort was powered by a low-carbon biofuel from Shell, demonstrating that commitment to sustainability does not require compromising performance.
RIVERSIDE, Calif., Nov. 20, 2022 – A next-generation Ranger Raptor race-prepared for the mid-sized stock class completed the 2022 SCORE-International Baja 1000 in 26 hours, 21 minutes and 39 seconds finishing first amongst stock class vehicles.
A global Ford Performance effort, the next-gen Ranger Raptor was prepared in Australia by Kelly Racing before being flown to the U.S. for final testing and development with Ford Performance, Lovell Racing and Huseman Engineering. From start to racing, the project was completed in just 10 weeks.
Competing at Baja was both a return to the event for the Ranger nameplate and a motorsport debut for the next-gen Ranger Raptor. It was also an off-road motorsport debut for Shell's Low Carbon Fuel which fueled the next-gen Ranger Raptor throughout.
The race team, managed by Baja legend Curt Leduc, had four driver/co-driver pairings: Brad and Byam Lovell (Lovell Racing), Jason Hutter and Paul Blangstead (Fire Guys Racing), Loren Healy and Eric Davis (Fun-Haver Off-Road), with ARB's Andy and Danny Brown the pairing that brought the truck across the finish line in 83rd overall from a starting field of 276 vehicles.
"We sent a genuinely stock vehicle to the Baja 1000 with the confidence, from testing, that we had a strong package. That said, Baja is the toughest, continuous off-road race in the world, and we made it through without even getting a flat tyre. We had no unplanned pit stops and once we finished, we drove it back to California. To me, that's Built Ford tough," said Justin Capicchiano, Ford Performance and SVE Manager, Australia.
Specifications:
PRODUCTION CLASS RACER
Ford's Ranger Raptor race truck is built to compete in the Stock Mid-Size class for production vehicles with minimal component modifications. That means we've kept the truck as close to stock as possible and fitted the necessary safety equipment as dictated by the race organizers.
POWERTRAIN
The 3.0L twin-turbo V6 is factory specification with standard power (400hp/294kW) and torque (430/lb/583Nm). Additional sensors have been fitted to
monitor key powertrain parameters. The production specification 10-speed auto transmission has also been used, with stock internal parts and calibrations.
FUEL TANK AND EXHAUST
We fitted a 160-litre racing fuel cell in the tray. It is equipped with a dry-break filler, and main and reserve fuel pumps which are controlled via the MoTeC PDM and OEM CAN bus system. The exhaust system's center section was re-routed to accommodate the fuel cell. The intermediate muffler and active
valve system were removed.
WHEEL, TIRES AND BRAKES
The race truck is fitted with 17-inch Method's Bead Grip® forged aluminum lightweight race wheels and 35-inch tires, the largest permissible in the class. Race tires for the event are 315/70 R17 BF Goodrich K02. ARP racing wheel studs and nuts replace standard units. Brake discs and calipers are also standard but high-temperature brake pads have been fitted, and DOT4 racing brake fluid has been used for better race performance.
SUSPENSION
The race truck retains the standard front and rear suspension arrangement with FOX Shocks with Live Valve Technology.
OFF-ROAD PROTECTION
We've fitted a tubular front nudge bar with integrated ARB AR40 Intensity lightbar. The nudge bar is interconnected with the underbody protection system
that continues along the chassis beyond the transmission for ultimate protection. We've also included additional shielding on key suspension components to protect vehicle performance in the extreme Baja environment.
The rear section consists of a removable cage structure that integrates the race fuel cell and fuel filler, upper light bar and satellite navigation antenna.
EXTERIOR EQUIPMENT
• Perspex rear passenger windows and rear window
• Custom snorkel
• TRED Pro Recovery boards
• ARB auxiliary lighting: Intensity AR40 light bars, driving lights, exterior and interior interior work lights
• Rear facing proximity and class light, brake and taillights, flashing amber and solid blue light (class and competition dependent)
• Spare wheel "chase rack" with provision for bed-mounted spare and appropriate retention points, plus two spare wheels
• Quick jacking system utilizing off-road trolley jack
INTERIOR EQUIPMENT
• MoTeC PDM30 to control fuel system, auxiliary lighting, sirens, radios, navigation, and driver/navigator helmet ventilation system
• MoTeC C127 display for navigator
• MoTeC D153 display for driver
• Lowrance GPS system
• Support toolkit and onboard spares
SAFETY EQUIPMENT
• Safety cage designed and manufactured to Motorsport Australia, FIA and SCORE standards
• Safety cage is tied directly to the frame and body via custom mounting bobbins which replace the stock body mounts
• Driver and navigator HANS compatible race seats and harnesses
• On-board extinguisher system
• Driver and navigator window safety nets
FEATURES KEPT
• FOX Shocks Live Valve Technology functionality
• SYNC® 4 system
• Front and rear locking diffs
• Trail Control (off-road cruise control)
• Exterior cameras (four)
• Headlights, tailights, perimeter lamps
• Dynamic Safety Control
• ABS
• Climate control
FEATURES REMOVED
• Front and rear parking sensors
• Airbags
• Adaptive Cruise Control. We kept standard cruise control for the speed restriction zones on the course.
Related Stories:
Ford's Next Generation Raptor Ready To Take On The Baja 1000
The Ranger Raptor's Road To The Baja 1000 Was A Global Journey
Next-Generation Ranger Raptor Conquers The Baja 1000
Videos:
Photo Gallery:
Click the photos to enlarge.