Joined

Aug 9, 2009
Messages

65
Reaction score

6
Points

0
Vehicle Year

1995
Make / Model

Ford
Transmission

Automatic
So here is my 99 ranger that I swapped a 4.6 that I hand built into.
First off I wanna say that my number one objective during this swap was to not mod the body or frame in any way. In other words everything I did to bolt in the 4.6 was using brackets or off the shelf Ford parts so that I could theoretically unbolt this drivetrain and bolt it into another ranger.
I also have OCD and when I do engine swaps I want it to look factory when I am done.
My reason for doing a 4.6 swap vs a bolt in 302 was for a number of reasons, the 4.6 is a modern design, it is lighter, stronger, breathes better and are infinitely easier to work on.
The 302 is not a bad engine, I have one in my explorer, it is just a very old design that Ford kept upgrading until they finally designed the 4.6 as its replacement.
It also makes more power with less displacement then the 302.
The engine was from a 03 CVPI, it was basically a running core as far as I was concerned because the police beat the snot out of there cars. I paid 300 for it complete minus the accessories.
I first took it down to the bare block, had it cleaned, magnafluxed, bored, line honed, and they cleaned the deck.
I retained the stock crank because it is just fine for the power levels I will be producing. I went with forged rods and forged flat top mahle pistons.
With my PI heads I have a static CR of around 14:1, it will be a e85 only truck as I live in Minnesota and e85 is everywhere.
It uses all ARP hardware, ARP main studs, ARP head studs, ARP rod bolts and ARP flywheel bolts.
Yes its overbuilt considering it is a NA engine but that is the only way I build things.
Now for the clutch and trans, I went with a LuK gold clutch from Napa for a F150, its just a stock clutch but its actually bigger then a mustang clutch and I figure it will hold the power I will be producing just fine.
The trans is a M5OD-R2 from a f150. It was a rare find as not many 2wd 4.6 f150's were made in manual form and the v6 trans has the small block bolt pattern and is incompatible with the mod motors.
I chose this trans because it was cheap, had a hydraulic slave, and the shifter would be in the same location as before.
So the swap started off with me bolting the trans and engine together and dropping them an as a unit, yes this is not only easy but went very smoothly.
Next I bolted the trans to the crossmember using the stock trans mount and then supported the engine with a cherry picker wile I centered it and then used some steel plate to adapt the engine to the stock 4 Banger mounts.
The stock driveshaft was used and bolted right in place and slid right into the trans.
I had swapped a 8.8 in at a earlier date, its got 4.10's in it and I installed a lock-rite locker in it.
I chose to go with a hydrobooster and M/C from a mustang gt to save space and because I like hydroboosted brakes.
To get the mustang master to connect to the rangers hydraulic lines I used a adaptor fitting in the front and made a custom steel line for the rear.
The steering shaft is a semi custom piece, the lower section is from a crown Vic with rack and pinion steering, I then made a custom center shaft with a heim joint. The u-joints are from a windstar and are replaceable as the center shaft uses ford ends on it.
I made a steel plate to bolt to the firewall using the stock holes that the o.e. shaft boot bolted to in order to mount the heim joint.
The entire setup only uses 3 u-joints and are all replaceable using common Ford parts.
For the FEAD I used a Vic power steering pump and bypassed the a/c compressor using a grooved pulley on the tensioner and a shorter belt. Its a common mod in the mustang world.
The heater box was a easy mod, just cut it using a cut off wheel and built it up with duct steel and aluminium tape.
The fuel system is as follows:
High flow GT supercar fuel pump
Return style fuel rail
39 pound FRPP injectors
I ran a return line using the evap fitting on the top of the pump module, I used gates barrier hose that is compatable with alcohol fuels.
The oil filter situation was next, it was obvious I could not fit a filter in there where it was supposed to go.
The first option was to use a aftermarket relocation kit, however I remembered that certain F150's and expeditions had a factory remote oil filter setup on them.
In keeping with using off the shelf Ford parts I set out to find said setup, apparently Ford no longer makes the setup anymore so I had to get it used.
I got the filter adaptor and mount for 10 dollars and the engine adaptor for 25. Doorman makes replacement hoses and I got a set for 130 from oreillys.
Well that did not fit so I decided to go with a remote mount setup using AN fittings and braided stainless line.
As a side note I also tried the high mount setup for the P/S pump as the newer F150s use where the pump mounts to the head. This did not work however as the pump was hitting the LF forward control arm mount. This would have been nice had it worked however because it would have allowed me to use a forward pointing filter mount from a 3 valve 4.6............
So I put the Vic timing cover back on and bought a remote setup.........
The P/S lines are all -6 AN lines/fittings.
The radiator is a exploder 5.0 piece and the fan is a combination of a Vic fan and a 5.0 exploder shroud.
The PCM controls the fans high speed, low speed is not used in my case as its pointless.
The engine wiring is a combo of a Vic harness, a e150 harness and the rangers harness.....
The remote oil filter setup is a combination of a moroso adaptor plate, a generic remote filter mount and some AN lines. The bracket is custom.
The intake is just some mandrel bent 3" exhaust tubing and part of a Ford MAF sensor mount.
This is the engine bay minus the 2.5L 4 Popper
View attachment 10004
Here is the 4.6 fresh from the Junkyard
View attachment 10005
Here it is after I installed Mahle flat tops, I beam con rods, Cobra high flow oil pump and ARP fasteners.
View attachment 10006
Here is a better pic of the lower end
View attachment 10007
Once I got the engine built back up, I bolted it to the transmission using a stock F150 flywheel/clutch/slave and dropped it into the engine compartment to start building engine mounts.
View attachment 10008
I used the stock M5OD trans mount from the rangers 4 cyl trans and it bolted right to the M5OD from the F150
View attachment 10009
(Right Side)
View attachment 10010
(Left Side)
View attachment 10011
Next I made some mounts and painted them
View attachment 10012
Stock F150 starter fits with plenty of clearance
View attachment 10014
The shifter on the F150 transmission did not fit properly so I simply removed the top from the F150 Transmission and replaced it with one from a M5OD from a V6 F150 (its farther back due to the V6 being shorter)
View attachment 10013
For an oil pan that fit with NO MODS WHAT SO EVER, I simply re-used the Vic pan.
View attachment 10015
With then engine mounted next order of business was the steering……. This is the finished product but I will explain what I had to do to get it to this point.
View attachment 10016
I got a bunch of steering shaft u-joints from a junkyard as well as a few complete shafts and some cold rolled ½" steel rod and a heim joint.
View attachment 10017
The lower shaft is from a crown vic with a conventional steering setup (not R&P)
This is the plate I made to support the heim joint, this simply bolts to the firewall using the three stock bolts that held the rubber/plastic steering shaft seal/bearing.
View attachment 10018
The exhaust was next, since there is little room for manifolds and no one makes headers to swap a 4.6 into a ranger I made my own setup.
View attachment 10019
They are not headers and probably sacrifice a small amount of power but they were easy to build and were cheap, they were made with SOHC 4.6 flanges and exhaust tubing.
I them painted the pipe and wrapped most of the Y pipe with fiberglass header wrap.
Completed Y pipe
View attachment 10020
The rest of the exhaust consisted of a straight run of 3" pipe to a flowmaster and then a tail pipe I came across at my local Oreillys.
View attachment 10021
View attachment 10022
There is more then enough room for a radiator and fan
View attachment 10023
The oil filter would not fit in its normal location so I bought a Moroso adaptor plate and some SS AN lines and fittings and a remote mount filter fixture.
View attachment 10024
View attachment 10025
I had to fabricate a bracket to mount it too.
View attachment 10026
With the oil filter handled I had to modify the heater box, I just cut it up until it fit and used some sheet metal to build it back up and covered that with foil tape.
View attachment 10027
The fuel system I did not take any pics of as it was not very exciting, however I will list what I did to get it ready to support E85
I used a in tank fuel pump from a Ford GT super car (available from the dealer) And FRPP 39# injectors and a return style fuel rail with a vacuum controlled regulator.
The power brake booster is from a mustang and 3 out of the 4 studs lined up with the holes on the firewall, I simply had to move one of the studs over an inch or so.
View attachment 10028
For power steering lines I went with Teflon lined SS lines for the pump to booster and booster to rack, and normal SS lines for the return side.
View attachment 10029
All the fittings are metric to -6 adaptor fittings, I had trouble sealing the adaptor fittings to the rack and pump and what ended up working well was using some 16mm copper drain plug crush washers and some ARP thread sealant.
Just an FYI the hydrobooster needs its own separate return line, you CAN NOT simply tee into the rack return line or it will partially apply the brakes anytime the engine is running.
View attachment 10030
I just drilled a hole slightly smaller then the brass 90 degree fitting and sealed it with some RTV.
The radiator is a stock unit meant for an explorer with a 5.0, it bolted into the stock location using the stock mounts.
The Fan is a combination of a Vic fan and explorer shroud bolted together with washers as a spacer.
The hoses are actually 4 hoses that I cut and spliced together using galvanized pipe and clamps.
I originally used regular clamps but then went back and used some heat shrink Gates power clamps for a cleaner look and better sealing.
View attachment 10031
The heater hoses are just bulk hose that I inserted springs into so they would not kink.
View attachment 10032
The wiring is a combination of a engine harness from an E150, Vic, and the ranger to body harness.
I soldered all the connections and used heat shrink.
View attachment 10033
The drive belt is simply a shorter belt to bypass the A/C compressor and I installed a grooved pulley in place of the smooth one on the tensioner.
View attachment 10034
I also installed a different rear diff while I was at it, I got a used 8.8" from a junkyard with an open 4:10 carrier.
I then installed a Lock-Rite locker
View attachment 10035
After all was said and done I took it to get tuned and put down 247hp and 291Ft/Lbs or torque to the rear wheels, not too bad for a almost stock 4.6 burning E85!!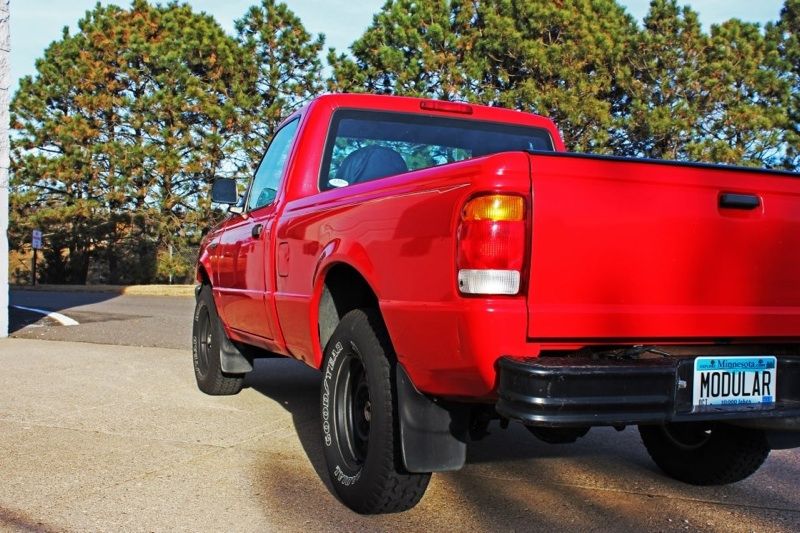 Last edited: