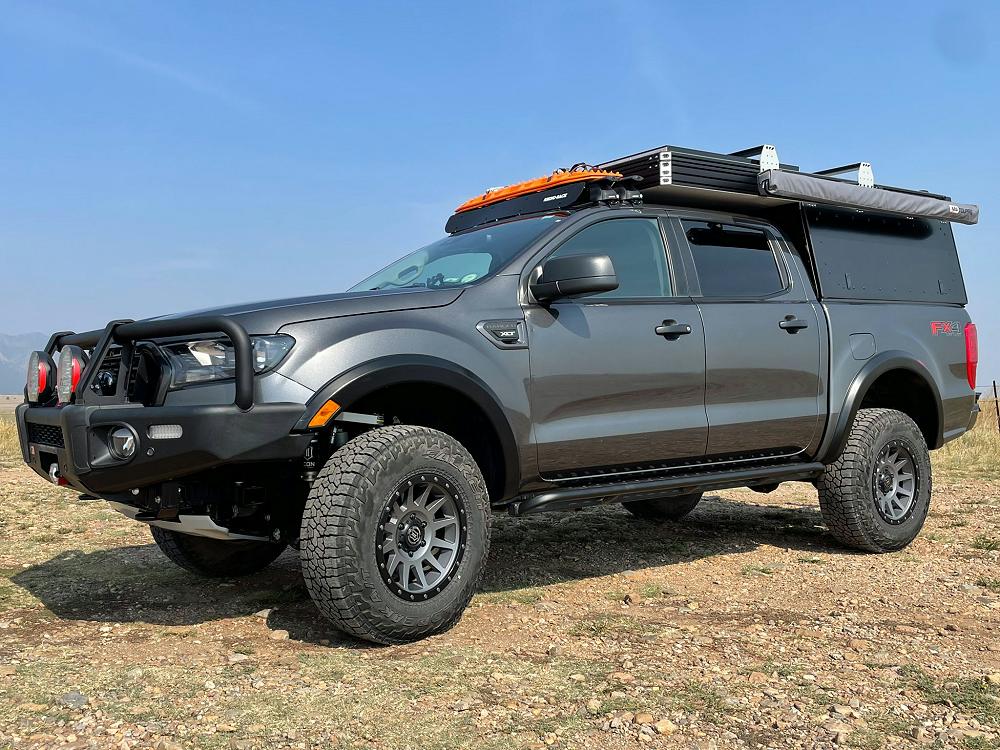 The 2019 and newer Ford Ranger equipped with the FX4 package is a great platform to build an overlanding adventure vehicle from. Especially with its electric rear locker, terrain management, trail control, and skid plates.
The 2019 Ford Ranger FX4 you see here is definitely a perfect example of a well thought out overlanding rig. Extensive work has been done to enhance the Ranger's all-terrain performance, including the addition of Icon shocks, an Old Man Emu rear leaf pack, Firestone airbags, Falken Wildpeak tires wrapped around Icon Compression wheels, an ARB bullbar, driving lights, Shrockworks sliders, a Warn winch, Bushwacker OEM fender flares, and more. Overland accessories include a custom-made camper shell, ARB awning (including the ARB awning tent), two roof racks, one 100-watt solar panel, a Redarc BCDC1225 charger, 100-amp-hour battery, custom-built kitchen slide, Dometic fridge, Coleman Triton two-burner stove, and a 13-gallon freshwater tank. The cab remains largely stock but features Husky floor mats, a BuiltRight Industries tray to mount accessories, and a Midland GMRS radio.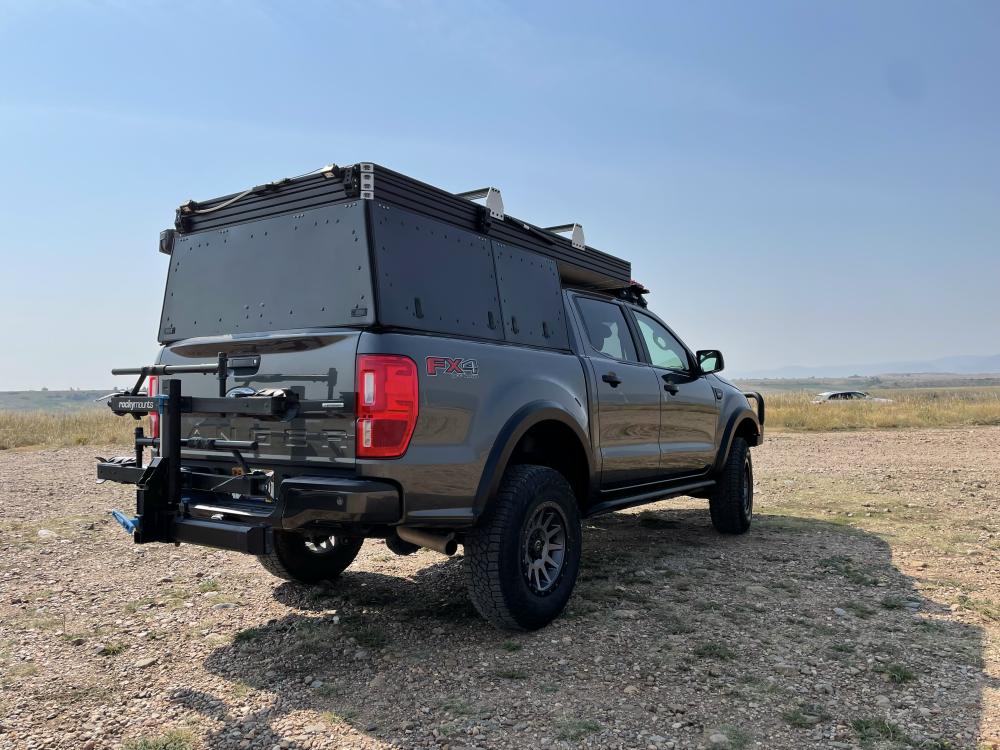 Specifications:
The Truck:
2019 Ford Ranger Crew Cab XLT Trim with 302a, FX4, tow package and sports appearance packages (Heated electric adjustable driver and passenger seats, rear locker, off road screen and terrain management).
38,000 miles – Will continue to increase a little as it's my daily
Up to date on all maintenance – Serviced at 5k intervals with full synthetic oil. Only ever serviced at one trusted Ford dealership for the life of the truck.
Overall excellent condition inside and out. Inside shows minimal wear and is meticulously cleaned post trips. Outside is also in great condition except for a few paint chips around the front wheel wells and two small dents on the driver side (see photos) overall I would consider these usual marks from a truck that gets used off-road and in no way a concern for a prospective buyer. The overall condition of the truck is a testament to how well it has been looked after over the last two years since we picked it up off the lot brand new.
One of the best things about this truck is the powertrain. Fully built out and loaded up the truck has ample power pulling up the mountains of Colorado effortlessly. Additionally, it does it all fairly economically as well. We average around 18-20 mpg on trips with camper on and fully loaded up.
The Truck Build:
Icon stage 4 2.5 remote res coilover kit on the front. Springs adjusted to account for weight of bumper and winch
Icon billet UCA's
Icon Compression +25mm 17×8.5 Wheels
255/80r17 Falken Wildpeak tires with factory TPMS. True 33" tire whilst keeping weight to a minimum. Huge fan of the tall skinnies. Comfort, drivability and fuel economy of this truck all support that.
255/80r17 Spare on factory spare wheel
Old Man Emu mid weight leaf pack on rear with greaseable shackles / bushings
Firestone airbags and daystar cradles
The OME leaf pack and airbags are a perfect combination in my opinion. If running the camper empty take the air out of the bags and it rides perfect. If the camper is full or the dirtbikes are on the trailer behind, put a few pounds in the bags and it firms everything up and levels the truck out perfectly. Shrader valves are run to the rear of the truck to easily adjust airbag pressures.
Icon remote res 2.0 shocks round out the rear end
ARB summit deluxe bulbar up front with LED fog lights
ARB Solis Driving lights (1spot, 1 fog) also include clear and amber protective covers
Factory FX4 Skid plate reinstalled under ARB bumper for clean look and decent protection
Shrockworks Sliders bolted up to the frame offers a clean look and excellent protection when off-road
Warn VR10s 10k winch with Synthetic line and Factor 55 Flatlink E
Bushwacker OEM fender flares offer great coverage from the increased offset of the wheels, help to protect from stone chips and looks sleek at the same time.
Rhino Rack Vortex roof bars x2
Spray in Bedliner
Maxtrax x2 mounted to the roofbars
Inside of the truck is fairly stock with the addition of Husky floor mats front and rear since day 1, the ARB Solis driving lights switch, Builtright industries tray to mount accessories to and a Midland GMRS radio which can be easily removed if needed.
The Camper and Camper Buildout:
For full transparency, the wedge style camper is a DIY project and not a purchased product. With that said, it is extremely well built and receives a ton of compliments with the greatest being that people do not believe it was a DIY job. The camper was built for this truck and matches it perfectly with a low profile above the cab of the truck and clean lines on the sides. The camper is as waterproof as any truck cap out there and all doors have double bulbed seals to prevent the ingress of dust and water. The doors are all keyed alike, are reinforced for durability and have gas struts for easy opening. The tent portion is a 600D waterproof fabric with an additional waterproof membrane added. The tent portion has two windows, one at the back which fully opens and has a zipper bug screen and awning. The driver side window has a zipper opening and fixed bug screen. The camper fits an Exped Megamat duo LW+ and is included in the sale.
There is an ARB awning on the driver side which has adjustable warm colored led lights that plug direct into the camper
ARB awning tent for an optional full enclosure.
The camper also comes with two roof racks which hold our ski box.
The camper Electrical System includes a 100w solar panel running to a Redarc BCDC1225 charger and is monitored by a Victron Battery Monitor with Bluetooth. The Redarc is also connected to the truck battery for easy and rapid charging whilst driving. The power is stored via a 100AH house battery. There are x3 National Luna adjustable bi-colored lights (white and red) inside the camper which are perfect for visibility inside or cooking at the tailgate. The camper also includes several charge ports (both USB and 12v cigarette) as well as a dedicated 12v run for the fridge. Outside lighting is made easy by two KC Hilights camp lights that are run via a relay and switched in the camper.
The kitchen and living portion of the camper consist of a false floor to support a 48" sliding drawer to store ample amounts of gear. Custom built kitchen slide utilizing a ClearView Expanda fridge slide which houses a Dometic CFX3 IM55 fridge with insulated cover, Coleman Triton two burner stove and cutting board / prep area all permanently fixed to make cooking food a breeze. Just slide it all out and away you go! The main slide is 500lb rated and double locks so no stability issues when fully extended. Rounding out the living quarters is a 13 gallon slimline fresh water tank at the front of the truck bed which is accessed via the passenger side hatch.
Photo Gallery:
Click the photos to enlarge.