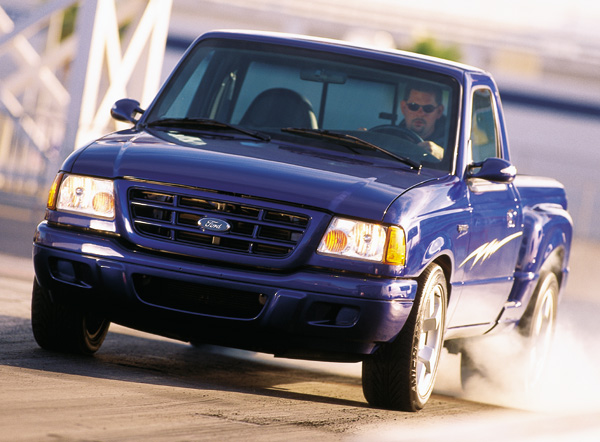 Now we're all familiar with the automakers' practice of building wild, one-off vehicles for the auto show circuit. Most are just flashy come-ons, designed to excite show-goers, while a few are thinly veiled looks at upcoming production models. But still others are hot-rodded versions of existing designs, and it's often this last type that stirs us the most. And whenever we get a chance to see one of these dream cruisers, we can't help but ask the question: What if?
Fortunately for us, our old friend John Coletti, Chief Engineer for Ford Special Vehicle Engineering, thinks the same way we do. He's the man behind the Ford SVT Focus, the SVT Lightning pickup and the latest Mustang Cobras. He's also been known to unleash some pretty wild concept vehicles, most notably the astounding orange Boss 604 Mustang through which we first met him.
But John and his SVT team recently took on a different project. They looked at the potent F-150 Lightning pickup and asked themselves "What if the Lightning had a baby brother?" And thus was born this one-of-a-kind, snarling Sonic Blue beast called the "Lightning Bolt". Now, you've got to be thinking: "What if I could drive that?" Well, what would you do? Would you take the Lightning Bolt out for a Friday evening cruise? Its aggressive stance and custom paint would be sure to draw stares as you claim a primo spot at the local hot rod hangout. Face it, most of these guys have been seeing the same cars every Friday night for years. So anything new is worth a look, right?
Rolling through the lot, the first thing people will notice is the Lightning's alloys, narrow up front with 235/55-18" Michelins. Behind you, a massive set of 345/35-18 inchers on custom 12 , " wide rims leave no doubt that this is no ordinary Ranger pickup. The truck idles quietly. There is a slight rumble to leave 'em guessing, but that could be just be one of those huge exhaust tips, right? In fact, the Lightning Bolt makes its thunder through a set of 2" headers feeding a 3" dual exhaust setup with Borla mufflers. One crack of the throttle, and heads are beginning to turn your way, and you'll soon find yourself describing the Lightning Bolt to a lot of curious people. And they'll certainly be curious to know how a Ranger wound up with a supercharged 5.4 liter V8 under its hood.
To accomplish that, SVT engineers lowered the Ranger's front suspension by two inches. Lower control arms and steering knuckles from the F-150 Lightning were added to beef up the Ranger to accept the heavier powerplant. It all fits under a stock Ranger hood, but the transmission tunnel and bulkhead are slightly reworked for clearance. A modified induction system and the free-flowing exhaust boosts engine output to an estimated 420 horsepower and 480 pound-feet of torque.
Well, talking numbers is nice, but this truck was obviously built for action. Maybe next you could take a tour of the stoplight Grand Prix circuit. Nah, there's no sense in scaring the locals, or drawing any attention from the law. No, what this truck needs is a few runs down the drag strip just to blow the cobwebs out of it. Now, rather than take center stage at the local Saturday night drag races, you might prefer a nice empty track, to keep the fun all to yourself. At full throttle, the Lightning Bolt becomes a deafening roar of mechanical mayhem. What better way to spend a sunny morning than by practicing your hole-shots? Or maybe burning up a few hundred dollars worth of rubber running the quarter mile in 13.5 seconds at 101 mph! Of course, doing burnouts is fun, but getting rid of the evidence afterwards is not. But while you're under the truck, be sure to check out the custom fuel cell fitted between the boxed and cross-braced frame rails. That driveshaft and rear axle are taken directly from the F-150 Lightning, but both needed to be shortened. You'll notice also the gas-filler is moved to the inside of the bed, along with the battery.
Inside, custom leather seats with embossed lightning bolts await your next adventure. The cabin itself is sparse, but nicely detailed with body-color door inserts and a few novelty accents, just for the heck of it.
Perhaps you'll take a drive in the country, rev up the engine, and scare a few cows. Or maybe you'll just park it, stand back and admire the engineering audacity that brought this Frankenstein to life. The Ford Lightning Bolt Ranger will probably never see a production line, but it suits us just fine as a concept. It questions the conventional, embodies our darkest automotive fantasies, and provides the ultimate answer to the question: What if?
Specifications:
Vehicle: 2002 Ford Ranger Lightning Bolt
Engine: 5.4 liter supercharged V8 – 420 hp & 480 lb-ft torque
Transmission: 4R100 automatic
Rear Axle: F-150 Lightning 9.25-inches, narrowed 10.75 Inches, 3.73 gear
Wheels Front: Stock Lightning, narrowed to 8 inches
Wheels Rear: Stock Lightning, widened to 12.5 inches
Tires: Michelin Pilot, 235/40/18 front, 345/35/18 rear
Weight: 3,800 pounds
Performance: 13.6 @ 108 mph
Photos: