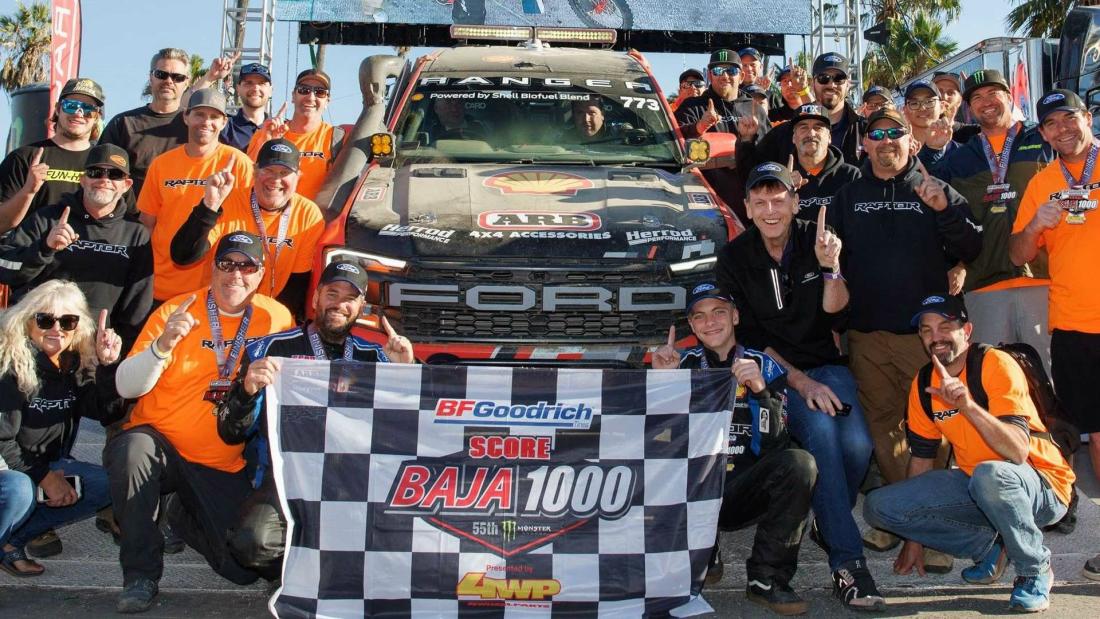 The next-generation, race-prepped, stock next-gen Ranger Raptor finished the SCORE-International Baja 1000 atop the stock classes, then drove on public roads back to its base in Riverside, California after the race.
The nearly flawless Ford Performance global effort was powered by a low-carbon biofuel from Shell, demonstrating that commitment to sustainability does not require compromising performance.
RIVERSIDE, Calif., Nov. 20, 2022 – A next-generation Ranger Raptor, race-prepped but remaining stock and street legal, finished the SCORE-International Baja 1000, one of the world's toughest and most prestigious off-road races, in first place amongst the stock classes, then drove back to base in Riverside, California.
"This is the Baja 1000, one of the toughest off-road races in the world," said Mark Rushbrook, Global Director, Ford Performance Motorsports. "It's a key providing ground for Ford Performance for our vehicles to earn the badge of Raptor. This effort has been a global effort for Ford Performance from the beginning, with Ford Australia having done the design & initial development signoff, then shipping it to the States and working with all of our partners to pool all available resources for this common goal. It takes a great truck and it takes great people. We've proved that we have both of those on a global level."
"What we had was a really good global team working with a really good global truck in Ranger," said Brian Novak, Motorsports Supervisor, Ford Performance. "Ford Performance Australia put their heart and soul into this project with Kelly Racing to start us off. When we took it over on the North American side with Lovell Racing and Huseman Engineering, it all came together seamlessly. There's just so many people that came together to do this, and I couldn't be prouder."
"It's truly awesome," said Brendan McGinniskin, Motorsports Supervisor, Ford Performance Australia. "Spending the night out there chasing the truck was something I've never experienced before, and it was such a different experience of going racing. It was so cool and wouldn't have been possible without all of the expert chase crews we had out here. Everyone pulled together and not even the few tense moments we had were going to stop us from crossing the finish line together."
The nearly flawless run at the grueling desert test was powered by a low-carbon biofuel from Shell, which was fed seamlessly into the next-gen Ranger Raptor's stock powertrain as it traversed hundreds of miles of desert terrain with only basic maintenance and system checks alongside the refuel stops.
"This effort showed that there's no compromise in performance," added Novak. "We're here, finishing the Baja 1000 and winning our class, all on a biofuel. It's so impressive that this was all done on a stock Ford Performance powertrain, too. It's been exciting to work with Shell on this project."
The race team, managed by Baja legend Curt Leduc, saw incredible stints at the hands of the four driver/co-driver pairings of Brad and Byam Lovell (Lovell Racing), Jason Hutter and Paul Blangstead (Fire Guys Racing), Loren Healy and Eric Davis (Fun-Haver Off-Road), with ARB's Andy and Danny Brown anchoring the race.
"Coming all the way over here and entering this event has been on our bucket list for years and years, said ARB Managing Director Andy Brown. "It never came together before, so to be here with Ford has been just fantastic. The Ranger Raptor? Unbelievable, what a truck. It feels ready to go again. I can't believe how reliable it was, how strong, how stout, how it handles, how it goes, how it stops. It's just the complete package. The track? Hell. It was rough and we did pre-running but honestly the track was so cut up and different that we felt we were tackling it for the first time. But a challenge is what we came for, and the group we came here with, and the truck, were perfect for it."
"We're off-roaders at heart, so this is very big for us," said Danny Brown, Regional Export Manager, ARB. "Dad's been racing for probably 40 years, I've been racing for 20-odd, I think. This is a pinnacle of our sport, for sure. Physically, this is about as tough as it gets and it's a big honor for us to come over here and drive for Ford. To help this great group of drivers get to the finish on this extremely rough and demanding course, every piece of the puzzle had to be perfect."
The Ranger Raptor race truck finished the race without any major incidents or repairs and took the checkered flag in such good condition that the Ford Performance team decided to drive the vehicle back to its base following the event, paying tribute to the 2017 Baja 1000 effort with a stock F-150 Raptor, which similarly drove home following the legendary off-road racing test.
DISCLAIMER
1 Race-prepared Ranger Raptor is not available for sale to the general public