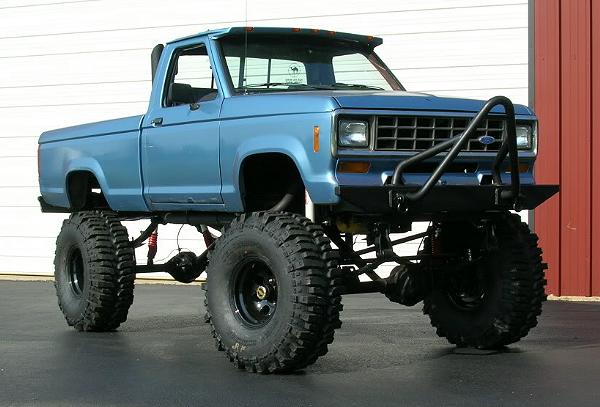 This 1988 Ford Ranger 4×4 is owned and built by Rich Dunning of Smyrna, DE.
Here is a break down of the vehicle as provided by Rich:
Engine:
1999 Cummins 4BTA Turbo Diesel (pulled from a commercial box truck)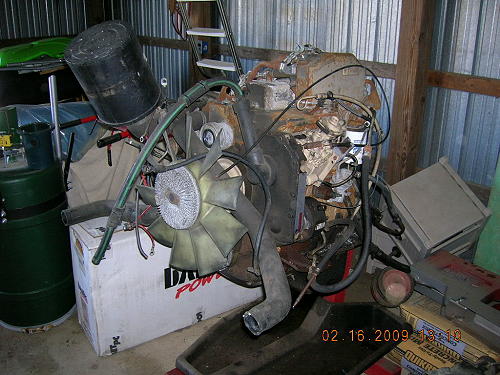 (Cummins 4BTA Turbo Diesel)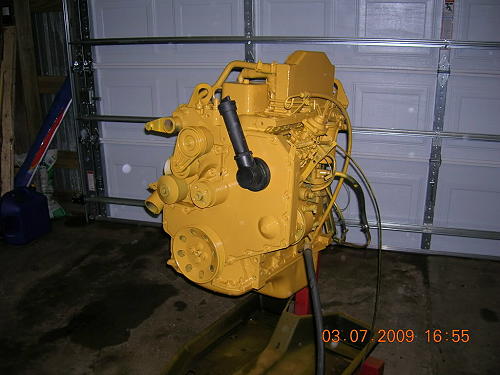 (All cleaned up and painted)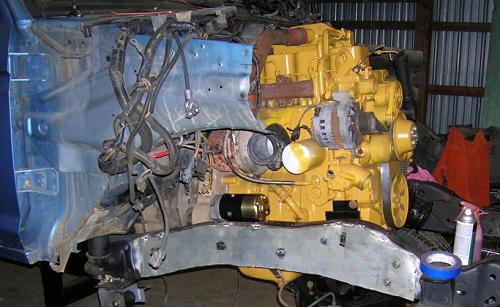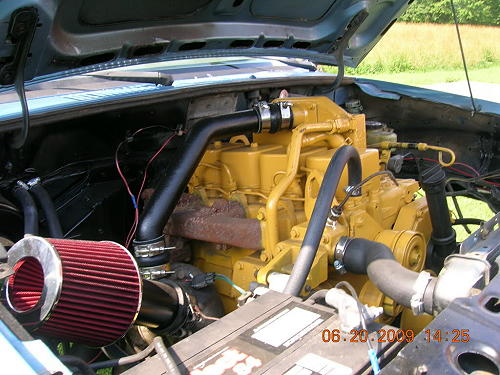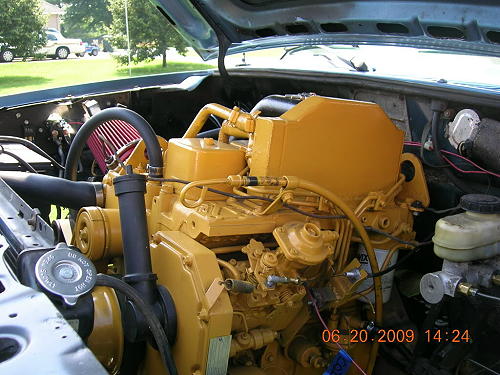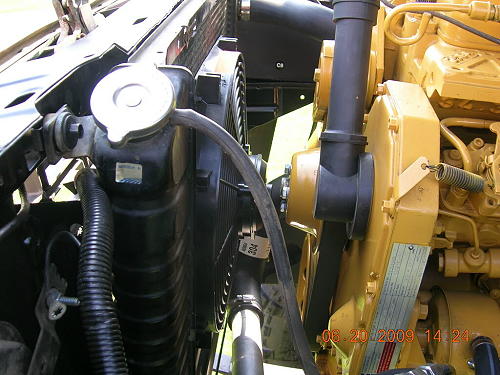 Transmission & Transfer Case:
1988 Ford F150 M5R2 (5-Speed OD)
Transfer Case – 1988 Ford F150 BW1356
Adapter for transmission bell housing to 4BT – Cummins NOS from a Ford application.
Flywheel – Cummins NOS from a Ford application
Clutch, pressure plate – standard Ford truck 11-inch
Pilot bearing – 6206 rs
Slave cylinder – 1988 Ford F150
Clutch Master Cylinder and line – 1988 Ranger
Transmission cross member- fabbedd from 2-inch tubing, 1/4-inch plate, and a standard Ford truck transmission mount
Motor Mounts:
Four pieces of 2-1/2 inch steel angle, two welded on each side of the frame rails and two mounted to the motor with a Dodge truck rubber mounts sandwiched between the two sections of angle on each side. Had to cut out a section of the factory cross member to clear engine oil pan.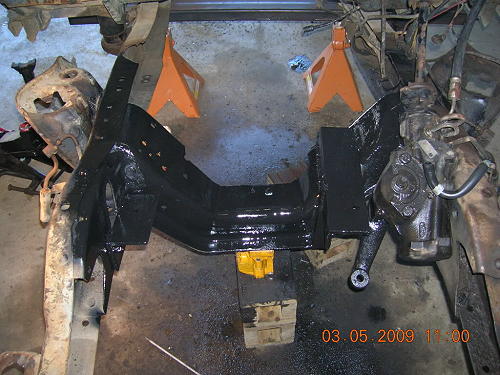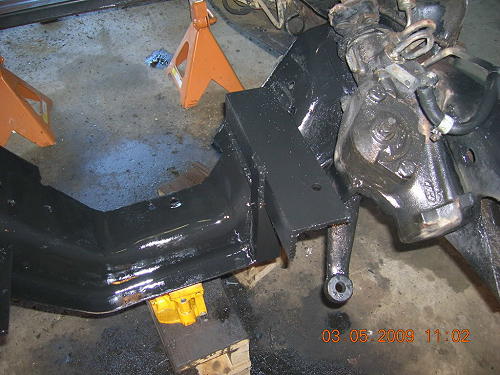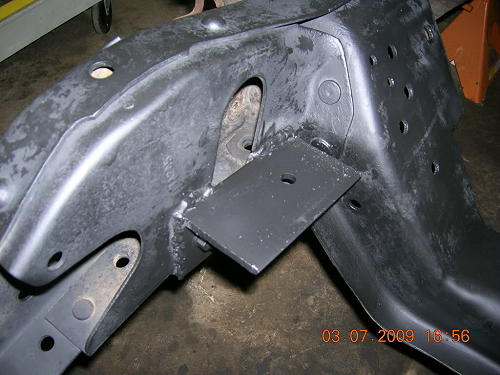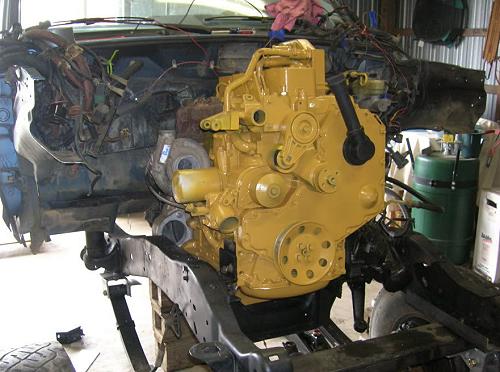 Front Axle:
Dana 44 from a 1986 Jeep Grand Wagoneer, non CAD axle
Rebuilt hub to hub with all new parts, including Warn hubs, chrome molly axles, 4.89's, Detroit locker, Chevy flat top knuckles, Ballistic Fab high steer arms
Front drive shaft- home built utilizing square tubing with grease fittings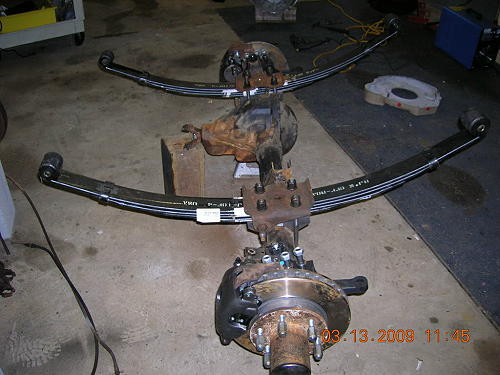 (Dana 44 Front Axle)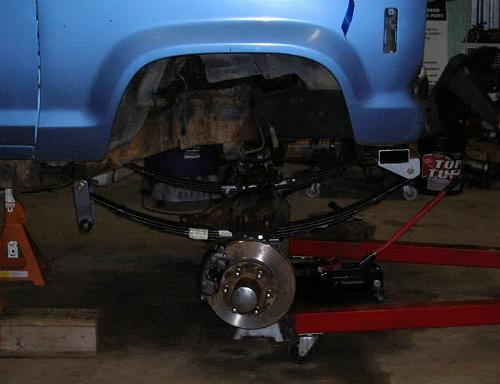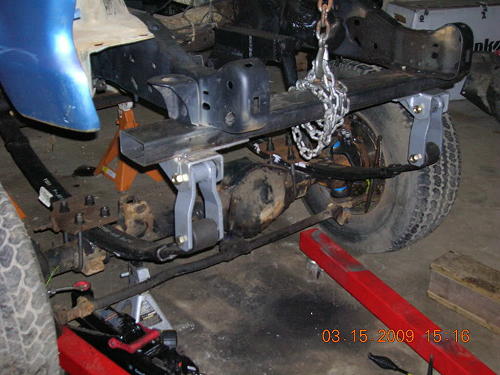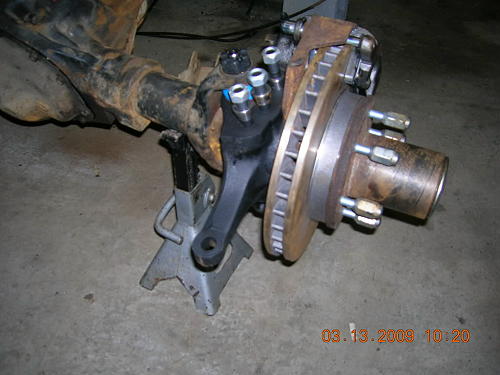 (High Steer)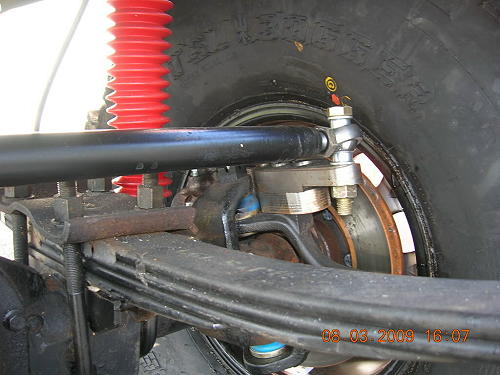 (Drivers Side Steering)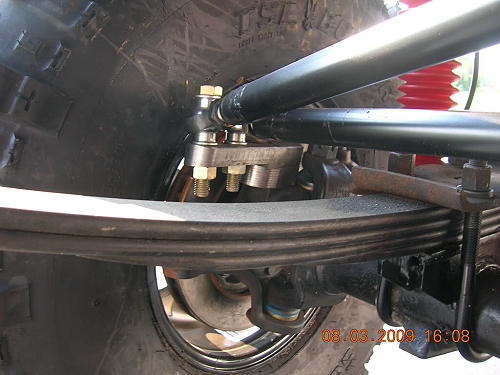 (Passenger Side Steering)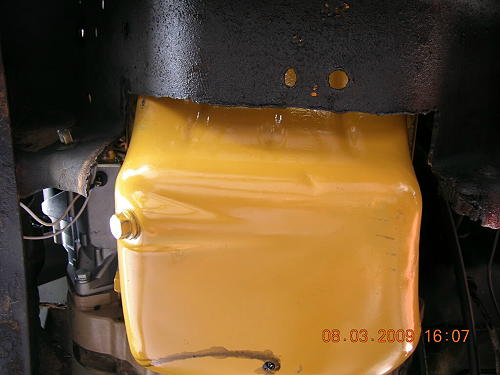 Rear Axle:
Dana 44 from a 1986 Jeep Grand Wagoneer, Rebuilt hub to hub with all new parts, including chrome molly axles, 4.89's, Detroit locker, Rancho RS5000 shocks,
Ranger 6" lift springs
Ruff Stuff Dana 44 spring pads
4" blocks
Bell Tech Chev shackles
New Ford spring hangers
Ruff Stuff shock mounts
Rancho RS5000 shocks
Rear drive shaft- standard shaft made at a driveshaft shop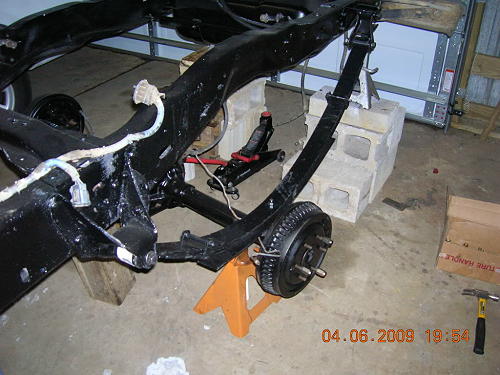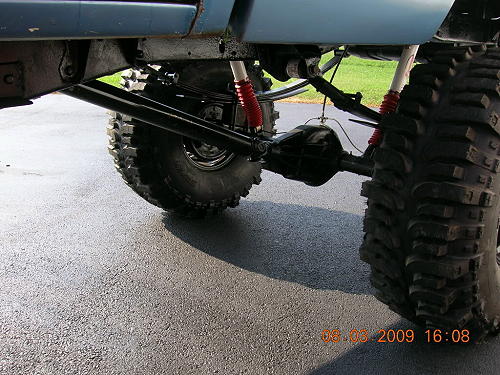 Suspension:
Steering assembled with DOM tubing and ballistic fab rod ends
Front springs- BJ's Off Road, 6" lift for Wagoneer, mounted over the axle
Custom spring hangers and cross members
Shackles- BJ's Off Road for a Wagoneer
Ford F250 shock towers
Jeep Wagoneer extended SS brake lines
Rancho RS5000 shocks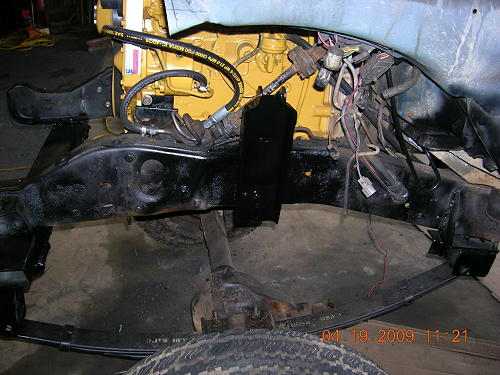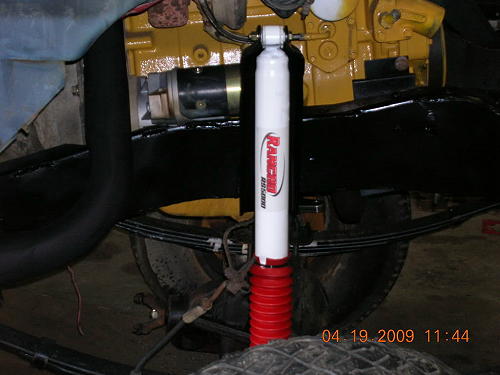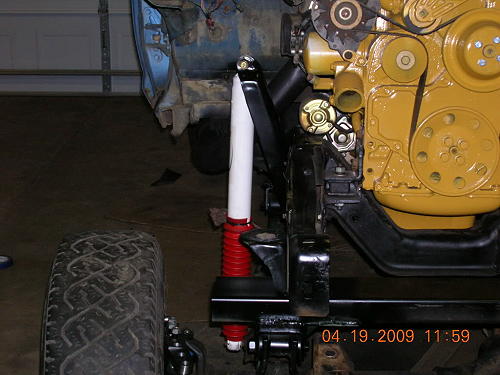 Exhaust:
Custom built 3" turbo down pipe to a Summit Racing SS flex joint 3" tubing to bed mounted 4" single stack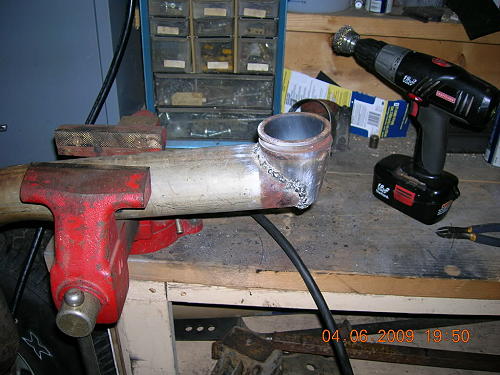 Air Intake:
Off the shelf conical filter from Autozone and a 4" SS 90 elbow
Electrical:
Factory Cummins alternator was able to be hooked up to the factory Ford wiring harness. Starter wires hook up as any standard starter utilizing the Ford solenoid on the wheel well
Only other wiring required was a keyed hot to the injection pump
Fuel System:
Installed a rear mounted fuel tank, NOS from a Bronco II
New supply and return lines from the tank to the lift pump (no need for any electric pumps, the Cummins lift pump supplies all the fuel the engine needs)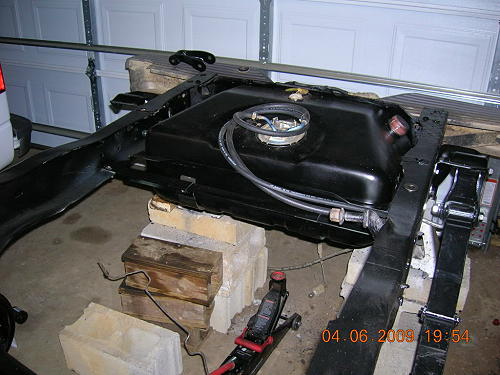 Frame:
Cleaned frame with wire wheel and chemical wash then painted with Rustoleum.
Added 1/4″ steel plating on both sides of front frame rails; unsure if needed but couldn't hurt.
Cooling System:
Ford truck V8 radiator
Assorted hoses/elbows and 2.5" exhaust tubing
Summit Racing electric fan
Gauges:
Mechanical oil pressure and water temp, same as used on original v8 swap, was able to adapt them to the Cummins block with couplings from NAPA
Ranger mechanical speedometer connected to Transfer case
Misc:
A 3" body lift was necessary to avoid having to cut the hood
The factory HVAC blower box on firewall had to be modified
Everything that was welded to the frame was also drilled and bolted with grade 8 hardware and locktite for extra security.
Every fastener also got locktite due to the vibrations of the diesel
Factory Cummins power steering pump, custom made lines, BMW power steering reservoir
Brakes:
Brakes are factory Jeep Wagoneer, front disk, rear drum
Extended SS brake lines from BJ's Off Road
All new hard lines from Napa
Adapted Ford lines to Jeep with fittings from Napa
Electric Vacuum pump used to provide vacuum to brake booster.
Tires and Wheels:
38.5×15.5×15 Boggers
15×10 Pro Comp Alum 8069's 6 lug
Front Bumper:
2x6x1/4 steel tubing, angle cut the ends and plated, front stinger is from a Jeep Wrangler.
Future Plans:
Swap out the BW1356 for an NP205 with a clocking ring for better driveline angles
Matching rear bumper with a swing away tire carrier