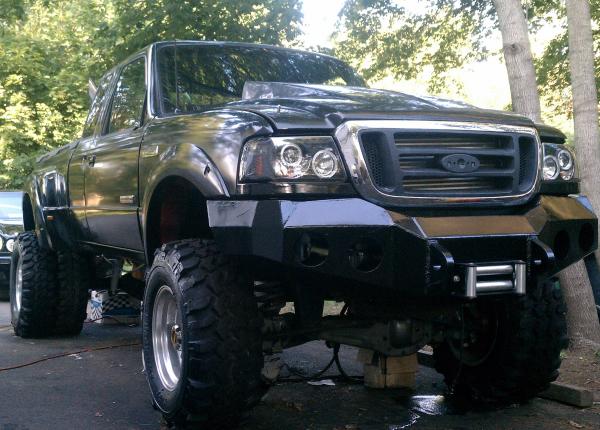 Billy Diesel is a member of our forum and has been building this impressive dually Ranger.
You would probably never guess that there is a 7.3L turbo diesel lurking under that hood, or that one could even fit in a Ranger, but there's one living in this Ranger.
Billy started out with a 1995 Ranger with a steel stepside bed. He cut off the bedside but left the top rail, as well as the section on the side where the front step would be on a splash style bed. He then added a fiberglass splash style stepside after cutting off the front step, and molded it to the existing front bed section and the top rail.
Billy retained the Dana 35 front TTB Axle, but used Dana 44 knuckles and 3/4 Ton Chevy 8-lug components from the spindles out.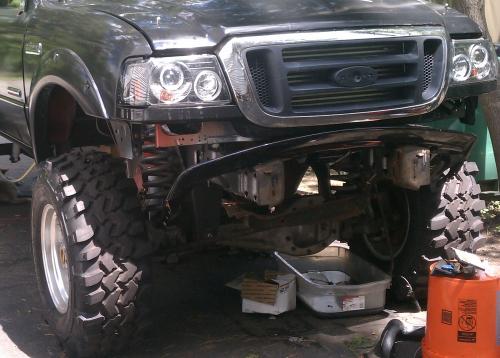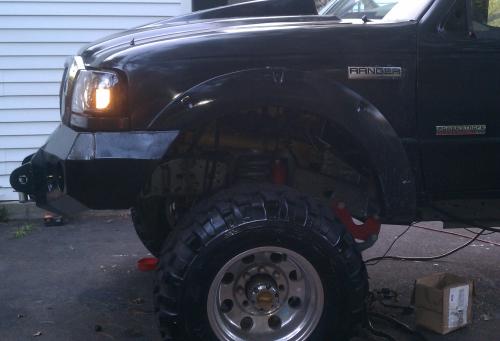 The rear is a Dana 70 from a 1981 F-350 with a disc brake swap.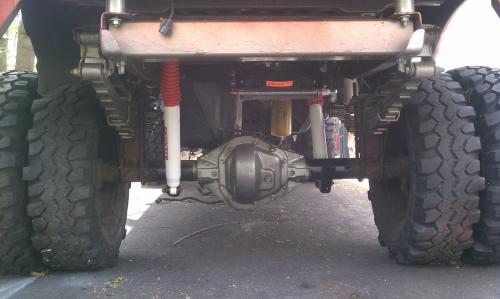 For the front clip, Billy installed new fenders, radiator support, and header panel to give it a newer body style look. The newer radiator support can fit a bigger radiator tucked inside of it.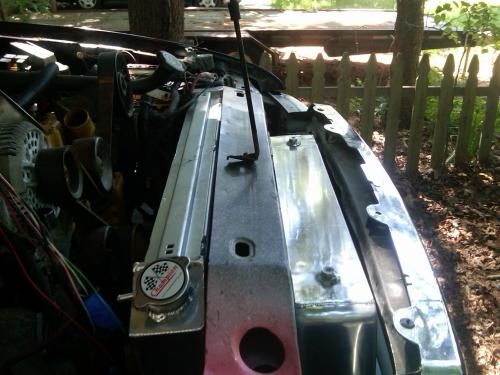 The radiator is a 1970's Pontiac Firebird 4-core aluminum radiator purchased from Champion off of eBay. It's 32″x18″ with (2) fans and guaranteed to cool 900 horsepower.
The front bumper was made from scratch. Billy made cardboard templates until the desired shape was achieved, and then transferred the shapes to steel plate.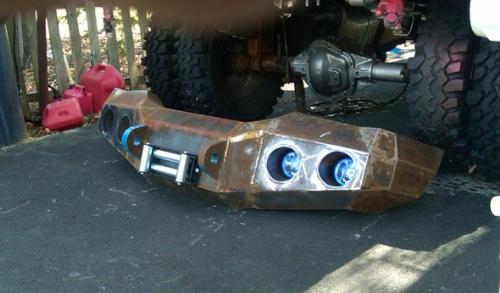 Billy had to rebuild the firewall to get the 7.3L Powerstroke to fit. The firewall was covered with sound dampening material and carpet. You can see the firewall extension under the dash in the photo below. The firewall had to be moved back for oil pan clearance and weight transfer. The engine sits back enough to use the mechanical fan, but Billy is using twin electric fans.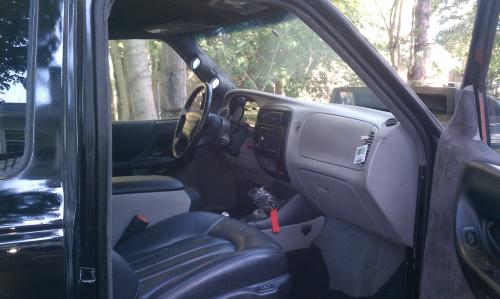 Here's the massive 7.3L Powerstroke Diesel. The hood required a hood scoop to fit the tubes for the turbos.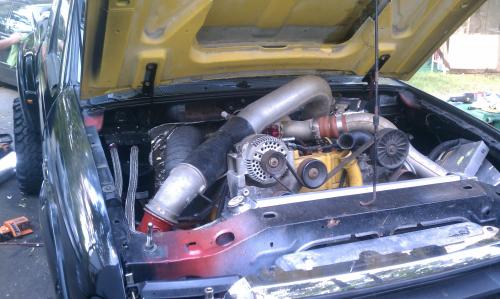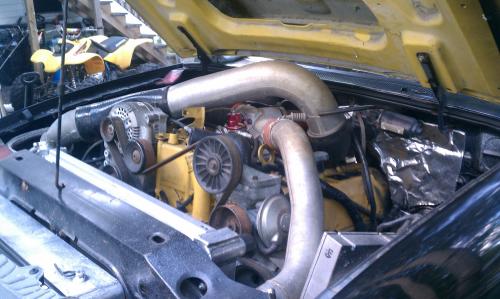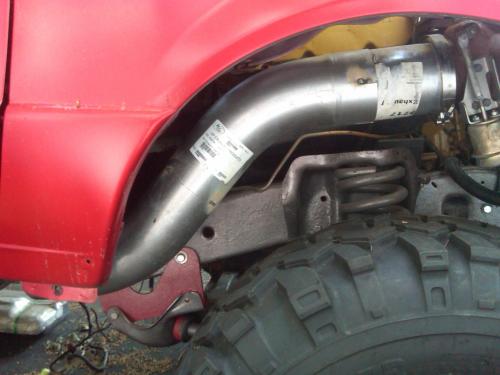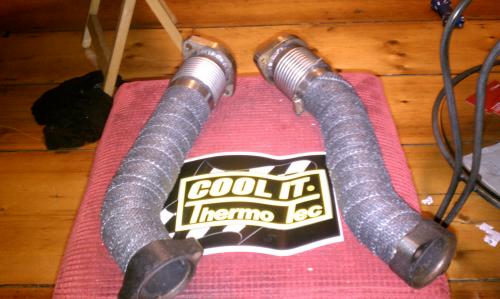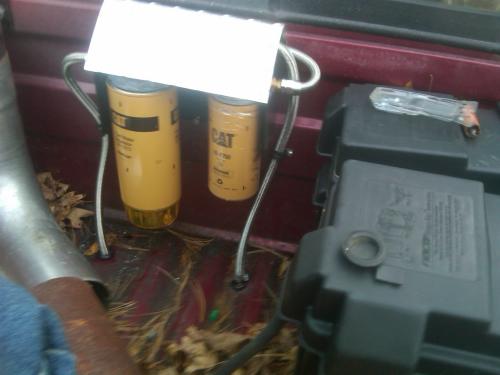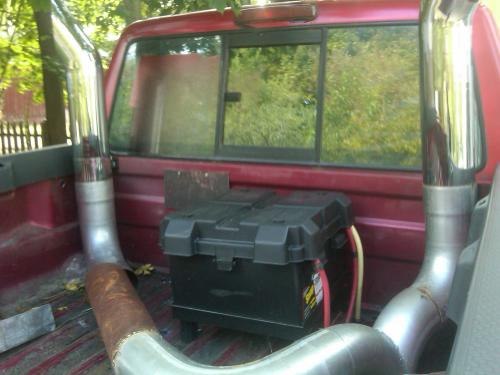 Here is the rear mounted transmission cooler and external filter. Billy got all his hydraulic lines at Tractor Supply since their very reasonable and available off the shelf. The transmission is a rebuilt E4OD.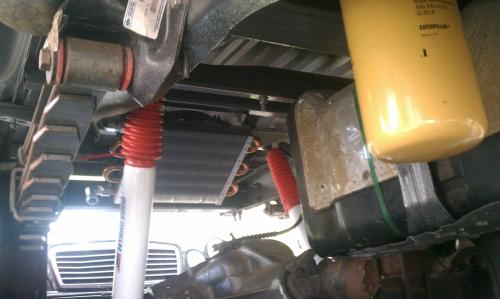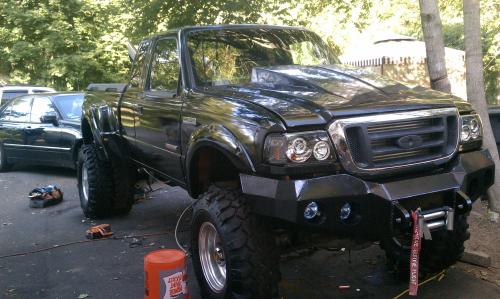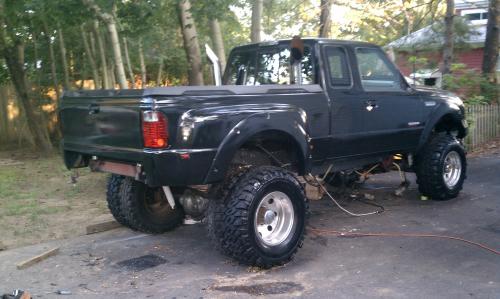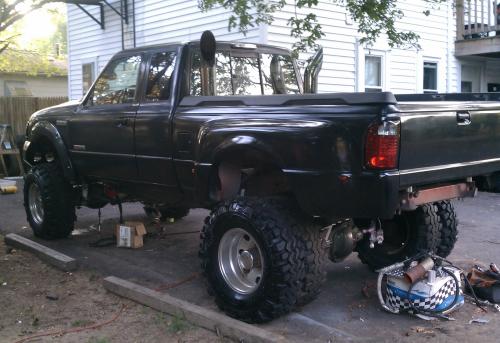 You can find more photos and information below:
Twin Turbo 7.3L Powerstroke Ford Ranger Dually