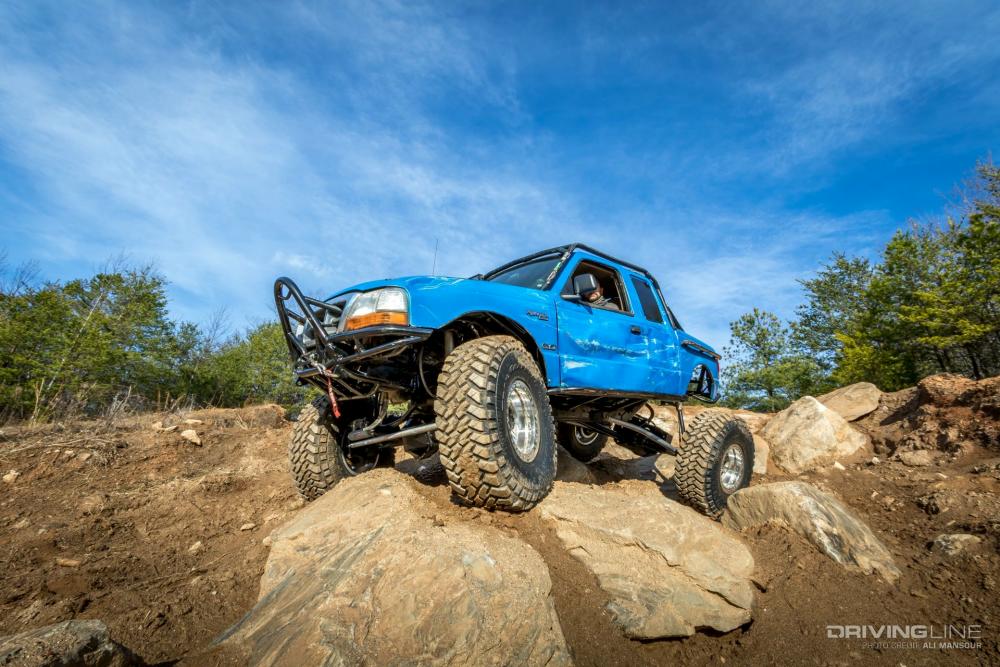 When it comes to a truck with nine lives, none may be a better example than Jody Treadway's 1999 Ford Ranger. Purchased a little over three years ago in a semi-built but slightly rough condition, it wasn't until the Carolina Axle and 4×4 shop owner got his hands on it that the truck would really spring to life. Having a drive to do some of the hardest trails in the Southeast, and the know-how to build serious 4x4s, Treadway took the Ranger and transformed it into a buggy-chasing, Mustang-powered monster.
We recently caught up with Treadway as he was blasting around one of his local stomping grounds, the Flats Off-Road Park in Marion, North Carolina. While the video above will give you a great insight into how this beast of the pickup works, below, we'll dive a little deeper into the details.
Since Treadway wanted more punch when he put down the skinny pedal, he dropped in a 5.0L Ford V8 from RoHo Racing Engines. The 425 horsepower engine has an 11.7:1 compression ratio, Probe SRS forged pistons, Trick Flow heads, LS valves with Scorpion roller rockers, and an Edelbrock Performer intake manifold. BBK headers allow the engine to breathe freely, while a radiator from a Ford Explorer was paired with an electric fan from a Volvo to keep things cool.
Long gone is the truck's original independent front suspension. In its place is a more durable high pinion Dana 60 front axle. Adding beef to the 1-ton diff are 5.13 gears mated to a Yukon Grizzly Locker, axleshafts from East Coast Gear Supply and Yukon Super Joints. To ensure steering wouldn't be an issue off-road, a PSC Motorsports fully hydraulic steering cylinder was mated to an Ironman 4×4 Fab aluminum tie rod. Other front axle upgrades include a Solid steering knuckles, Four Wheel Supply steering arms and knuckle tie-in kit, and rod ends and heavy-duty brackets from Barns 4WD.
Tucked neatly out of harm's way is a C6 automatic transmission and Advance Adapters Atlas II transfer case. The gear-driven two-speed case has a 4.3:1 low range ratio for increased crawl control in the rocks. The tube chassis out back and upfront was crafted by the original builder Chris Paiva.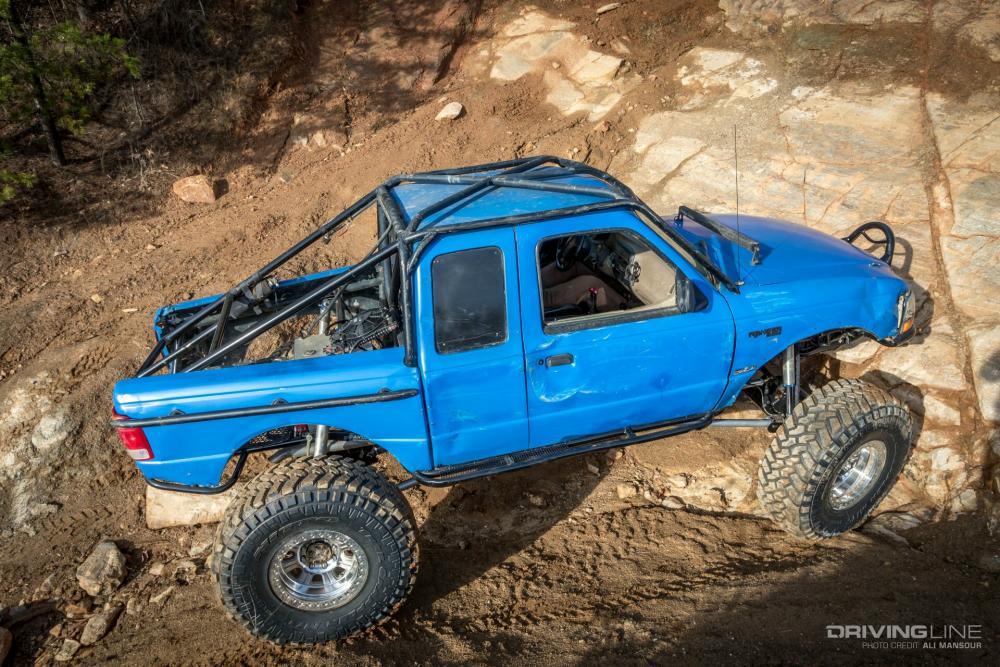 Putting a little GM in the Blue Oval masterpiece is a 14-bolt rear axle. To provide a little more ground clearance, Treadway shaved the bottom of the diff, using one of Barns 4WD 13-bolt conversion covers. Inside, the full-float axle's assembly is fit with Yukon chromoly axleshafts, 5.13 gears and a Detroit Locker.
A triangulated four-link using 2.00 x 3/8-inch DOM lowers and 1.5 x ¼-inch wall uppers secure the rear axle in place. A Currie Antirock sway bar adds a touch of stability, while 14-inch-travel 2.5 Fox air shocks suspend the rig. Since driveshafts are often at the mercy of the terrain below, Treadway had a custom ¼-inch wall rear 'shaft built by Oliver's Driveshafts.
Getting power to the ground are 40×13.50R17 Nitto Trail Grapplers. These meaty mud-terrain radials are mounted on 17×9 Raceline beadlocks. Given the mud-soaked and rocky conditions this truck frequents, the setup has proven to be extremely effective at finding grip.
Inside, the stock bucket seats were ditched for a more secure set of PRP suspension seats, while Auto Meter gauges are used to aid the stock cluster. Beside the Art Carr shifter you'll find a pair of CNC cutting brakes. For our more eagle-eyed readers, yes, those are road-bike drink holders.
Feeding the Mustang V8 is a RCI 15-gallon fuel cell. Also housed out back is the B&M transmission cooler and Auto Zone battery.
The 115-inch wheelbase and 4,525-pound weight allow the Ranger to stay nimble and stable on the trail. In case the belly does see daylight, a custom 1¾-inch, 0.120-wall DOM exo-cage will keep the occupants safe.
'Wheeling hard trails in the South can be brutal on sheetmetal. Treadway's Ranger is testament to that fact. While he could easily have converted the Ranger to a more buggy-like vehicle, Treadway enjoys the uniqueness that is the extended-cab Ranger. Even with the high-clearance front end and dovetailed rear, you'd be hard-pressed to find a dent-free panel on the little blue pickup.
Specifications:
| | |
| --- | --- |
| Vehicle | 1999 Ford Ranger |
| Engine | 5.0L Ford V8 |
| Transmission | C6 |
| Transfer Case | Atlas II (4.3:1 low range) |
| Front Axle | High-pinion Dana 60, Grizzly Locker, ECGS axleshafts, ECGS drive slugs, 5.13 gears |
| Rear Axle | GM 14-bolt, Detroit Locker, Yukon chromoly axleshafts, 5.13 gears |
| Suspension | 3-link front w/track bar, triangulated 4-link rear, Fox 2.5 air shocks |
| Wheels | 17×9 Raceline beadlock |
| Tires | 40×13.50R17 Nitto Trail Grappler |
| Misc. | 3-in body lift, Warn 9.5ti winch, Mohave heater, PRP seats |
Video: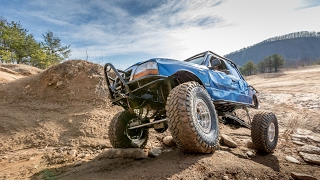 More Photos:
Click the photos to enlarge – click the arrows to load more
Links: