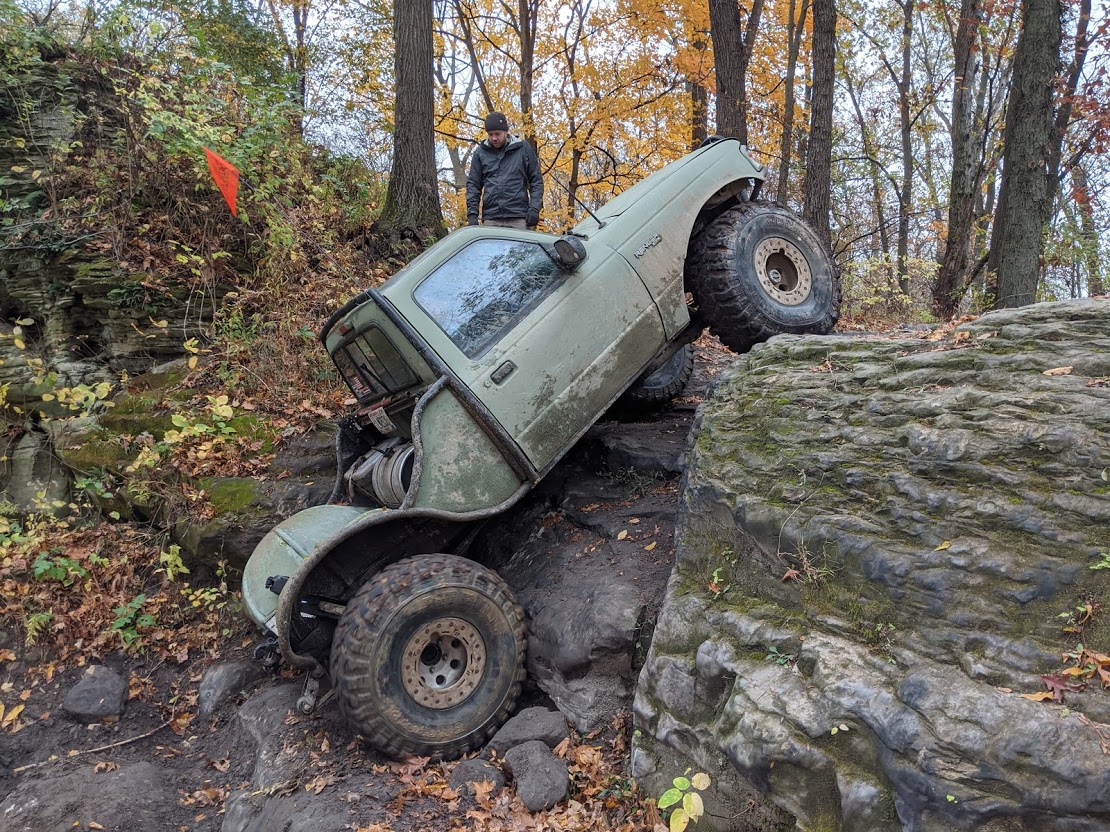 Like many off-road trucks, "Big Darla" (owned by TRS forum member 'XionicWaste' (Tommy Untiedt)) has seen many modifications and transformations since it first appeared in our forum in 2011.
Tommy's original truck was totaled by someone fleeing a hit-skip crash, so he bought this 1997 Ford Ranger 4×4 for $2,500. It came with a 4.0L V6, 5-speed manual, manual hubs, and a snow plow. With only 5-days before he was suppose to leave for Moab, he set out to make the Ranger trail ready by salvaging parts from the totaled Ranger.
The new Ranger received the old Ranger's:
Chevy leaf springs with Belltech 6400 shackles
31-Spline Explorer 8.8-Inch axle
Dana 35 front axe with Powertrax locker
4.88 gears
4-Inch lift
35-Inch tires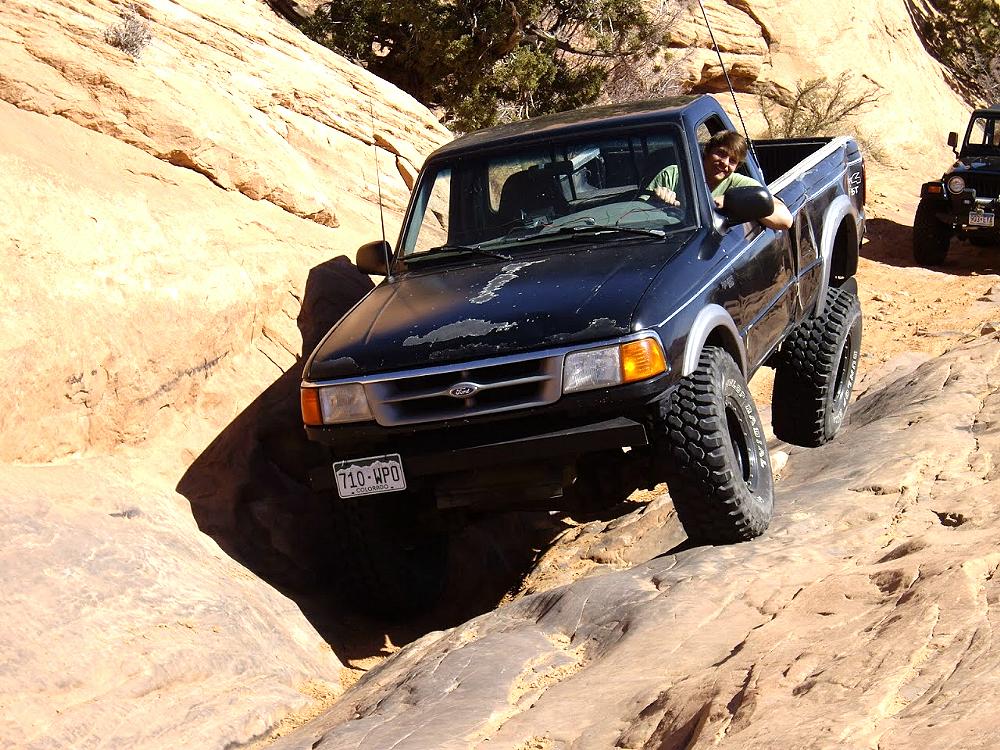 Fiberglass front fenders and a Safari snorkel were added after the trip. Eventually the rear axle was moved forward 6-inches, and the frame and bed was shortened to improve departure angle. This required the fuel tank to be moved to the bed. Tube doors were added and the Ranger started to do it's green 'Incredible Hulk' color transformation. Our forum readers liked the Ranger so much, that they voted it the 'April 2012 Off-Road Truck Of The Month'.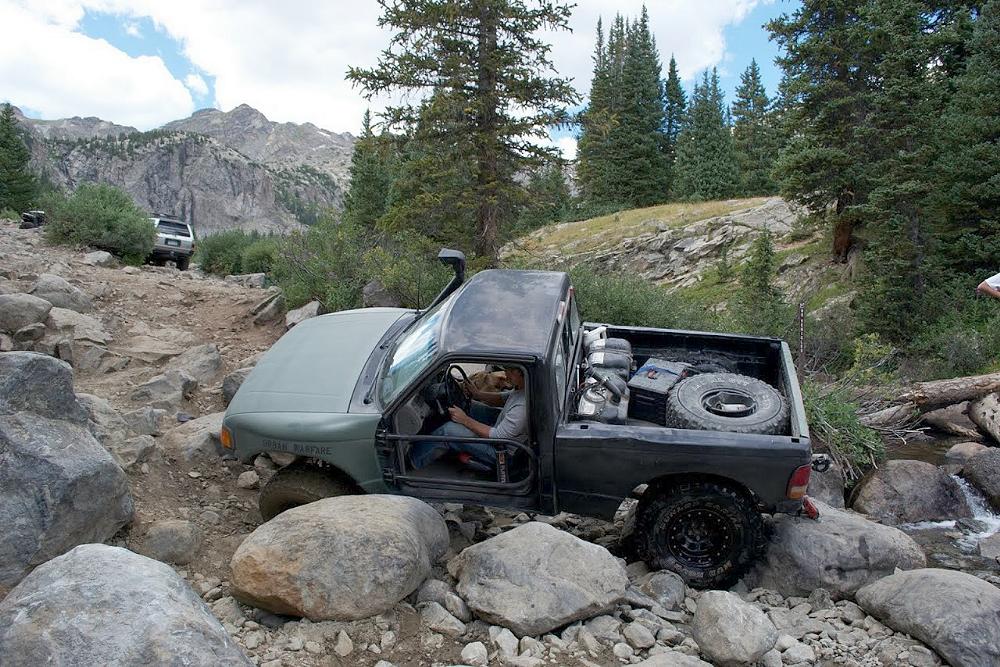 Big Darla continued to transform replacing the front axle with a Dana 44 solid axle that was narrowed and uses Chromoly axleshafts. The front axle was located 5-inch forward from where the stock axle sat.
The bed was removed and a new one was built out of steel tube and sheetmetal. I personally don't like 'truggies'. They always just look weird to me. Tommy actually created a cool truggy rock crawler that I actually like. The new bed also helped fit the Ranger's new 37×12.50X15 Pitbull Rocker MTs on Trail Ready Aluminum Beadlocks. A custom built dual transfer case doubler helps the 4.0L turn those big tires up and over large rocks.
Here's how Big Darla looks today: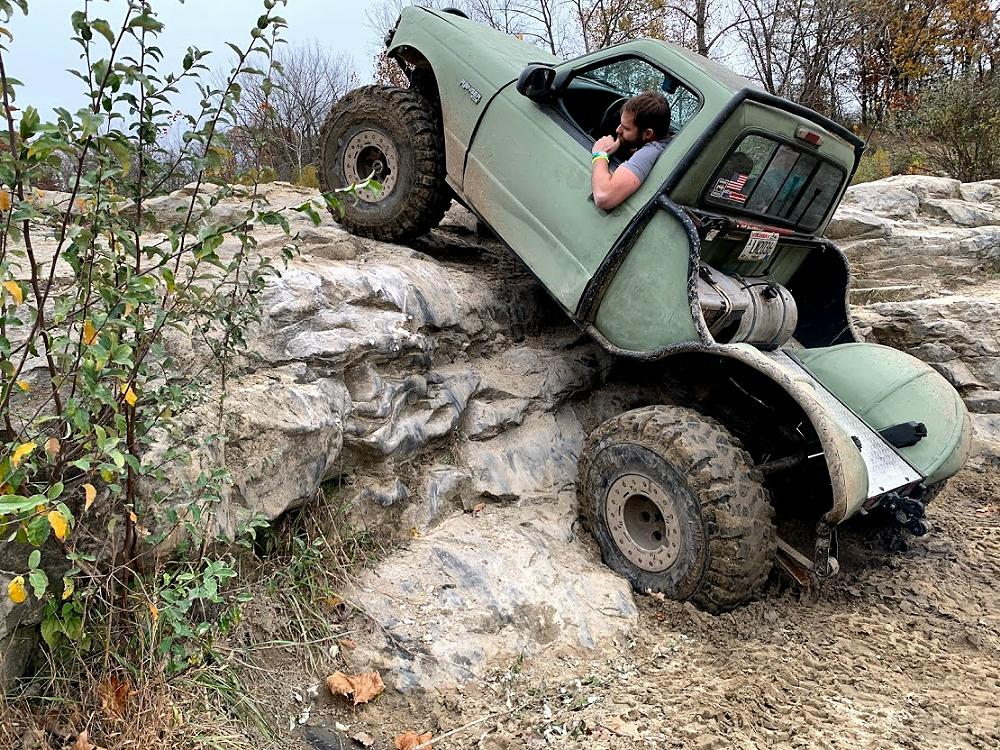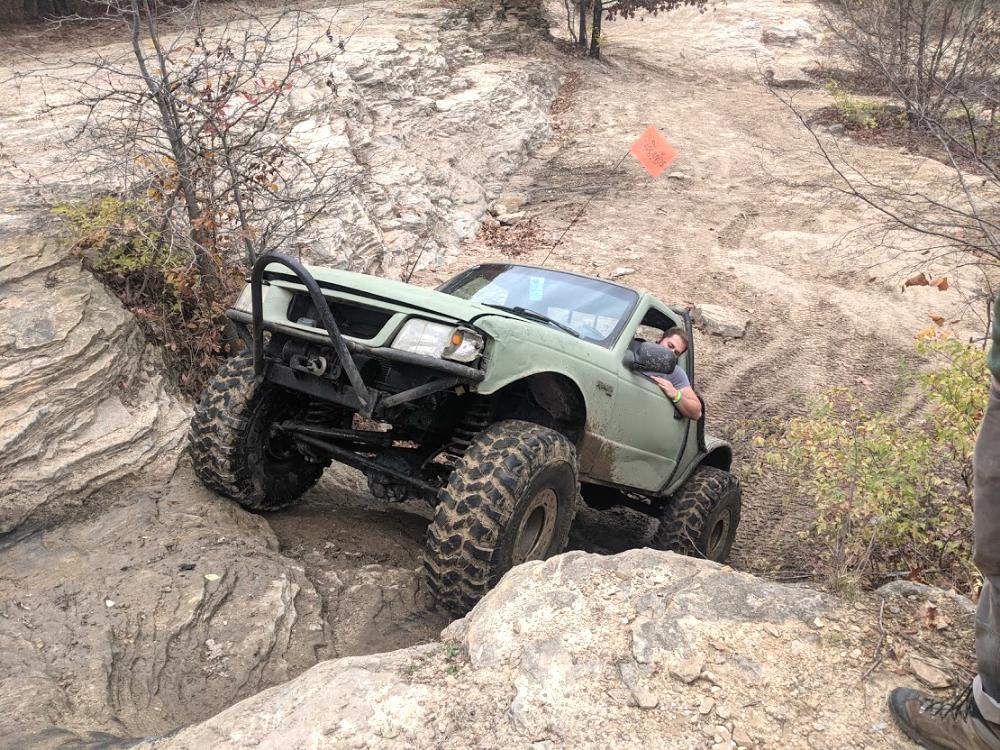 This is basically an overview of this Ranger. I would encourage you to check out the "Big Darla" Build Thread to see more photos and details about this truck.
Modifications From Front To Back:
Stinger/clean tube bumper
8500 Lb Superwinch
Chopped Grill
Hood Pins
Re-centered Stock Front Fenders
Warn Premium Hubs
4-inch Front Stretch
1979 F150 Dana 44 Solid Axle (Narrowed to 60-inches) Spool and geared to 4.88
Solid Diff Cover
F250 Shocks and Towers in the Front
XJ 6.5-inch (180ppi) Coils
1 Ton Tie Rod Ends
1.5x.25 Drag Link and Tie Rod
Early Bronco ChroMoly Shafts with CTMs!
37×12.50X15s Pitbull Rocker MTs on Trail Ready Aluminum Beadlocks
Quick Release Door Pins
Painted Dash
CD/IPOD Deck
Aftermarket Seats
5-Point Harness (now just a 3-point)
True Flat Belly Skid
Manual 1350/1354 Transfer Case Doubler (Homemade sector shaft and plate)
15.5 Gallon Beer Keg (Half Barrel) Gas Tank
Full Tube Bed
Rear Axle Moved Forward 8-inches
Explorer 31-Spline 8.8 Limited Slip Re-geared To 4.88
F250 Shock Towers Out Boarded (Rear)
12-inch Travel F250 Rear Shocks
Cherokee Leafs, running them backward with one explorer leaf
Custom Toyota Tacoma 5/8ths offset shackles
60-inch High Lift Jack with Custom Mount
Moss Paint Job
112-inch Wheelbase with 3-inch lift
*Wish List*
Rear Selectable Locker
31-Spline 8.8 ChroMos on 5×5.5
Rear 3000lb Winch Mounted Over the Rear Axle
Small Exo Cage (Only Over The Cab)
Axle Wrap Issue
Bend Control Arms (hang down too far)
Finish Center Post For Coil Springs
Rear Brake Line Mounts
8.8 Axle Truss
Finish small exocage
Rock lights
More headlights
Front brake line routing
Rear Brake Line Mounts
Videos:
More Photos:
Click to enlarge.