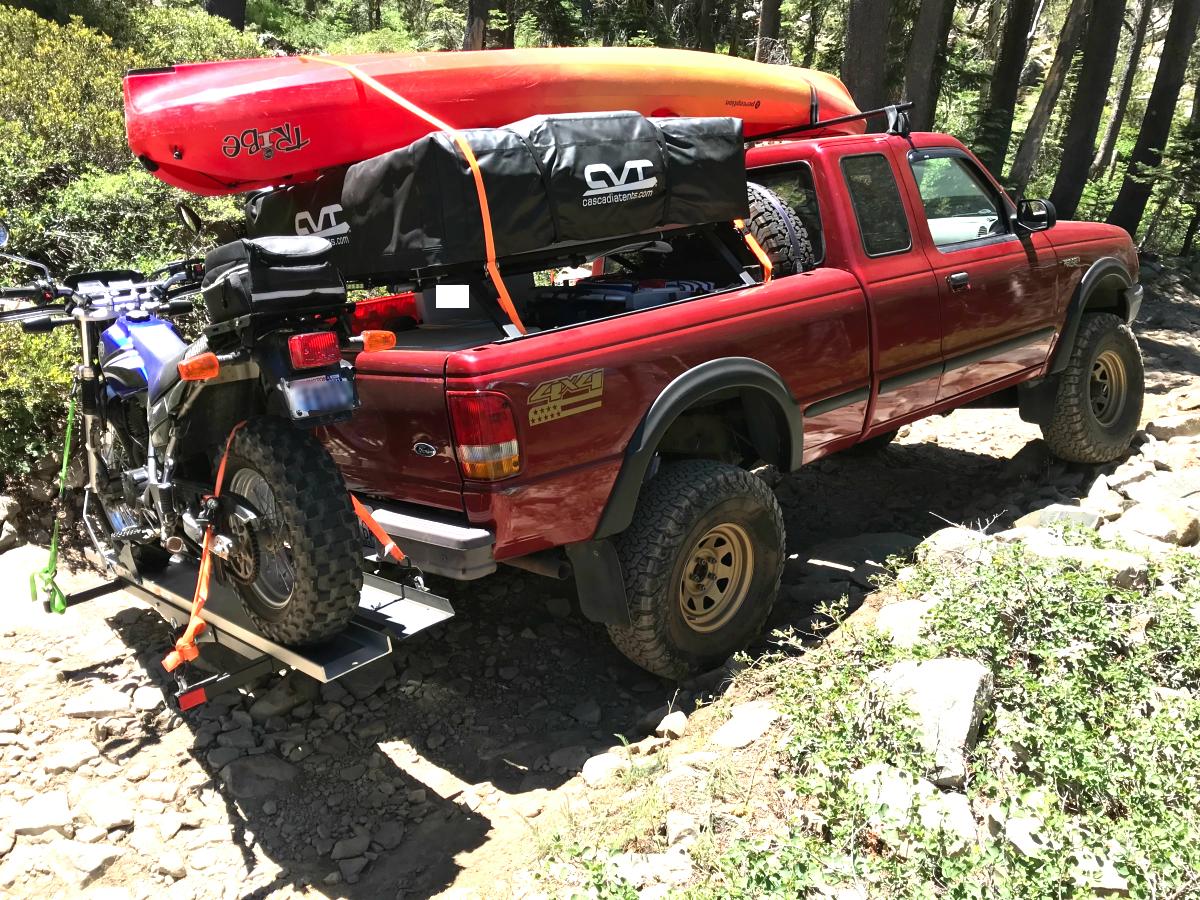 Two things I really love are older Ford Rangers and adventure travel. When I saw this 1997 Ford Ranger 4×4 being built by forum member 'USCGC130' it quickly captured my attention. After following the build for a while, I sent him a message and asked if he could send me some photos and a list of modifications so I could featured it here on the front page.
Below is the information that he sent me;
"When I decided I wanted to build a little adventure truck I started looking at older Toyotas like most, after realizing they are apparently made of gold I switched over to looking at more budget friendly options, in the meantime I did a 3 week off-road motorcycle trip down the Baja peninsula and kept seeing rangers and explorers EVERYWHERE and that's when it hit me to start looking at rangers. Low and behold a bit of research showed me how capable these little trucks can be plus there are parts all over for them including even the rugged and secluded depths of Baja! So I started looking for a '95-'97 supercab ranger with the 4.0L and of course 4×4. I am living in California but originally from Washington so I looked in both places, I ended up finding a pretty clean '97 with the 4.0L and automatic in Seattle. It drove fine but like many 5R55E transmissions, reverse was GONE and I hoped I could fix it, but if not I would just replace the transmission. I had my dad check it out and snag it for me and I flew up and drove it back down to California. After digging into the reverse issue I found the broken reverse band and knew it was a full tranny replacement, so I ordered an upgraded remanufactured one and replaced it myself. Now that it was drivable in all directions it was time to start modifying! So since then I have completed the following…"

Vehicle:
1997 Ford Ranger Supercab 4×4
4.0L V6 & 5R55E Automatic
Dana 35 TTB Front
Ford 8.8-Inch Rear
Modifications:
Remanufactured transmission
Built a custom center console with retractable chargers and a powered Garmin mount
Put in a Sport Trac vinyl floor and ditched the old nasty carpet
Also robbed the 1-piece drive shaft from the Sport Trac
Added a 10″ woofer in a custom box where the driver side jump seat went
Built a custom bed rack for my CVT rooftop tent which now mounts a mini light bar, kayak paddles, MAXTRAX and a shovel and axe
Skyjacker 6-inch lift (got 4.5-inches of lift on the supercab. I added washer spacers but took them out because it squatted when loaded down)
Skyjacker extreme drop pitman arm
Skyjacker extended radius arms
Skyjacker soft ride 6-inch lift rear springs with Kartek rear hanger flip and drop hangers to make up for the lift I loss doing the flip
Camburg shackles
Upgraded my rear U-bolts to 5/8″
Skyjacker M95 shocks
Longer brake lines
Front Dana 35 differential got an Aussie locker (rear has stock limited slip)
WARN manual hubs
Upgraded every U-joint on the truck and did the full C-clip mod on the front axle joints
C-clip eliminator mod with lawn mower spring
ALL new front brakes
New wheel bearings
Painted all the trim black and the wheels gold
Wired in a hidden kill switch for some extra security
33×10.5×15 BFGoodrich K02's
Made a spare tire carrier to hold it vertically which maximizes bed space
Had to modify a hitch receiver to fit because of the rear hangers being drop hangers
Added front tow hooks
Mounted a big storage tote in the back seat area with a top platform for storage and my dogs
Very soon to be ordered it the new ruffstuff DIY rock slider kit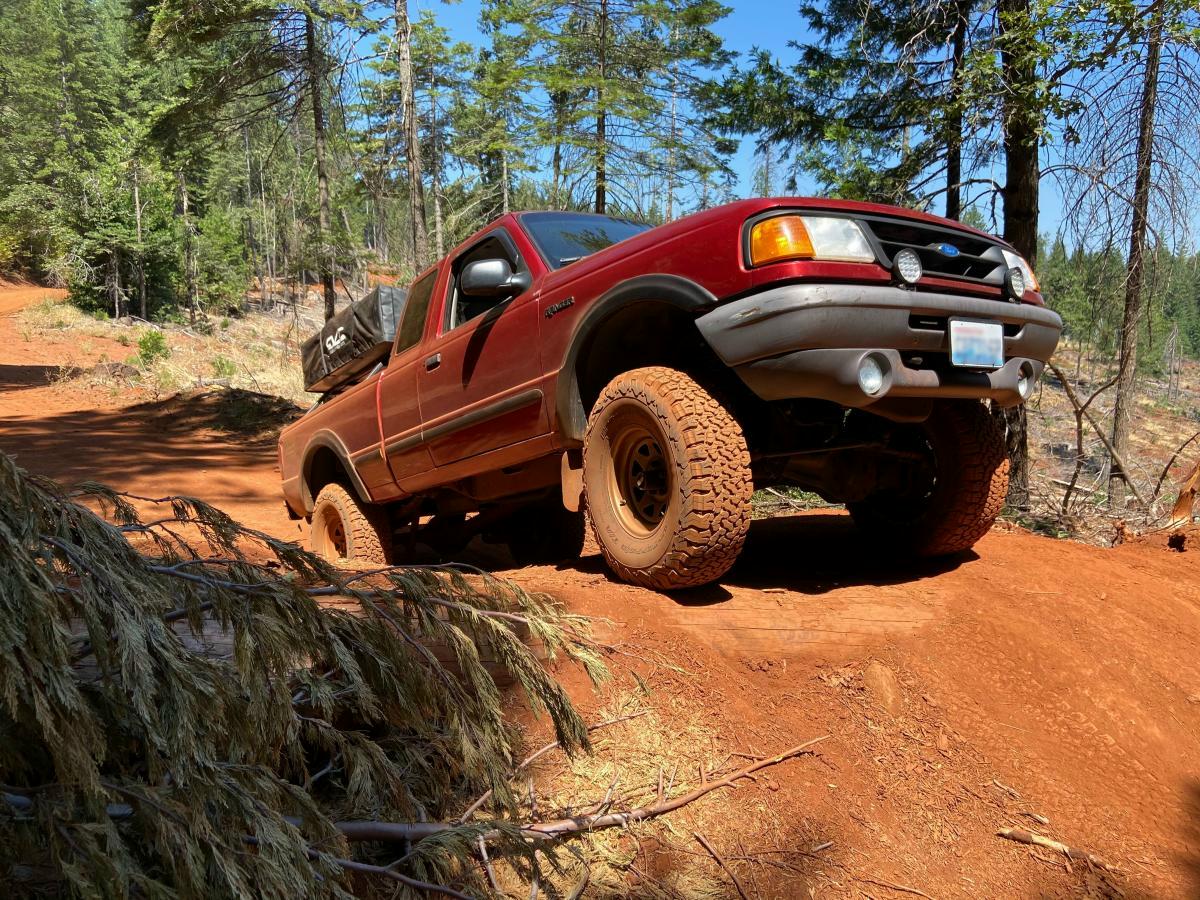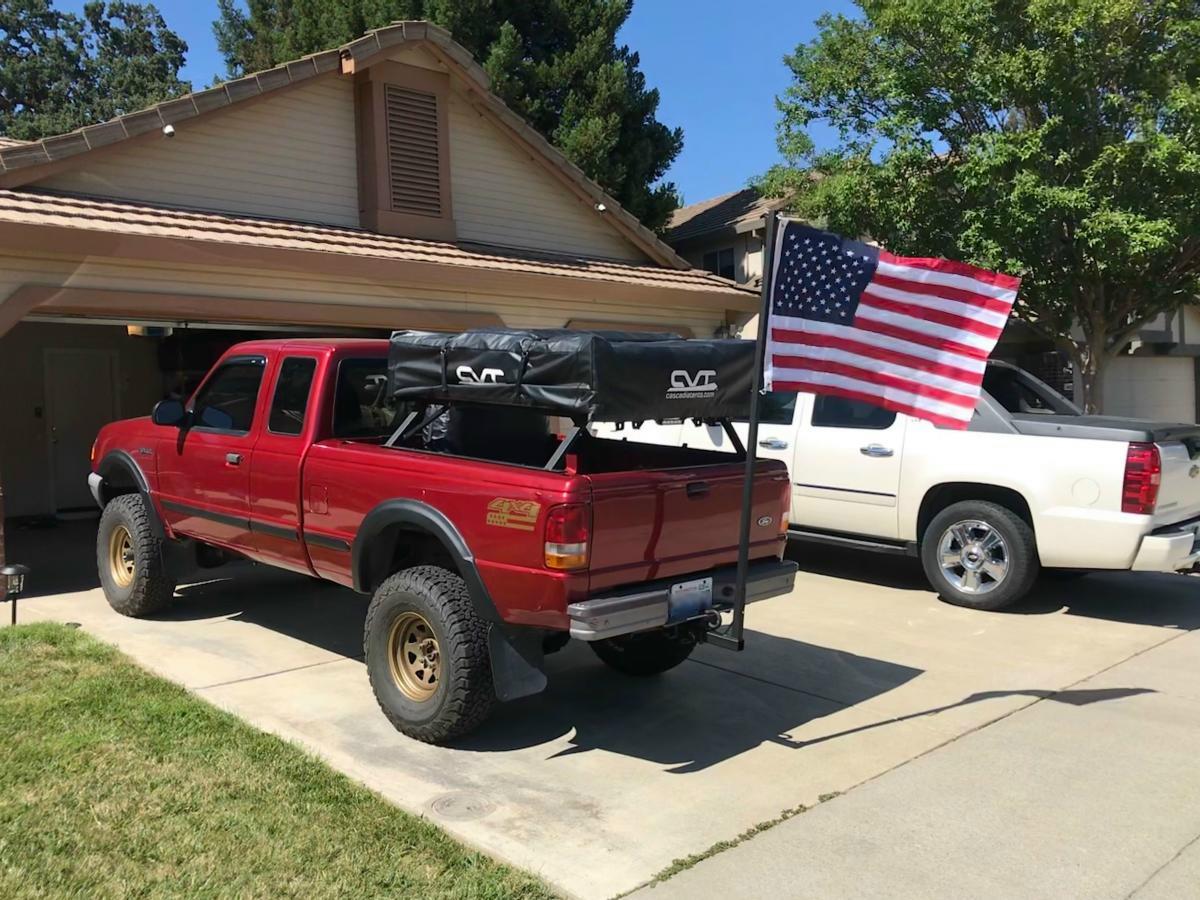 Seeing this Ranger makes me want to throw my camping gear in my truck and 'social distance' for a while. I can't wait to see what other modifications and adventures are in store for this Ranger.
Link:
Check out USCGC130's 1997 Ford Ranger 4×4 Trail Truck Build Thread for even more photos and details!
Check out USCG130's Instagram: https://www.instagram.com/19chuck87/
More Photos:
Click the photos to enlarge.