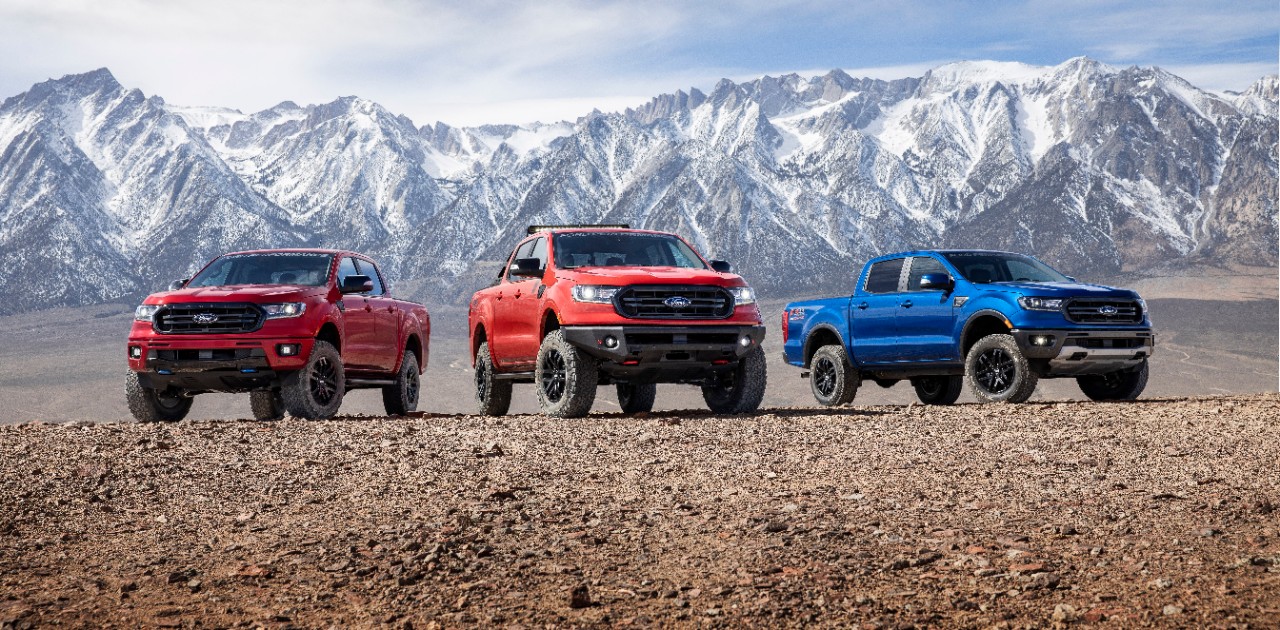 Let me start out by saying that the 2020 Ford Ranger FX4 should have:
Front and rear electric lockers
33×12.50×17 BF Goodrich All Terrains
Enough suspension height to accommodate 33-inch tires
A steel front bumper with an integrated winch plate
Front AND rear tow hooks
Steel side steps that protects the cabs rocker panels (sliders)
12-volt / 115 volt power outlet in the bed
Upfitter switches to power accessory lighting (like in the Super Duty)
Designed to accept additional power accessories much like todays police vehicles (lights, air compressors, radios, etc)
Maybe it can be an upgraded model called an FX4 Level II. I don't say this because I think it's trendy or cool. I say this from many years exploring and offroading. When it comes to the 2019 Ford Ranger, I've driven one 5,397 miles across the Trans American Trail, and logged over 26,000 miles exploring the USA in a single summer. I've taken it across rocks, deserts, sand dunes, national forests, and mountain passes. Through snow, mud, and water crossings. You can see the 2019 Ford Ranger FX4 setup I used HERE.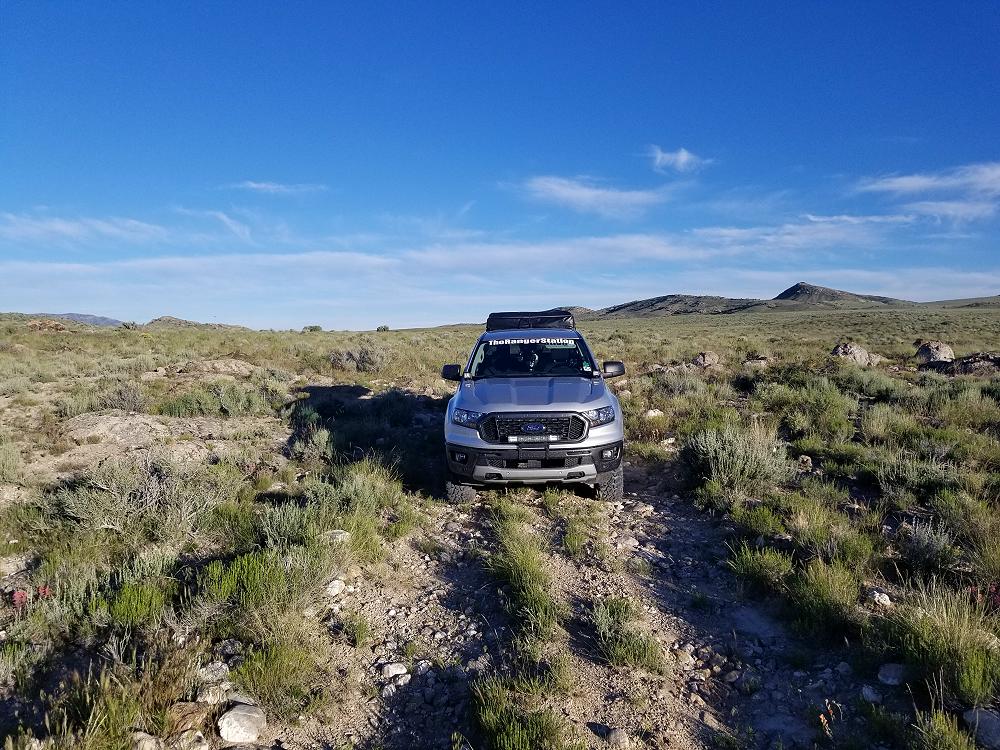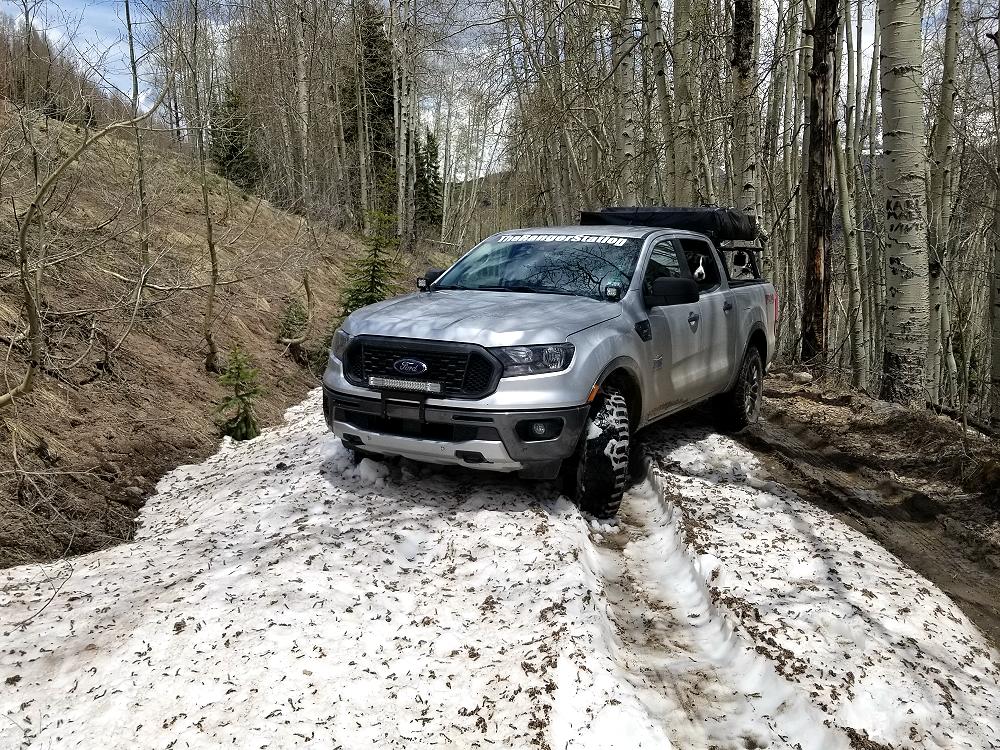 (Lost forward momentum and started sliding sideways because the front axle didn't have a locker or limited slip)
Ford Performance Accessory Packages:
On June 30th, 2019, Ford announced "Ranger Adds Three New Ford Performance Accessory Packages".
The Ford Performance Level 1 package includes:
Off-Road leveling kit
FOX "Tuned by Ford Performance" 2.0 Performance Series internal floating piston monotube front and rear shocks tuned by Ford Performance Engineers to optimize on and off-road performance
Ford Performance 17-inch Dyno Gray wheels
Ford Performance bedside graphics & Ford Performance windshield banner
$2,495 MSRP before installation
The Ford Performance Level 2 package includes Level 1 content plus:
Ford Performance engine calibration, which increases horsepower by 16 percent to 315 at 4,500 RPM and increases torque by nearly 20 percent to 370 lb.-ft. at 2,500 RPM
BFGoodrich KO2 265/70-17 tires (31.6×10.4×17)
Rigid off-road fog light kit
Ford Performance calibration
Blue tow hooks
Ford Performance stainless steel license plate frame
$4,495 MSRP before installation
The Ford Performance Level 3 package includes Levels 1 and 2 content plus:
Rigid 40-inch LED lightbar kit
Red tow hooks
Ford Performance by ARB winch-capable front bumper
Ford Performance chase rack
2.3-liter Ford Performance sport exhaust
$8,995 MSRP before installation
My Opinion
If I had to choose from that list, I would take the leveling kit, Fox shocks, winch capable bumper, and BFGoodrich tires. I'd take the 45 extra horsepower if Ford offered a 285/70R17 tire. Otherwise, I know the Ranger has plenty of power to turn the 265/70/17's. Not sure that the exhaust performance gain would be worth the cost.
I'm not a fan of the wheels. They're just like the factory wheels except a different color. The face of the wheel sticks out to far, and I've scratched them on rocks. I also wish that Ford offered a 285/70R17 (33-inch) tire instead of just the 265/70/17 (31-inch) tire. The 265/70/17 actually fits on the stock suspension without any lift. I used a set of 265/70/17 Cooper Discoverer STT PRO Mud Terrains on the stock 2019 Ford Ranger FX4 for my Trans America Trail trip without any problems.
I don't have any interest in stickers or a license plate frame, and I don't understand how blue and red tow hooks are an upgrade to the black tow hooks already there. If I want red tow hooks, I'll just paint mine red.
The Rigid LED lightbar on the chase rack and the Rigid fog lights would be nice upgrades for the right customer. LED lightbars can whistle in the wind when mounted above the bodyline, so keep that in mind.
I Want More
Don't get me wrong, the new Ford Ranger is an amazing truck. But even with the $8,995 in options I think it still falls short of the new Chevrolet Colorado or Jeep Gladiator. It's a shame because I see so much more potential in the new Ranger, and I'd like to see it leading the other trucks in its class. It just falls short against its competition in some areas.
The 2020 Jeep Gladiator Rubicon pickup features:
Locking front and rear differentials
Rock-Trac 4:1 transfer case
Dana 44 axles
33-inch tires
Electronic disconnect sway bars
Rock rails
Fox Shocks
Forward facing trail cam
Front and rear tow hooks
115-volt power outlet in the bed
The Chevrolet Colorado ZR2 features:
Front and rear lockers
Rock sliders and skid plates
48mm suspension lift
The Bison package also adds a steel bumper with a winch plate, and an optional snorkel.
If you go back to the start of this page and look at my suggestions for a better Ford Ranger FX4 package, or a FX4 Level II, you can see where it would enable the Ranger to be a serious contender if not the leader.
So Are These Packages Enough?
So are Ford's three performance accessory packages enough? In my opinion, no. But I do applaud Ford for making an effort.
I feel like Ford hasn't recognize the full potential of the Ranger. Not just the current model, but the models before it as well. The new Ranger is actually an old platform due to be replaced in 2022. If Ford gets the Bronco right, maybe the new Ranger that follows will benefit since they share a platform. As long as Ford doesn't do something silly and try to make a pickup version of the Bronco.
Accessory Package Photo Gallery:
Click the photos to enlarge.