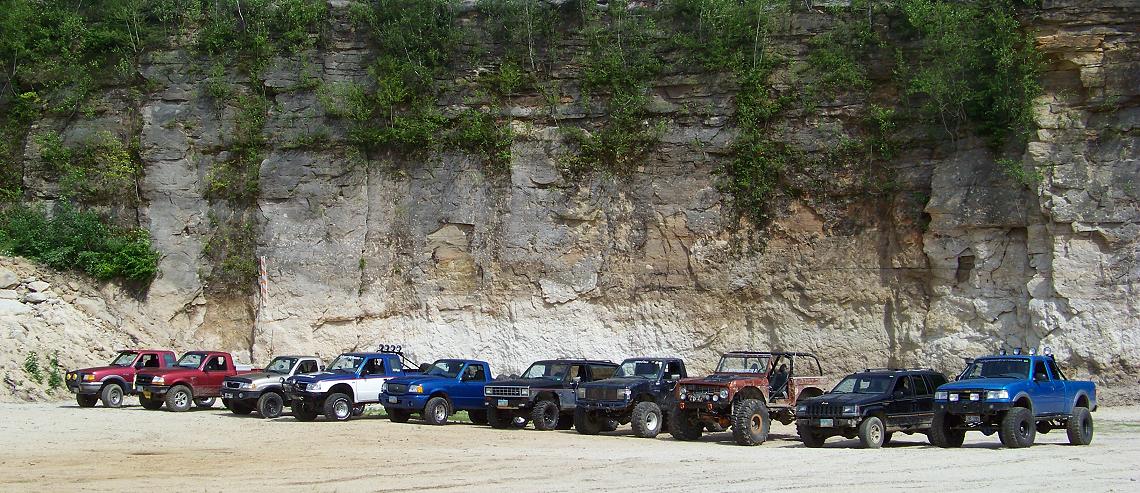 Southington Offroad Park June 1, 2013
After 2006, the economy took a turn for the worst, and it became difficult to get people to come out for a trail ride. After taking several years off from hosting a trail ride, I finally hosted a Spring Round-Up at Southington Offroad Park (Garrettsville, Ohio) on June 1st, 2013. Prior to this our Spring Round-Up's had been held just outside of Wellsville Ohio in Yellow Creek. At some point the property there had been sold, and there were rumors that people were getting fined for trespassing. Southington Offroad Park was a great alternative because they offer pavilion, bath house, campground, and concession building for food.
We had (10) vehicles to hit the trail, but there were more members there than that. Several vehicles had passengers. I didn't think to do an actual head count, but I would say that there was easily 20+ people there in our group.
A few trucks received some body damage, and 036Speed bent a wheel, but was able to straighten it out with a hammer.
Raffle Results:
We were to have giveaway items from Rockauto, James Oaks Enterprises, and Wicked Water Transfers. Wicked Water Transfers never sent out the samples for the drawing even after contacting them the week before the event.
Each member wrote their name on a piece of paper, folded it up, and placed it in a plastic jar. The names of a few members still on the trail was entered in their behalf. The jar was shaken up, and names were pulled.
'Tankfulloffun' won the $50.00 gift certificate from Rock Auto. However, he decided that he wouldn't use it, and let 'PlumCrazy' and '036Speed' have a Rock/Paper/Scissors competition to win it. 'PlumCrazy' defeated '036Speed' by covering paper with rock to take the win and get the gift certificate.
'Project20004x4′ won a Smittybilt 3″x30' 30,000lb tow strap from James Oaks Enterprises.
'036speed' won a windshield banner of his choosing or $15.00 in decals from The Ranger Station.
Lessons Learned:
Communication & watching for the rig behind you. Only a few people had CB radios. While we all seemed well prepared to handle trail repairs, most didn't have a way to communicate, and people got temporarily separated from the group for a while. CB radios are cheap (can get a new one for $35-$40) and are the idea way to communicate with other rigs in your group. You can even get hand-held portable units. Also, make sure to keep track of the rig behind you in case they have a problem. We don't want to leave a member behind.
A Big Thanks!!!
A big thanks to everyone who came out! I had a great time and can't wait to do it again. A few people asked me if we would be doing a Fall Roundup, and I'm seriously interested. We just have to pick a date and location.
Quote Of The Day:
"If a Jeep can do it, a Ranger can surely do it."'
Join The Discussion:
TRS Spring Roundup Event Coverage Thread
Videos:
Photos:
Click the photos to enlarge. Click the arrows to load more.