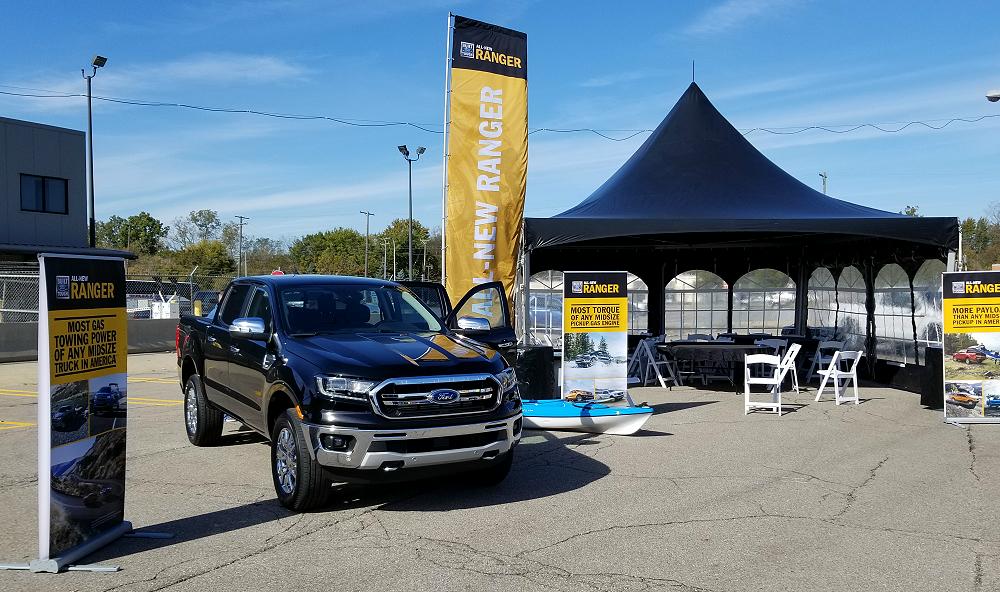 I've been a Ford Ranger enthusiast since the early 1990's. My love for them inspired me to create this website. When I was contacted by Ford and asked if I wanted to participate in an employee event on Monday 01/22/2018, I jumped at the opportunity. Ford even allowed me to bring along TRS Forum Moderator Caleb Johnson (fastpakr).
Our Ford experience actually started on the day before the event. We arrived early on Sunday, and met up with other Ford Ranger enthusiasts at a Ford themed restaurant. I invite you to read more about our 'Dearborn Michigan Meet & Greet'.
On the following Monday morning, Ford sent a van to pick us up, and transported us to the Michigan Assembly Plant. The parking lot in front of the plant had been set up with an off-road course, there were Ford Ranger's on display, a stage for speeches, a DJ playing music, and a heated tent full of tables, chairs, food and beverages.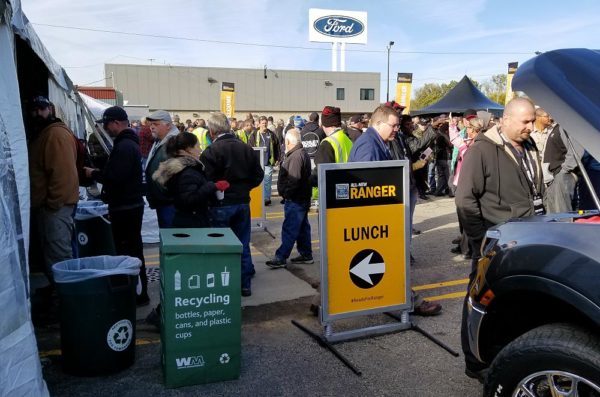 You could tell that there were (3) things being celebrated on this day:
The start of the Ford Ranger production
The men and woman that would be building it
The history of the Michigan Assembly Plant – And it's return to being a truck plant
This celebration gave Ford employees a chance to look at the finished product they were building, ride in it on an off-road course, and socialize with their fellow employees over a Ford catered lunch.
They were also inspired from speeches by:
Erik Williams – MAP Plant Manager
Dwayne Walker – UAW Local 900 President
Chuck Browning – UAW Region 1A Director
Joe Hendrix – President of Global Operations – Ford Motor Company
Let me make it clear that I'm not, and have never been a Ford employee. I am a Ford Ranger enthusiast. As an outsider looking in, I noticed how Ford employees were coming in to the event, spotting other employees, and greeting them with hugs and handshakes. As I looked around, it felt more like a family picnic, than a corporate event. In the speech given by Assembly Plant Manager Erik Williams, he spoke about how Ford was still a family owned company, and this felt very much like a family gathering.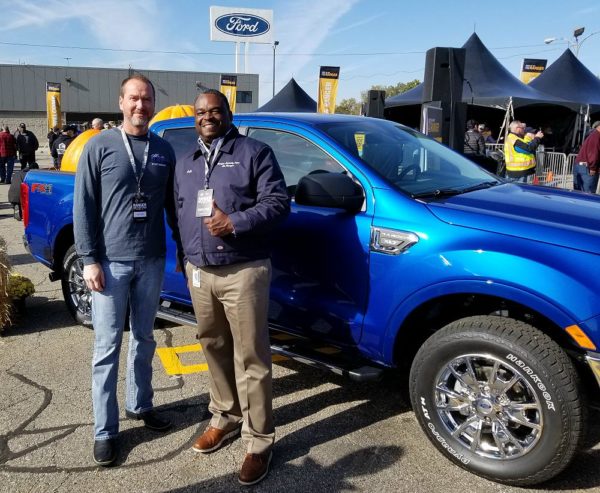 (I'm standing with Assembly Plant Manager Erik Williams)
Since we've been dying to get another look at the 2019 Ford Ranger (We were at the 2019 Ford Ranger Debut in January), Caleb and I wasted no time in taking a ride around the Built Ford Tough Off-Road course.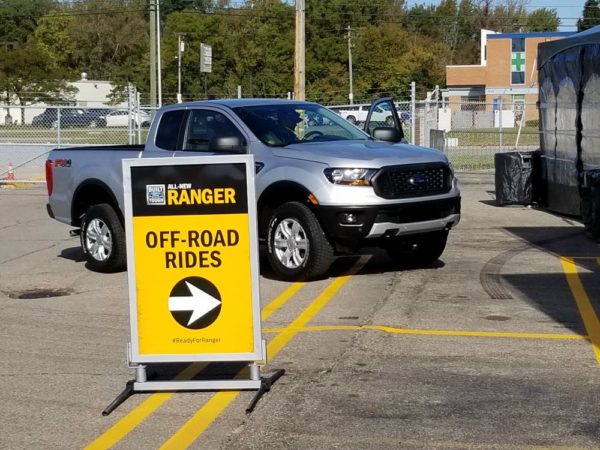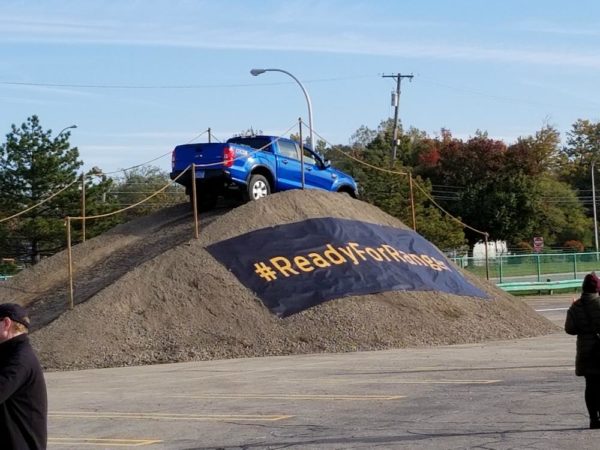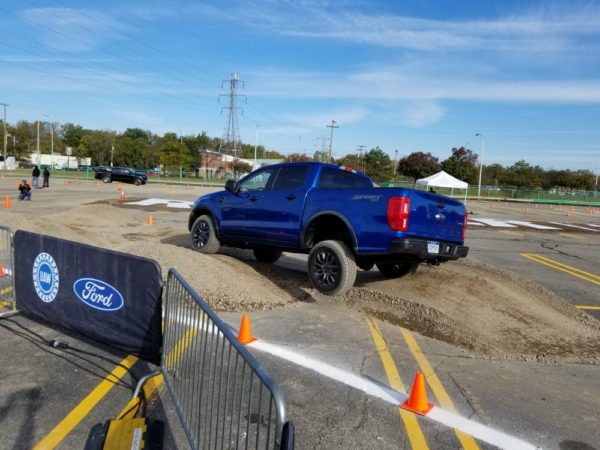 We had the driver stop on the dirt incline, and observed a 24 degree incline reading on the Ranger's instrument cluster. I figured that the Ranger would spin a tire continuing from a dead stop, but it actually continued forward without loosing any traction at all. Again, we had the driver stop on the side of a dirt slope forming a curve on the course. I observed an 18 degree side angle there, and it was steep enough that I felt like someone could have walked up and pushed the Ranger on to its side. I even felt the right rear wheel leave the dirt at one point.

Having completed the off-road course, Caleb and I walked around and looked over all of the Rangers on display. Caleb was anxious to get a look under them, and we got a few funny looks. One guy even asked what we were looking for. Sorry, we're Ford Ranger enthusiasts. That's what we do.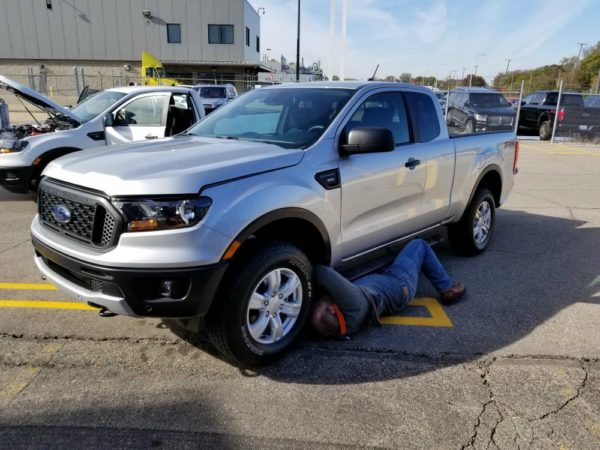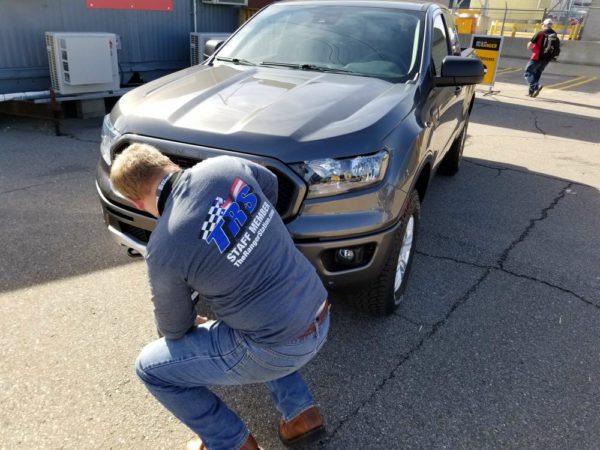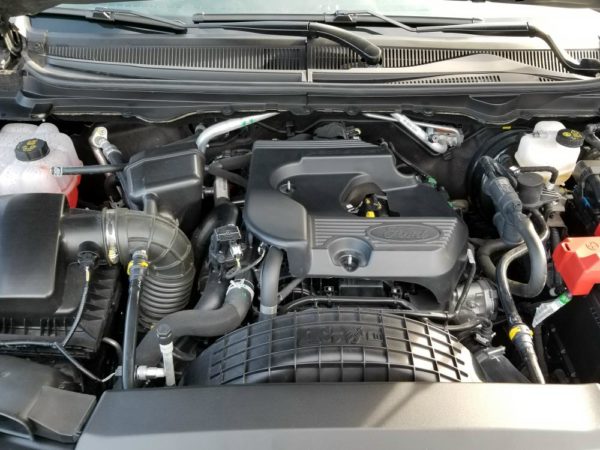 I noticed that some of the engines had their plastic covers off. Most likely so people could see what was under them.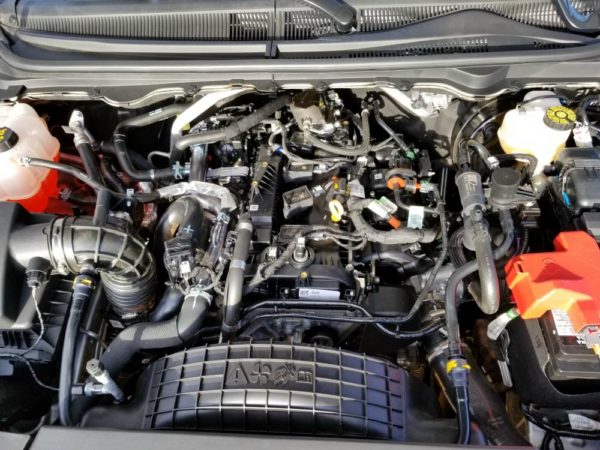 After literally looking over every part of the truck inside and out, I didn't see anything I didn't like. The Rangers offered a nice interior with plenty of USB ports to charge your devices, as well as a 110 volt outlet on the back of the center console.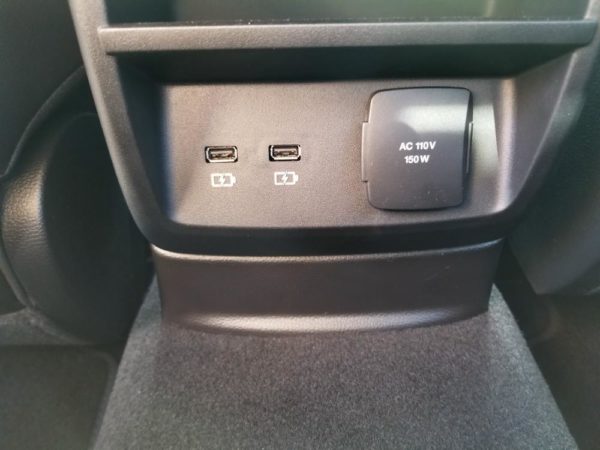 I was even glad to see an optional 12-volt accessory outlet mounted in the corner of the bed close to the tailgate.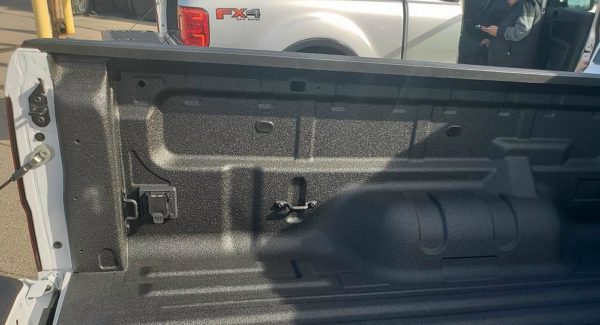 I'm disappointed that the Ford Ranger doesn't come with upfitter switches like those found on the Super Duty trucks, and I will continue to make a case for them any time I can. People that build adventure vehicles like to add things such as brighter auxiliary lighting. Ford should give them pre-wired switches to hook to.
I was surprised to see a 2WD Ford Ranger with an electric rear locker. This was something that I think some people had questioned the availability of.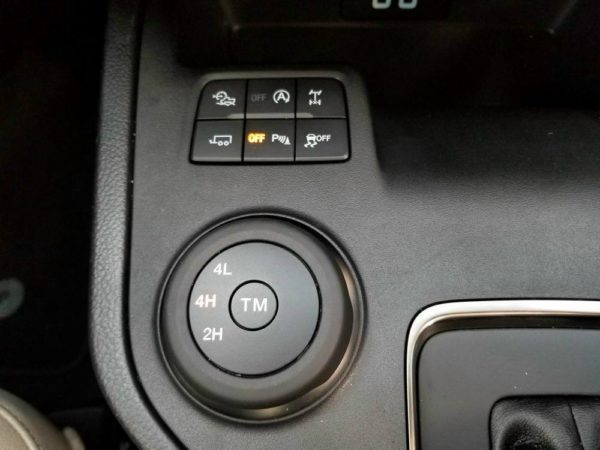 Above – Note the TM (Terrain Management) button in the center of the 4×4 selection knob, and the rear locker button in the top right row of switches.
Below – Note that this 2WD Ranger also has a locking rear differential button in the top right position.
A Better Stronger Ford Ranger
Since I operate a website for Ford Ranger enthusiasts, I occasionally hear comments from Ford Ranger owners that aren't ready to accept the new 2019 Ford Ranger.
Some say:
It's to big.
It's not a real truck anymore.
The 4-cylinder only makes 270 horsepower.
It's to expensive
I decided to see how the 2019 Ford Ranger compares to a Ford F-150 produced around the time the Ford Ranger was first introduced. I also looked at the specifications for the 2011 Ford Ranger (last model produced).
2019 Ford Ranger Specs:
270 HP & 310 LB FT Torque
7,500 LB Towing Capacity
1,860 LBS Payload Capacity
MPG Not Yet Released – Likely over 22 MPG
1986 Ford F-150 Specs:
185 HP & 270 LB FT Torque
7,500 LB Towing Capacity
1,500 LBS Payload Capacity
12 MPG / 17 MPG
2011 Ford Ranger Specs:
207 HP & 238 LB FT Torque
5,800 LB Towing Capacity
1,360 LBS Payload Capacity
22 MPG / 27 MPG
While the new Ford Ranger is a little larger than the old Ranger, it's still smaller than the Ford F-150. It offers up significantly more power, hauling, and towing capacity than it's predecessor, and even more than the F-150's built when the Ranger first entered production. The final argument is the price. Maybe some people forget that the 2011 Ford Ranger 4×4 had a $24,000 – $26,000 MSRP. And whatever Ford declares as the 2019 Ford Ranger MSRP, most buyers know that you can find deals from dealers below that price.
I've never overheard a single person that has seen a 2019 Ford Ranger up close make any comments about not liking it. Those that aren't happy about it, haven't actually seen it. I would invite those people to visit https://www.rangerdrive.com, find an event near them, and take a 2019 Ford Ranger for a drive.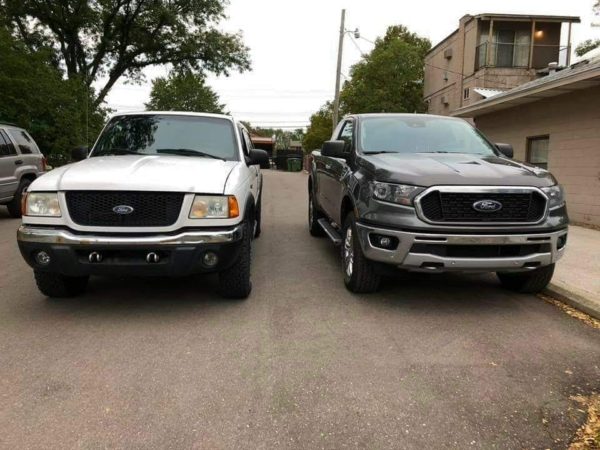 Production Has Started:
We know that assembly plant employees have built over 100 new Ford Rangers so they could learn their jobs. This door sticker below is from the black Ranger at the very top of this page, and the numbers at the end of the VIN shows that it was the 107th Ranger built. These early run of Rangers will probably stay within Ford. I think they should lease me one for $1.00 a year so I can promote the new generation of Ford Rangers, and attract a new generation of enthusiasts to both Ford Motor Company, and TheRangerStation.com. After 20-years of promoting the Ford Ranger, it would be nice to actually have a new one!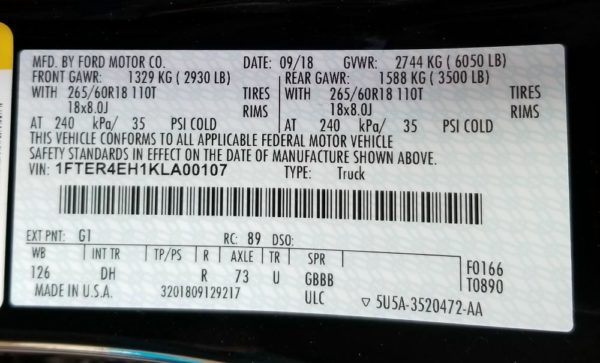 Final Thought:
I met with some Ford Ranger enthusiasts on Sunday, and a few of them actually work for Ford. I admired the custom work they had done on their vehicles, and it made me feel good knowing they were involved in the production of a brand I love. I walked around the grounds of Fair Lane, the home of Clara and Henry Ford, and thought about Ford being a family owned company. I watched a family style gathering of the employees that are building your next Ranger, and listened to speeches from people involved in the process. It was nice to see the faces of the people building the next generation of Ford Rangers. I even met a husband and wife at the assembly plant that shared photos of the many custom and restored Ford's they own. Even their daughter has a Ford Ranger that would make most people reading this envious.
When I reflect back on the weekend, I feel like the people were the story. Maybe even more so than the truck. It's a great feeling to know that the company that makes your favorite vehicle, is home to enthusiasts just like you. From the little bit that I've seen, I would love to see and hear more about the employees of Ford, and their own personalized vehicles that they have bought, built, modified, or restored.
I don't think it's just me either. After posting the event speeches on youtube, someone replied by saying "Thank you for sharing, I like hearing from the people that make these vehicles happen." I think there's interest out there in the people that build the vehicles we love.
Thanks:
I would like to thank Ford for allowing me to attend this event, and share this experience with the Ford Ranger community.
More Photos:
For more photos of this event, check out 'Photos From The 2019 Ford Ranger MAP Event'