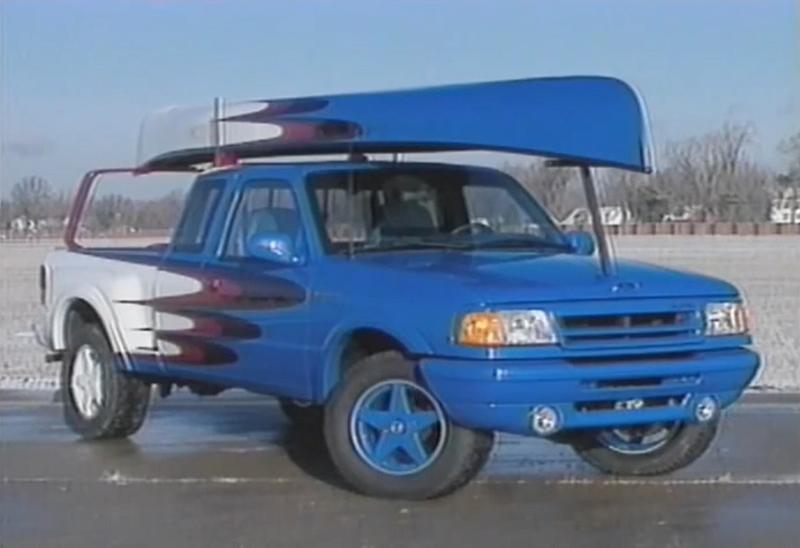 Water sports lover? This truck…….was for you!
The Ford Ranger Sea Splash, a concept vehicle especially for those who find their fun shooting the rapids or canoeing the lakes and rivers across North America.
The Ranger Sea Splash was the ideal transporter when the river or the lake beckoned. But when it's not used to transport your canoe, its still ready to do the tough hauling jobs on or off road.
Featuring head turning graphics, the Sea Splash SuperCab 4X4 had a rugged, handsome appearance and with a 17-foot canoe in matching colors, it was an eye catcher around town or on the open road. Though few eyes actually caught it on the open road, or in town.
There was load carrying rear stanchions and a front over the hood T-bar to support and transport a full sized canoe and the stanchions have tie down slots to keep it securely in place.
The Ranger Sea Splash interior was in Lapis blue, with leather covered Captains Chair bucket seats. Behind thee seats were a convenient coat rack that also set the Sea Splash apart from the other Ranger SuperCabs. Behind the seats, was an easy access high tech console, room for your cellular phone, binoculars or a CB radio.
The Sea Splash promises enjoyable action and hard working versatility, its a Ford Ranger that had it all.