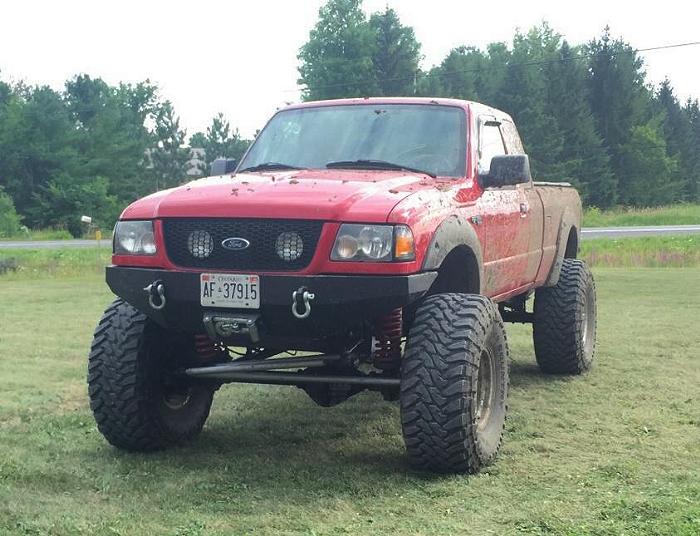 The amazing Ranger you see here is owned by TRS forum member '02Fx4red'. When he initially purchased the truck, it was just your basic FX4. But the 2002 Ford Ranger FX4 was already a great truck with its 31-spline 8.8-Inch rear axle (with a Torsen differential), with both manual transmission and manual transfer case.
Note: A list of specifications are at the end of this page.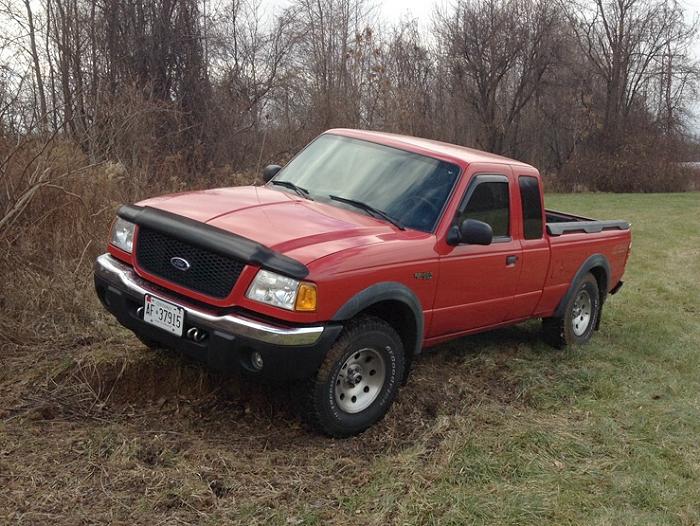 The 2002 Ford Ranger FX4 when it was first purchased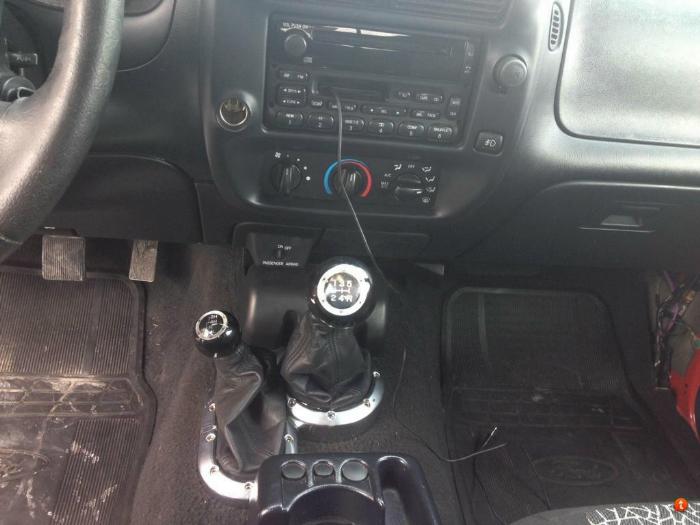 But it didn't stay this way very long. The truck received a 2-inch torsion bar crank, Belltech 2-inch lift shackles, and a 3-inch body lift to make room for 33×12.5 Goodyear Duratracs on 15×10 Ion Alloys.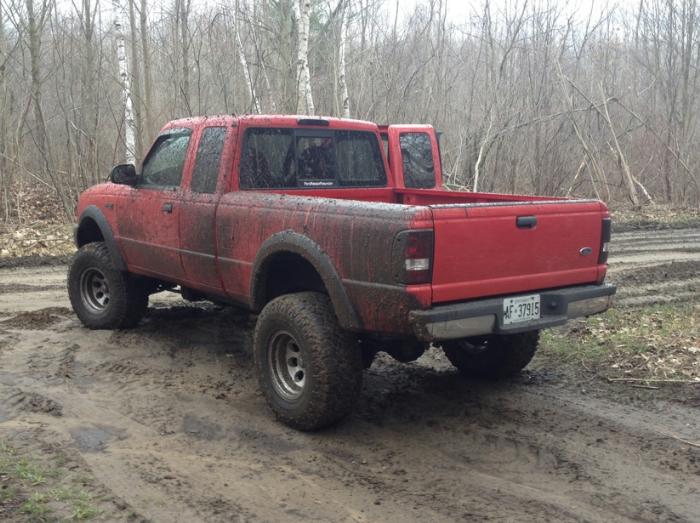 With a torsion bar crank, 3-inch body lift, and 33-inch tires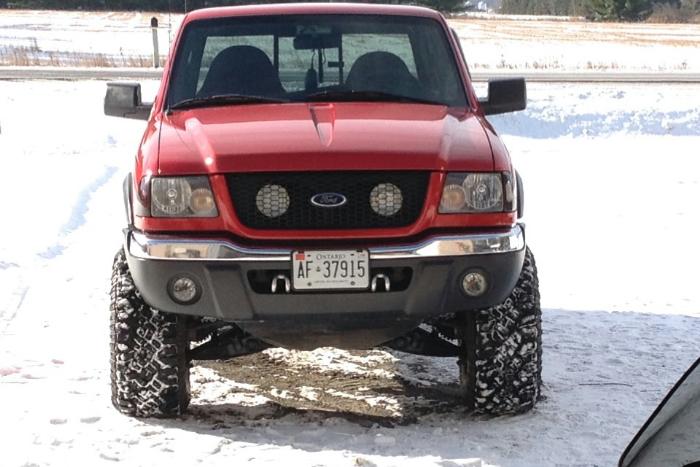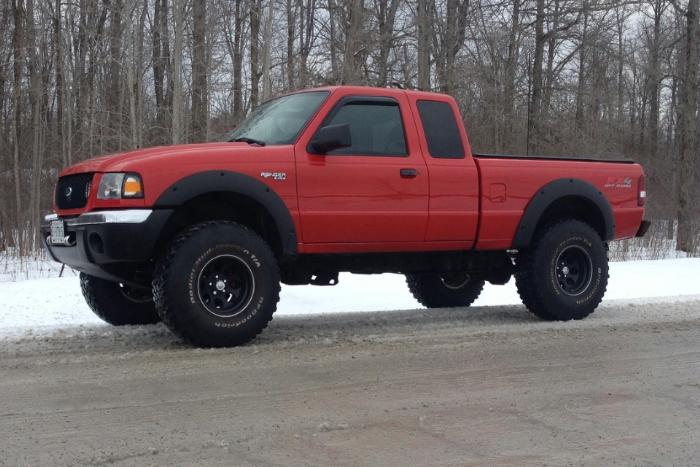 With a torsion bar crank and a 3-inch body lift, but with 35-inch tires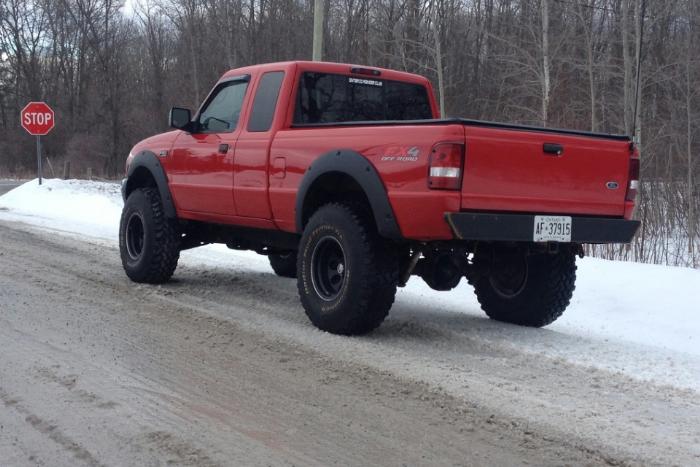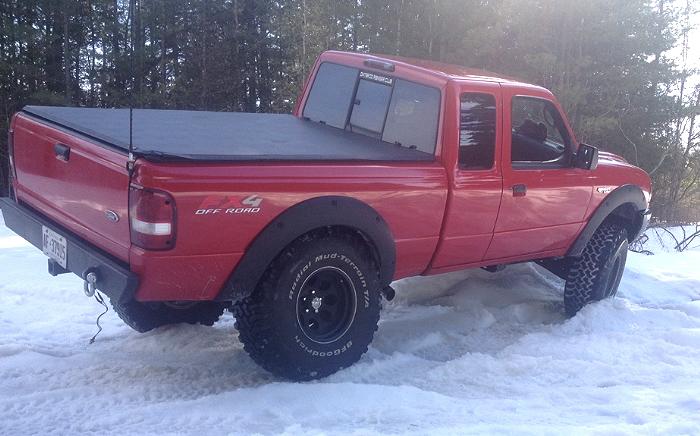 Flexing the 35's
So looking at the (4) photos above, How many modifications can you see? Besides the lift, wheels, and tires, there's at least (5) modifications to the appearance of this truck that you should be able to spot. Remember, this truck is a 2002.
The rear sagging springs were eventually replaced with Ford Explorer leaf springs and an add-a-leaf. The Belltech lift shackles were removed, and stock shackles put back on. This allowed the factory lift block to be removed from the rear. The truck continued to grow, and eventually found itself with a Solid Axle Swap (SAS), gears, and 37-inch tires.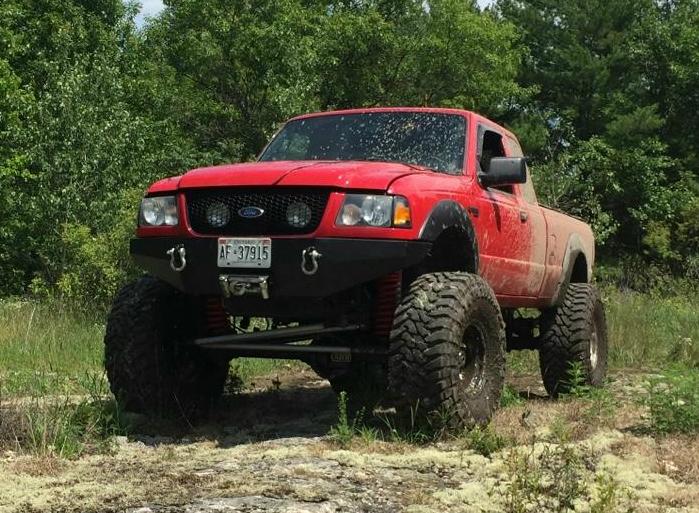 Still trying to figure out those (5) visible modifications?
Let's take a look at the other modifications to this truck:
Lighting – The truck has (2) 100-watt lights mounted behind the grill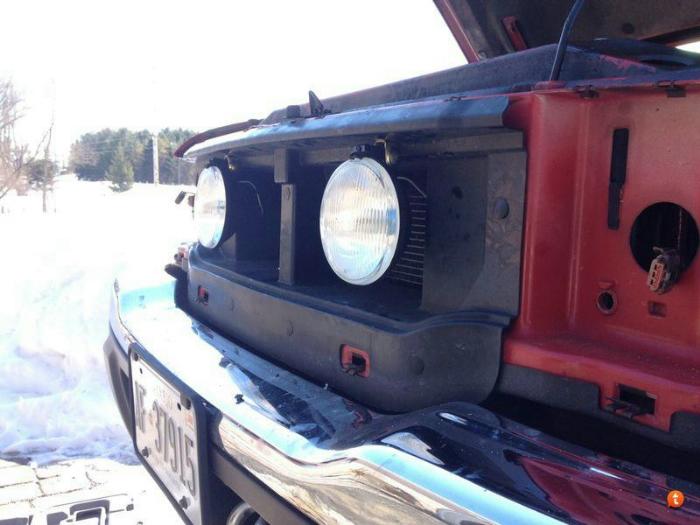 Bumpers – A custom rear bumper, and a front bumper with a LP8500 Superwinch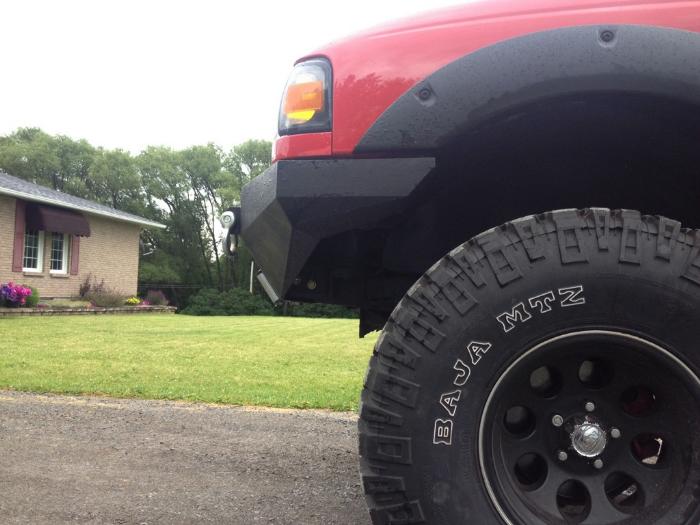 Axles – The Ranger's factory axles were replaced with a Dana 44 (front), and Ford 9-Inch (rear) out of a 1978 Ford Bronco. The axles were cleaned up and rebuilt with 5.13 gears. The rear axle has a Detroit Locker, a custom skid plate, and a custom guard made out of solid square stock. The front axle features a Detroit True Trac and an ARB differential cover. The steering knuckles were drilled out to accept 1-ton Chevy tie rod ends.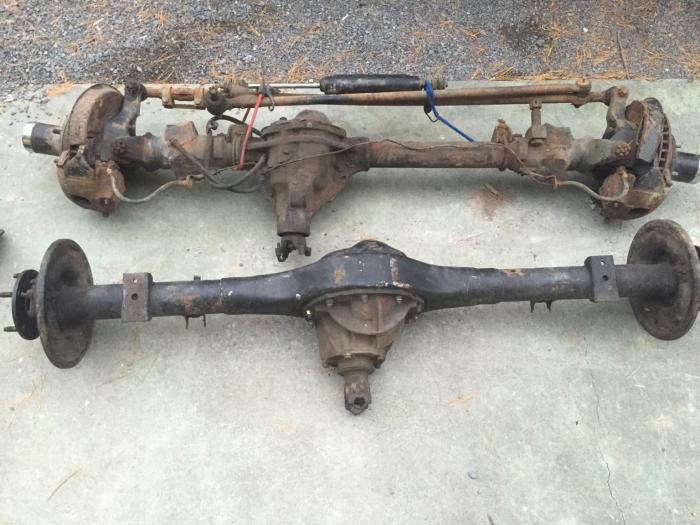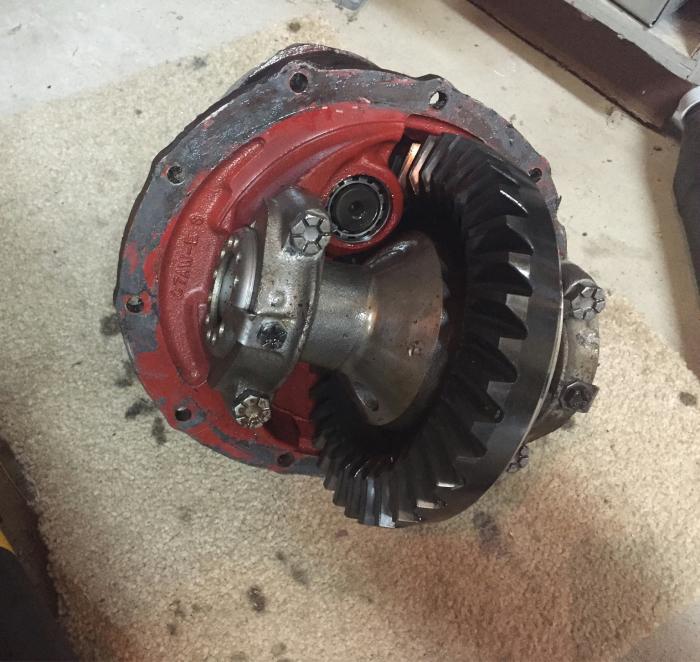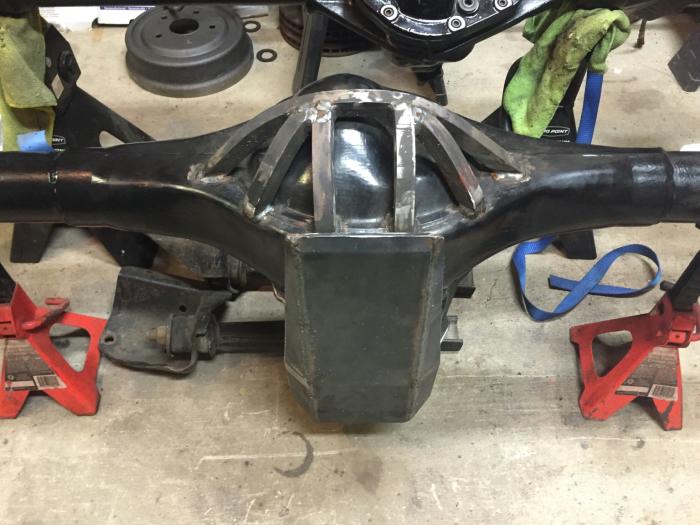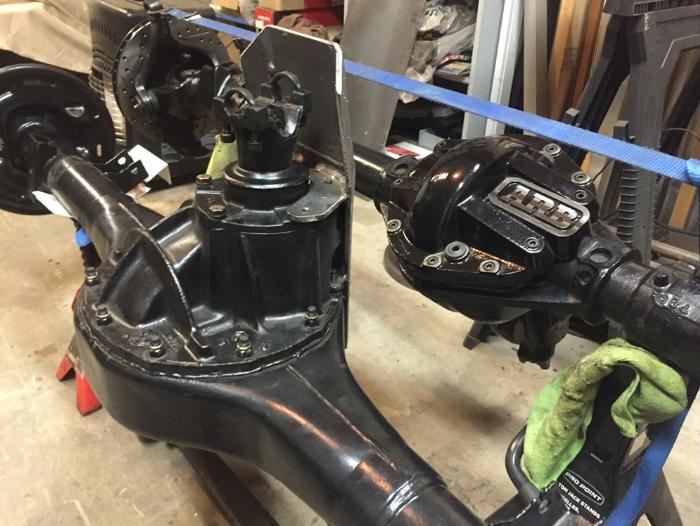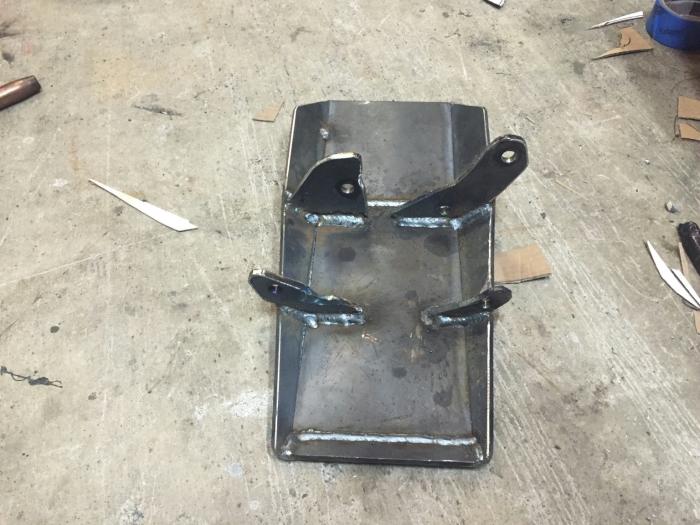 Rear Suspension – The rear springs were removed and replaced with Chevy 64-inch leafs with new bushings. The overloads were cut, and (1) Ford Ranger leaf was added to the pack. The Belltech 6400 shackles found their way back in to the rear suspension. Also note the crossmember made out of tubing that went in where the old spare was.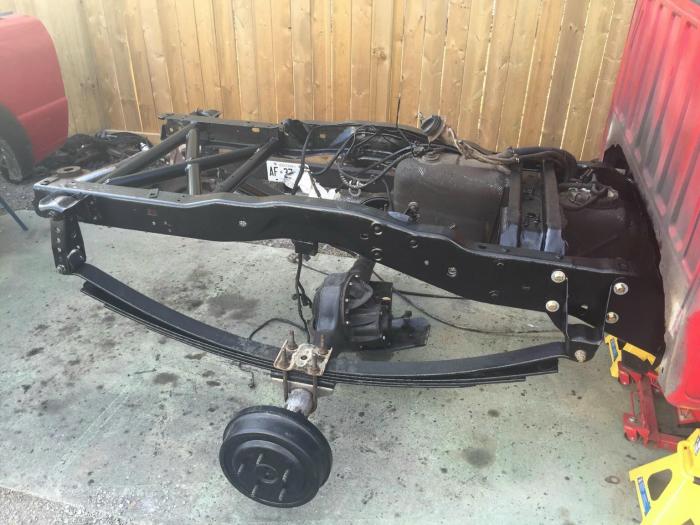 Front Suspension – The Dana 44 is mounted under the truck with Wild Horses coil springs sitting on custom lower coil spring mounts. Those are mounted to the Bronco's factory radius arms, that were cut and extended with steel tubing. They use Johnny Joints to attach to a custom radius arm mount / crossmember. The upper coil mounts are factory Bronco pieces. The Ranger rides on Fox 2.0 shocks attached to a custom shock hoop. Limiting straps keeps it a from getting torn apart from all the wheel travel..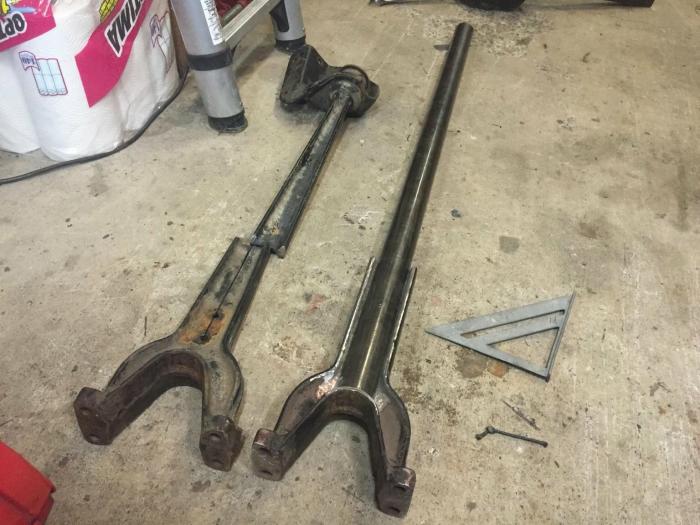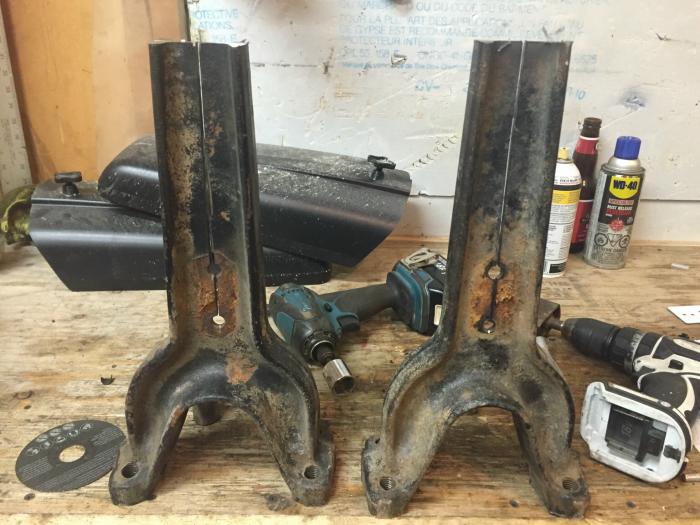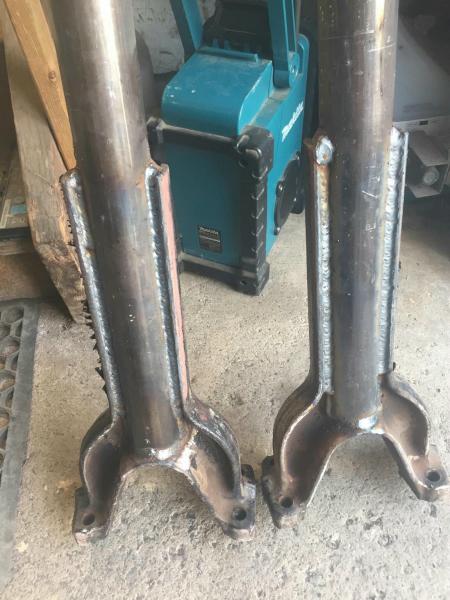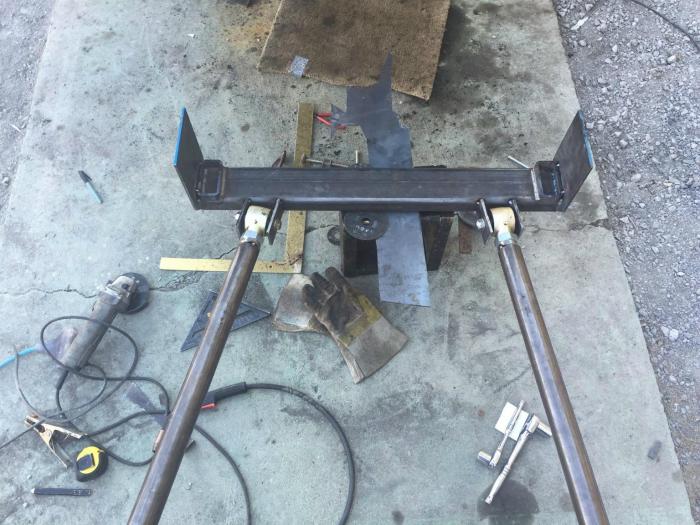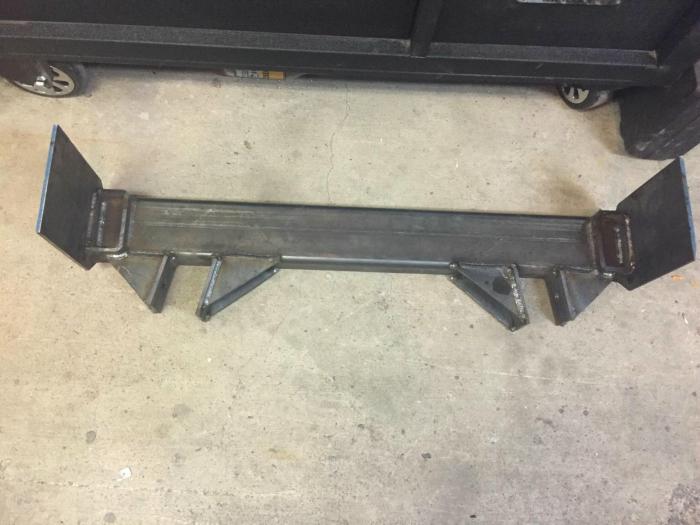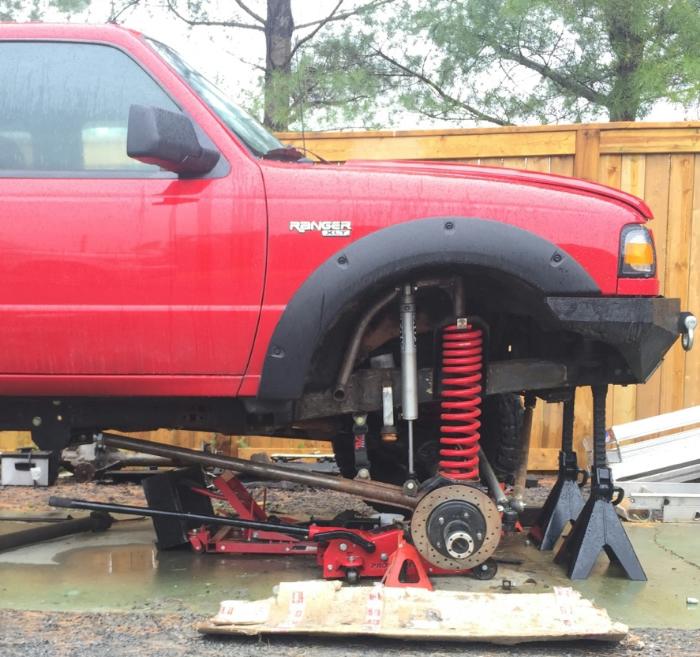 Steering – The Ranger is steered by a rebuilt Ford Bronco steering box that's hooked to a steering cooler. The frame was plated for the steering box, and DOM tubing was used for the bolt holes. The drag link and tie rods are made from 1.5″ .250 wall DOM tube, and use 1-ton Chevy tie rod ends. A shortened Ford E250 steering shaft connects the steering wheel and steering box.
Engine cross member / trac bar mount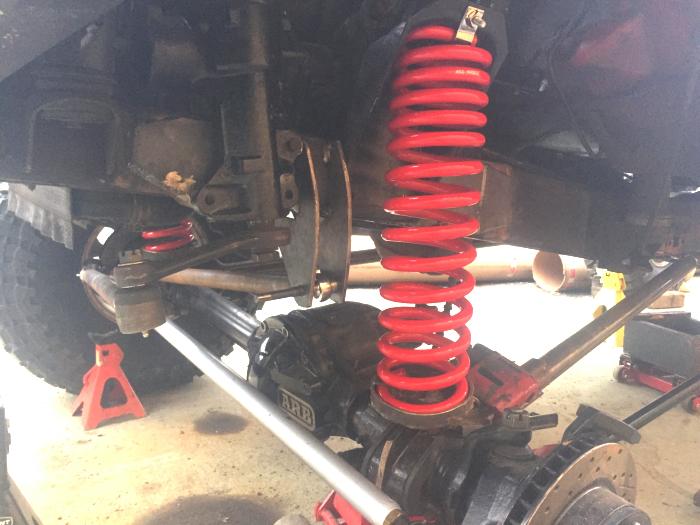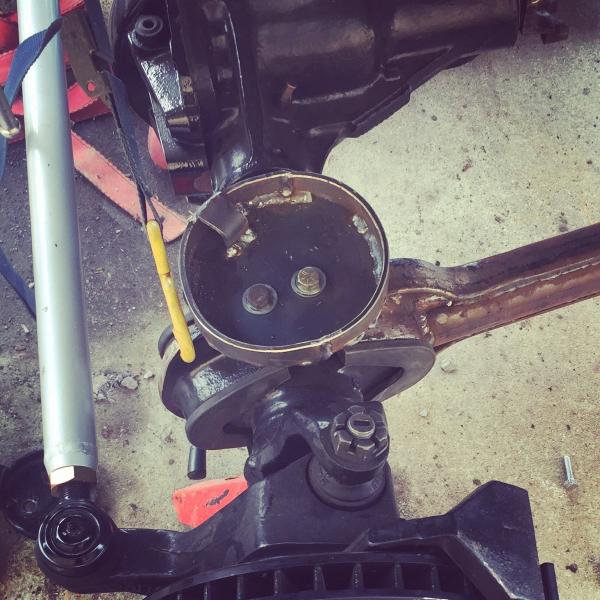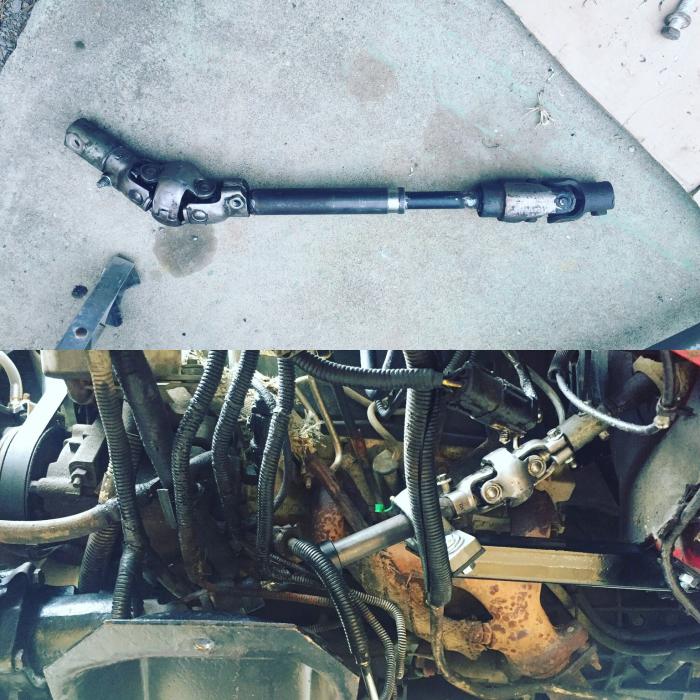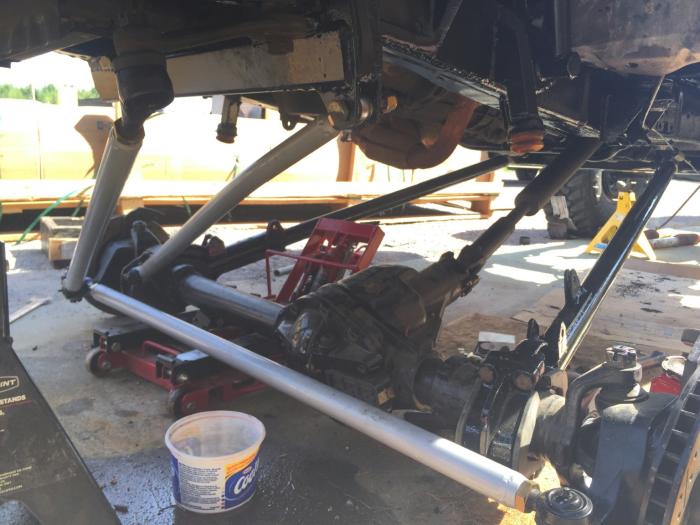 Transfer Case & Driveshaft – The stock transfer case uses a front adapter that allows it to use a double cardan driveshaft.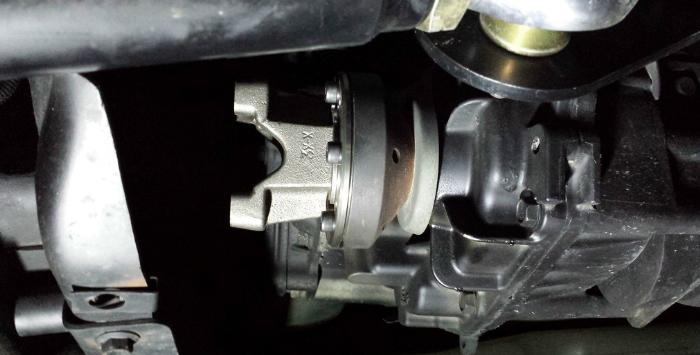 More Photos: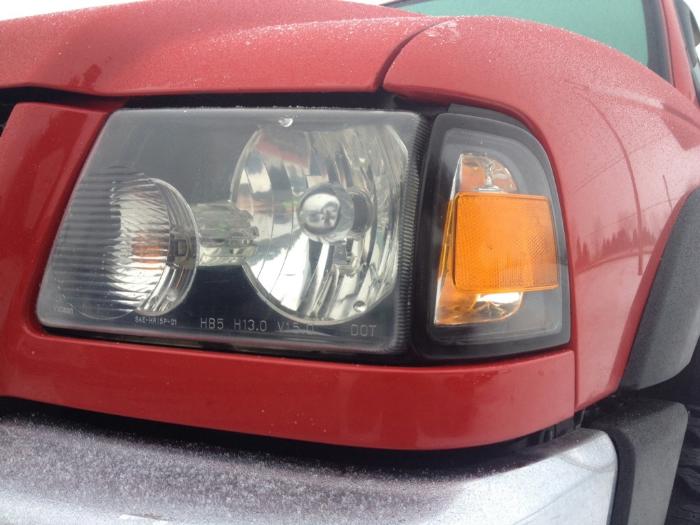 2006 Ford Ranger headlight corners (modified)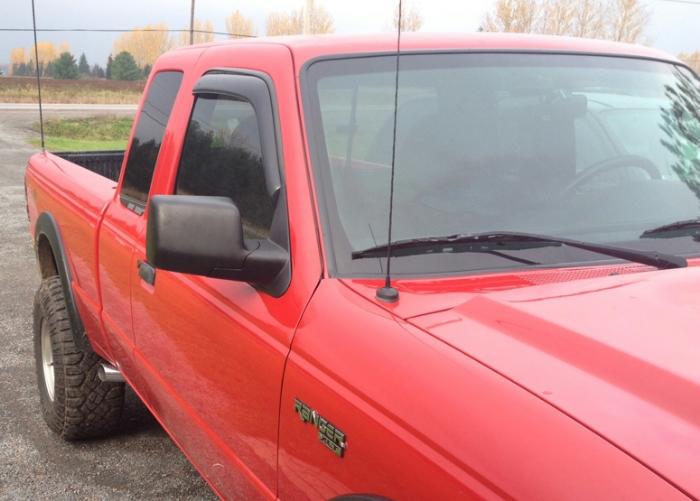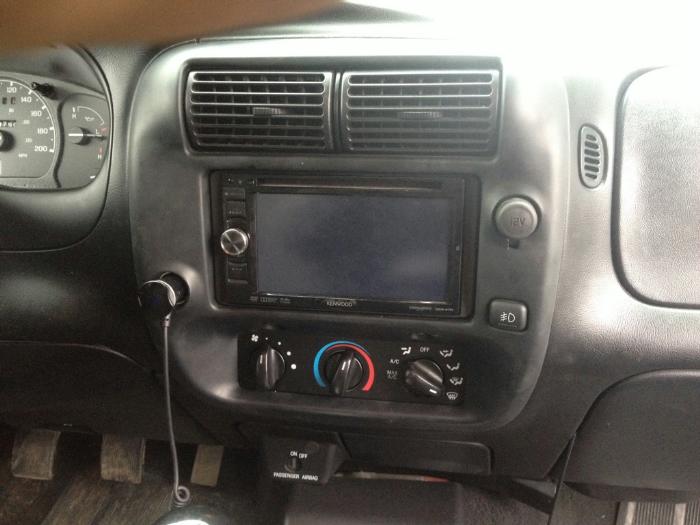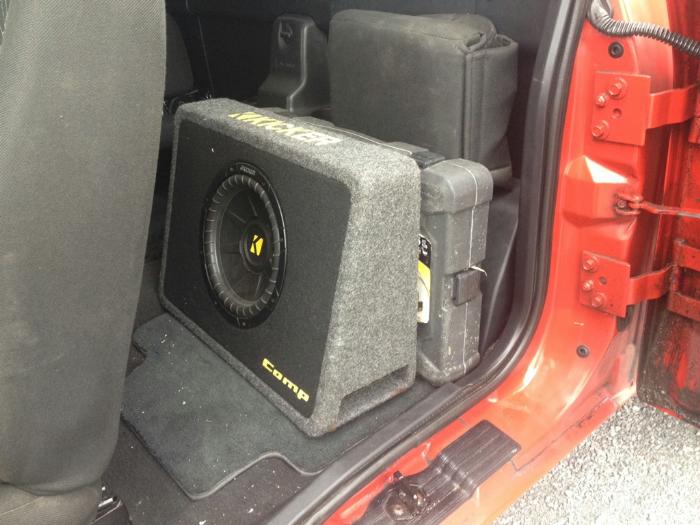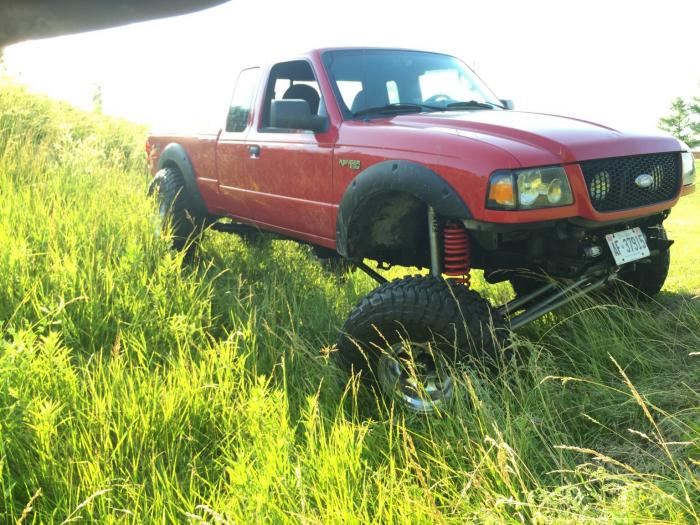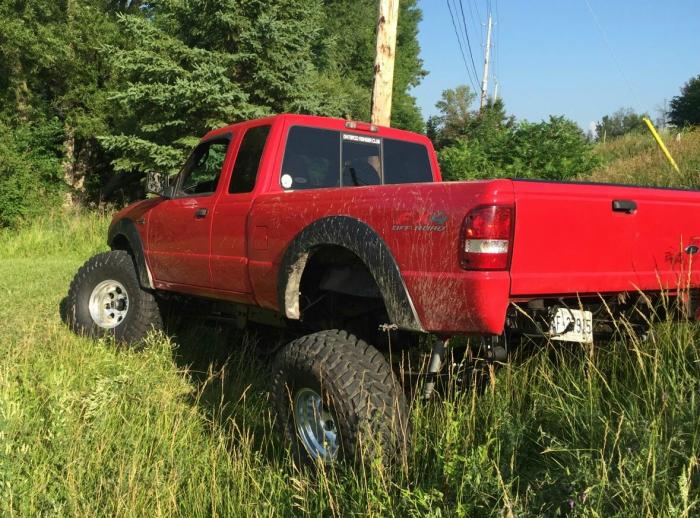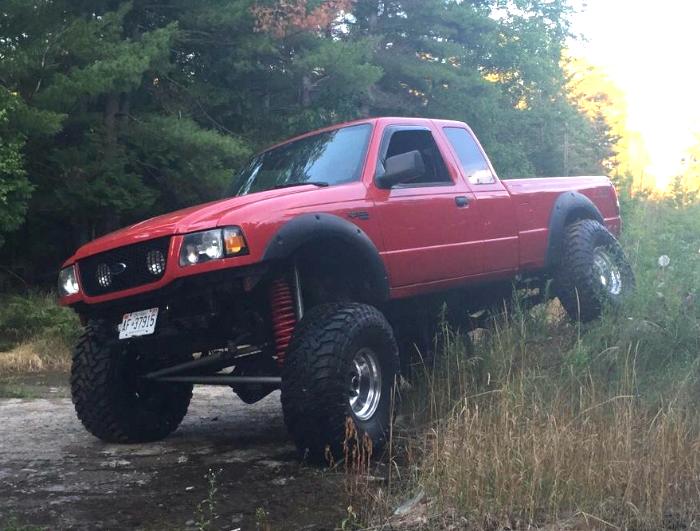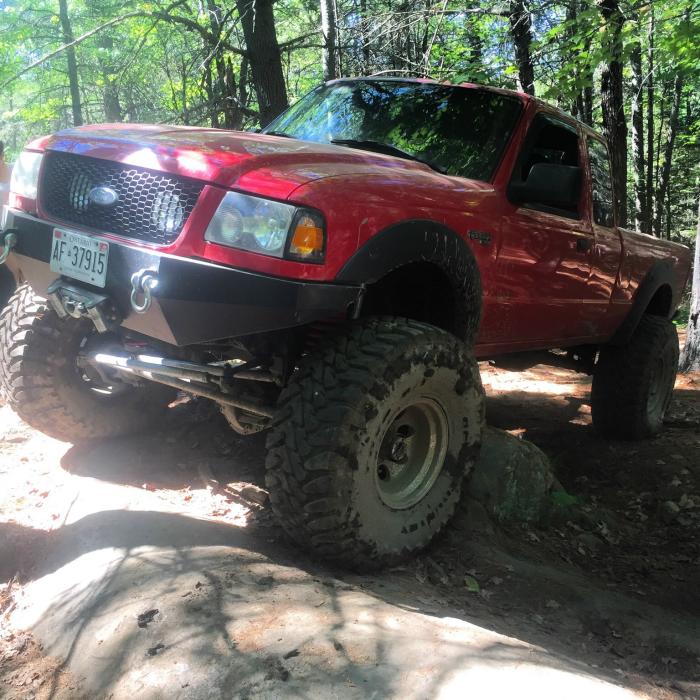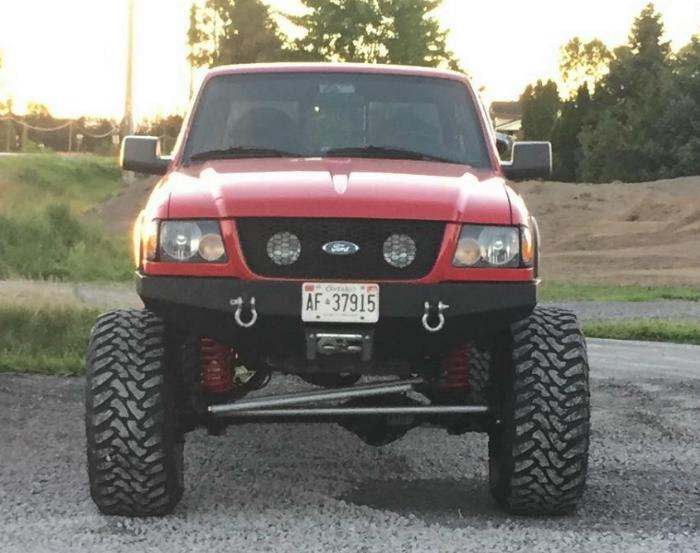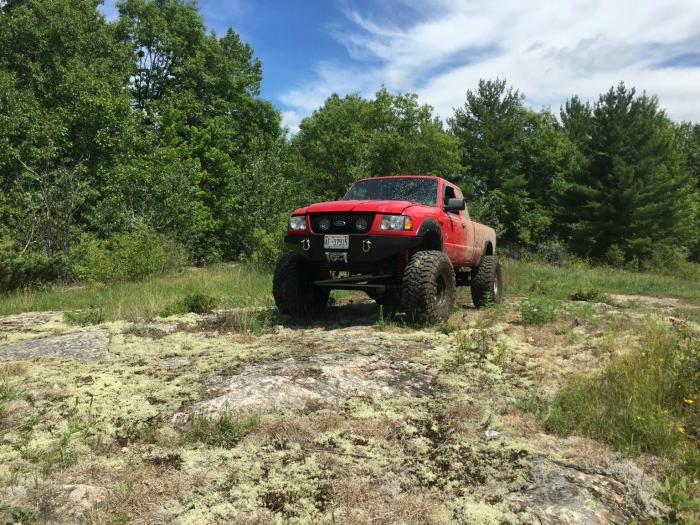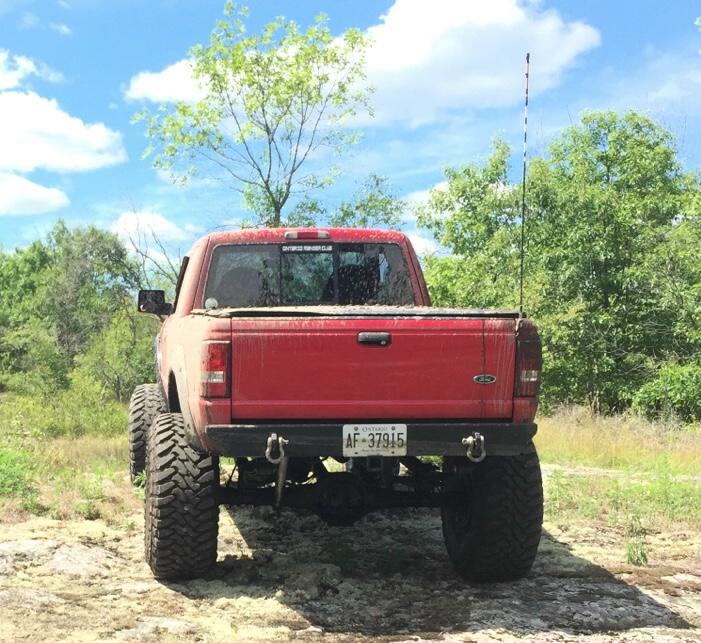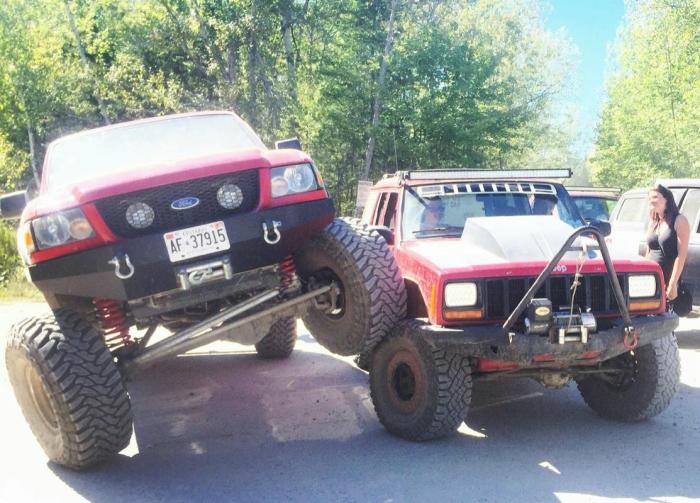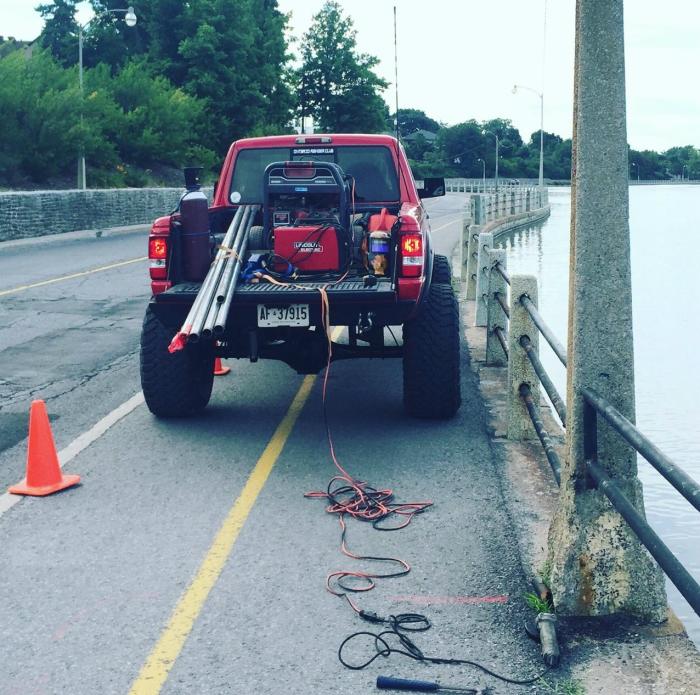 Specifications – So here's a basic run down of the specifications:
2002 Ford Ranger FX4

4.0L SOHC

Flowmaster Super 44 muffler

Manual transmission and transfer case

Dana 44 front axle with 5.13's and a Detroit True Trac

Ford 9-Inch rear with 5.13's and a Detroit Locker

Wild Horses coil springs

Extended Ford Bronco radius arms

Ford Bronco steering box

Chevy 64-inch rear leafs with a Ford Ranger leaf added, and Belltech 6400 shackles

3-Inch body lift

Ion Alloy wheels with 37-inch Toyo Open Country M/T's

2006 Taillights

100-watt offroad lights mountd behind the grill

2006+ Power Mirrors

2006 Ford Ranger headlight corners (modified)

2006+ Fender flares

Kenwood DDX470 head unitwith Kicker 1,200 watt amp

Kicker compS 10″ sub in Kicker ported box

Custom front and rear bumpers

Superwinch LP8500 winch

6000K HID High/Low beams
Links:
The read more about this truck, and see more photos, click HERE.