Joined

Oct 15, 2020
Messages

268
Reaction score

69
Points

28
Location
Vehicle Year

1989
Make / Model

Ford Ranger
Transmission

Automatic
Hey all,
I recently started a few different threads but am now consolidating it all into a build thread. There's going to be a lot involved here for the next several weeks.
To summarize other threads, all I've done so far is install a new MAP sensor, inspect for / find / temporarily patch an exhaust leak at a manifold output so that i can work on the truck in the driveway while idling and not pass out, remove the plastic fenders, remove the sun visor and front rig (will consider putting these back on after all cleanings/paintings take place), inspected the body lift bushings and body mount bushings and determine they all need to be replaced, taken the seats out / cleaned / reinstalled, and that's about it.
The underside looks pretty darn good to my eye, except the mounts. There is no major frame rot. One small hole. There are some places rotted in peripheral parts underneath which i'll photograph later. But as far as i can tell the bones on this thing are good.
There's some scrappy paint over top of the OEM slate black/grey metallic paint. The front has some strange and lame bedliner type of black stuff that already flakes away in the rain, and the bed has some kind of hand brush stroked primer or something that does peel off by hand with some patient labor. No idea what their plan was.
For multiple reasons, today i'm renting a gas powered pressure washer and hitting a lot of the truck. (Also am stripping my front porch of old paint so we can repaint this weekend!) Any recommendations on cleaning solutions is welcome. I have some Super Clean on hand and will likely use that on the engine. I decided it's dangerous to start opening up crucial spots in the engine until i do this, such as for all tune-up procedures. There's quite a bit of gunk. I also want to see how much of the crusty paint of entire exterior i can remove without damaging the OEM paint. I anticipate the black stuff flying right off mostly but having some tougher spots, but i think the grey paint will be a bit more work and possibly not be successful at all unless i add some sort of aggressive substance. It could be latex interior paint for all I know. But maybe I need to first apply some kind of stripper chemical that's capable of attacking the grey stuff without damaging the OEM paint. Sounds risky. Lastly, the tailgate is DIY painted in something else entirely, and it's jet black. No idea how it will react to pressure washing.
As for the overall situation..there's aftermarket suspension, and a suspension lift. There's the 3" body lift. There's somehow no steering column extender put in place despite the 3" body lift. The rear window needs to be replaced since it's missing an entire glass panel. The front left shock strut is dangling unattached at the bottom but the mount point is there and healthy. The rear wheel wells have some rust that i revealed after pulling the plastic fender flairs, although it's not a tragic amount and can be bondo'd. The engine lopes up and down a bit at idle, so there's probably a need for fuel line / injector cleaning, the passenger side exhaust manifold connection to Y pipe needs to be redone, the radiator fluid needs to be completely flushed, belts need to be changed, and then all basic tuneups need to be done. The frame seems pretty darn good. The truck has 84K on the odometer, and believe this number because it looks like it was outfitted for off-road pretty early in its life. The suspension mods will be interesting to discuss. I don't know anything about suspension so it'll be a learning experience here.
The goal is definitely to have fun driving into the hills on trails and not having issue. Also to have no issue around town in the snow. Daily driver sure, but only short distances, like 2-3 miles a day and occasionally 10-20 miles for a task. I'm 99% keeping the body lift in addition to the suspension lift, because i think i'll regret it if i don't. The work is sorta already done, in that i don't have to get the whole beast higher when i go to swap all bushings. Yeah the bushings work will be serious labor involving removal of rusted washers, but still it's less intimidating to be not altering the overall height. I can just go one point at a time with a jack.
Here's the truck as it was when i had it delivered via flatbed.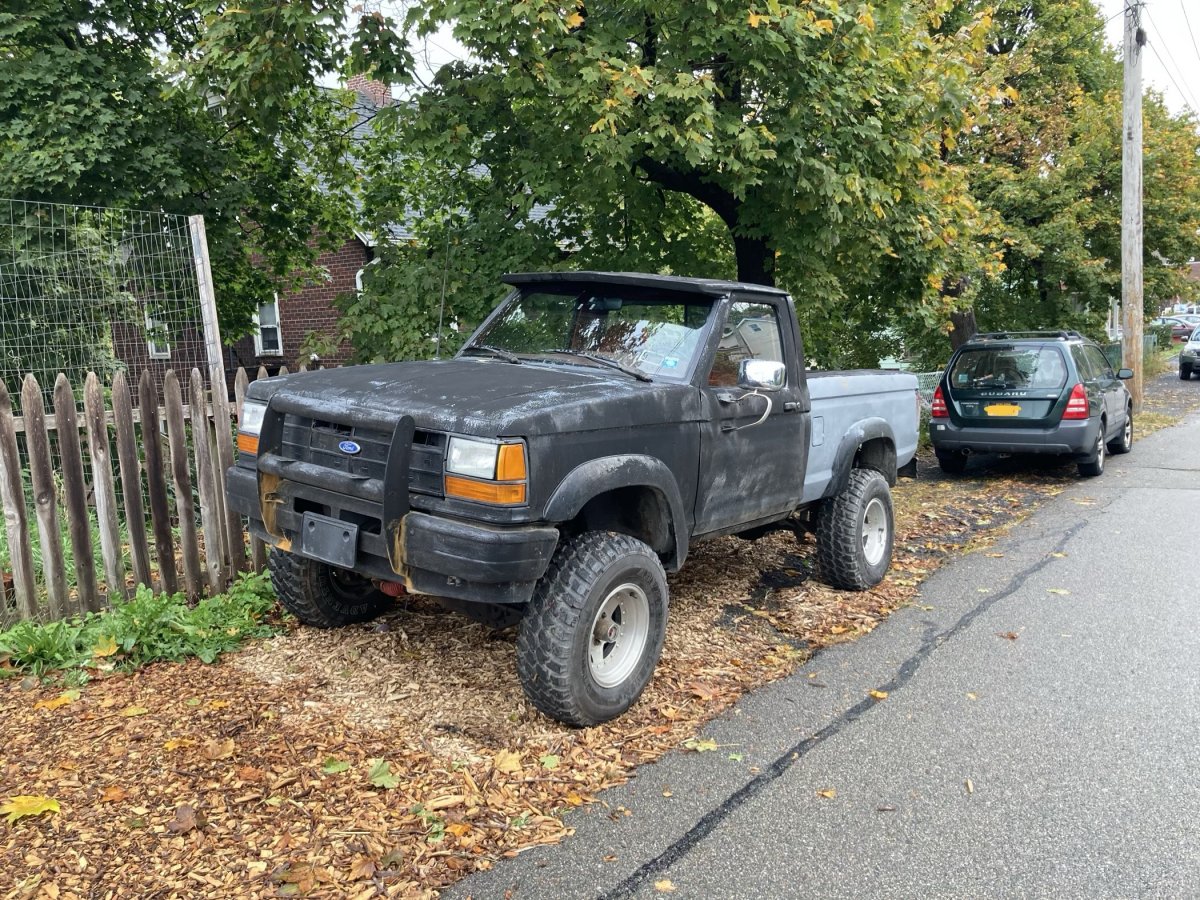 And below are some pics after removing the accessory bits.
The paint under the plastic flairs seem pretty great except for the edge rust in rears.
The front left fender seems weird with alignment. I think it might not be OEM. It's not seated perfectly flat, sitting like a 1/4" or so too high everywhere. The hood is missing the left rubber resting piece in front so this makes the alignment a little worse. But there's no doubt something is up with the fender itself. From scraping paint away, it seems like it might be unpainted. So maybe it's a not perfectly designed aftermarket replacement panel. I may need to replace this.
I'll preface that by saying that i have a longer game plan to, if this truck works out, swap an 83-88 nose onto this truck. For me there's no question that the 1st gen front end looks a lot better. I do enjoy this 89 look still though, the more i look at it. Being lifted this much and with bigger tires, the 2nd gen appearance somehow works better for me than an OEM 89-92 truck height/stance. So we'll see. But i believe the swap will likely take place. This of course influences decisions regarding panels, since it would be a bit of a waste to get the perfect 89-92 fender if i'm going to eventually get the 1st gen panel. So i might make a home brew attempt at painting just this panel to closely match the rest of the truck. Take it off and spray some color matched on somehow.
The hood also obviously has lots of sun damage. It's like half gone. But i enjoy that kind of devolved look and i'm happy to live with that for a while and just get the left fender a little more cohesive looking and stick with that overall until i can spend time/money on a 1st nose swap.
The big mystery is what the bed looks like under the grey paint!!!!! ??? Maybe will know later today.