Joined

Oct 28, 2014
Messages

2
Reaction score

0
Points

0
Vehicle Year

1994
Make / Model

Ford
Engine Size

4.0L
Transmission

Manual
So my grandpa insisted on buying me some 6x9 speakers for my truck and I couldn't convince him otherwise so I figured I would make them work. I saw several threads on 6x9 speakers, but I thought I would show everyone my photos/experience on my 94 ford ranger standard cab. For the wiring, I just used butt connectors.
For the rear speakers, I used 2 layers 3/4in board to push them away from the back of the cab because the magnet in the back was hitting the metal. I'm not sure if there was a better way to do this, but I'm 16 and had to do this project on my own so the cuts are the cleanest I know, but here are the pictures. I just used a jig saw and a drill. End result is that I have to keep the seat slider up one on both sides but on the plus side I can feel the seat vibrate when I turn the bass on

however, just buy 6x8's or whatever normally fits in the hole. Would have made life soooo much easier but oh well. at least it was all free to me.
For the front, this is fairly common to use 6x9's. I just used the jig saw with the thin metal blade and it was a piece of cake. I also included the pictures of that and about how much I had to cut out.
Let me know if you have any suggestions/improvements. Like I said, I'm 16 and I just went for it. I also included a picture I took of someone else's post that I used for a reference in the wiring. Only one of the colors was correct at each corner, but there's only two options so it helped. (sorry the pictures are crooked - I'm not sure why)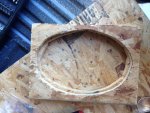 used a jigsaw and a drill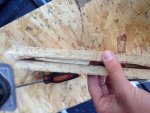 1.5inches total thickness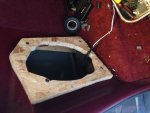 I had to mount the first piece first in the wholes where the old cover mounted, then I mounted the speaker on the second piece.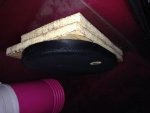 Final product on drivers side.
Now for the front: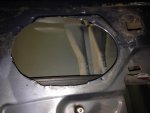 the hole I had to cut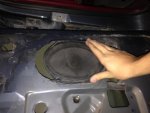 Compared to the old speaker
Final products: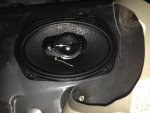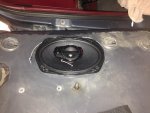 The door panel slid back over easily.
Last edited: