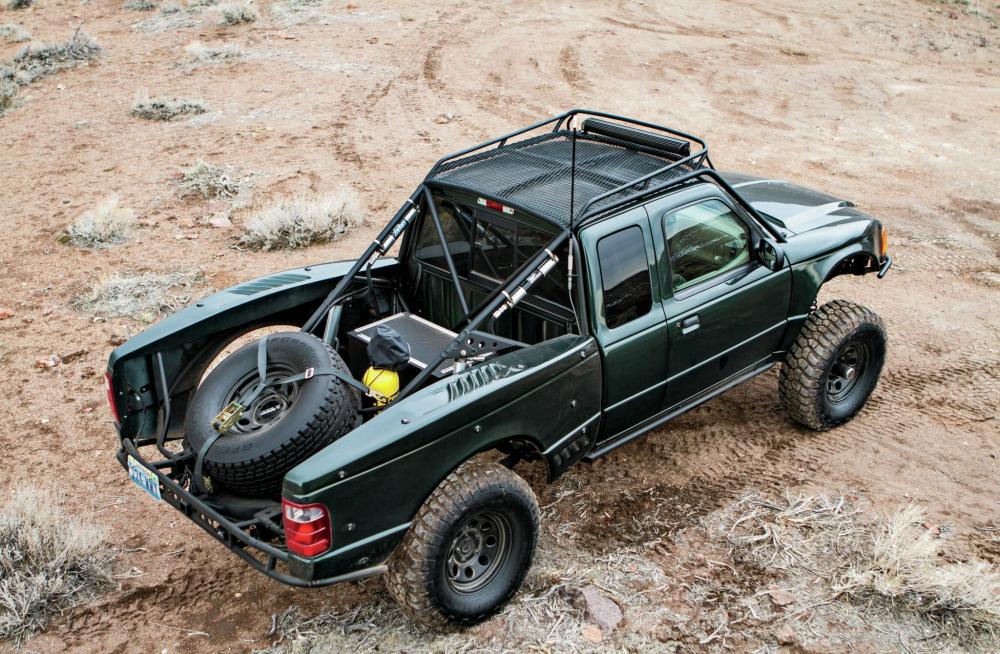 Trying to build a truck that can do everything can be a challenge. Nick Czeczulin's Ford Ranger looks like it's a combination of pre-runner and rock crawler. The truck was built by SamCo Fabrication. SamCo Fabrication is Nevada's premier off-road fabrication shop specializing in off-road racing and rock crawling.
The key to safety while retaining interior space is the low-profile roof rack that Reed Lair at Samco Fabrication built out of 1-5/8″ x 0.120″ wall DOM tubing and expanded metal. The cage goes down the A-pillar and then behind the front fenders to keep it from looking like a jungle gym. Since the cage is outside of the cab, space is retained for the occupants.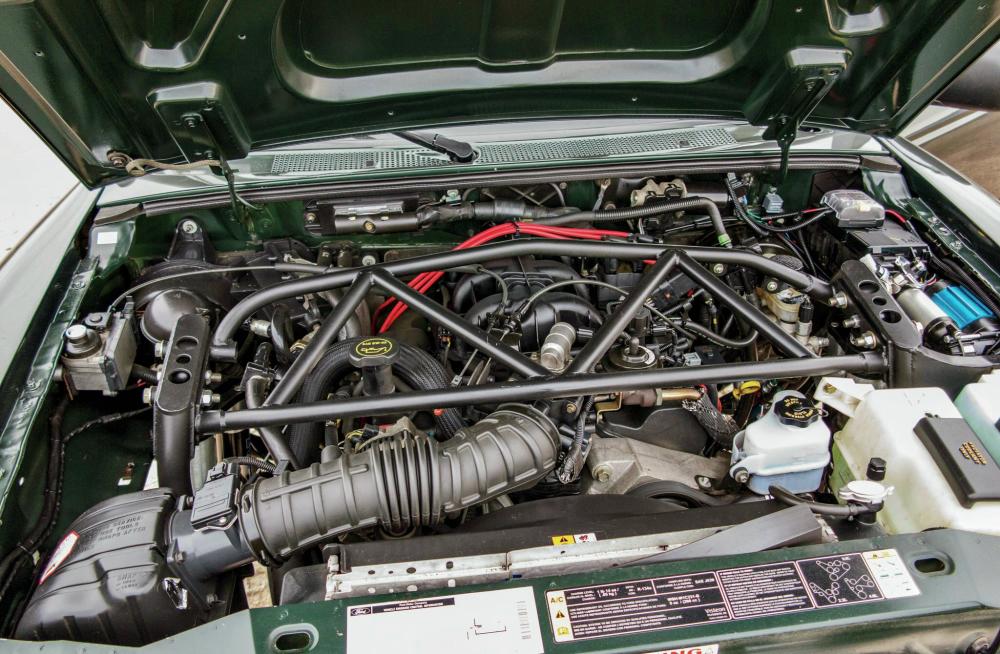 The stock 4.0L V-6 engine was retained for reliability and sits under a custom engine cage from Samco Fabrication that ties the shock towers together. The engine cage bolts in for easy access should repairs or maintenance be necessary.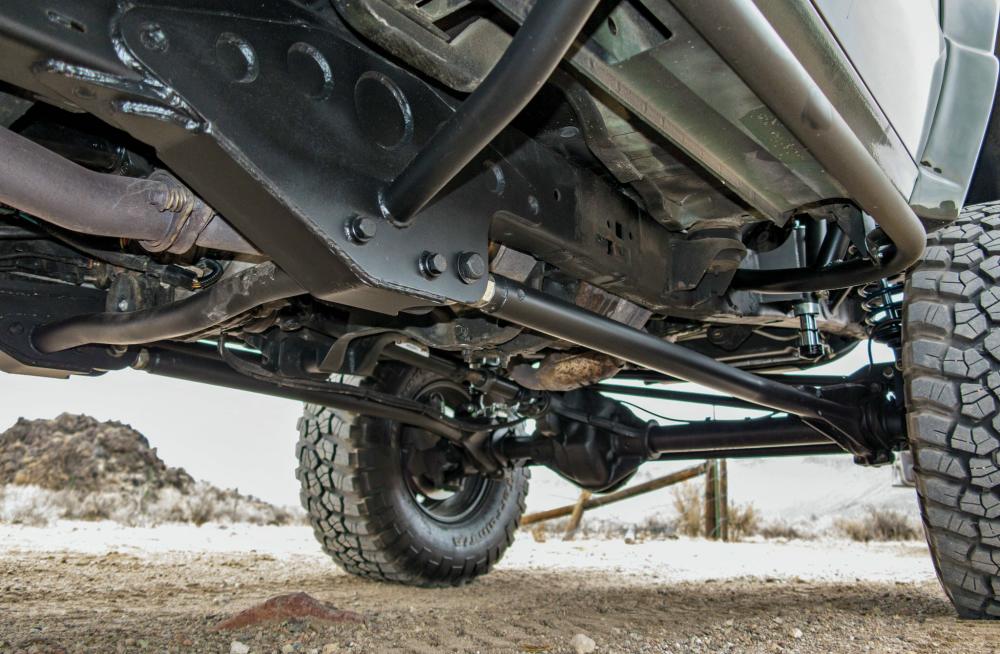 The front suspension uses custom radius arms that Samco Fabrication built from 2″ x 0.250″ wall DOM tubing and FK 1-1/2 inch thread, 1-inch bore rod ends on the frame end. The arms work in conjunction with Fox 2-1/2 inch diameter, 14-inch-travel internal bypass coilovers and Fox air bumps.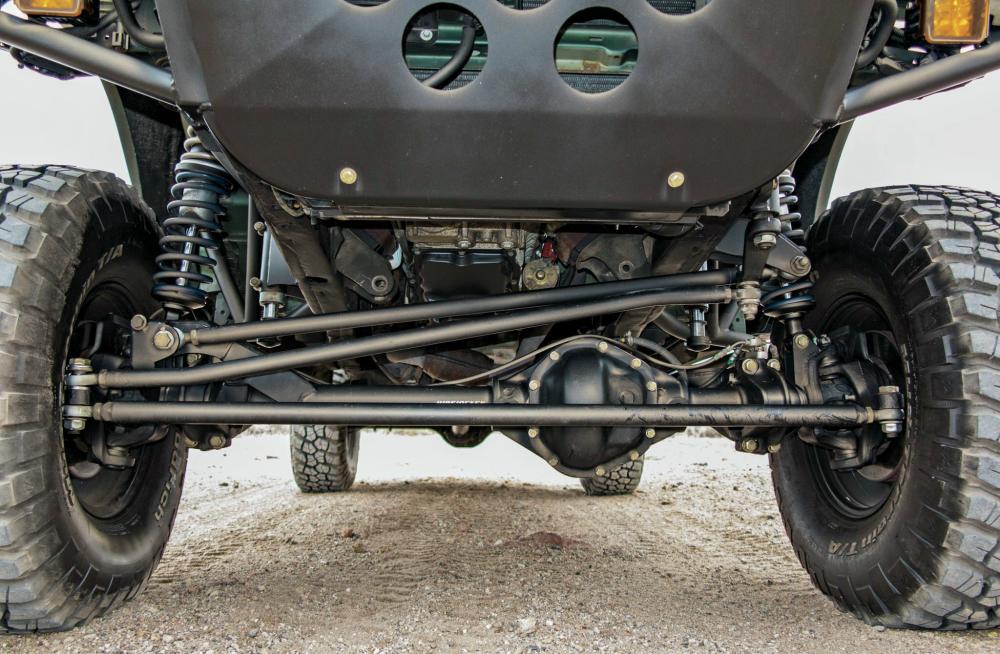 The front axle is a junkyard high-pinion Dana 44 from an F-150. The solid axle was chosen for strength and reliability, and the suspension makes very few compromises when compared to long-travel IFS. The axle was upgraded with gears, an ARB Air Locker, and Warn Premium hubs.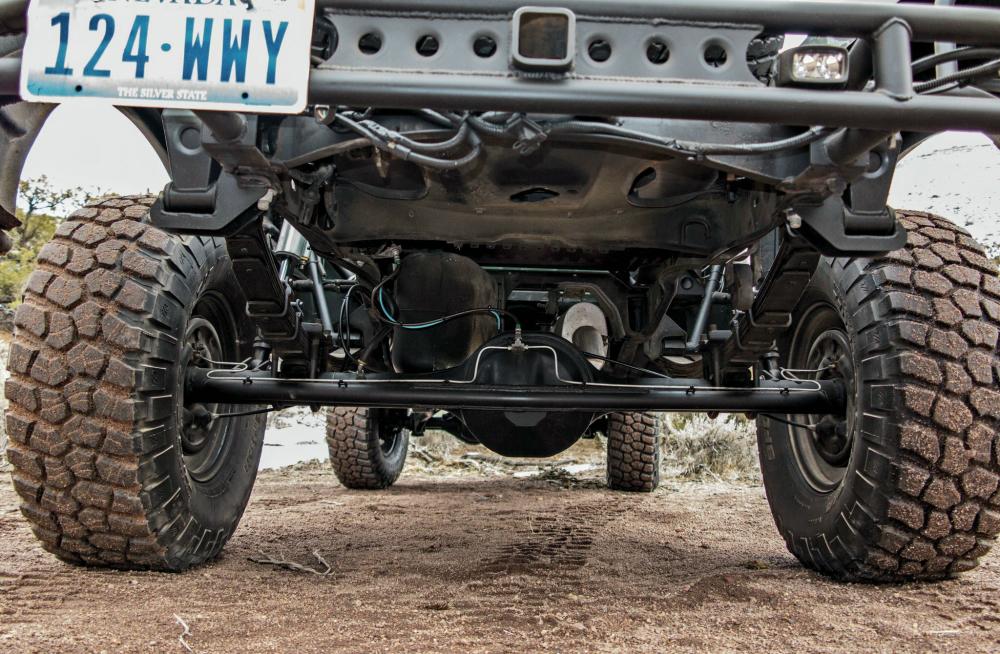 The rear axle is a junkyard Ford 9-inch with big bearing ends, 31-spline axleshafts, and drum brakes. Samco Fabrication added a truss to the back of the housing and an ARB Air Locker and 5.13 gears to the third member.
The rear suspension uses Deaver F31 leaf springs coupled with Fox 2-1/2 -inch,16-inch-travel, three-tube bypass shocks that have been valved by Samco Fabrication. The upper shock mounts tie into the cage structure that also supports the McNeil Racing fiberglass bedsides.
From behind the wheel it feels just like a stock Ranger on the pavement. The only clue that the truck has been modified is when you look in the side mirror and all you see is the bulged McNeil Racing fiberglass bedside. Hit the dirt though, and all bets are off. The front Fox coilovers and rear Deaver leaf springs and Fox bypass shocks have been dialed in to perfection. At slow speeds the ARB Air Lockers in the solid axles and the 35-inch BFGoodrich Mud Terrain KM2s allow Nick's Ranger to tackle trails most prerunners fear to tread.
Technical Specifications:
Drivetrain
Engine: 4.0L V-6
Transmission: 5R55E 5-speed automatic
Transfer case: BW1354
Front Axle: High-pinion Dana 44 with 5.13 gears and ARB Air Locker
Rear Axle: Big-bearing Ford 9-inch with 5.13 gears and ARB Air Locker
Suspension:
Springs & Such: Samco Fabrication radius arms and Fox coilovers (front); Deaver leaf springs and Fox bypass shocks (rear)
Tires & Wheels: 315/75R16BFGoodrich Mud Terrain KM2s on 16×8 Ultra steel rims
Steering: Tom Lee–built Saginaw steering box, 1-1/2×0.250-wall DOM tie rod with 3/4-inch FK JMX 12T rod ends
Other Stuff: Rigid Industries LED lights, Exocage roof rack, Samco Fabrication tubular front bumper, Powertank PT10, Samco Fabrication tubular rear bumper, ARB air compressor, Uniden CB radio, Odyssey RedTop battery
Links:
More Photos:
Click the photos to enlarge: