Introduction:
We constantly have people coming to The Ranger Station looking for information on swapping a solid front axle in to their Ford Ranger. The logical decision for swapping to a larger front axle is to gain strength for larger tires, more torque or both. Generally when an axle fails, it fails at the locking hub (common on Ranger's due to the flange style hub) or at the u-joint. You need to take that in to consideration when looking for an axle to swap. One of the most common swaps is the Dana 44. Try to avoid Dana 44's that have a small u-joint unless you plan on swapping in larger shafts. In this page you will find information on Dana 44's that came with a driver side differential.
This page is not meant to tell you how to setup and install the axles but to act as a reference for the axles themselves.
Identification:

Dana axles are very easy to identify and their numbering system is consistent irregardless of the vehicle they came in. The axle model number is cast in to the housing (30, 44, 60) either on the right (facing the axle cover) lower web at the point where the axle tube is pressed in to the center section or in the nose of the housing near the pinion yoke.
Each axle has a B.O.M (Bill of Materials) number stamped onto it on the left or right axle tube. If you have the B.O.M number, you can look it up on Dana's website HERE. If you find a Dana axle not in a vehicle, that link will tell you what vehicle the axle came out of. You may also want to check out our list of Dana B.O.M numbers HERE.
A Few Explanations:
We're going to be mentioning things such as open knuckle, closed knuckle, low pinion, high pinion reverse cut and standard cut. Here's an explanation:
Open Knuckle vs Closed Knuckle:
The knuckle of a front axle is the part that enables the front axle to steer. There are upper and lower joints that the knuckle swivels on, turning the wheels to the left and right. There are two basic types of knuckles used, one is the closed knuckle and one is the open knuckle.
The advantage of the open knuckle is it allows a tighter turning radius and it is easier to maintain. The closed structure of the closed knuckle limits its ability to swivel. It also is a bit harder to maintain since the knuckle must be sealed. Closed knuckle axle shaft joints either run in gear lube or in grease in the knuckle, and the lubricant tends to leak out of the knuckle. The open knuckle axles used a sealed cardon cross joint.
| | |
| --- | --- |
| | |
| Closed Knuckle | Open Knuckle |
Low Pinion Standard Cut vs High Pinion Reverse Cut:
Here is a photo of a low pinion axle (left) and high pinion axle (right).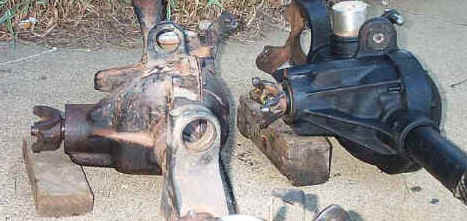 Low Pinion Axle left - High Pinion Axle Right (They're Dana 30's, but they serve the purpose)
The low pinion axle is an indication of a standard cut ring gear and the high pinion axle is an indication of a reverse cut ring gear. Often mistakenly referred to as 'reverse rotation', the term 'reverse cut' is perhaps the single most misunderstood term used by off-roaders and even many in the axle business. A reverse cut housing is not just like a standard cut housing turned upside down. It is a specially designed housing for front driving axles. Contrary to popular belief, it does not turn backwards or in reverse. The term 'reverse cut' actually refers to the direction of the spiral cut in the ring gear.
In a reverse cut axle, the spiral on the ring gear is opposite from a standard cut ring gear. The idea behind reverse cut is to strengthen the operation of the gear when it is used for a front axle application.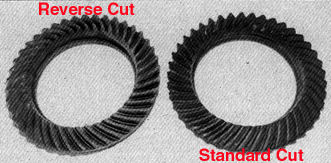 The bottom line is that reverse cut gears (front axle style) and axle assemblies are inherently stronger for front axle use because of the way the gear mesh when moving the vehicle forward direction. They also provide better driveline angles because the pinion is located above the centerline of the axle.
The Early Bronco Dana 44: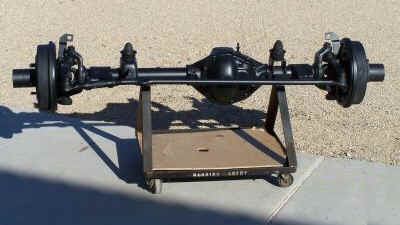 1971-1977 Ford Bronco Dana 44 Axle
Specifications:
8.5-Inch Ring Gear Diameter

1.31-Inch / 30-Spline Axle Shafts

1.38-Inch / 26-Spline Pinion

3.73 & Down / 3.92 & Up Carrier Break

Coil Spring / Radius Arm Setup

5x5.5 Wheel Bolt Pattern

58-Inch Axle Width
Early Bronco Dana 44

Year
Style
Brakes
U-Joint
Notes
1971-1975
Standard Cut / Low Pinion
Drum
260x (small)
1976-1977
Standard Cut / Low Pinion
Disk
260x (small)
One of the most common Dana 44's swapped in to a Ranger is the early Bronco (EB) Dana 44. It's desirable because the axles width is similar to that of the Ranger and also uses a coil spring/radius arm suspension similar to a Ranger.
The Dana 44 became available in the early Ford Bronco's from 1971-1977. Axles up to that point were the Dana 30 and should be avoided. When you switch to the early Bronco Dana 44 you're going to end up with a 5x5.5 wheel bolt pattern. If keeping a Ranger 7.5 or 8.8 rear axle, you'll need to purchase a set of 5x4.5 to 5x5.5 wheel adapters from company's such as A-Dapt-It so that the rear bolt pattern matches your new front.
One of the major drawbacks of an early Bronco Dana 44 is it's small 260x u-joints. If all you do is swap in a stock early Bronco Dana 44 into your Ranger in place of the Ranger's Dana 35, you're going to end up with a weaker axle assembly. The Ranger has 297x u-joint's vs the early Bronco's smaller 260x u-joints. You'll need to replace the axle shafts in order to swap to a larger u-joint. The early Bronco shaft is 18-5/16 inches and the F-150 shaft is 18-5/8 to 18-29/32 inches long. It's common for the F-150 shaft to be used on the early Bronco drivers side. However, the Chevy Dana 44 shaft is 18-1/2 inches so it would work better as an inner shaft than the F-150. Also a Dodge W100 from 1972.5-1974 with B.O.M. 603413 has the exact same length shaft at 18-5/16 inches but with a 297 u-joint.
You can find a stronger replacement shaft or a complete set of replacement shafts that use larger u-joints at companies like broncograveyard.com.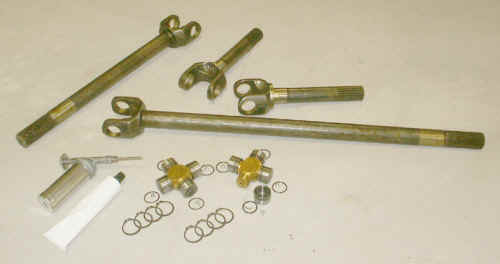 Another thing to watch out for with the early Bronco Dana 44 is the brakes. 1971-1975 Ford Bronco's have drum front brakes. 1976-1977 Ford Bronco's have 11-inch disc brakes. If you end up with a drum brake Dana 44 you can convert it to disc brakes. Find a 1978-1979 Ford Bronco or a 1973-1979 Ford F-150 and get the following parts:
Steering knuckle

Brake backing plate

Caliper holder (Haynes calls this the Anchor plate)

Spindle

Wheel bearing locking nut, lock ring washer and wheel bearing adjusting nut

Caliper support key and spring

Rotor (use as a core for a new one)

Locking Hubs
Basically, you'll be needing everything from the knuckles out. You'll be replacing your existing parts with these new ones.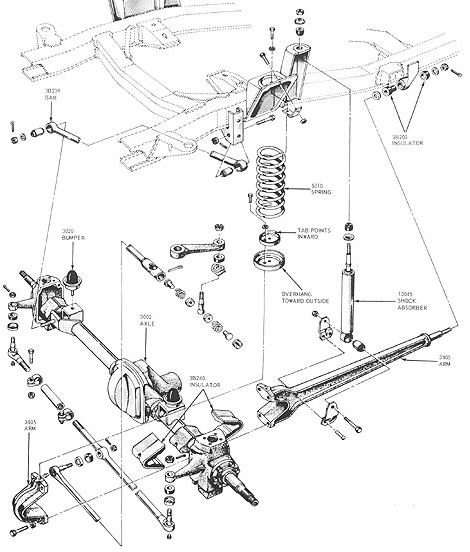 Diagram of a 1971-1977 Ford Bronco front suspension (F-150 and 1978-1979 Bronco are the same)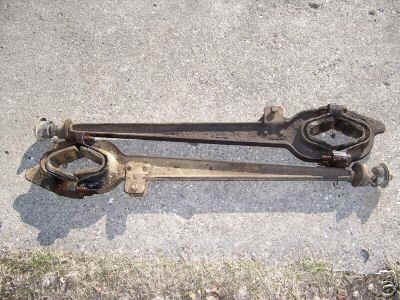 Early Ford Radius Arms
Fullsize Ford Reverse Cut High Pinion Dana 44: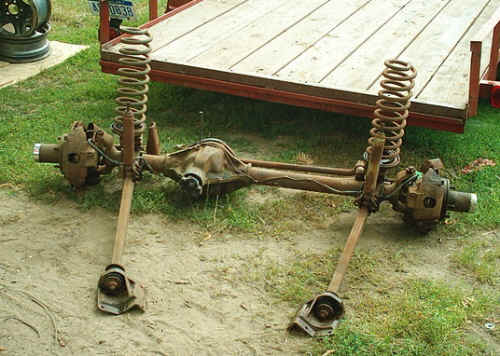 F-150 Dana 44
Specifications:
8.5-Inch Ring Gear Diameter

1.31-Inch / 30-Spline Axle Shafts

1.38-Inch / 26-Spline Pinion

3.73 & Down / 3.92 & Up Carrier Break

Coil Spring / Radius Arm Setup (F-250's and 1977-1979 F-150 Super Cabs have leaf sprung Dana 44's)

5x5.5 Wheel Bolt Pattern on F-150's (F-250's are 8-lug)

Axle Width (unknown)
F-100/150 Dana 44
Year
Style
Brakes
Knuckle
U-Joint
Tube Diameter
Notes
1966-1970
Reverse Cut / High Pinion
Drum
Open - King Pin
5-260x
2.75 x 1/2 Inches
1971-1972
Reverse Cut / High Pinion
Drum
Open - Ball Joints
5-260x
2.75 x 1/2 Inches
1973-1975
Reverse Cut / High Pinion
Drum
Open - Ball Joints
5-297x
2.75 x 1/2 Inches
Panhard bar has a separate mount on the axle tube
1976-1977
Reverse Cut / High Pinion
Disk
Open - Ball Joints
5-297x
2.75 x 1/2 Inches
Some 1977's had 2.75 x 3/8 Inch Tubes
1978-1979
Reverse Cut / High Pinion
Disk
Open - Ball Joints
5-297x
2.75 x 3/8 Inches
Some had 2.75 x 1/4 Inch Tubes
F-250 Dana 44
1961-1965
Standard Cut / Low Pinion
Drum
Closed - King Pin
5-260x
3.00 x 1/2 Inches
1966-1968
Standard Cut / Low Pinion
Drum
Closed - King Pin
?
3.00 x 1/2 Inches
1969-1975
Standard Cut / Low Pinion
Drum
Closed - King Pin
See Note
3.00 x 1/2 Inches
1969-1973.5 had 5-74x u-joints / 1973.5-1975 had 5-309x u-joints
1976-1977.5
Standard Cut / Low Pinion
Disk
Open - Ball Joints
5-297x
3.00 x 1/2 Inches
1978-1979
Reverse Cut / High Pinion
Disk
Open - Ball Joints
5-297x
3.00 x 1/2 Inches
This is the top dog when it comes to Dana 44's. Some believe that the Ford high pinion reverse cut Dana 44 didn't become available until after 1977. This misconception is probably because a high pinion Dana 44 wasn't offered in the F-250 until 1977. The reverse cut high pinion Dana 44 was used in 1/2 ton Ford trucks from 1966-1979 and full size Ford Bronco's in 1978-1979.
Many Ranger enthusiasts choose the late 70's Dana 44's because there's still around in F-150's and Full Size Broncos. These axles are stronger than the early Bronco and Wagoneer axles with the driver side differentials. Some choose to narrow them for use on the road. Some of the hardcore off-roaders who build their rigs primarily for off-road use leave them full width. If you've ever been on an RTI, or watched a well built rig on an RTI ramp, you can appreciate the benefits gained from the wider axles.
If you find an axle and want information on narrowing it, click HERE.
If you do cut the passenger side exactly 6-inches shorter, you can use an early Bronco Dana 44 shaft in it. An aftermarket shaft is advisable though, as the stock Bronco shaft has the tiny 260x u-joint. Some companies offer stronger replacement axle shafts for the early Bronco that uses a 297x or 760x u-joint.

F-250 Dana 44's:
F-250 Dana 44's up to 1977 were low pinion, standard cut units.
In 1977.5 Fordís new F-250 axle now started to appear. This new axle was a high pinion, reverse cut, 8-lug Dana 44. This axle for the F-250 Dana 44 is slightly different than the F-100 & F-150 offered in 1977. The F-250 is a little wider than the F-100 & F-150, for the wider 8 bolt wheel pattern. The F-250 also has 3-inch wide axle tubes with 1/2-inch thick tube walls, and the axle has many different small changes from the F-100 & F-150 to include larger brakes.
Photo of a F-250 Dana 44 (laying on its top)
Coil Mounting Brackets:
1971-1977 coil mounting brackets were 4 separate cast pieces welded at the top and bottom. These can be cut off.
1978-1979 coil mounting brackets were a new design that was a single piece per side, with the tubes pressed into the ends of the casting. The center of the cast pieces does not have a tube that passes through it. Instead, a tube is pressed on both ends and welded together. This system came with outer tubes 3/8 inch thick and center tubes 3/8 inch or 1/4 inch thick. These newer coil brackets can not be cut off.
Leaf Spring Perches:
The 1977-1979 F-150 Super Cab and 1978-1979 F-250 have leaf sprung Dana 44's in the front.
Recommendation:
The best Dana 44's are the 1976-1977 units with 297x u-joints, disc brakes and weld on radius arm mounting brackets (wedgies) that can be cut off. These should all be reverse cut high pinion units. The 1978-1979 units are just as good as long as you want to retain the factory style radius arms. The axle tubes are pressed in to a casting for the radius arms and do not go all the way through it. This means you can't just cut the mounts off like you can on the previous year axles. It is possible to shorten these axles for use with radius arms though. For more information click HERE. If you wanted to use the 1989-1979 Dana 44 for a leaf spring or link suspension setup, you would have to completely rebuild the housing with new tubes.
The other axle of choice would be the 1977-1979 F-150 Super Cab or 1978-1979 F-250 Dana 44's that were setup for leafs. Remember that'll you'll have an 8-lug wheel bolt pattern with the F-250 axles.
Miscellaneous: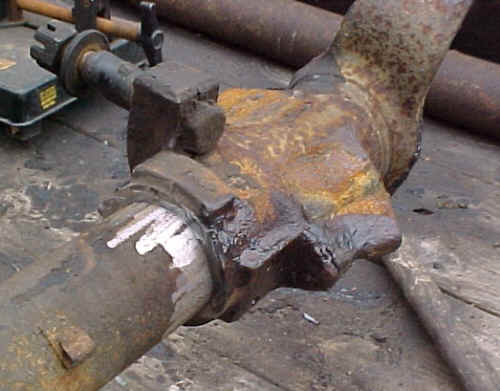 This is the radius arm mount on a 1978-1979 Ford Dana 44. It's a one piece unit with the axle tube pressed in to it. Dana 44's made prior to 1978 had (4) separate pieces welded on to the axle tube. For information on how to shorten this axle, click HERE.
The Jeep Wagoneer Dana 44: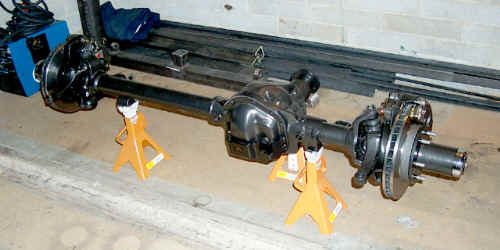 Axle Specifications:
8.5-Inch Ring Gear Diameter

1.31-Inch / 30-Spline Axle Shafts

1.38-Inch / 26-Spline Pinion

3.73 & Down / 3.92 & Up Carrier Break

Standard Cut Gears

Low pinion design

297x U-Joints

Leaf Spring Setup

Disk Brakes

6x5.5 Wheel bolt pattern

Wheel Mount Surface to Wheel Mount Surface is 62.5-Inches
The Jeep Wagoneer was a leaf-under-axle Dana 44. When choosing one of these axles, it needs to be from a 1980-1981 or 1985-1992 Wagoneer. 1979 and earlier had the differential on the passenger side. 1982-1984 had a problematic vacuum disconnect that was built into the differential for the two piece long side shaft and should be avoided. You will notice the vacuum line going to the top of the pumpkin. Wagoneer axles were only available with 2.73, 3.08 and 3.54 gears from the factory.
If you are comfortable with the 6x5.5 bolt pattern of the Wagoneer 44, you can adapt your Ranger's rear axle with a 5x4.5 to 6x5.5 wheel adapter from companies like A-Dapt-It.
If you want to get a 5x5.5 bolt pattern, you will need to get hubs and rotors from a Ford F-150 or Bronco. Any late 1970's, early 1980's Ford hub & rotor should work. You also need to get the bearings & seals for the same model Ford. The 1974-1977 disc brake outer shafts have the correct spindle to use F-150 hubs an rotors and they have the flat top knuckles that are desirable for high clearance steering conversions. You can also use the spindles from a late 1972-1977 GMC/Chevy 1/2 ton K series 10/15 or Blazer/Jimmy. The spicer part number for the spindle is 706528X.
For more information on High Steering, see the section at the bottom of the page.
Miscellaneous: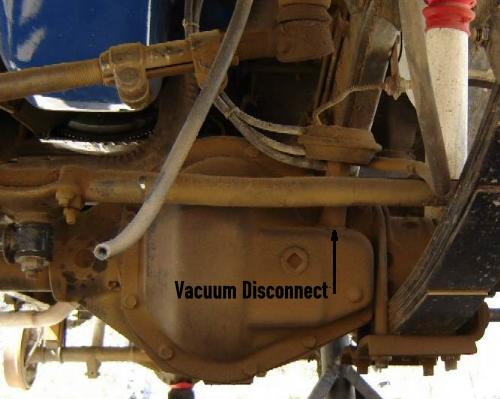 Here's a photo of the vacuum disconnect on a Wagoneer.
Jeep Rubicon Dana: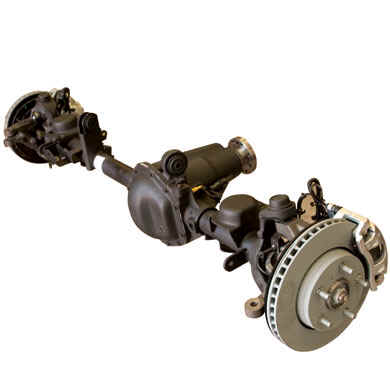 Jeep did offer a Dana 44 with a drivers side differential in the 2001 and newer Wrangler Rubicon. Company's are selling these axles like the one pictured above complete with gears, locker and brakes. Be prepared though to shell out $1,500. They have a 5x5 wheel bolt pattern.
Currie Enterprises:


Ok, you have more money than fabrication talent and want to just buy a beefy solid front axle. Currie Enterprises can build you a front Dana 44 or Dana 60. Shown above is their RockJock high pinion 60.
Dana 44 Flat Top Knuckles For High Steering:
Those wishing to do a High Steer setup will need a set of flat top knuckles for your Dana 44 if you don't already have any.
You can buy flat op knuckles from company's like Reid Racing. It would save you from having to have one of the knuckles machined, drilled and tapped for a High Steer arm.
Vehicles That Came With Flat Top Knuckles:
1973-1977 Chevy & GM 1/2 ton 4X4 with Dana 44 - Passenger knuckles are flat tops.

1973-1987 Chevy & GM 1/2 ton 4X4 with Dana 44 - Driver's knuckle are flat tops and already drilled and tapped.

1974-1977 Full Size Jeep - Driver and passenger side are flat tops.
The cornerstone of the High Steer setup is the flat top passenger-side knuckle. These are easy to find since they were used with the stock J-arm steering on Chevy push-pull steering configurations. The flat top passenger-side knuckles, however, are fairly rare. They can only be found on 1973-1977 1/2-ton Chevy's and 1974-1977 fullsize Jeeps. Once you locate one of these knuckles, the top of the knuckle must be milled flat and then drilled and tapped to mirror the driver-side knuckle. Due to the recent popularity of high steer, milled and drilled knuckles can now be purchased outright or on exchange from a variety of aftermarket vendors.
The flat top knuckles can be identified by a large flat area on top next to the ball joint. On the underside there will be cast in bosses where the threads will go. On the driver's side Chevy knuckle there will be three studs where the factory Chevy steering arm attached. The passenger side Chevy knuckle will be a mirror image but without the studs. Neither side will have studs on a Wagoneer, otherwise the knuckles are identical to Chevy.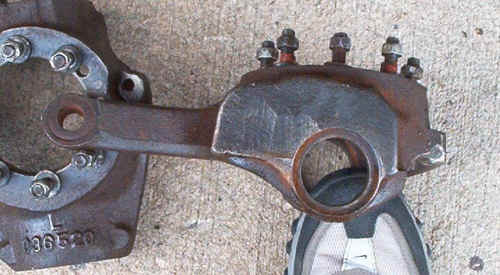 This is a flat top knuckle from a 1975 Chevy 1/2 ton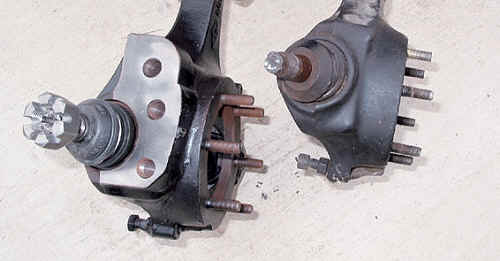 Flat Top Knuckle vs Non-Flat Top Knuckle
Measuring For Steering Arm Holes: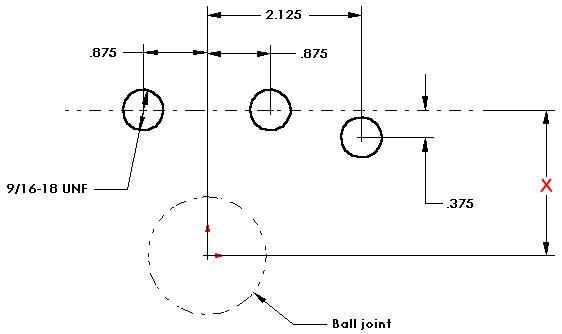 Your passenger side knuckle has a rough cast and will need to be machined and then drilled and tapped for a high steer arm. The measurement for 'X' depends on where you measure from and how you machine your knuckle (example: mimic the GM surface angle or machine surface perpendicular to spindle mounting surface)
Where To Get Your Knuckles Machined: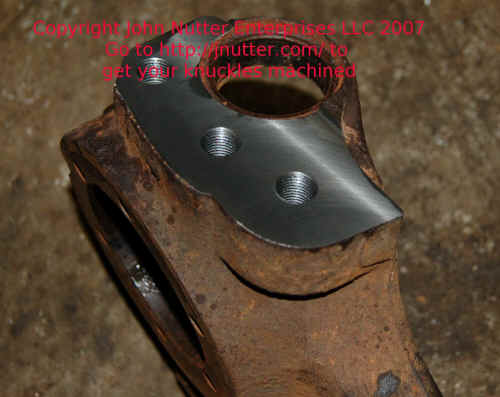 John Nutter Enterprises LLC can machine, drill and tap your steering knuckles for you. Check them out at http://www.jnutter.com/
Parts Needed For A Flat Top Knuckle Dana 44 With A 5x5.5 Wheel Bolt Pattern:
Essentially you run the Chevy or full size Jeep knuckle out, but you use a 1976-1992 Ford F-150 hub, rotor, and inner wheel bearing seal. (Except the 1987-early 1988 Fords with the weird flange mount hub). The manual lockout is the same part for both.
We've known of Ranger/Wagoneer Dana 44 swaps using the Wagoneer Dana 44, Chevy flat top knuckles, Ford hubs, rotors, spindles, Wagoneer caliper brackets and calipers.
High Steer Arms: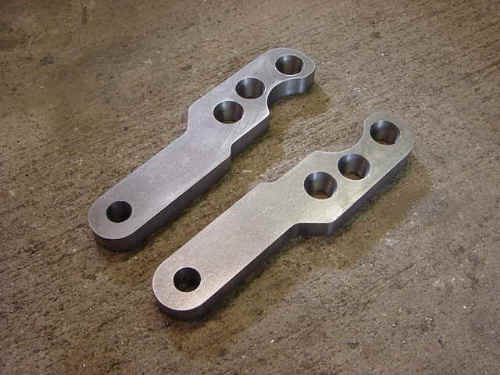 Rockstomper High Steer Arms
One you have your knuckles squared away you'll need to get a set of High Steer arms.
The following company's offer High Steer Arms:
Rockstomper (Shown Above)
Miscellaneous: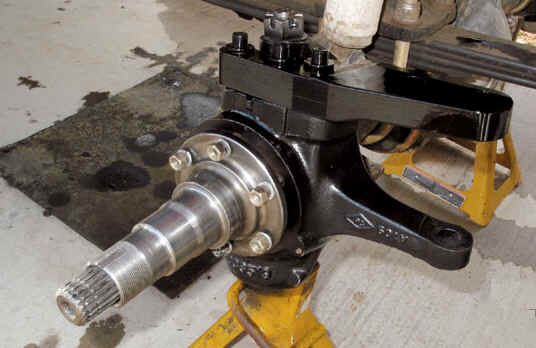 Photo of a High Steer Arm on a flat top knuckle
Other Resources: