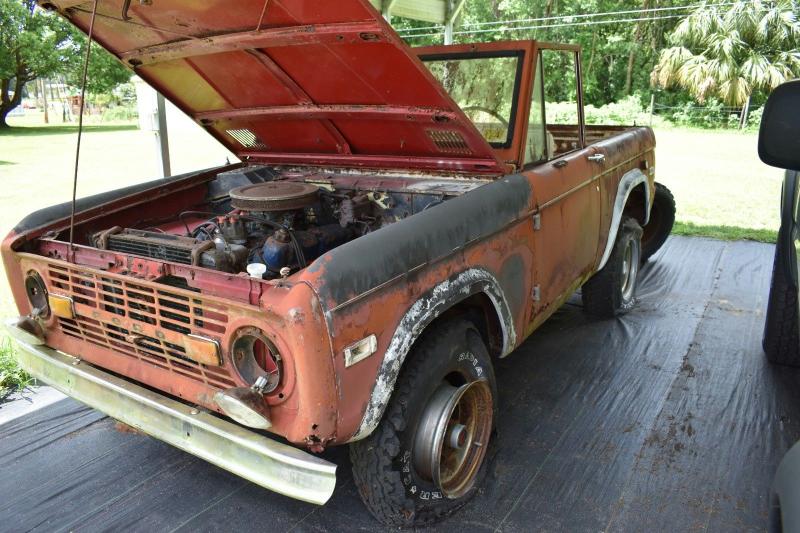 From time to time, we find Ford Ranger owners wanting to swap out the stock Dana 35 TTB front axle, and replace it with an early Ford Bronco (1971-1977) Dana 44. I don't want anyone to read this, and believe TRS is telling them to replace their Dana 35 with the early Bronco Dana 44. If you are looking to swap in an early Bronco Dana 44, here's some information that you may find helpful about the axle assembly itself.
The Early Bronco's Came With A Dana 30 & Dana 44:
The 1966-1977 Ford Bronco is often referred to as the 'early Bronco' or EB. Not all of the Bronco's came with Dana 44's. The 1966-1970 Ford Bronco came with a Dana 30. You want to avoid the small and weaker Dana 30. The 1971-1977 Ford Bronco came with a Dana 44. If you see "EB Dana 44", then their talking about the Dana 44 front axle found in the 1971-1977 Ford Bronco.
The Dana 30 and Dana 44 are both standard cut low pinion designs with small 260x u-joints. Although the Ford F150 came with the larger 297x u-joints, the 1966-1977 Ford Bronco never received them.
You can tell the difference between the earl Ford Bronco Dana 30 and the Dana 44 by the steering knuckles: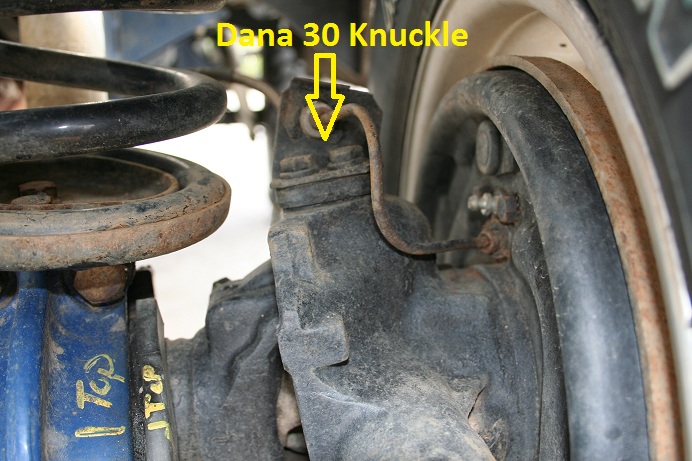 Dana 30 above – Dana 44 below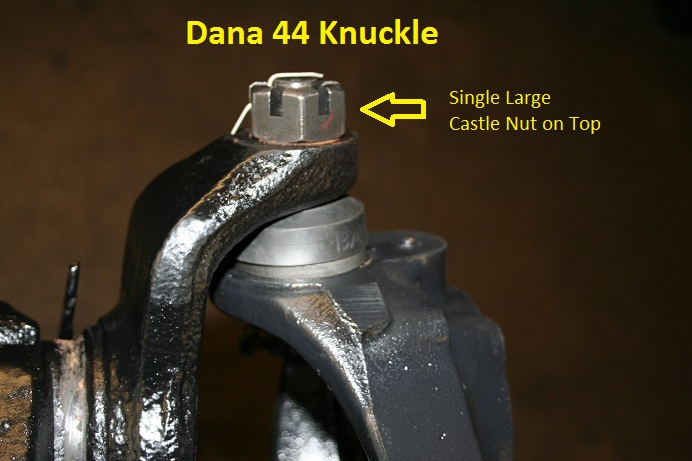 Dana 44 Specifications:
8.5-Inch Ring Gear Diameter
1.31-Inch / 30-Spline Axle Shafts
1.38-Inch / 26-Spline Pinion
3.73 & Down / 3.92 & Up Carrier Break
Coil Spring / Radius Arm Setup
5×5.5 Wheel Bolt Pattern
58-Inch Axle Width
Drums or Disc Brakes:
There are (2) versions of Dana 44's that came in the 1971-1977 Ford Bronco's. The 1976-1977 Dana 44's came with front disc brakes, and the 1971-1975 Dana 44's came with drum brakes. If you're hunting for an EB Dana 44, try to find a 1976-1977 model with disc brakes.
If you end up with a drum brake Dana 44, you can convert it to disc brakes. Find a 1978-1979 Ford Bronco or a 1973-1979 Ford F-150 and get the following parts:
Steering knuckle
Brake backing plate
Caliper holder (Haynes calls this the Anchor plate)
Spindle
Wheel bearing locking nut, lock ring washer and wheel bearing adjusting nut
Caliper support key and spring
Rotor (use as a core for a new one)
Locking Hubs
Basically, you'll be needing everything from the knuckles out. You'll be replacing your existing parts with these new ones.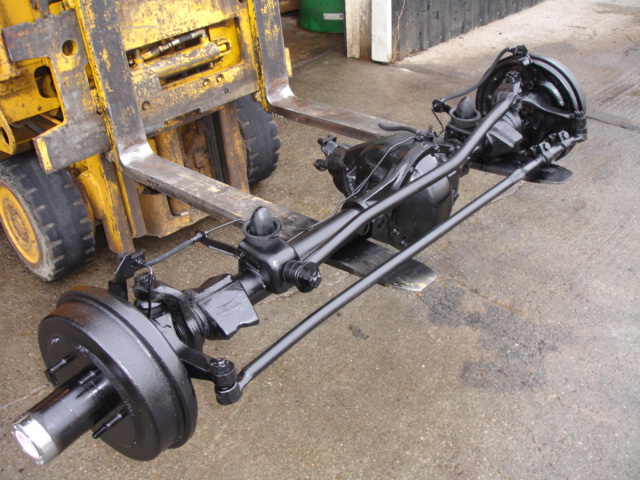 (Dana 44 with drum brakes)
Small U-Joints:
One of the major drawbacks of an early Bronco Dana 44 is it's small 260x u-joints. If all you do is swap in a stock early Bronco Dana 44 into your Ford Ranger in place of the Ranger's Dana 35, you're going to end up with a weaker axle assembly. The Ranger has 297x u-joint's vs the early Bronco's smaller 260x u-joints. You'll need to replace the axle shafts in order to swap to a larger (stronger) u-joint. You can upgrade the early Bronco Dana 44 with new axle shafts that take the larger 297x u-joints, as well as convert it to disc brakes if needed. But this obviously comes as an initial cost, just to match the stock strength of the newer Dana 35 TTB.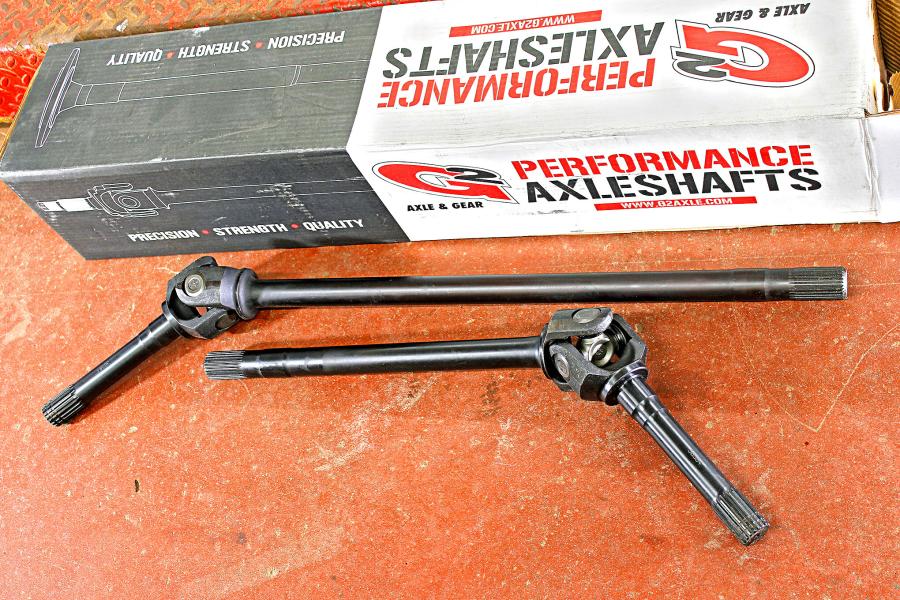 (Ford Bronco 1971-1977 G2 Tork Axle Shafts Kit 98-2033-001)
The above G2 Tork axle shafts (98-2033-001) are stronger replacements for the stock EB Dana 44 axle shafts, and come with larger 5-760x u-joints. The 5-760x is the Spicer (Dana) replacement for the older 297x u-joints used in the Dana 35 TTB and newer full size Dana 44's. These shafts are available separately or in assembled kit. The forged induction heat treated Tork shafts are built to exceed the strength of the stock shafts, without the high cost of chromoly shafts.
You may also want to check out:
Early Bronco Dana 44 Axle Shaft Lengths:
If you want to upgrade to larger u-joints, but don't want to purchase new custom axle shafts, you can use the short driver's side from an 1973-1979 Ford F100/F150. These shafts have the larger 297x u-joint. The F-150 shaft is 18.90-inches (18-29/32″) long which is 0.59-inches (1/2″) longer than the early Bronco shaft. The 1977-1979 Ford F-150 supercab's list the drivers side axle shaft as 18.625-inches (18-5/8″) long, which is only 0.3125-inches (5/16″) longer than the early Bronco shaft.
However, the 1969-1978 Chevrolet Dana 44 Pickup / Blazer (right) front axle shaft is 18.31-inches (18-5/16″) long, so it would work as a better replacement than the F-150 shaft. Also, a Dodge W100 from 1972.5-1974 with BOM 603413 has the exact same length shaft at 18.31-inches (18-5/16″). Both of these shafts use the stronger 297x u-joint, and are the same length as the early Bronco Dana 44 shaft.
There isn't a stock replacement shaft that will work on the passenger side of your early Bronco Dana 44. You will have to get a longer Dana 44 shaft and have it cut down and resplined. Your other option is to buy a new Dana 44 passenger side axle shaft that takes a 297x u-joint.
You will need the matching 9.72-inch (9-23/32″) outer (stub) shafts to accept the larger u-joints.
1971-1977 Ford Bronco Axle Shaft Lengths:
1971-1977 Bronco Drivers Side Axle Shaft Length 18.31-Inches (18-5/16″) long – 30 Spline
1971-1977 Bronco Passenger Side Axle Shaft Length Length 27.94-Inches (27-15/16″) Long – 30 Spline
1971-1979 Bronco Outer Axle (Stub) Shaft Length 9.72-Inches – 19 Spline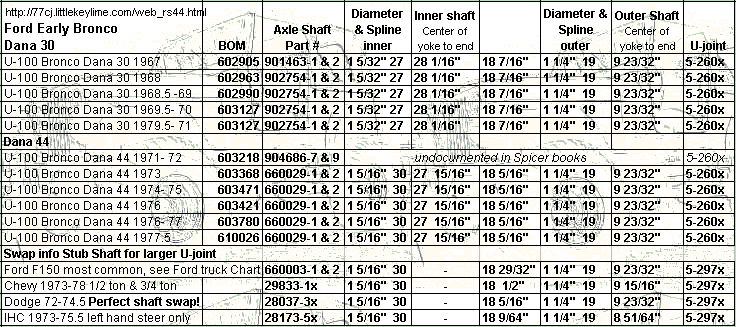 760x vs 297x U-Joints:
You will likely see some aftermarket axle shafts for your early Bronco Dana 44 that take a 760x u-joint. The 760x is the stock replacement part number for the old 297x u-joint.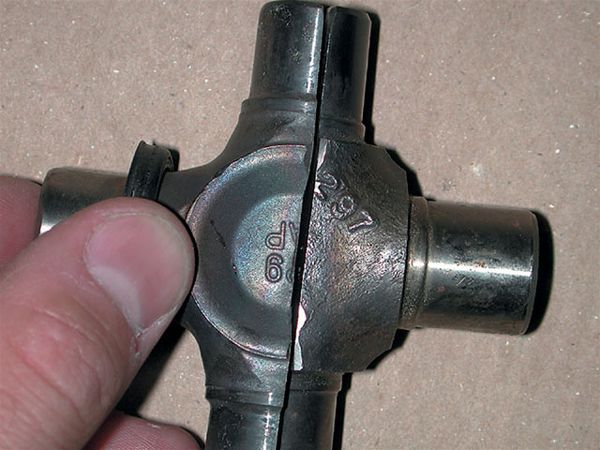 The left half is a 760x u-joint – the right half is the old 297x u-joint
The cross of the 760x is cold-forged, while the 297x is hot-forged. The cold forging makes for a denser product. Under cyclical bench testing, the new 5-760X outlasted its 5-297X predecessor by 10 times. While this doesn't mean that the new U-joint is 10 times stronger, it does mean it's 10 times more durable.
Ford Dana 44 Axle Shaft Lengths: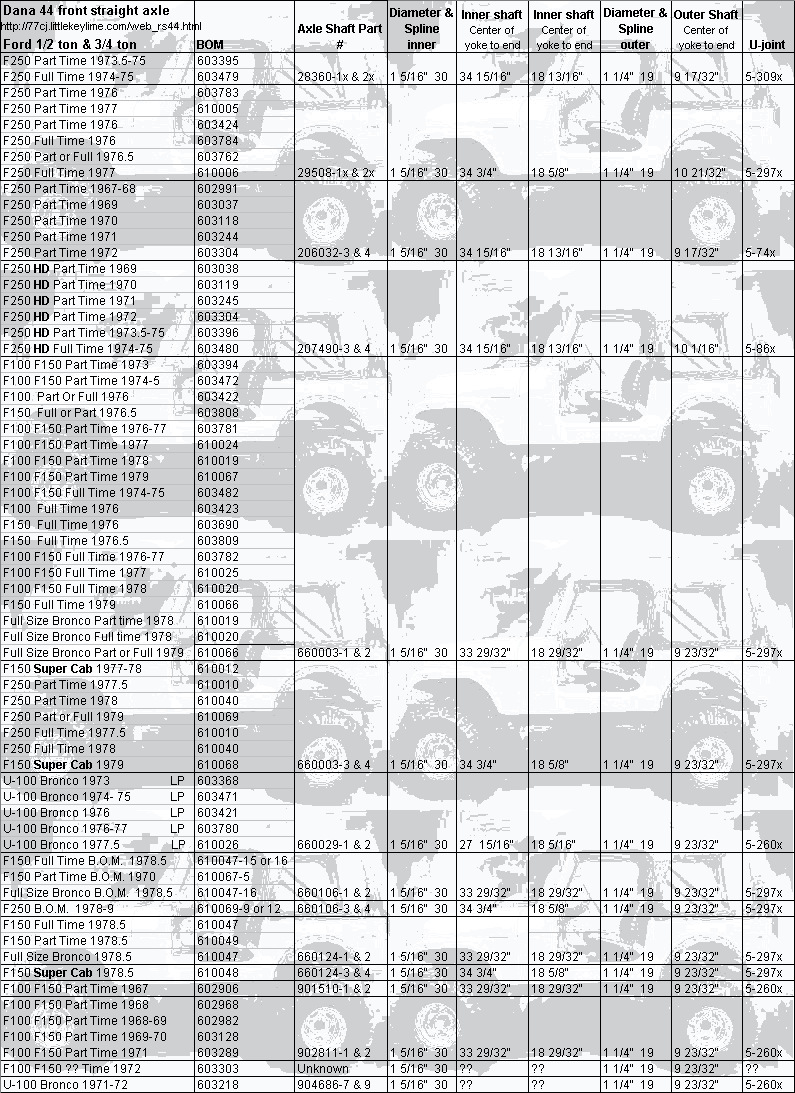 Are There Still EB Dana 44 Axles Out There?
Believe it or not, there are still old 1971-1977 Ford Bronco's out there. Some are so far gone, that they don't bring a ridiculous price tag. There are even people out there that collect and save the axles out of them.