Here is a list of manufacturers that make suspension lift kits for your 1983-1997 Ford Ranger 4×4
Notes:
Question: Why does it say it does NOT fit 1987-1988 Ford Rangers with "High Rider STX" option?
Answer: The Ford Ranger came with a STX option in 1987-1988 that actually made the truck 1-1/2 – 2 inches taller than stock. If you added a suspension kit to one of these trucks, you would gain 1-1/2 – 2 inches less lift than advertised.
Question: Why are there different kits for the 1998-2001 and 2002-2011 Ford Ranger 4x4s?
Answer: The lower ball joint is lower (further away from the center of the hub) on the 2002-2011 steering knuckle. The knuckle, therefore, is taller than a 1998-2001 knuckle. The caliper bridge is also increased in height from the 1998-2001 bridge. Both are minimal, but enough to make a difference in lift knuckle design.
Beware Of Drop Brackets:
This is one of those topics that I think is overlooked and needs mentioning. People will buy a cheap lift kit to save money, or piece together their own lift with used parts. I strongly suggest you stay away from lift kits or suspension brackets that use a drop plate for the passenger beam pivot bracket.
Here's why: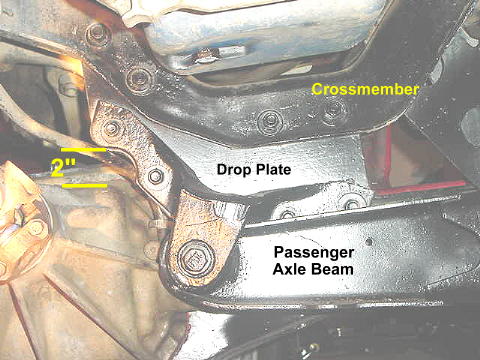 Looking at the back side of this lift, you can see where the pivot bracket for the passenger side beam has been lowered by using a drop plate. If you look to the left, you can see where there is only 2-inches of space between the bracket and the front differential. There is a risk that upward suspension travel could cause the differential to strike the plate and bracket and break the differential housing.
The photo above shows lift kit brackets that use the drop plate method. The photo below shows heavy duty brackets that includes a complete replacement passenger beam pivot bracket.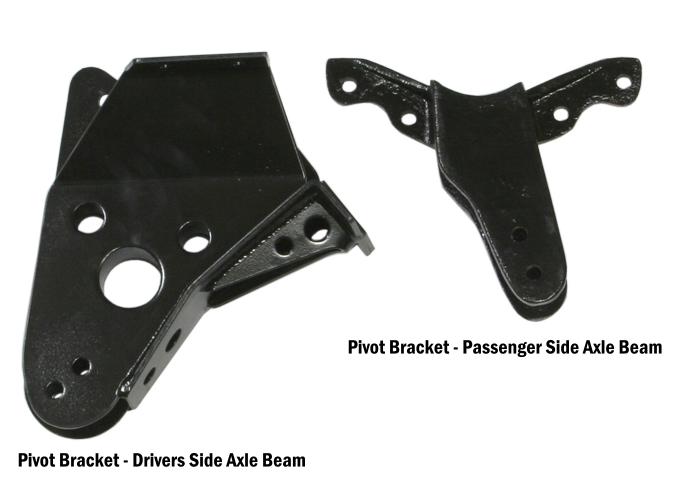 Skyjacker Suspension Lift Kits:
Skyjacker has one of the best systems on the market for 1983 – 1997 Ford Rangers.
Skyjacker kits come with new heavy duty drop brackets, dropped pitman arm, 4-6 inch coils and either rear blocks, add-a-leafs or springs. You can upgrade to the longer radius arms that comes with a new transfer case / transmission crossmember and order new brake lines.
The Skyjacker 2″ lift kit includes front coils and rear add-a-leafs.
The 4″ & 6″ Class I lifts include coils and all drop bracketry. Kits use rear blocks and/or add-a-leafs and Systems use rear leaf springs.
The Class II kits and systems are available for 4″ and 6″ lifts and include a pitman arm, sway bar end link & replacement tubular offset radius arms extended 15″ longer than stock offering up to 30% more wheel articulation and less frame fatigue than using radius drop brackets. Newly designed center hinge brackets are both stylish and more rugged than stock or standard applications.
Kit's are available from 1.5 to 8-inches
TRS NOTE: We believe these are the best bolt on kits out there for the 1983-1997 Ford Ranger. They have beefy replacement drop brackets and can be had with a nicely constructed set of radius arms that have a new transmission crossmember that bolts between the rear radius arm mounts to brace them.
Link: https://www.skyjacker.com/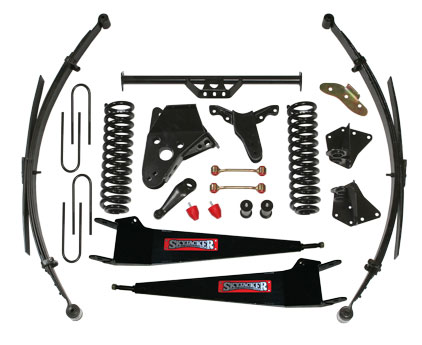 [TRS RECOMMENDED]
James Duff Suspension Lift Kits
James Duff offers a 3-inch Stage one kit, and a 5-6 inch Stage 3 kit.
The 5-6 inch Stage 3 kit includes:
5-6" Progressive Rate Coil Springs*
New Coil Tower Dual Shock mounts
Rod Ended Extended Radius Arms
HD Tranny Crossmember
Extended Stainless Brake lines
Drop pitman arm (fits PS only)
Axle pivot drop brackets
4 front shocks, 2 rear shocks, 6 shock boots
Urethane coil pads, leveling spacer
U-bolt kit
Complete Replacement Leaf Spring Packs
Spring Eye Bushings
Link: https://www.dufftuff.com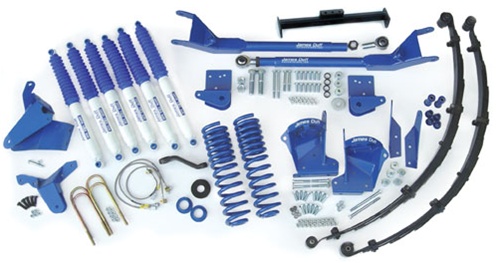 [TRS RECOMMENDED]
Autofab Model 35 Wheel Travel Kit:
Pricing does not include for options. For 1983 Ranger/BroncoII trucks, 16″ wheel travel, custom coil spring buckets and shock hoop structures. Specialty Pivot brackets duplicating Ford Factory 2-inch lift on Ranger STX trucks. This allows the middle U-joint to operate to achieve 16-inches of wheel travel. Drop pitman arm required. Beams are cut and turned for alignment correction of 4-inch lift. Special Autofab radius arms correct the castor alignment and allow for more droop and wheel travel. A variety of shock configurations available, such as 2-inch shocks (2) per wheel as a proven starting point. System compatible with Autofab equal length tie rod steering system. Shipped by pallet and truck freight additional.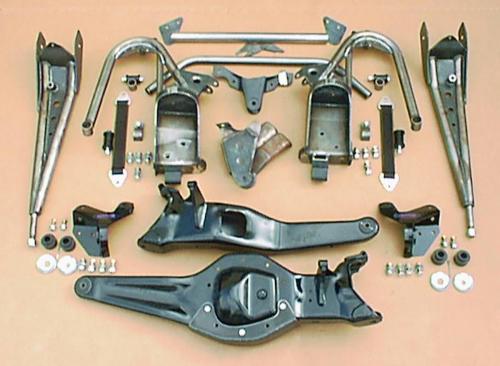 Link: https://autofab.com/
[TRS RECOMMENDED]
Solo Motorsports Suspension Lift Kit:
Stage 1 – This Stage 1 Kit provides you with 4 inches of lift and is the ideal starter performance mid-travel suspension upgrade for your 4WD Ford Ranger or Ford Explorer. The Dana 35 TTB Beams are cut and turned to allow for proper camber alignment. Our 1-1/4 inch heimed extended radius arms bring the vehicle's caster back to where it should be and allows the wheel to travel on a greater arc which dramatically improves performance on and off road performance. We also supply you with a pair of front Bilstein 5100 shocks and a set of front stainless brake lines. 33-inch tires are ideal when keeping your stock fenders and bedsides. 35-inch tires are possible when running fiberglass fenders and either fiberglass or "pulled" bedsides. Front fiberglass fenders are required to run 35-inch tires.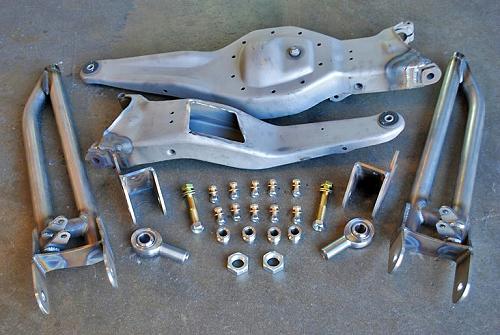 Stage 3 – Here's the ultimate setup for your Dana 35 TTB Ford Ranger and Explorer! These wider beams not only increase your track width for more wheel travel and stability, they also allow your wheels to travel on a greater arc, just like our Extended Radius Arms. When all of these factors are combined with the tuning of a quality coilover, you've just created a front suspension set up that will give you an awesome ride! Our Ford Ranger and Explorer Stage 3 Dana 35 TTB beams are extended 4-inch or 6-inch per side over stock. Each beam receives full plating along with a front gusset and raised fill plug on the driver's beam. 1-inch uniball cups are welded into each beam pivot along with an additional gusset added to each cup. Each beam is also Cut N' Turned to allow for proper camber. We also complete the remaining TTB welds that the factory does not complete. This kit includes our 1-1/4 inch Extended Radius Arms which brings back the correct caster and allows the wheel to travel on a greater arc. Custom 4-inch or 6-inch extended axles are included.
This system will require advanced fabrication, welding, and mechanical skills for installation.
This suspension system requires a 12-inch coilover shock to keep your factory brake booster. 17-inches of 4wd wheel travel is possible with 4-inch over stock beams and 19-inches 4wd of wheel travel is possible with 6-inch over beams. A custom engine cage must be built to achieve 17-inches or 19-inches of wheel travel.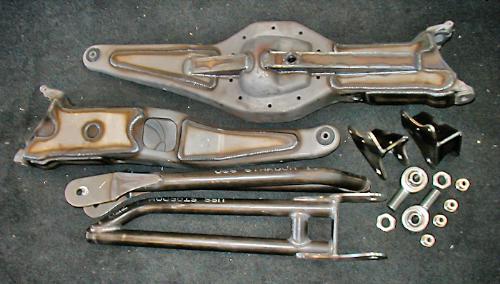 Link: https://www.solomotorsports.com/
[TRS RECOMMENDED]
Tuff Country Suspension Lift Kits:
Tuff Country EZ-Ride Suspension's Ranger & Explorer lift kits include axle pivot brackets featuring adjustable camber bolts for a precise alignment. Radius arm drop brackets are included with "EZ-Ride" kits. Performance kits include new extended radius arms for better tire clearance and more suspension articulation.
Axle pivot brackets include camber adjustment bolts for precise alignment
Coil springs give comfortable ride, yet durable enough for off-road
Radius arm drop brackets included
Performance system includes extended radius arms
4-inch kits
The Tuff Country kit is unique in the sense that it uses a camber washer and bolt at the axle pivot to raise or lower it to help with the camber alignment. All other kits just bolt back together with the factory bolt.
Link: https://www.tuffcountry.com/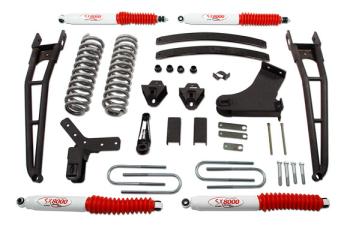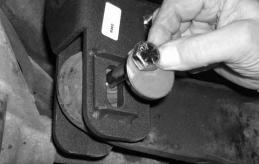 (Tuff Country camber alignment washer and bolt)
Rough Country Suspension Lift Kits:
Rough Country offers 1.5-inch leveling coils, and a 4-inch suspension lift kit. The 4-inch kit can be purchased with or without replacement rear leaf springs.
TRS Note: This kit uses a drop plate to lower the passenger axle beam pivot bracket. Refer to the 'Beware Of Drop Brackets" section at the top of this page.
Link: https://www.roughcountry.com/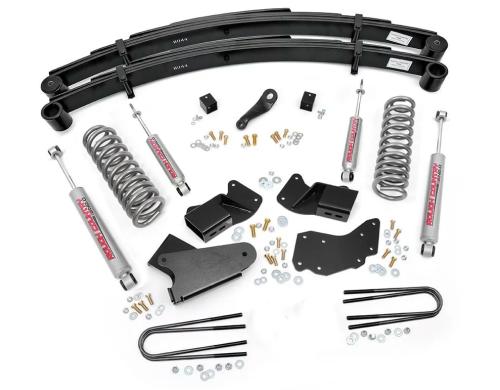 BDS Suspension Lift Kits:
This is the BDS kit. This system includes two Pro-Ride coils springs for the front, pitman arm for steering correction, radius arm drop brackets, heavy duty axle pivot drop brackets, bump stop extensions, anti-sway bar drop brackets, and brake line relocation brackets. The rear is lifted with a 4″ block and add-a-leaf system.
TRS Note: This kit uses a drop plate to lower the passenger axle beam pivot bracket. Refer to the 'Beware Of Drop Brackets" section at the top of this page.
Link: http://www.bds-suspension.com/