Story by Jim Oaks
The Spring Round-Up took place this year April 29th in Wellsville, Ohio.  This year there were a total of 13 vehicles that included Ford, Chevy, Jeep, Toyota and Suzuki.  The group met at Dunhams Sporting Goods in Calcutta, Ohio (East Liverpool) and then traveled down to the staging area in Wellsville to meet up with others and park tow vehicles.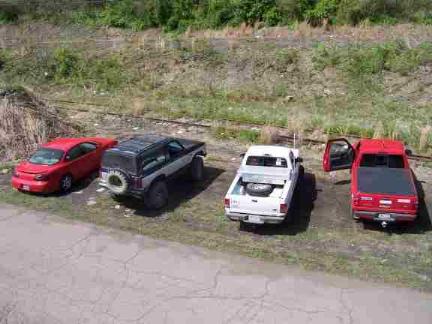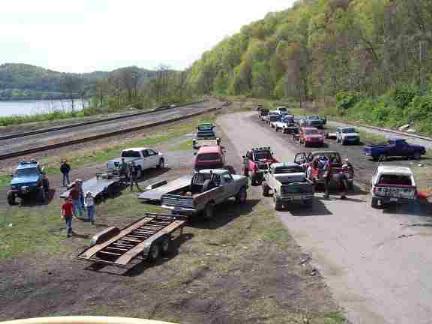 The first obstacle of the trail ride was the Tank Traps.  Early on the Tank Traps claimed Timmy Arnold in his full size Ford Bronco.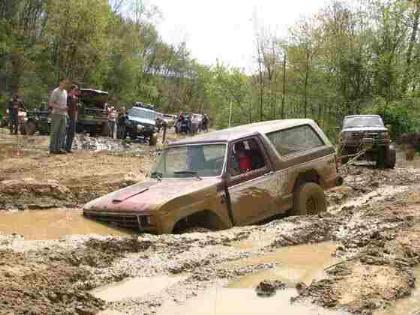 The Bronco had to have it's spark plugs removed to release a little water after it was pulled out by Rudy (Sharper Touch).  Afterwards Jim Oaks was able to pull the Bronco with a tow strap so it could be bump started.  The Bronco also suffered a busted alternator belt and had to be driven to town for a new one.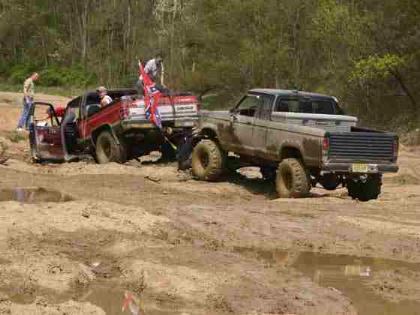 John Dear tried his luck in the traps and was also rescued by Rudy's 5.0 powered Ford Ranger.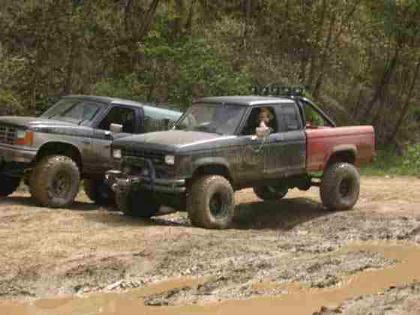 Here JustDave and Randy M. patiently wait for stuck vehicles to be pulled out before continuing on.  351Ranger's Bronco II is parked behind them.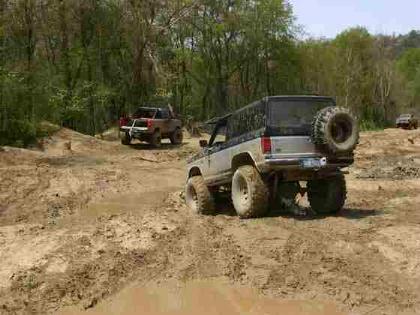 Mark (351Ranger) and JustDave finally take a line through the Tank Traps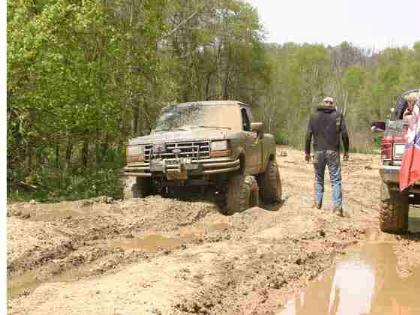 Rudy (Sharper Touch) plowed his front axle in the ground pushing through this mud hole and was pulled from behind by Jim Oaks in order to get him free.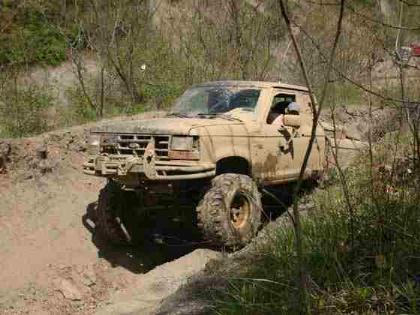 Here's Rudy (Sharper Touch) negotiating Twister.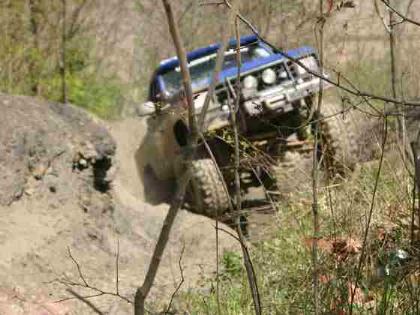 Here's Jim Oaks coming up twister right before grenading a hub and getting hung up.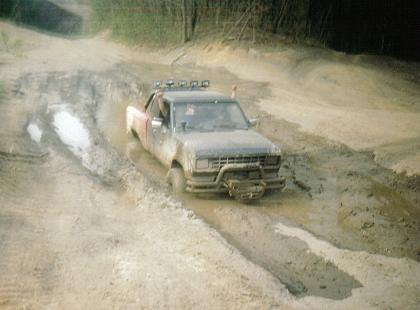 Randy M and JustDave mudbogging!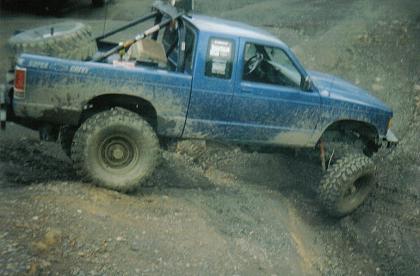 Bob "Ozzy" Osborn wheeling his S-10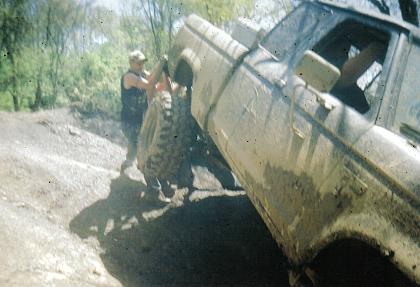 Here's a shot of some guys trying to save Rudy's (Sharpertouch) Ranger from flipping over on the trail.  It took a few guys to hang on to the right rear as he moved it and got it back on all fours.
From here the group continued down a washed out trail along with the Jeep, Toyota and Suzuki.  Along the way Mark (351Ranger) developed his second flat on his Bronco II and had already used his spare.  Rudy (Sharpertouch) used a can of WD40 and a lighter to reseat the tire.  A small compressor that plugs in to the cigarette lighter was then used to air the tire back up.
It was a pretty eventful day with two trucks succumbing to deep mud holes, Jim's TRS-1 Ranger blew a second hub and passenger side axle shaft, and Mark had to be pulled back to his trailer after his Bronco II died from a dead battery and wouldn't come back to life with a jump start.
Thanks to DaveR for taking some of these photos.  Unfortunately we were so busy wheeling that we didn't take a lot of photos.  Thanks to those who came but didn't get mentioned or displayed on this page – sorry guys!
This trail ride was sponsored by PTC Factory Outlets.  Click on the image above for more information about PTC Factory Outlets.  PTC Factory Outlets provide Hella replacement headlight bulbs for Ranger owners.  Thanks PTC!