I'm curious where everyone stands with confidence or paranoia in your trucks. I personally keep quite a lot. I have used it all to either get myself home or much more often friends/family home.
Up front I have:
notebook, ear plugs, microfiber, EZ pass, Convoy s2+ with spare batteries, extinguisher
In the trunk I have: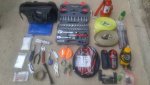 black bag; screw driver, pliers, vise grips, adjustable wrench, box cutter, duct tape, zip ties, spark plug, tire guage, obd2 scanner, hose clamps, mechanics wire, straps, test light, jb weld, jumper cables, inflator, tire patch kit, multimeter, tire caps, fuses, lighter, poncho, space blanket, hand warmers. That along with the socket set, tow straps, tarp, and jack all live in a milk crate. In the trunk cubby I have; bug spray, tire iron, flares.
I have a first aid kit just wedged under the donut holder for now: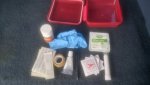 tylenol (all used up), motrin, bandaids, gauze, tape, antiseptic, tweezers, wet wipes, clotting pen, gloves.
I have used nearly everything in this kit at least once. I often find myself wanting to reduce the size of my junk because these are only the static, non-personal items that stay in my truck. I have two straps mainly because I don't trust the first one. It has gotten a lot of use and has a lot of dirt inside the fiber. I guess I could just bring that along as a primary when I intend to get stuck and leave the good one in the crate. I need to decide if I want just a test light or the multimeter in my kit. I should not have both but I cannot decide. It might be useful to have some benadryl in the aid kit, but I'm very cramped for space in that dollar store sandwich case. As I finish writing this post I seem to be missing my bottle of sun screen.