Joined

Mar 2, 2020
Messages

2
Reaction score

0
Points

1
Location
Vehicle Year

1992
Make / Model

Ford Ranger 2.9
Transmission

Manual
Hello, Good Day..
I am newly registered to the forums although I have been browsing it for quite some time. Very grateful of the community here. I have a 1992 Ford Ranger, was my first vehicle I purchased and it came with a lift already.. I had never owned a truck like this before and I have really enjoyed learning about it.. So far I have redone some of the suspension in the front, tie rod ends, redid the u-joints in the drive shafts, and changed the wheel bearings in the front. Still have much to go. Below are some images of my rig. its a Manual 2.9 V6 4x4. not sure the lift height to be honest..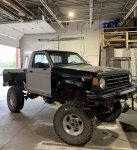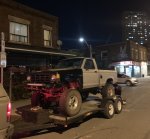 I have a couple questions here and I am going to try to keep it as organized as possible..
1. 2.9 V6 Engine has 380k KM on it, so I was ready to face some issues with it.. I have run various checks for issues I have seen online. I have not checked the engine compression although am going to get to that. I have checked the oil cap for milky residue and I do believe there is some.. Although when I took the radiator cap off and started the engine, no air bubbles. I am not sure how to diagnose the issue further but if I don't need to replace the engine I would be Interested in that. To my luck the engine temperature gauge does not work on the truck. I have ordered a replacement thermostat and temperature sender and will replace those. To my knowledge the engine is running pretty well, although I have witnessed it misfire or skip a beat maybe 6 times of me owning the vehicle. (I have had it for 6 months) If someone would have some guidance at what I should do or look at next to not destroy the engine that would be very helpful, I am in the introductory stage of learning about my engine and others I could maybe swap in...
2. When I was replacing my wheel bearings in the front and changing my tie rod ends I noticed alittle play in the axle shaft on both the driver and passenger side, they both seemed the same. I was able to move the shaft up and down, left to right, inside the hole of the hub. Heres an image of when I was seeing the play in the shafts.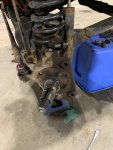 I am currently running without a front driveshaft because I was concerned I was going to ruin my axle shafts further or my diff if I put it in 4x4. Although since I have taken the front driveshaft out I have locked the wheels to see if I hear any noise and everything seems to be moving fine. no noise from the front. I have yet to check my diff fluid both in the front and back but I will get to that.
3. I am speaking with someone right now that has a 92 4x4 bronco and is selling parts off it of. It has a 351w v8 with 226,000 km on it says driveline works good but gas tank is sold so I can not start it up. His Bronco also has Dana 44 TTB front axle and 8.8 rear axle.. Says the bronco is not for sale as a whole but I am interested in alot of the parts. I am now thinking of swapping the axles from this bronco and even considering the engine.. which I could probably grab the transmission, transfer case, and driveshafts from. So basically I am wondering if should I go forward with buying these parts, it seems like a really good opportunity.. Really looking for some guidance as I am not sure who else to ask regarding this stuff.
So that is currently where I am at, I can provide more pics if needed. I really want to make this truck run like a beauty.. Hoping to become more involved in this community..
THANKS
Last edited: