Joined

Sep 11, 2019
Messages

12
Reaction score

14
Points

3
Location
Vehicle Year

1987
Make / Model

Ford Ranger
Engine Type

2.9 V6
Transmission

Manual
2WD / 4WD

4WD
Tire Size

235 75r15
Decided to make a thread on my 87 Ford Ranger 2.9L 4x4 to keep track of what I've done to it and to get help fixing it up. Bought this truck back on Halloween of 2016 as my 1st car for high school and daily drove it until August 2017 when I replaced it with an 03 VW Passat for the better MPG. I continued to use the truck as a fun truck and around town truck. In January 2018 I had a slight fender bender in the snow (bald tires + snow = bad idea) and parked it that summer. It sat until September 2019 when I decided to put it back on the road. Fuel pump no longer worked and I was in the middle of swapping in a Kemso fuel pump when the truck was put back on the back burner until recently when I finally got back into it.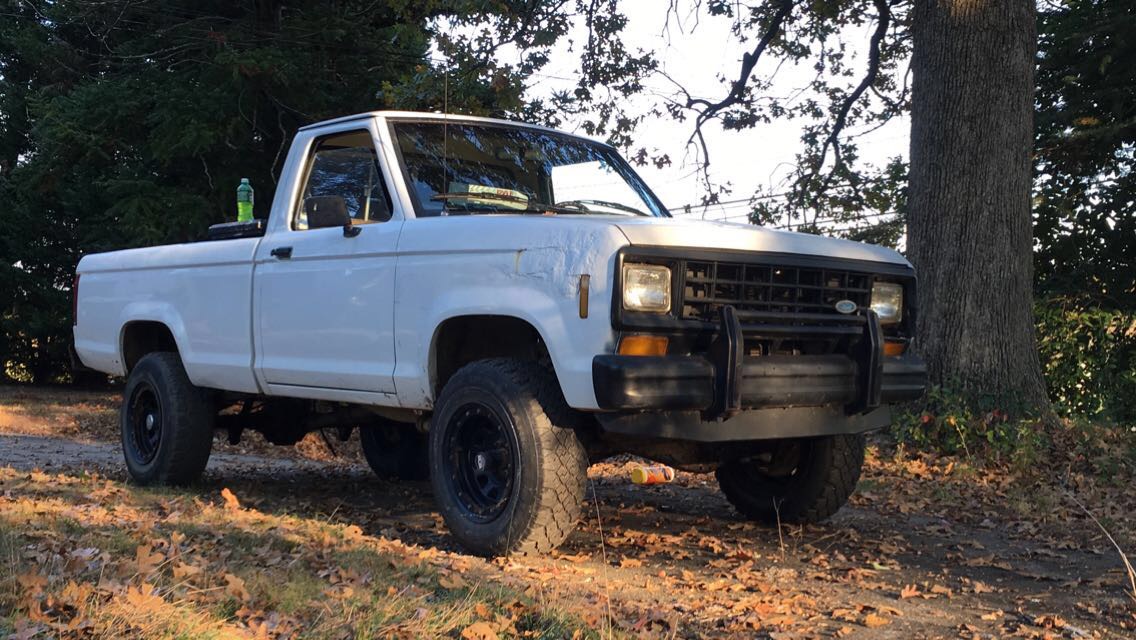 How it looked in 2016 when I drove it home. Had no prior experience to driving a stick and only stalled it once pulling into the driveway.
The interior back in 2016
In 2017 I replaced the:
Engine Air Filter
Starter (funny story)
Clutch
Flywheel
Tire Rod ends
Headlights
Brake lights
Alternator
Battery
Battery cables
Valve cover gaskets
Both belts
Heater core
In 2018 I bought:
Fenders
Hood
Grille
Traded the black wheels for OEM wheels
Used tires with decent tread
In 2019 I bought
Kemso 340 LPH fuel pump
Fuel filter
It sat untouched all 2020 except getting towed to my new house
And so far this year Ive bought:
Full blue interior with bucket seats and head liner
How it looks now (2021) Removed the bed to help get the gas tank back in.
The interior now. I removed the bench and test fitted a blue bucket seat.
My goal is to restore the truck on a budget. I plan on getting the truck painted blue and restoring the blue interior I picked up for it. So far I just finished putting the fuel tank back in over the weekend and I'm getting a new battery tomorrow so hopefully it'll start right up with that new fuel pump. Then I'll focus on new tires, cleaning it up, changing all the fluids, and then starting on body work.